How to Watch Floyd Mayweather vs. Logan Paul live Online
|
Apparently, even retirement cannot keep Floyd Mayweather outside the boxing ring. The undefeated legend has come out of retirement twice to go up against Connor McGregor in 2017 and to fight Nasukawa in an exhibition bout a year later. They say the third time's a charm, and it is as we'll be seeing the 12-time, five-division boxing superstar goes head to head with social media sensation Logan Paul on June 6th, 2021. We know that the fight will take place at the Hard Rock Stadium, Miami, Florida, but we also know a couple of things about the bout itself and how fans can tune in. So, here's how you can watch Floyd Mayweather vs. Logan Paul live anywhere.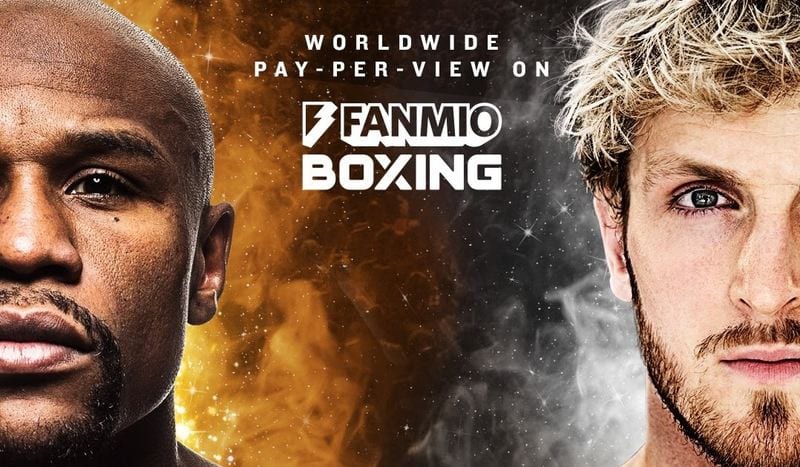 The Must-See Boxing Exhibition Match – Inside Mayweather vs. Paul
2020 has been the weirdest year in anyone's life, and just when we thought it couldn't get any weirder, we get Mayweather coming out of retirement, AGAIN.
On the 6th of December, the whole world was taken by storm with news of the boxing legend Floyd Mayweather and social media star Logan Paul facing off in the ring in a "special exhibition" match that will take place on February 20, 2021. The match was postponed though and now will take place on June 6th instead.
We don't want to compare here, but let's face it. The undefeated champion (50-0) is taking on a Youtuber who only has one official boxing match, which was a defeat btw to his fellow YouTuber KSI.
Noone expected this fight to happen, but hey, it's happening. And let's be honest, any fight that has Mayweather in it is a must-see one, regardless of who the opponent is.
The fight is official now, and we know everything about what's going on. So, here's what you need to learn about the upcoming Mayweather vs. Paul bout:
Where to Stream?
Most boxing matches are available in specific countries since the official broadcasters apply what we call geo-blocking. For example, DAZN takes on the official broadcasting of the World Boxing Super Series in 7 countries.
Moreover, channels like Showtime, BoxNation, Sky Sports, BT Sport, Showtime, Main Event, and Fite.tv also hold broadcasting rights to major boxing events that occur around the world.
Each channel covers a certain region and cannot be accessed elsewhere. Well, geo-blocking restricts that by examining a user's IP address and determining their location.
This is an exhibition match, and we previously saw Mayweather participate in one back in December 2018. The fight between the undefeated legend and Nasukawa aired live on Fite.tv.
However, this time around, things are a bit different. The fight will be streamed on Fanmio, a new platform that allows fans global access to meet their favorite celebrities through personal video meet and greets.
Luckily for boxing fans worldwide, Fanmio was created for all kinds of streamers, no matter where they reside. According to the official website:
"Accessibility is at the core of why we created Fanmio. We want to give fans access to experiences that were once limited to select groups whether because of geography or financial reasons."
So, basically, there are no restrictions, and everyone can watch the fight no matter where they are. As for other broadcasters, it's too early to know which channels will host the big event on the small screen. We'll be updating the article if any official news comes out.
Pricing?
Whenever a big boxing match gets announced, the first thing that pops into the fans' minds would be whether it's for free or not. Well, just like most of Mayweather's matches, Fanmio has presented the fight as PPV.
However, unlike other PPV we've encountered before, prices didn't vary according to location; they did according to the time of purchase. Let us explain. It's simple. The sooner you purchased, the lower the price would've been.
The deal was simple. The price will get higher the more users wait, especially when purchases exceed 1 million. Not to mention that when you pass a certain date, the price will get even higher, reaching more than double the amount.
Back when the match was still in April, the prices were as follows:
First 1 million purchases: $24.99.
After 1 million purchases: $39.99.
On December 29th: $59.99.
On February 11th: $69.99
Please note that Fanmio doesn't offer a refund policy when it comes to PPV events. Once you purchase the fight, you won't be able to get your money back in case you changed your mind:
"For all Pay-Per-View events (PPV), there are no refunds once you complete your purchase. If a rescheduling occurs for a PPV event that you purchased, you will automatically be rescheduled for the new date of the PPV event. There are no refunds for rescheduled PPV events. Refunds will only be provided for PPV events that are canceled."
New Price!
However, as stated above, the website offers a full refund only if the event gets canceled. Other than that, your purchase gets rescheduled based on the new date of the event.
That's exactly what happened to anyone who purchased the PPV. Now, the pricing is fixed at $49.99 to anyone, regardless of the time of purchase.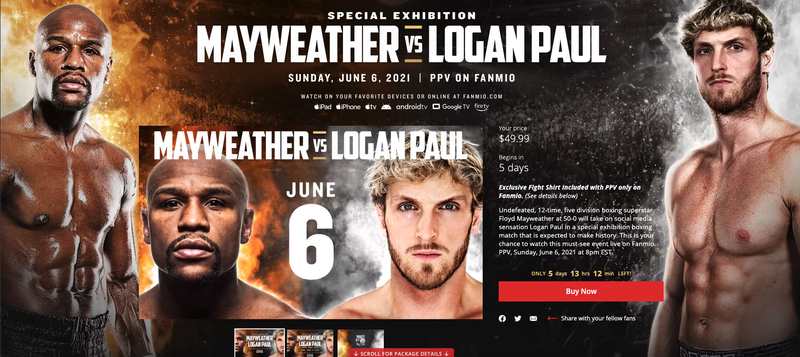 The fight commences on June 6th, 2021, so make sure that you purchase your PPV, and get ready for a so-called exciting fight. If you know what we mean.
The World Wide Web is Buzzing
As we previously stated, the match is buzzing all over the internet. The funny thing is that many had passed it off as a joke, but now it's reality; it's actually happening.
The Youtuber who has more than 20 million subscribers on the platform tweeted about the match once it was decided, saying: It's Official.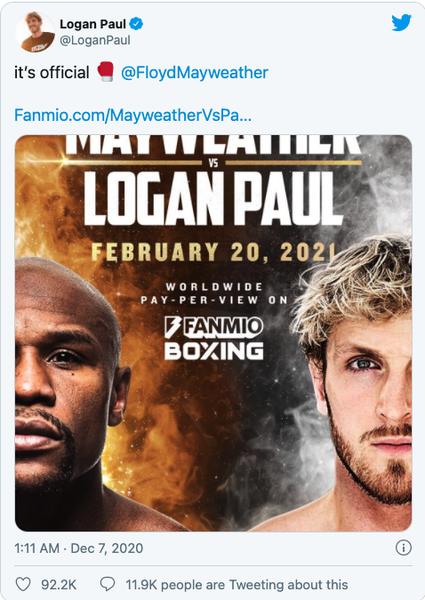 The two started insulting each other on Twitter, but isn't that how any fighting match builds up? Here's what Mayweather had to say:
"These Youtube girls better find some Barbie dolls to play with cause I'm not the one for the kid games. 3 years ago a fighter from the UFC said my name and I had to put a muzzle on that *****. @loganpaul can get the same treatment before I go conquer Japan again."
Logan's brother, Jake Paul, delivered a devastating KO win over former NBA star Nate Robinson on the Tyson-Jones Jr undercard, which, by far, makes him a more accomplished boxer than his brother is.
Now, let's talk about what people are saying on social media. So far, nobody is taking this seriously, especially when we speak of Logan's status in this exhibition match.
Many users are already expressing fears for Paul's safety when he goes face to face with Mayweather – a boxer who took on the biggest names in the world and came out victorious.
Size isn't always everything, so being bigger than Mayweather won't be an advantage at all. We still remember when he took on the Big Show a couple of years ago.
Top Tweets
Now, speaking of Logan's safety and the concerns on the media, here are a couple of tweets we thought to be interesting to show you:
Mayweather fighting Logan Paul is gonna be dangerous tho,

mad if they allow it.

The fun thing about this is that Floyd Mayweather could literally kill Logan Paul.
Remember what Floyd Mayweather did to one of the most talented current kickboxers (Tenshin Nasukawa) in an exhibition boxing match last year? Yeah, he's going to do that to Logan Paul, except even more brutal.
Starting a GoFundMe for Logan Paul's face after Floyd Mayweather is done with him.
Floyd Mayweather and Logan Paul? Logan has to be out of his entire mind.
Now he's just Easy Money Mayweather.
The last one was epic, to be honest. We would like to predict what might happen, but there's not much we can assume. Mayweather has the skills, experience, and record. So, basically, the match is already determined, don't you think?
Mayweather vs. Logan Paul – Final Words
There's nothing better than seeing Mayweather come out of retirement again and again for such exhibition matches. It's an opportunity to see the legend go head to head with other boxers who feel that they deserve the spotlight.
So far, Fanmio is the only way to stream the fight, but nothing is concluded yet. Such a fight deserves more coverage, and we're sure everything will make sense once official announcements are made.
For now, this is everything to know about the Floyd Mayweather vs. Logan Paul bout. If you want to share your predictions or ask any questions, please drop your comments below.