After years of waiting, we're finally getting the movie we all deserve. Yes, Mortal Kombat, an adaptation of the popular video game, is coming on April 23rd, 2021, and we're hoping it's not like the second movie that, itself, should be Annihilated. We know how excited you are to hear Shang Tsung's iconic "Finish Him," but with the pandemic still present, a lot of fans won't be able to hit the theatres. Now, that's been solved by Warner Brothers as, on the same day, Mortal Kombat can be streamed on HBO Max. Unfortunately, the channel is only available in the US, which is a problem we can solve. Do you want to watch Mortal Kombat 2021 anywhere? Follow this guide, learn everything you need to do so, and Get Over Here to HBO Max on April 23rd, 2021. IT HAS BEGUN.
HBO Max – The Home of Warner Brothers in the US
HBO Max is the go-to streaming service for new movies in the United States, especially those produced by Warner Brothers. With US citizens taking the vaccine now, going to the theatres has become an easy task.
However, regardless of things getting easier, people should still consider the state of the COVID-19 pandemic and relevant safety precautions. Well, if they didn't, HBO Max definitely did, offering them the chance to watch these blockbuster movies the same day they hit the big screens.
Sadly, this privilege only goes to US residents, as the streaming service is only available in the United States. Long before we had HBO Max, HBO Go/Now applied the same strict geo-blocking mechanism.
HBO Max is no different. It will block any internet traffic coming from outside the United States. You see, the channel can determine your location by examining your IP address. If it's not a US one, you're watching its content. In fact, you won't be able to launch the page, to begin with. All you'll get is the following error message:
"HBO Max is not available in your region."
By the end of 2020, HBO Max's subscribers reached around 37.7 million in total. Once we're done with this guide, we assume the numbers will skyrocket as everyone worldwide will be able to access the channel. Let's Kontinue.
HBO Max Goes Global – Kombat Geo-Restrictions
Geo-restrictions can be a pain, but we have the ultimate way to "Finish Them." No, it's not a Fatality, though the end result is the same, geo-restrictions no more.
We'll be using a Virtual Private Network, a cybersecurity tool that allows you to both enhance your online security and allow you to bypass such geo-blocking mechanisms.
A VPN routes your traffic through a private tunnel, encrypting your data in the process. This makes it next to impossible for anyone to read or decipher what you send or receive over the internet.
Moreover, based on the server you connect to, you'll receive an alternative IP address instead of the one that's been cloaked. For example, if the server is in the US, you'll obtain an American IP address, granting you access to every single US-based channel no matter where you reside.
The Steps
HBO Max requires a US IP address, which means you should use a US server. That's it. What you need to do is quite simple. Just follow the steps below, and you'll be watching Mortal Kombat on April 23rd, 2021, in no time.
First, sign up with a VPN service. We recommend BulletVPN for several reasons that we'll be pointing out later on.
Next, download and install their VPN application on your device. The supported apps cover iOS, PC, Mac, FireStick, and Android.
Launch the app, sign in with your account, and head over to the server list.
Select a US server and click connect.
Once the connection is established, launch HBO Max's website or application.
Watch Mortal Kombat and dozens of other blockbuster movies anywhere.
There you have it. It's not hard at all. Please note that you still need a subscription to access HBO Max. If you know anyone in the US, ask for theirs or create a Virtual American Credit Card and get your own.
Why BulletVPN?
Alright, so HBO Max can be unblocked from outside the US with a VPN. However, we have to inform you that not all VPNs can Konquer such channels (Promise to lose the K in a bit).
Top streaming services don't tolerate the use of VPN, which is why they now apply strong VPN bannings. A lot of providers have fallen victim to these blockings, including top ones in the industry.
In fact, while we were testing VPNs to get around HBO Max's geo-restrictions, some of the biggest names got blocked in the process. We're not going to mention names, but we'll show you the error message we got:
"Not in Service Area or VPN Detected. HBO Max is accessible only in the U.S territories from your real IP address."

One of the steps provided by HBO Max is to disable your VPN or web proxy. This indicates and proves that our tests are precise. Not all VPNs can unblock HBO Max outside the US.
HBO Max Unblocked
Don't fret; we found a VPN that can bypass that. BulletVPN markets itself as the ultimate unblocker, hence the "Stream Anonymously with No Limits" statement on their website.
When we tested the VPN, we found out that its claims are solid. The connection to a US server was fast, and the end result was satisfying. We were able to access HBO Max in our location.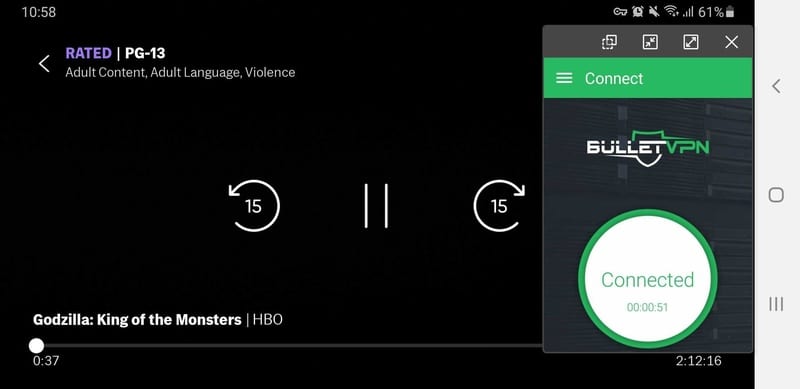 BulletVPN has dozens of servers in the United States and 54 other countries. They also have special servers that guarantee a top streaming experience labeled as UltraHD Support. These servers provide top speed rates, regardless of the military-grade encryption applied.
Also, if you wish to watch the movie on your TV screen, BulletVPN has provided a way to do so. It comes in the form of Smart DNS, a technology that allows you to bypass regional restrictions without changing your IP address.
The advantage of using this lies in the perfect speed you get and the fact that it can be configured on other devices where VPNs don't have native apps.
We're referring to the likes of Smart TVs, PlayStation, Xbox, Chromecast, Apple TV, and more. If you want to give it a try, contact their support team to receive a 1-day free trial. Once convinced, you can sign up and benefit from a 30-day refund policy, giving you more time to give the service a try.
Mortal Kombat – Inside the Legendary Tournament
The first Mortal Kombat movie came out in 1995, taking the world by storm. As a first adaptation, this one was very successful, doing quite well when we speak of "Box Office."
The characters were there, the storyline was well constructed, but the essence of Mortal Kombat was missing. The movie was PG-13, which restricted the Gore and Violence Mortal Kombat is all about.
However, as mentioned, the movie was a success, practically for being the first one, so people were very excited to go and see it. Now, things took an odd turn to the worst when the second movie came out in 1997.
There were cast changes that didn't help the movie. Who recasts Sonya? Really? On the other hand, the movie included almost every character in the franchise, ruining everything in the end.
Some characters just stood there doing nothing or ended up with a one-liner. One of my favorite characters, Rain, had a couple of lines before he died. Most of them were just apologizing to Shao Khan. Not to mention that Shiva "The Date's Over" line.
Ermac and Noob Saibot were merged into one, Motaro looked like a desk toy, and Mileena… Nevermind. Now, New Line Cinema has a chance to redeem itself, and what better way to do so than with an epic remake of the movie.
The New Movie – We Kan't Wait
The upcoming Mortal Kombat movie will have a new twist to it as it introduces an original character created just for the movie. So, this time around, and finally, Liu Kang is not the main protagonist.
The movie was scheduled to hit HBO Max on April 16th, 2021, but was later delayed till April 23rd, 2021, to give Godzilla vs. Kong some extra time to earn as much as it can in theatres.
Mortal Kombat 2021 will focus on the Sub-Zero vs. Scorpion storyline, along with the tournament, of course. Cole Young (The New Character) has a dragon mark on his chest, which according to Sonya, is an invitation to the tournament.
We don't know what his purpose is, but we do know that Sub-Zero also has the same mark. What's great about the movie is that it's giving a new taste to the franchise without deviating from the games.
There are a lot of beloved characters, be it heroes or villains, but to a certain extent that the producers are not falling for the same mistake as Annihilation did. Here are the characters that were shown in the trailer:
Sub-Zero
Scorpion
Liu Kang
Shang Tsung
Sonya
Jax
Kano
Mileena
Cole Young
Nitara
Shao Khan (Statue)
Kabal
Goro
These are the characters that are already confirmed for the new movie, but we still don't know if more are missing from the trailer. We sure hope so.
Easter-Eggs
A dinosaur-like creature was also shown in the trailer. Fans are assuming that's Reptile in his true form. If that's true, this is going to be epic. Another easter-egg was a ninja coming out of smoke.
Now, we don't know if this is a Sub-Zero special entrance or if it's the actual Lin Kuei ninja Smoke. We have to wait and see how this all turns out. We also have to know where Cole Young fits in the story as some fans assume that he's the missing character, Johnny Cage.
Other fans are stating that Cole Young is Chameleon, a character that was only obtained in the Mortal Kombat Trilogy game by inputting a specific button sequence when selecting any of the game's ninjas.
The Reddit user asked this question: "What if Cole is short for Chamel?" The family name is Young, which indicates that the word Chameleon is hiding in plain sight. Users are stating that Sub-Zero is after him for mimicking his powers, and so will Scorpion during the course of the movie.
This seems a bit odd, and I don't think it's the actual backstory for Cole. I do think that he's connected to either Scorpion or Sub-Zero, especially since he has the Dragon Mark. Again, we just have to wait and see. For the time being, you can check the latest Mortal Kombat trailer below and look for other easter-eggs that we might have missed.
Mortal Kombat 2021 – Finish Him!
Mortal Kombat is a movie that brings all the generations together. From those who watched the movies in the 1990s to those who play the games in 2021, everyone is invited to this epic event.
While restrictions limit these invitations, a VPN gives you limitless access to whatever you want wherever you are. Just follow the guide and learn everything you need to stream HBO Max in your country. Now that's a geo-restriction FATALITY.
Don't forget to leave a comment below in case you have more easter-eggs or rumors to share. I'd like to know everything before watching one of the best movies in 2021.