How to Watch NCAA March Madness 2023 Live Online
|
NCAA March Madness is the greatest American college basketball show. As with every year, the action is definitely on. On March 14th, 2023, CBS, TBS, TNT, and truTV will take on the broadcasting rights of the tournament when the first round kicks off. However, these channels are geo-blocked as they only allow US residents to view their content.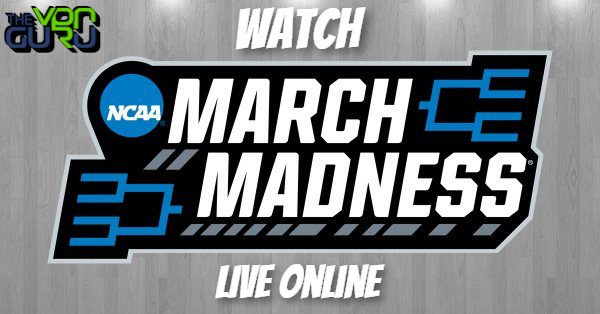 March Madness is a must-see annual event, but geo-restrictions might pose a problem for a lot of viewers. That won't be an issue for long.
In this help guide, we will show you how to unblock these streaming channels and watch the 2023 March Madness wherever you may be.
March Madness 2023 Live – Quick Guide
Time needed: 4 minutes
Streaming the upcoming March Madness tournament is an easy task. All you need to do is follow the steps below:
Subscribe to VPN service.

ExpressVPN has speedy servers in the US, so it's highly recommended.

Download and install the VPN app.

You'll find clients compatible with Android, iOS, PC, and Mac.

Activate the software.

Sign in with your username and password.

Connect to an American server.

This process will give you a US IP address.

Launch your channel's website or app.

The March Madness matches are broadcasted by different channels. More on that later.

Sign in with your account.

Use your US cable provider to log in.

Watch NCAA March Madness 2023 Live.

Enjoy the legendary tournament wherever you are.
Watch March Madness – The Full Guide
Do you want to know more? Make sure you follow this comprehensive walkthrough:
The Requirements
To watch March Madness 2023 in your region, this is what you need:
A VPN subscription.
Any compatible streaming device.
A US Cable subscription.
The Madness Goes International – March Madness Live Anywhere
Will the NCAA March Madness Live application work outside of the US? For now, the service doesn't work at all from abroad, as it applies a technique we call geo-blocking. The same goes for all the streaming channels broadcasting the historic event.
We'll be taking NCAA's website as an example. If you try to access the channel from abroad, let's say, the EU, the following error message appears:
"You have reached this page because you were accessing a NCAA.com page that requests personal information (email address). Unfortunately, NCAA.com does not support the storage of personal information for visitors from the European Union (EU)."
The problem lies in your IP address since it's not a US one. Streaming services examine your IP address to determine your location. If it's not valid within their coverage area, you'll be blocked on the spot.
However, you can use VPN to unblock geo-blocked channels such as NCAA March Madness, CBS, and TNT in Canada, the UK, or anywhere else outside the USA.
Luckily, the steps above can help you bypass these geo-restrictions and access all the channels broadcasting the event wherever you are.
What a VPN Does!
A VPN allows you to obtain an American IP address by routing your connection via an American VPN server. Thus, unblock March Madness anywhere outside the USA. There are other benefits of VPNs:
Changing your IP address to the US means you get access to all US-only channels. Unblock Netflix, Amazon Instant Video, NCAA March Madness, NBA Game Time, WWE Network, UFC Fight Pass, NHL Game Center, and NFL Game Pass.
VPN also encrypts all your traffic to protect yours from eavesdropping and online tracking.
VPN apps are available for streaming devices that have VPN clients. (iPhone, iPad, Android, PC, Mac)
For other streaming devices, VPN needs to be installed on a VPN router.
When it comes to VPN providers, the choices are virtually endless. While we recommend using ExpressVPN to unblock US channels, including NCAA March Madness, there are other services that are able to do the job just as well.
A Streaming Alternative – Smart DNS
If you try to stream any video on the NCAA March Madness website, you'll see this message "Geoblocking, outside of the US." This practically means that you cannot watch NCAA March Madness overseas. What you have to do is hide your location from the NCAA website or app. Smart DNS proxy enables you to do just that.
All your streaming devices work with Smart DNS proxies. Watch NCAA March Madness outside the US on Apple TV, Chromecast, Roku, iPhone, iPad, Android, Amazon Fire TV, PC, or Mac.
Smart DNS even allows you to access geo-blocked content from different regions using one Smart DNS configuration. Thereby, you'll be able to unblock US Netflix, BEIN Sports, and BBC iPlayer at the same time, for example.
Smart DNS does not change your IP address. Keep accessing all local websites.
The most important thing to check for when choosing your Smart DNS proxy service is whether it includes NCAA March Madness in its unblocked channels.
Unlocator, for instance, has NCAA March Madness in its 197 unblocked streaming services. You can try out their 7-day trial period and check the setup guides for all streaming devices.
The March Madness Schedule
Although the first round kicks off on the 14th of March, the overall tournament begins on the 15th. Here's the full schedule:
First Four
March 14 and 15

The University of Dayton Arena, Dayton, Ohio (Host: University of Dayton)
First/Second Round
March 16 and 18

Amway Center, Orlando, Florida (Host: University of Central Florida)
Legacy Arena, Birmingham, Alabama (Host: Southeastern Conference)
Wells Fargo Arena, Des Moines, Iowa (Host: Drake University)
Golden 1 Center, Sacramento, California (Host: California State University, Sacramento)
March 17 and 19

MVP Arena, Albany, New York (Hosts: Siena College, Metro Atlantic Athletic Conference)
Greensboro Coliseum, Greensboro, North Carolina (Host: Atlantic Coast Conference)
Nationwide Arena, Columbus, Ohio (Host: Ohio State University)
Ball Arena, Denver, Colorado (Host: Mountain West Conference)
Sweet 16/Elite Eight
March 23 and 25

East Regional

Madison Square Garden, New York, New York (Hosts: Big East Conference, St. John's University)

West Regional

T-Mobile Arena, Las Vegas, Nevada (Host: University of Nevada, Las Vegas)

March 24 and 26

South Regional

KFC Yum! Center, Louisville, Kentucky (Host: University of Louisville)

Midwest Regional

T-Mobile Center, Kansas City, Missouri (Host: Big 12 Conference)
Final Four/Championship
April 1 and 3

NRG Stadium, Houston, Texas (Hosts: the University of Houston, Rice University, Houston Christian University, Texas Southern University)
March Madness 2023 – FAQ
Here's everything you need to know about the 2023 March Madness tournament:
What Devices Can I Use the March Madness app on?
Below, you can find the streaming devices that you can download the March Madness application on:
Windows PC/Phone
iOS Mac
iPhone/iPad
Android
Amazon Fire TV
Chromecast
Roku
Apple TV
PS4/PS3
Xbox One
Smart TV
Do I Need a Subscription to access the March Madness Channels?
All of the channels broadcasting March Madness require a US cable subscription.
Can I Stream March Madness 2023 Without Cable?
You can subscribe to Sling TV, as it hosts broadcasting channels as part of its collection.
When Will March Madness 2023 Start?
The tournament will start on March 14th, 2023, with the First Four.
How is the Broadcasting Schedule Distributed among the Channels?
Every channel will broadcast a certain part of the March Madness event. Here's how it is this year:
Selection Show – CBS
First Four – TruTV
First and Second Rounds – CBS, TBS, TNT, and TruTV
Regional semifinals and finals – CBS and TBS
National semifinals (Final Four) and championship – CBS
How to Watch NCAA March Madness 2023 Live Online?
So, if you live in the UK, Canada, Australia, or anywhere else outside the USA, either head over to ExpressVPN or Unlocator to spoof your online location; either choice will allow you to watch NCAA March Madness 2023 live online anywhere in the world.