How to unblock Eurosport Player outside UK? Eurosport is a premium sports channel that broadcasts major sporting events from around the world. While Eurosport is available in most European countries, the British Eurosport Player version is the best of the bunch. In this tutorial, you can find instructions on how to watch Eurosport Player in USA, Australia, Canada, or anywhere else abroad. Thus, you will be able to bypass regional restrictions and stream your favorite sports events on PC, Mac, Android, iOS, or Apple TV 4.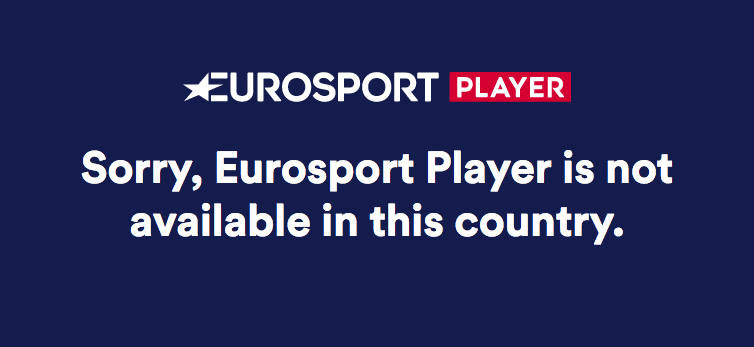 Is Eurosport Player Available in USA, Canada, or Australia?
Unfortunately, Eurosport Player is strictly available in Europe. That means if you are a swimming, cycling, or tennis fan, you won't be able to watch Eurosport in America. Unless you use VPN that is.
How to Unblock Eurosport Player outside UK with VPN?
If you try accessing Eurosport Player in USA, Australia, Canada, or anywhere else where it's not available, you will be presented with the following geo-error. "Sorry, Eurosport Player is not available in this country". Eurosport is able to detect your location by looking at your IP address. That means that if you hide your real IP address, and appear online using a UK IP address instead, Eurosport Player will think you're in the United Kingdom, regardless of where you currently live. Getting a UK IP address overseas isn't as difficult as you might think thanks to virtual private networks, better known as VPN. Follow the instructions below to unblock Eurosport Player outside UK with VPN.
First of all, sign up with a premium VPN service. Stay away from free VPNs like Hola. Such services can harm your online security and do not work properly in most cases.
Now that you have created your VPN account, download and install the VPN app from the VPN provider's website.
Launch the app and connect to a VPN server in the United Kingdom.
You now appear to be browsing the web using an UK IP address.
This approach allows you to unblock all British channels anywhere overseas. This includes Eurosport Player, BBC iPlayer, ITV, Channel 4, My5, Sky Go, and Now TV.
You can even use VPN to change your Eurosport Player region to UK, Germany, Switzerland, Italy, France, or any of the 70 different countries where Eurosport is available. That's a great feature given that each Eurosport region broadcasts different sports events.
Keep in mind that using VPN does not eliminate the need for a subscription to the channel you wish to unblock i.e. you still need to sign up with Eurosport Player if you haven't done so already. If you have signed up for a Eurosport Player subscription from a different country, you can use that subscription to access the UK Eurosport Player version. Anyway, here are the best VPNs you can use to unblock Eurosport Player outside UK.
Eurosport Player Compatible Streaming Devices
Windows PC
Mac OS
Android
iPhone
iPad
Apple TV 4
Major Sports Events on Eurosport
Cycling
Grand Tours
Giro d'Italia – May 5-28
Tour de France – July 1-23
Vuelta a España – August 19-Sept 10
UCI World Tour
Paris–Roubaix – Sunday, April 9
Liège–Bastogne–Liège – Sunday, April 23
Giro di Lombardia – Saturday, October 7
Tennis
Australian Open
Roland Garros
Wimbledon
US Open
Football
African Cup of Nations
Bundesliga
La Liga (only for Denmark)
Ligue 1 (only for the Netherlands)
Italian Serie A (only for Denmark and the Netherlands)
Ekstraklasa (except for Germany, UK and Ireland)
UEFA Europa League (only for Poland and Scandinavia)
UEFA Women's Championship, UEFA Women's Champions League
Major League Soccer (except UK and Ireland)
CAF African Cup of Nations
AFC Asian Cup
U-20 World Cup
FIFA Women's World Cup,
FIFA Beach Soccer World Cup and
Futsal World Cup
Other Sports
World Championship Snooker
ICC World Twenty20
Sudirman Cup
ICC Cricket World Cup
ICC Champions Trophy
All England Open Badminton Championships
Australian Football League
Eurocup
Euroleague (only for Greece)
Greek Basket League (only for Poland)
PGA Tour
Paris Dakar Rally
Monte Carlo Rally
World Athletics Championships
European Athletics Championships
How to Watch Eurosport Player in USA or Anywhere Else in the World with VPN?
VPN is a great tool you can use to bypass geographic blocks and access a truly free Internet. Eurosport Player is just one of the sports streaming channels you get to unblock. You can even turn to VPN in order to bypass blackouts imposed on MLB, NHL, NBA, and NFL in USA and Canada. In case you live in Australia, you get to unblock ITV, Channel 4, Sky Go, and all other UK channels. All in all, it's definitely worth paying a few bucks for VPN each month, given all the extra perks you get out of it. Not to forget the fact you get to browse the web anonymously as long as you're connected to a VPN server.