The NHL season is coming up, and hockey fans couldn't be more excited. The 106th season kicks off on October 7th, 2022, and will consist of 82 games. There are several channels to stream hockey games live, but accessing them anywhere is an issue due to geo-restrictions and regional blackouts.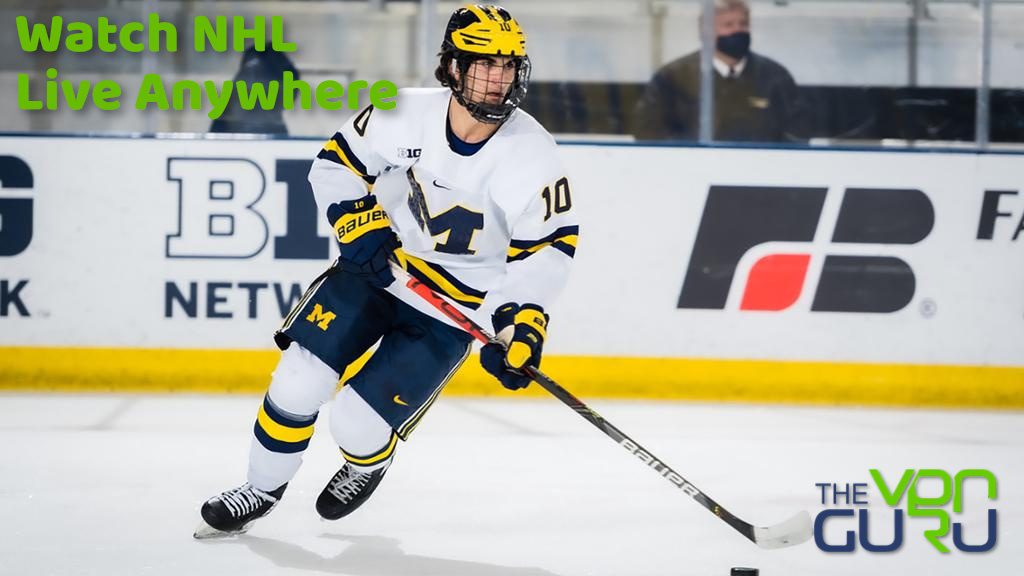 Regardless of what the issue is, we're here to help. With that said, here's how you can watch NHL 2022/2023 without location-based restrictions.
Watch NHL 2022/2023 Live – Quick Guide
Time needed: 4 minutes
Wherever you may be, you'll be able to stream the 2022 season of NHL live by following the steps below:
Subscribe to a VPN service.

Make sure that the provider has servers in countries where NHL is broadcasted. We recommend ExpressVPN.

Get the VPN client on your device.

Download and install the VPN client on your Android, PC, Mac, or iOS.

Activate the VPN app and sign in with your account.

Once in, open the server list.

Connect to a VPN server.

Establish a VPN connection based on the channel you wish to watch the matches on:
– If it's a local US channel, connect to an American server where the game is not being shown on TV (Out of Market).
– If you want to stream the matches on NHL.tv, connect to a server in a country outside of the US where the service is available.
– The final option would be an international broadcasting partner. Connect to a server in the channel's respective country.

Launch the channel's website or app.

Log in with your channel's credentials.

Enjoy the 2022/2023 season of NHL anywhere.

Watch live NHL games wherever you may be.
NHL 2022/2023 – The Full Walkthrough
We gave you an excellent method to watch NHL anywhere in the world. However, there's still a lot to cover. In this in-depth review, we'll be shedding more light on the NHL broadcasting channels, NHL's geo-blocking technique, what an NHL blackout is, and how to bypass any of them.
What's Required
To watch NHL live anywhere, you must everything on this list:
A reputable VPN provider.
NHL broadcasting channel subscription.
A supported streaming device.
National Hockey League – The Broadcasters
NHL is one of the most popular sports leagues in the world. Last season, the average TV viewership reached 2.15 million per game in the United States.
However, if we were to speak about the numbers globally, we'd be getting much bigger results as the NHL has broadcasting partners scattered in several countries.
The NHL made sure to include as many regions as possible, and the channels are presented in the following table:
| Channel | Country |
| --- | --- |
| ESPN+/ABC/TNT | United States |
| TSN/Sportsnet/NHL.tv | Canada |
| Premier Sports (Highlights) | United Kingdom |
| Sky Sports NZ | New Zealand |
| Kayo Sports | Australia |
| OSN Sports | Middle East |
| Canal+ | France |
The services above all require some sort of subscription. None of them are free, but their NHL programming is worth it.
For example, ESPN+ requires a basic monthly/yearly subscription, while ABC requires a cable TV subscription. The same goes for Sportsnet and TSN in Canada respectively.
You just have to pick the channel you see fit for your hockey streaming and follow the steps above to unblock it. We'll talk about why you need to unblock them next.
Geo-blocking and Blackouts Apply
Geo-restricting content is a common practice among websites and streaming channels all over the world. It obstructs users from (access) based on their physical location.
When it comes to streaming services, copyright agreements play a huge role in implementing such restrictions. If the channel only obtained rights in a specific country, it blocks users' access from abroad.
Once you try to watch a channel, it automatically measures your geo-location details such as your IP address to pinpoint your location and determine whether to permit access or not.
If you're not within the coverage area, you get instantly blocked. For example, if you try to watch ESPN+ outside the US, the following error message appears:
"ESPN+ is not available in your country due to content rights issues."
To circumvent this, you should get a US IP address by connecting to an American VPN server. The same goes for every channel on the list above by connecting to a server in their respective countries.
Another problem you would face would be the blackout restrictions. This mechanism occurs when a major cable provider has the sole broadcasting right to specific games.
If that's the case, OTT services are not allowed to stream games. In the US and Canada, regional blackouts are a common practice, where games are blacked out in specific zip codes.
To bypass this, you should connect to a VPN server where the game is not being broadcasted on television.
How to Watch NHL 2022/2023 Live Online Using a VPN
It's no surprise to non-US residents that most of the US streaming services are restricted to US viewership. It matters not because they know for a fact that they can still get these channels where they are if they make use of a VPN.
A virtual private network works by connecting your device to one of its servers in the country where the content you want to access is based. Upon connecting to that server, all of your traffic gets rerouted through it thus providing you with the IP address of that server.
As a result, you become eligible to access the content of the country where the server you connected to is based. To sum it up, here's what a VPN is capable of:
Increases your online security by implementing military-grade encryption.
Cloaks your identity by concealing your IP address.
Speeds up your internet as it bypasses your ISP's throttling techniques.
Unblocks streaming services from all over the world.
For the best unblocking and streaming experience, we recommend ExpressVPN as your service provider. Not only will you be able to unblock all the NHL streaming channels but also gain anonymity and maintain security while doing so.
You can even use a VPN to avoid NHL blackout restrictions. ExpressVPN has hundreds of servers in 94 countries, including the US. For more information on other service providers, check out the table below.
Stream NHL 2022/2023 Anywhere – FAQ
For more information, please check the FAQ section below. A lot of our readers' inquiries have been answered, so you might find this very useful:
When Will the 2022/23 NHL Season Begin?
The 106th NHL season kicks off on October 7th, 2022.
How Many Games Will be Played in the 2022/23 NHL Season?
Unlike the previous seasons, which consisted of 56 games, the 106th edition of the NHL will host 82 games.
How Many Teams Will be in the 2022/23 NHL Season?
In the 2022/23 edition, 32 teams will be competing.
Where Can I watch the NHL All-Star Game in the US?
NHL has multiple broadcasting channels in the United States. However, the All-Star game will be available to watch on ABC.
Who Won the Last Season of NHL?
After an exciting season last year, Tampa Bay Lightning are the current champions.
Watch the NHL 2022/2023 Live Online
The ways to watch hockey are nothing we can't manage. All the NHL streaming channels can be at your disposal once you get a VPN service provider.
Now, you can watch the games from the playoffs to the finals live and online no matter where you are located in the world. If you have any questions, please drop them in the comment section below.