Football fans, get ready – the 108th edition of the Rose Bowl Game is coming on January 1st, 2022 promising a lot of action at the Rose Bowl Stadium in Pasadena, California. ESPN will be broadcasting the epic event, but as you might know, only those in the US can tune it due to geo-restrictions.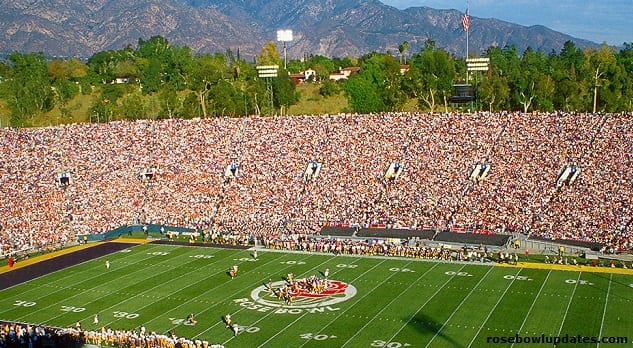 Well, that won't be an issue. We know that college football fans would not want to miss the Rose Bowl, and we just might be able to help with that.
In this article, you'll have everything you need on how and when you can watch Utah Utes vs Ohio State Buckeyes live online no matter where you are in the world.
Watch The 2022 Rose Bowl Live – Quick Guide
Time needed: 5 minutes
Since ESPN is the only broadcaster airing the Rose Bowl, streaming it online only requires you to follow the steps below:
Subscribe to a VPN service.

If you want a provider with fast US servers, we recommend ExpressVPN.

Download and install the VPN application on your device.

VPNs mainly have clients on all major operating systems such as Android, iOS, PC, and Mac.

Activate the app and sign in with your credentials.

Enter the username and password you used to create an account.

Connect to an American server.

This will grant you a US IP address.

Launch ESPN's website or application.

Log in with your credentials (TV Provider).

Watch Rose Bowl 2022 live anywhere.

Enjoy the 108th edition of the Rose Bowl Game wherever you are.
Watch Rose Bowl 2022 Anywhere – The Full Guide
There's a lot more to learn about watching the 2022 Rose Bowl in your region. Check out this in-depth walkthrough:
What You'll Need
To watch the Rose Bowl on ESPN, you'll need all of the following:
A VPN subscription.
Contract with a US TV provider.
ESPN-compatible device.
What a VPN Does!
The Rose Bowl has partnered with different providers so that all countries can gain access to the respective channel. Online streaming is the most reasonable option for cord-cutters or those who don't have access to TV.
There are many streaming services that you can use like ESPN, Sling TV, Fubo TV, and Hulu. However, these channels are inaccessible outside the US where they are based. If you have been using one of these services, then you are good to go. If not, then keep on reading.
These streaming services that substitute cable and allow you to watch the Rose Bowl 2022. But, you need to unblock them first.
And that can be done with a VPN service provider. A VPN is an online tool, which allows you to choose a server in a country -one that you'll eventually get its IP.
Once you're granted the selected country's IP, you'll be able to access the content based on the country you chose. We've summed up all of the VPN's benefits below:
Enhanced security.
Anonymous browsing.
Better speeds (Bypass ISP throttling).
Access to different prices when purchasing online products.
For the best streaming experience, we recommend that you sign up for ExpressVPN. If you want to watch the event without stutters, this is the VPN you should get.
It has some great security features and tough protocols that no third party can get through. For other options on VPN service providers, check out the table below.
Get ESPN on Any Device Outside the US
If you have a TV provider, you can easily proceed with the guide presented below. If you don't, make sure to contact anyone you know in the US to get one. Once you have your US TV credentials, do the following to get the ESPN app in your region:
Android
Getting ESPN on your Android mobile is very easy. All you have to do is use your VPN to connect to an American server.
After that, make sure you change your Google Play region to the USA and download the ESPN app. Finally, launch the channel's client, sign in with your TV credentials, and stream the Rose Bowl anywhere.
iOS
When it comes to iPhone or iPad, the same process as Android is required. First, connect to a US server. Second, change the Apple Store region to the United States and get the ESPN app.
Now, launch ESPN and sign in with your username and password. As a result, you can now watch Rose Bowl 2022 live online wherever you are.
Desktop
On your Mac or Windows PC, you can watch the Rose Bowl by following a few steps. Your first task is to get the VPN app on your desktop device and connect to a US server.
Next, open your preferred browser and head over to ESPN's website (Not ESPN+). Finally, log in using your TV credentials and start streaming immediately.
About Rose Bowl 2022: Utah Utes vs Ohio State Buckeyes
Do you want to learn more about the 2022 Rose Bowl? Make sure you take a look at this section:
When was the Rose Bowl Created?
Rose Bowl has become one of the most important events for US citizens ever since it was established in 1902
When Will the 2022 Rose Bowl Commence?
The Rose Bowl Game is due to occur on January 1st, 2022.
What Teams are Facing off in the 2022 Rose Bowl?
This year's Rose Bowl focuses on Utah Utes vs Ohio State Buckeyes.
What Edition is this Rose Bowl?
This year marks the 108th edition of the legendary Rose Bowl Game.
Rose Bowl 2022 – Final Thoughts
The event is just around the corner so you better decide whether you are going to go to the venue or stream the Rose Bowl live. If showing up in person is not an option, use our guide for reference. Then, you get to watch the event from anywhere in the world.