The most extreme winter sports event is coming back to Buttermilk Mountain in Aspen, Colorado. From January 27 to January 29, 2023, athletes from around the world will compete in gravity-defying sports, marking the start of the epic Winter X Games 27.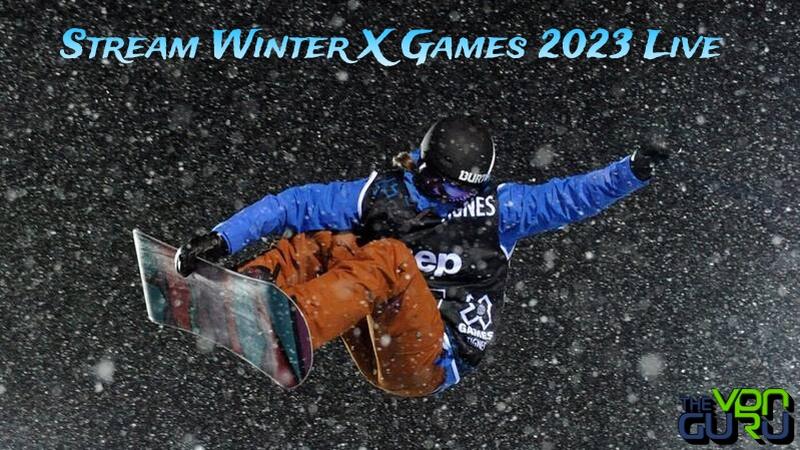 Nearly 100 of the world's top winter athletes will go head to head and compete in the biggest snow sports event of the year and ESPN will broadcast all the action – only in the United States.
In other words, only those in the US can watch it as the channel applies geo-blocking. Nonetheless, bypassing restrictions is what we do best, and here's how you can watch the Winter X Games 2023 live anywhere.
Watch Winter X Games XXVII – Quick Guide
Time needed: 4 minutes
This won't take long. To watch the 2023 Winter X Games, follow the steps below:
Subscribe to a VPN service provider.

For excellent streaming speeds, we highly recommend ExpressVPN.

Get the VPN app and install it on your preferred device.

Most VPNs are compatible with Android, iOS, PC, and Mac.

Activate the VPN client and sign in.

Enter your username and password.

Connect to an American server.

Once the connection is established, you'll receive a US IP address.

Launch ESPN's website or application.

You'll need to sign in with your TV provider's credentials.

Watch the 2202322 Winter X Games live.

Enjoy one of the best sporting events of the year wherever you are.
Watch Winter Games 2023 – Full Walkthrough
Need to know more? Make sure you go through this in-depth guide. It has everything you need to know about the Games and how to stream them live in your region.
The Requirements
To watch the 2023 Winter X Games, you'll need everything on the list below:
VPN account.
A US cable TV subscription.
ESPN-compatible device.
ESPN Player – Global, Yet Restricted
In 2020, 111,500 attendants went to see the Winter X Games in Aspen. In 2021, the games commenced without an in-person audience.
The legendary annual event is hosted, produced, and broadcast by ESPN, which means that it's the only streaming channel that will broadcast the Winter X Games 2023 in the USA.
Unfortunately, the ESPN app is geo-blocked abroad. That means that American ex-pats currently living abroad won't be able to watch the extreme winter sports on ESPN.
Geo-blocking is a mechanism used by streaming channels all over the world to protect their copyrights. They use geolocation techniques to determine the users' whereabouts and act upon that in terms of providing their content.
In this case, ESPN examines your IP address to pinpoint your location. If you're not holding an American IP address, you're not watching the X Games, despite the channel's global availability.
That's all about to change as the steps above will show you exactly how to unblock the channel in your country, and watch the 2023 X Games live online.
X Games 2023 – Global Streaming
In order to unblock US-only channels in the UK, Canada, Australia, or elsewhere, you need an American IP address.
The easiest and most efficient way to get that is by using a Virtual Private Network. It's a security tool that encrypts a user's data using military-grade encryption and protects it against hackers and cybercriminals as it travels through a private tunnel.
Also, depending on the server the user connects to, he/she will receive an IP address while cloaking their own in the process.
For example, if you connect to an American server, you'll receive a US IP address, which technically means that you're now located in the US (at least for online services).
As a result, you'll be able to access US-based websites such as ESPN, NBC Sports, and the like.
Based on a strict evaluation process, we have reviewed the best VPN services you can use to watch the Winter X Games 2023 outside the USA.
While ExpressVPN still tops the charts in the industry, there are a lot of other VPNs that did very well during our tests, especially in terms of speed, security, privacy, and unblocking capabilities. Here are the results.
A VPN Alternative – Smart DNS Proxy
Smart DNS proxies are very useful when it comes to bypassing geographic restrictions. Smart DNS allows you to stream online channels such as ESPN outside the USA.
This is made possible because the chunks of your connection that reveal your location get rerouted. Hence, you'll appear to be accessing WatchESPN inside the US. Smart DNS proxies do have other advantages.
If you wish to watch online channels from different regions at the same time then Smart DNS is definitely the way to go. Smart DNS gives you access to pan-national streaming services simultaneously. Watch ESPN and BEIN Sports at the same time without having to re-touch your Smart DNS configuration.
Smart DNS does not encrypt your Internet traffic. As a result, you Internet speed is kept untouched.
Your local IP address doesn't change when using Smart DNS. This means you can continue to visit all local websites.
Smart DNS works well on all streaming devices. Unblock ESPN on iPhone, iPad, Android, Apple TV, Roku, and Xbox without the need to download additional software.
In case your ISP (Internet Service Provider) uses policies like Transparent Proxies or DNS Hijacking, Smart DNS probably won't work on any of your devices.
If you're searching for a Smart DNS service, make sure their list of unblocked channels does contain ESPN. Unlocator's list of around 120 streaming channels, for instance, includes ESPN.
Try their free 7-day trial and make sure you check their videos and guides on how to set up your streaming device with Smart DNS.
Winter X Games 2023 – FAQ
This year's X Games promises to be as legendary as ever as the X Games Aspen 2023 will feature top Men's and Women's Ski and Snowboard competitions. Here are some questions most of our readers have been asking:
When Will the Winter X Games 2023 Begin?
Winter Games XXVII will begin on January 27th, 2023 with the Women's Snowboard Slopestyle.
Where Will the X Games Take Place?
This year's "Winter X Games" is coming back to Buttermilk Mountain in Aspen, Colorado
Which Channel is Broadcasting Winter X Games 2023?
As it has been for years now, ESPN will take on the role of the X Games' official broadcaster in the United States. For international access, these channels are available:
TSN (Canada)
TV2 Play (Denmark)
Prosieben (Germany)
BT Sport (UK)
Nova (Czech Republic)
ESPN (Australia)
Extreme Sports (Global/Highlights)
The channels above might have some limitations when it comes to the full competition. That means ESPN (USA) is your best option.
Can I Watch Winter X Games for Free?
Unfortunately, none of the channels offers a free broadcasting option. You can, however, watch highlights for free through the Winter X Games official Youtube channel.
Can I Watch Winter X Games on Kodi?
No, you can't. Kodi hosts no official add-on for any of the channels broadcasting the event.
How to Watch 2023 Winter X Games Live – Wrap Up
The Winter X Games 2023 is an event many fans are looking forward to. This year's competition promises a lot of action and you have the tools to watch them with.
Which category are you interested in? Did we help you unlock ESPN in your country? Let us know in the comments below.