Redbox is a company that is well known for sticking to its movie rental model at a time when the whole world continues to embrace online streaming. Its success in keeping the rental business running has not stopped the company from venturing into the video-on-demand streaming service. However, despite these efforts, Redbox is still only available for a specific audience – US residents.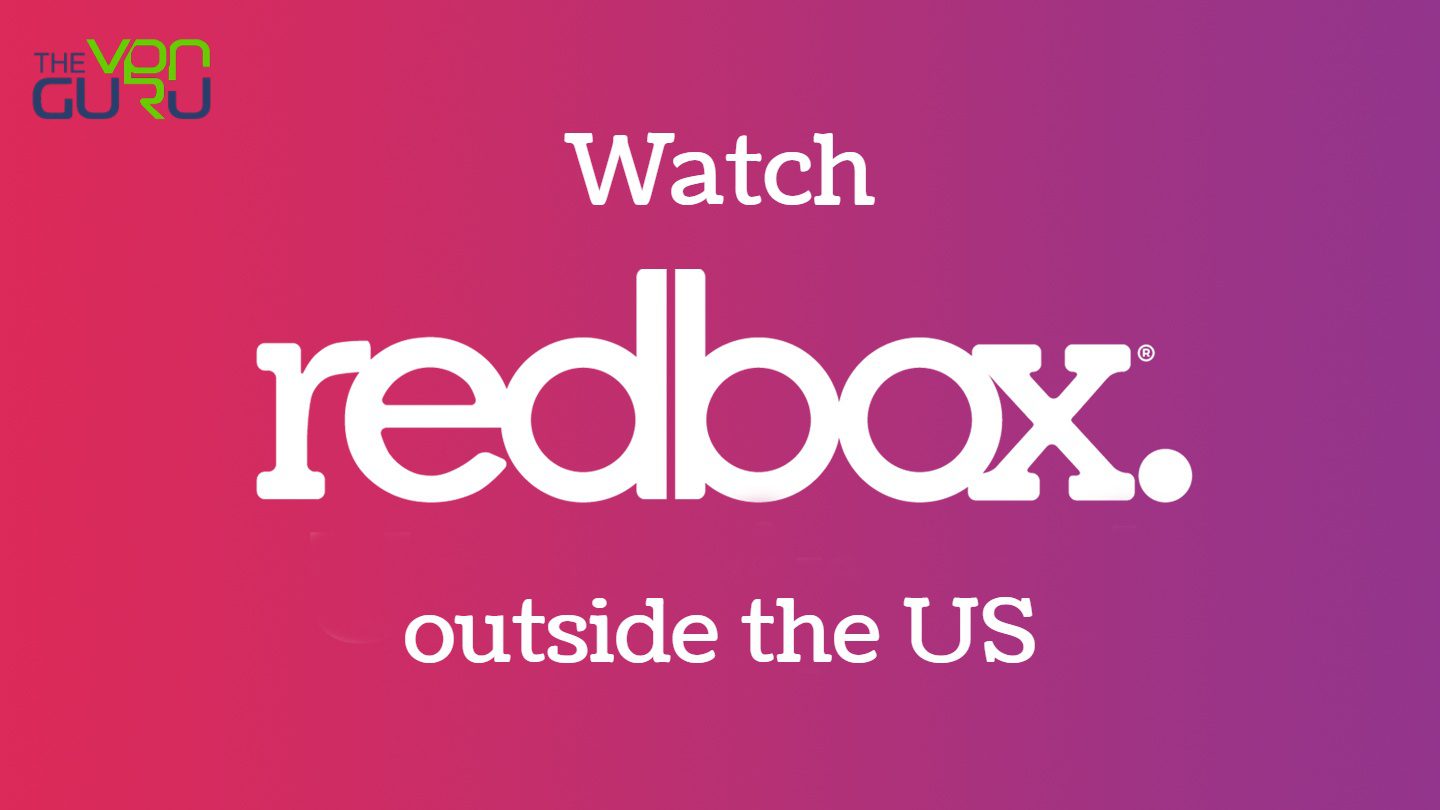 Yeah, you read it right. Redbox is only available in the US as geo-restrictions forbid those in the UK, Canada, Australia, or elsewhere abroad from accessing its content.
This won't be an issue anymore as we're here to help. Here's how you can unblock and watch Redbox anywhere outside the US.
Unblock Redbox Anywhere – Quick Guide
Time needed: 4 minutes
To unblock Redbox, you'll need a VPN. Before we unveil our top picks, let us present you with the steps you need to get the channel up and running in your country:
Subscribe to a VPN service.

You need fast servers in the US. For guaranteed results, we recommend using one of the VPNs reviewed below.

Install the VPN app on your device.

You can get the VPN client on Android, iOS, PC, or Mac.

Activate the VPN application.

Sign in with your username and password.

Connect to an American server.

Once a connection is established, you'll receive a US IP address.

Launch Redbox's website or application.

Sign in with your Redbox account and purchase/rent your desired content.

Stream Redbox anywhere.

Enjoy thousands of titles wherever you may be on Redbox.
Best VPN to Unblock Redbox – The Full Review
Here we go. We've gathered all the information you need to know about Redbox's geo-restrictions, what you need to unblock the channel and the best VPNs for the task. Here's everything we got:
The Requirements
Unblocking Redbox outside the US requires everything on the list below:
A VPN subscription.
A Redbox Account.
You need to purchase a title.
A Redbox-compatible device.
What is Redbox?
Redbox went on to launch its video on demand platform earlier in 2013. However, it later improved its decision by switching from a subscription model to that of video on demand. This means the service continued to offer the same renting service that it did through its kiosks, but now extended it to the digital version of its products.
The RedBox executives argued that it was far cheaper as it allowed them to better manage revenue and avoid licensing issues.  
Dubbed Redbox on-demand, the service allows users to rent out their movies for a specific period of time. The initial pricing is for titles that have been on their list for longer, while the latter is for much newer releases.
Those who want to own titles for good can purchase them for $10 or upwards. As a service that launched with about 7000 titles, Redbox on Demand sure promises to be a worthwhile streaming service to check out.
Redbox's Geo-Restrictions
As a service that has its rental kiosks only present in the US, it makes sense that Redbox should follow the same path. This is probably because of the various licensing issues it might run up to if it made many of its new releases available to every other country.
As a result, users who prefer renting their flicks from Redbox on Demand may be heavily disadvantaged if they ever travel outside the country.
This is because the RedBox app or website will be able to pick up on their IP address and restrict their access. In other words, to access Redbox, you need an American IP address.
If you live abroad, that's exactly what you lack, resulting in one of these error messages:
"Playback of this title is not currently available. Please try again. If this issue continues, please contact Redbox Customer Service."
"Oops. Something unexpected happened."
"An unexpected error has occurred. Please try again."
"No content. Video playback failed."
"403 ERROR. The request could not be satisfied. Request blocked. We can't connect to the server for this app or website at this time. There might be too much traffic or a configuration error. Try again later, or contact the app or website owner."
Unblocking Redbox is pretty easy. All you have to do is follow the steps provided above and you'll be renting/buying all the movies you want wherever you are.
What is a VPN?
The best way to work around this type of restriction is to get a solution that would allow users to hide their IP addresses.
Luckily, you can do this through the use of a VPN. Using a VPN allows customers to alter their IP address, and in turn, have details such as their location or their identity changed.
Once a user subscribes to a VPN service, they are able to reroute their traffic by connecting to remote servers based in different countries.
Upon connecting, the IP address that appears will dupe the website they're trying to access into thinking that a user is based wherever the server they've connected to is located.
So if you're outside the US, all you have to do is connect to a server that's based within America and you'll be able to access Redbox on Demand.
Aside from that, a VPN encrypts your data and enhances your security to an extent where no third-party entity can intercept it. That's excellent for those who like to surf the web anonymously.
Using a VPN might be daunting for a first-time user, but it takes very little time to get used to. The service is also greatly advantageous as it helps keep users secure whenever they're online.
This means more confidence when accessing your bank online, or when shopping from home. With that said, here's a table that highlights the top VPNs on the market.
Best VPNs for RedBox on Demand
Deciding what best service you want to subscribe to can be a hassle sometimes. Therefore, we've put together a list of reliable providers that you can turn to for a more fluid experience. Here are our top picks for the Best VPNs for Redbox on Demand.
1. ExpressVPN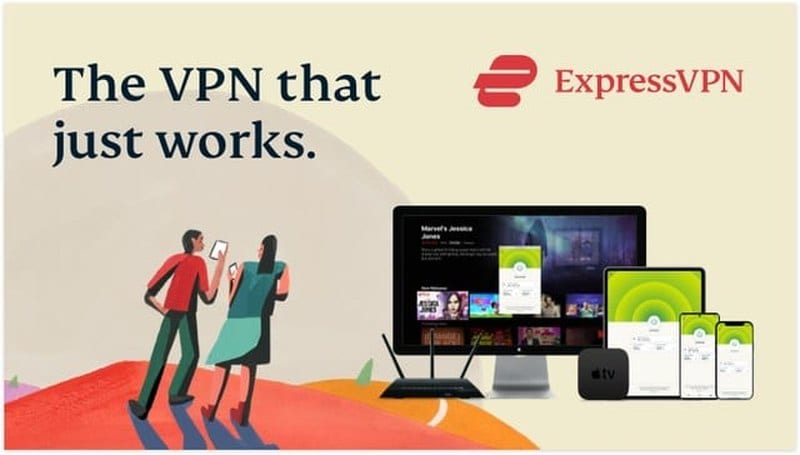 ExpressVPN is one of the best providers in the industry right now. The service has close to 2000 servers within its network, providing its customers with more than 200,000 IPs to connect to. The service is also situated in a secure region, the British Virgin Islands.
The area is not subject to any data regulatory jurisdiction and is therefore incapable of dishing out any user information. On top of that, the service also implements a zero-logging policy to keep things watertight.
ExpressVPN relies on 256-bit AES encryption, which works in tandem with VPN protocols such as Open VPN and its newly created Lightway technology.
ExpressVPN also has a commendable level of customer service. Its team is available for help 24/7 through live chats, email ticketing, or social media.
The service also offers a split tunneling feature that allows you to manage your encryption. Moreover, it also spots obfuscated servers that are great for use in highly restricted countries.
For a more comprehensive look into what to expect from this provider, take a look at our ExpressVPN Review.
Pros
Servers in 90+ countries.
Unblocks Redbox.
Speedy servers.
MediaStreamer Smart DNS.
30-day refund period.
User-friendly applications.
5 simultaneous connections.
Military-grade encryption.
Kill Switch.
Split tunneling.
Browser extensions.
Cons
Pricey subscription plans.
No free trial.
2. BulletVPN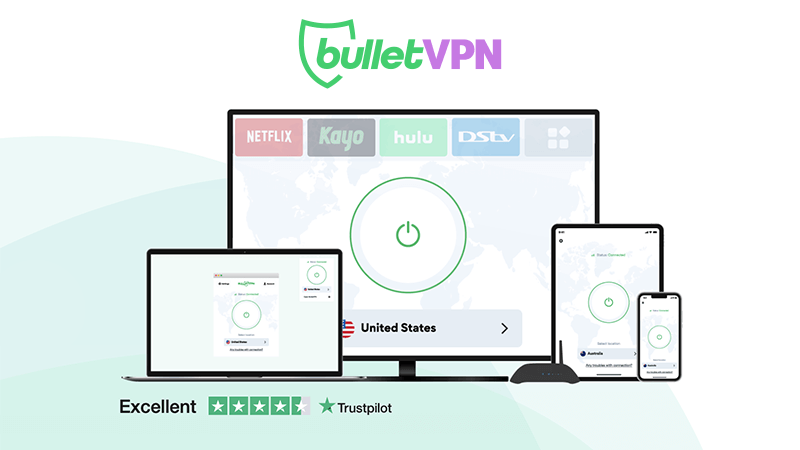 The second spot goes to none other than the VPN that showed excellent unblocking results, BulletVPN. The service has servers across 50+ countries, including blazing-fast ones in the United States.
While several providers we tried did not manage to unblock Redbox, BulletVPN fulfilled the task on our first try. We didn't even have to pick a different server.
Moreover, BulletVPN boasts the latest technology when it comes to security. With military-grade encryption and robust features such as a kill switch and Bullet Shield, users can surf the internet in complete anonymity.
With a single BulletVPN, you can connect up to 6 simultaneous devices, granting you, friends, and family full security all the time.
Also, BulletVPN has a free Smart DNS feature that comes with every subscription. This allows you to extend your streaming experience to devices that don't normally support VPN clients. We're talking about PlayStation, Xbox, Apple TV, Smart TVs, and the likes.
Pros
150+ servers in 50+ countries.
Supports Redbox.
UltraHD servers.
Free Smart DNS.
30-day refund period.
Easy-to-use applications.
6 concurrent connections.
Military-grade encryption.
Kill Switch.
Bullet Shield.
Free trial.
3. SurfShark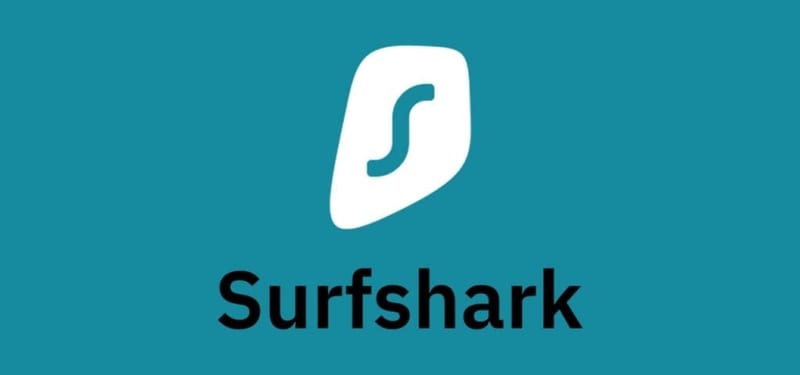 Another top provider on our list would be SurfShark – the VPN famous for allowing unlimited simultaneous connections under the same account.
Yeah, that's right. Once you subscribe, you can use the same username and password on any device, regardless of the number of users who are signed in.
But that's not the only good feature SurfShark has to offer. In fact, the provider has a vast server network that covers over 65 countries, split-tunneling, a kill switch, multi-hop, as well as CleanWeb.
With CleanWeb, you can surf the internet without having to deal with ads. In other words, this feature is SurfShark's perfect ad-blocker.
Also, SurfShark offers free Smart DNS with every subscription, granting you full speed while streaming your favorite streaming services from anywhere.
Pros
Servers in 65 countries.
Can access Redbox.
Excelllent speeds.
Smart DNS.
30-day money-back-guarantee.
Easy-to-use applications.
Unlimited concurrent connections.
Top-level encryption.
Kill Switch.
CleanWeb.
Split-tunneling.
Multi-hop.
4. Unlocator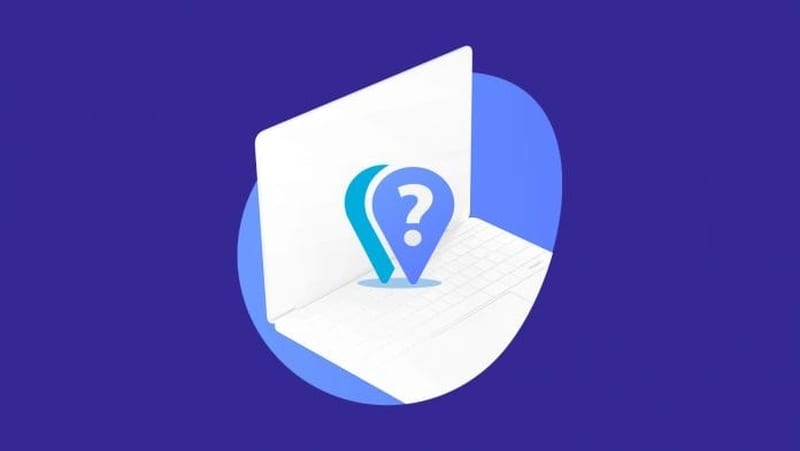 Unlocator is the fourth most reliable provider that you can turn to. This is because of its server coverage of up to 30+ countries.
The service also allows up to 5 multiple connections under its subscription. If all the 5 users get connected, the service still allows for each of them to enjoy unlimited bandwidth, as well as unlimited server switching capabilities.
Even as a service that's based in Denmark, Unlocator still promises complete security and anonymity to its users. The provider relies on 256-bit AES encryption, as well as the strict implementation of its zero-logging policy.
Unlocator also ensures that its users are able to choose between downloading their VPN client or just sticking with their Smart DNS service.
That's why it allows its customers to choose between them separately when subscribing. The prices are affordable and they're tagged with a generous 7-day free trial as well as a 30-day refund policy.
Pros
Servers in 30+ countries.
Unblocks Redbox.
Smart DNS.
30-day money-back-guarantee.
User-friendly applications.
5 concurrent connections.
High-level encryption.
Kill Switch.
Unlocator Shield.
7-day free trial.
Cons
Not many feature.
Inconsistant speeds.
5. NordVPN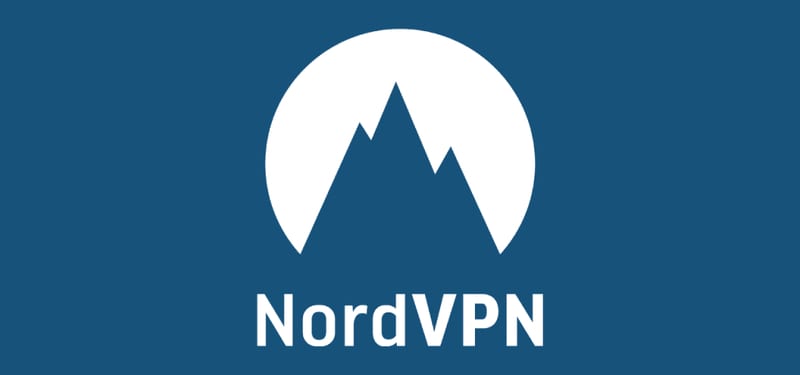 Winding up our list is NordVPN. This one is a strong provider that is known for its versatility and ease. It's is capable of taking care of the needs of even heavy-duty users. The service is based in Panama and has close to 4000 servers within its network.
NordVPN also allows its users to choose which servers to connect to, as most of its servers are optimized for different uses. Such uses include HD streaming, torrenting, downloading in bulk or playing online games.
NordVPN's Double VPN protocol is pegged on the already military-grade 256-bit AES encryption. This makes it more effective as it routes it through two servers instead of one. The service supports up to 6 simultaneous connections.
It also works well with Tor over VPN to ensure a truly anonymous browsing experience. The provider also has a series of obfuscated servers that users can rely on if they live in countries with high censorship.
Aside from all this, NordVPN assures its customers of complete DNS leak protection, as well as dedicated IPs for users that prefer more personalized protection. For a more in-depth look at the service, take some time to go through our NordVPN Review.
Pros
Servers in 59+ countries.
Supports Redbox.
Smart DNS (SmartPlay).
30-day refund policy.
6 concurrent connections.
High-level encryption.
Kill Switch.
Split-tunneling.
Double VPN.
Cons
The app might confuse new users.
Inconsistant speeds.
Unblock Redbox Anywhere – FAQ
But wait! There's more. In this section, you can find additional information about Redbox. Make sure to give it a quick read.
Can I Watch Free Titles on Redbox?
Redbox allows you free access to live TV and programs. You can also watch some select titles free of charge. However, top channels and movies are only available for purchase.
Do I Need to Create an Account?
An account is necessary if you're purchasing content. However, you don't need one if you're streaming free content.
You will encounter an ad or two only if you're watching free content.
Why Can't I Get Redbox on Fire TV?
That's because Redbox doesn't have dedicated applications for Amazon Fire Stick.
Conclusion for The Best VPN for RedBox
Renting your favorite movies from Redbox On Demand while on the go can only get easier once you sign up with a VPN.
The 5 providers we've listed above are more than capable of ensuring access to the service outside the US, so you should have no valid reason for missing out on your favorite movies while traveling.