Virtual Private Networks have become an essential part of our lives, mainly to maintain our online security and bypass regional restrictions. Some thrive and others fall, and TigerVPN falls in the latter category. If you're a customer, it's time to look for some TigerVPN alternatives.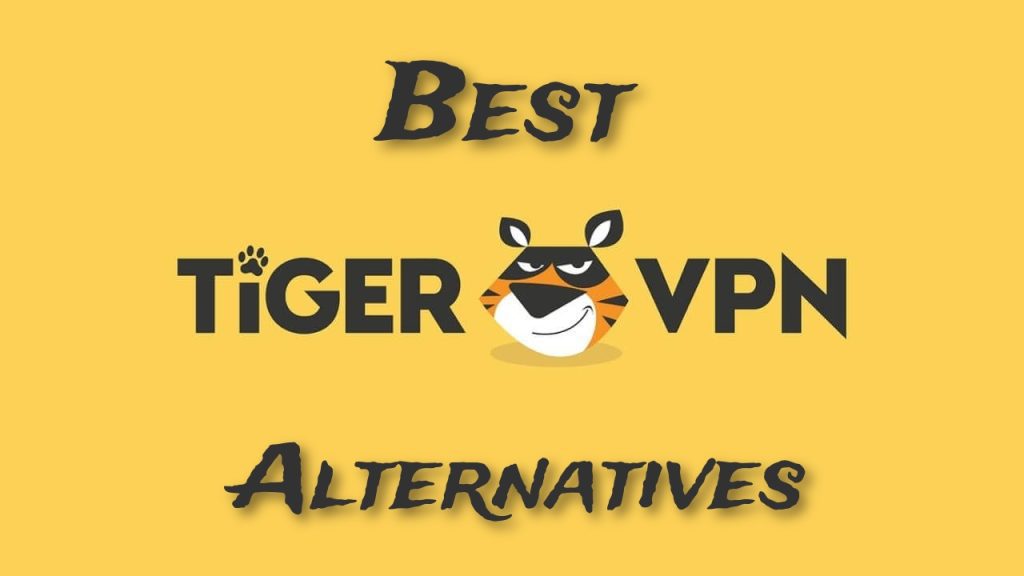 There are dozens of VPNs – some are good, some are bad, and some are downright useless. TigerVPN was decent, but it never reached a status where you can fully rely on it.
On July 15th, 2022, TigerVPN ceased its entire operations. Those who wish to continue browsing the web safely should have a substitute, and we're here to guide you through it.
TigerVPN Alternatives – Quick Sign-Up Process
Time needed: 4 minutes
The sign-up process is quite simple. It all goes down in a few clicks, but we'll help you out regardless. Here's what you need to do:
On your mobile/computer, launch your preferred browser.

Visit the website of one of the reviewed providers below.

Go to the signup page.

Choose your plan and enter the necessary details.

Download the VPN application.

You can get the app directly from the website or through your native app store.

Launch the VPN software.

Sign in with your username and password.

Connect to a VPN server.

Establish a VPN connection in a country of your choosing.

Protect your online activities.

Enjoy fully secure and anonymous browsing activities.
TigerVPN No More – The Tiger Goes to Sleep
Founded in 2011, TigerVPN was a service based in Slovakia. The VPN was struggling from the start as it did not deliver what most VPNs were at launch.
In 2016 it made a completely full renovation to its service and relaunched its brand. The people behind TigerVPN knew that a lot of alterations and improvements were needed to elevate the service.
As a result, TigerVPN released new apps, a new website, and better encryption implementation. However, when we tested this newly revamped version, the bad outweighed the good in so many different aspects.
TigerVPN does have a decent server network, but it lacked what an All-Rounded VPN should provide. Here's a quick look at what we came up with during our tests:
Pros
Live Chat Support.
Comprehensive setup guides.
Great App-compatibility.
P2P support.
Unlimited server switching.
256-AES encryption.
Cons
Small server network.
Inconsistent speeds.
Two concurrent connections.
No refund policy.
No free trial.
The kill switch is missing.
Only a 1-month plan.
Unblocks no streaming service.
No Wireguard.
Live chat is not 24/7.
Doesn't work in China.
If you take a look at the "Cons" section, you'll notice that everything a VPN needs to have is missing from TigerVPN's arsenal. However, it's a bit too late to assess the service as TigerVPN has decided to throw in the towel. Here's what their official website states:
"To our valued customers,


We regret to inform you, that we shut down our service on July 15, 2022 at 10:00 UTC.


We deeply regret this outcome but the last years have been challenging for us. COVID-19 had a big impact on our small team and we struggled to keep operations afloat.


On July 15, 2022 at 10:00 UTC, the service shuts down permanently and any remaining account data that was required to operate the service is deleted and irreversibly destroyed to respect your right to be forgotten. 

This includes any data such as (usernames, system messages, login credentials, email addresses, support messages, etc)



We are sorry to shut down permanently.
Thanks for being with us from the start."
There you have it. Apparently, TigerVPN could not handle the impact COVID-19 had on so many businesses and had to cease its operations.
In this review, we're going to showcase 4 of the top VPNs in the industry. We don't like to call them alternatives since they should've been your choice, to begin with. But if you're a TigerVPN customer, make sure to give this review a read.
The Best TigerVPN Alternatives – Full Review
As we mentioned, you can find hundreds of VPNs on the market, but not all of them are fit to be an alternative for TigerVPN. It's not that the provider is "better," it's the fact that they are even worse.
TigerVPN might be good in some aspects, but it was never a recommended VPN. Still, if you were a customer, we have done the research for you.
According to a thorough testing process and hours of examination, we've found the best 4 VPN providers that can easily replace TigerVPN, and probably, any VPN you might be using. Check them out in this table, followed by their comprehensive review:
ExpressVPN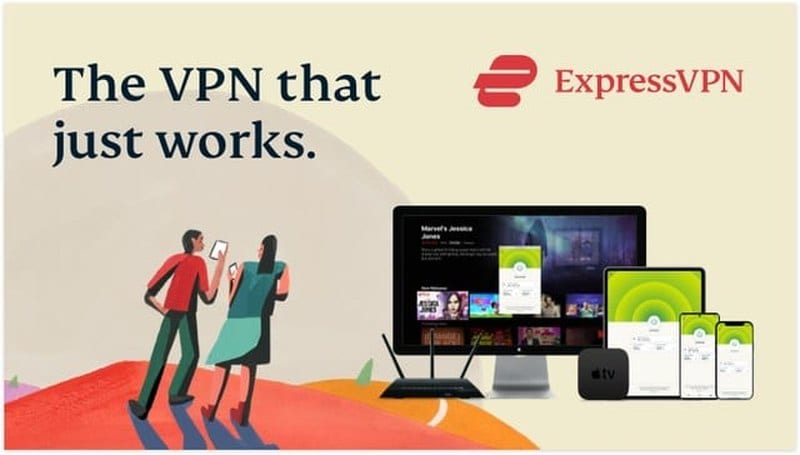 We can't say that ExpressVPN is an alternative, to be honest. In fact, it's the choice you should've made before opting for TigerVPN. There's practically no comparison here.
ExpressVPN has servers across 94 countries while TigerVPN only covers 40+ of them. Double the amount, double the access to geo-restricted content.
Moreover, ExpressVPN boasts a wide variety of security features, including a kill switch and split-tunneling. Speed-wise, this provider doesn't tamper a lot with the connection as we were able to stream UHD content without suffering any buffering issues or quality loss.
Another advantage ExpressVPN has is the offering of Smart DNS. TigerVPN doesn't have that, which means watching content on Smart TVs, Apple TV, Xbox, and PlayStation was never an option.
Two simultaneous connections using the same account are not enough. ExpressVPN allows five of them – you and 4 others can benefit from extra-secure connections.
Finally, TigerVPN had no way for you to test its service. You just sign up and hope for the best. ExpressVPN, however, allows new customers to benefit from a 30-day refund policy, which is more than enough time to give the provider a try.
Pros
194 server locations in 94 countries.
Excellent speed rates.
Kill switch.
Unblocks major streaming services.
30-day refund policy.
Five concurrent connections.
Easy-to-use apps.
Lightway protocol.
Browser extensions.
24/7 live chat support.
BulletVPN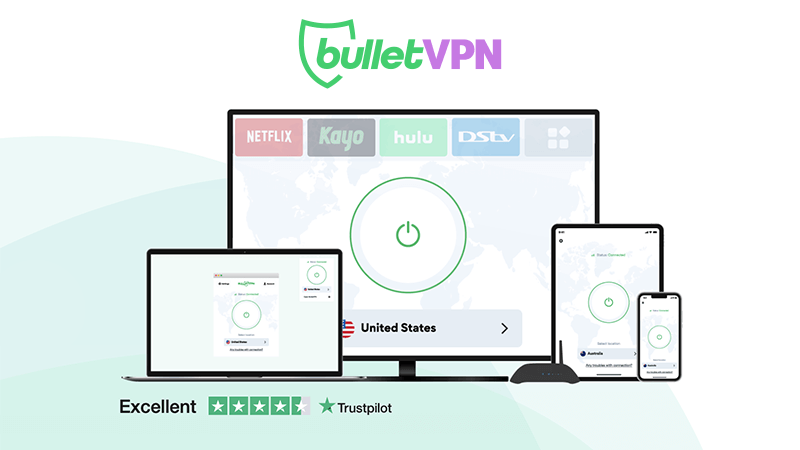 Another VPN you should definitely consider would be BulletVPN. This service showed a lot of potential back in 2017 when it launched, and had grown to be the excellent service it is now.
BulletVPN has servers in over 55 countries, and they're blazing-fast ones. We tested the speed first since the name directly reflects that.
The provider didn't disappoint, offering the best speeds possible regardless of the server's location. Not only that, but BulletVPN managed to unblock every streaming service we tested it with.
Even ExpressVPN wasn't able to get all of them. Well, BulletVPN did. It's worth mentioning that TigerVPN got none of them.
Security-wise, BulletVPN provides a kill switch, Wireguard protocol, military-grade encryption, and finally, Bullet Shield.
Kill switch and Bullet Shield work simultaneously to maintain your privacy. The first one cuts the internet if the VPN goes down and Bullet Shield doesn't allow you to reconnect until a VPN connection is established – talk about privacy all the way.
BulletVPN also has Smart DNS, which TigerVPN clearly lacks. You can unblock major streaming services on any device available.
And finally, BulletVPN offers a free trial as well as a 30-day refund policy. If that's not enough to see what the provider has to offer, we don't know what is.
Pros
Servers in 55+ countries.
Military-grade encryption.
Kill switch.
Bullet Shield.
6 simultaneous connections.
Access to major channels.
30-day refund policy.
Free trial available.
Smart DNS.
User-friendly apps.
Flexible pricing.
Cons
No browser extensions.
No Double VPN.
Surfshark
Surfshark also gets a spot on our list as it's one of the best VPN providers we've encountered during our research. The service has thousands of servers in over 65 countries, which means that bypassing geo-restrictions is kind of an easy task.
When we speak of connection speeds, we have to give SurfShark a thumbs up in every aspect. No matter what server we connected to during our tests, we never witnessed slow connections.
Our videos maintained high quality and our browsing was never interrupted. As for security, Surfshark has it all. The service provides a kill switch, double VPN, CleanWeb (Ad-blocker), Wireguard, as well as split-tunneling.
We tested Surfshark's unblocking techniques, and we weren't very surprised by the outcome. The provider was able to unblock the likes of Netflix, Amazon Prime, BBC iPlayer, as well as Disney+.
And finally, to test Surfshark's capabilities, the service provides new users with a 30-day money-back guarantee. That's enough time to see whether it's the VPN for you or not.
Pros
Servers in 65 countries.
Military-grade encryption.
Smart DNS.
User-friendly applications.
Ad-blocker.
Double VPN.
Unlimited simultaneous connections.
Split tunneling.
30-day refund policy.
Excellent speeds.
Browser extensions.
Unlocator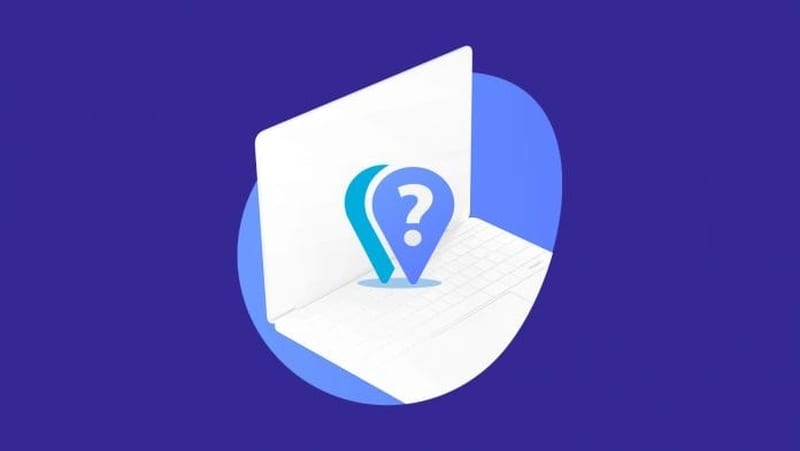 And finally, we have Unlocator. If you're looking for a VPN that can unblock any channel you want to watch, this provider can get the job done.
Back in 2013, Unlocator launched as a Smart DNS service. Fast forward to 2019, Unlocator launched its humble VPN service, which soon became very effective and reliable.
Let's start with its streaming capabilities. Unlocator's team made sure to unblock as many channels possible – 240+ as of now.
With servers in 33+ countries, users can protect themselves and browse the internet anonymously. However, despite the high-quality service, Unlocator still struggles with speed.
Regardless, if streaming is what you're looking for, you can use its Smart DNS feature. That way speed is guaranteed and you get to watch your content on all kinds of devices.
When it comes to trials, Unlocator has the most generous of them all – a 7-day free trial. You don't have to submit anything but your email address.
Once this trial is done and you're convinced, you can also benefit from the provider's 30-day refund policy. Please note that Unlocator has two kinds of subscriptions: Smart DNS and Smart DNS+VPN. You get to choose what's convenient.
Pros
Smart DNS.
WireGuard support.
Easy-to-use apps.
Reliable support.
Separate subscription plans.
7-day free trial.
5 simultaneous connections.
30-day refund policy.
Affordable prices.
Unblocks major streaming services.
Cons
Small server network.
Inconsistent speeds.
No browser extensions.
TigerVPN Ceases Operations – FAQ
Do you have any more questions? Then make sure you check the following section for additional information:
The service wasn't bad, but it's not on par with other VPN services.
Did TigerVPN Unblock Netflix?
No, TigerVPN wasn't able to unblock the likes of Netflix, Hulu, Amazon Prime, and Disney+.
Why Did TigerVPN Stop its Operations?
Based on their statement, COVID-19 had a big impact on them and they struggled to keep operations afloat.
Should I Worry About My Personal Data?
According to TigerVPN, to respect the users' privacy, all the remaining information will be deleted and irreversibly destroyed.
Did TigerVPN Shut Down for Good?
Yes, the entire TigerVPN service has been shut down permanently.
TigerVPN Alternatives – Choices You Should've Gone for From the Beginning
We have to state that TigerVPN wasn't bad, but it wasn't good as well. Why settle for a VPN that is deemed unreliable when you can subscribe to giants like the ones in our review?
Now, TigerVPN is no more, and previous customers must be looking for alternatives. In this review, we've given you everything you need to know about the top VPNs in the industry and what they can do. Share your thoughts, and tell us your pick in the comment section below.