This season's NBA All-Star exhibition game will take place on February 19th, 2023, marking it as the 72nd edition of the event. TNT has broadcasted the event for over 20 years, and things will not change in 2023. What also didn't change is the fact that the channel is geo-blocked outside of the US.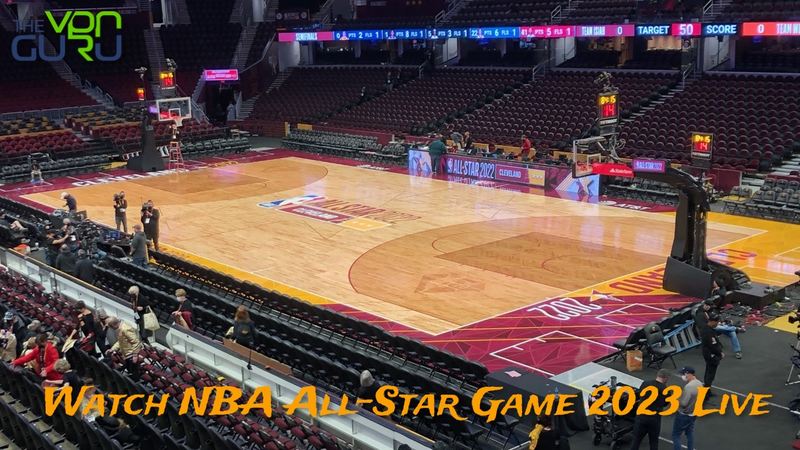 The Vivint Arena, home of the Utah Jazz will be stacked with basketball fans who want to join in on some Swish Action.
This year, the game is as thrilling as ever. Unfortunately, as mentioned, streaming outside the US is not possible. Well, not quite. We're here to fix that. Here's how you can watch the 2023 NBA All-Star game anywhere live.
Watch NBA All Stars 2023 Live – Quick Guide
Time needed: 5 minutes
The process is very simple. To stream the All-Stars game, the following steps are required:
Subscribe to a VPN service.

For seamless streaming, we highly recommend ExpressVPN.

Download and install the VPN on your device.

You'll find dedicated apps on Android, PC, iOS, and Mac.

Start the app and sign in with your credentials.

Enter the username and password you used to create an account.

Connect to an American server.

This will grant you a US IP address.

Launch TNT's website or App.

The NBA All-Stars Game can be streamed on a browser or on the TNT app.

Sign in with your account.

You need a US TV provider to watch live content.

Stream NBA All-Stars 2023 live.

Watch the annual NBA game anywhere.
All-Stars live – Full Walkthrough
But wait! There's a lot more you should know, which is why we created this comprehensive guide below:
What You Need
To watch NBA All-Stars Game live, you need everything on the list below:
VPN subscription.
A cable TV provider in the US.
TNT-compatible device.
NBA All-Star Weekend Streaming Channels
The All-Stars game is one of the most anticipated events during the NBA season. Two years ago, the game averaged a combined 5.94 million viewers across US networks TNT and TBS.
However, American ex-pats or whoever is living abroad can't as the services are restricted to that region.
This is what we call geo-blocking, a mechanism used to restrict viewer access to certain content in a specific region. The services/websites examine your IP address and determine your location accordingly.
If you live outside their coverage area, they'll block you on the spot. Let us show you what exactly we're talking about. TNT is only available in the US, which means it requires a US IP address to operate.
If you're overseas, an American IP address is exactly what you lack, which will result in the following error message:
"OOPS. Sorry, the TNT app isn't available in your current location."

Of course, that's just one of the errors you'll get, as the browser version differs from that you get on the official TNT client.
Now, we've addressed the issue – it's your location. And since the channel can pinpoint it using your IP address, a simple change in that is all that's required. Just follow the steps above and you'll be watching the NBA All-Stars game in no time.
NBA All-Stars – VPN 101
As we mentioned, to circumvent the geo-restrictions imposed on the channels, you need to change your IP address to one based in the channel's country.
In fact, there's a cybersecurity tool that allows you to spoof your location online and unblock American streaming channels overseas.
It's a Virtual Private Network, which mainly helps you encrypt your Internet traffic and adds an extra layer of security to your browsing activities.
If you connect to a VPN server, the software reroutes your data through one of its servers in a country of your choosing. Once the connection is established, your IP address gets cloaked, and the VPN will assign you a temporary one in the region where the server is located.
As a result, you'll avoid your ISP's' monitoring attempts and unblock geo-restricted content in that country. For example, if you connect to an American server, you'll obtain a US IP address. Eventually, you'll be able to stream the likes of Hulu, HBO, and of course, TNT.
Keep in mind that VPN only helps you bypass regional blocks. You still need a valid subscription to the channels you wish to unblock when using a VPN. With that being said, ExpressVPN has proven itself as credible as it can be when it comes to bypassing such restrictions.
Also, it excels in the privacy and security department, and according to our evaluation criteria, ExpressVPN covers everything a user needs while browsing the web.
But that does not mean that it's the only one fitting for the job. Check other top VPN providers in the table below.
NBA All-Star Game on Any Device Anywhere
Before you get to unblock the channel and watch the game, you should know that TNT requires a cable subscription. In other words, you need to be a customer of one of the providers in the United States.
So, if you want to stream anything, you should contact anyone you may know in the country and ask them to share their credentials.
If you're an American ex-pat or someone traveling at the moment, you might have one, so the job could be a bit easier.
Once you get yourself a cable subscription, you can proceed with your task and get TNT on any device you may be operating.
The 2023 NBA All-Star Game – FAQ
The 2023 NBA All-Star game is one of the most popular events in the United States. Despite being a single game, there's a lot to know about it. Make sure you go through the following section:
When Will the 2023 NBA All-Star Game Be Played?
The event kicks off on February 17th, 2023, and ends on February 19th, 2023 with the All-Star Game.
Can I Watch the Game for Free on TNT?
Unfortunately, you can't. Live streaming on TNT requires you to sign in with your TV provider's credential. Without one, you can only stream select on-demand stuff.
Can I Watch The Game without a Cable Subscription?
Yes, you can. If you subscribe to the likes of Sling TV or Hulu + Live TV, you get to watch the game without a cable provider.
So far, we know that new players are joining the mix. Most of them are rising stars and only one player exceeds 30 years of age.
NBA All-Star Game 2023 – Wrap Up
The 72nd annual NBA All-Star Classic will take place at the Vivint Arena in the USA on February 19th, 2023.
Get ready for the event as now you can stream the Game no matter where you reside across the globe. If you have any more questions, let us know in the comment section below.