How to Watch TNT Outside the United States
Last Updated On: February 1, 2022

|

1 Comment

|
Turner Network Television is one of the most popular providers of content including movies, TV shows, and live TV in the USA. Yeah, just the US as the service is geo-restricted outside the country.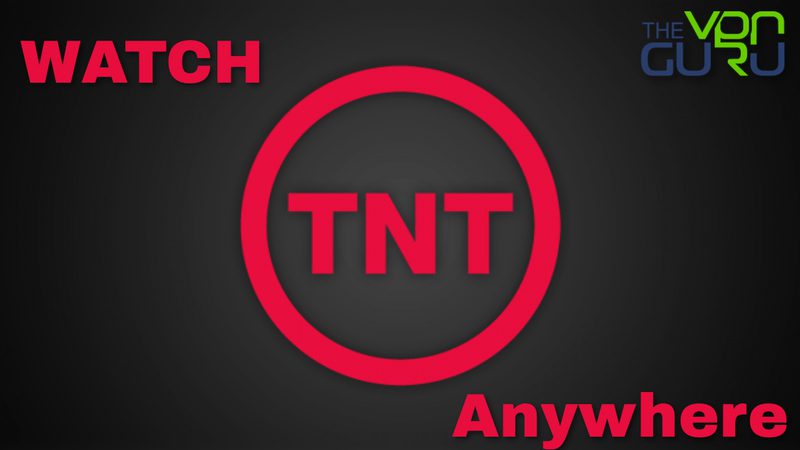 This is pretty unfortunate for anyone living abroad, including US ex-pats, as TNT updates its content regularly to bring you the latest titles to view on demand.
Geo-restrictions are frustrating, especially for streamers all over the world. Well, that's going to change now. If you live in the UK, Canada, Australia, or anywhere outside the US, this is how you can watch TNT in your region.
Unblock TNT Anywhere – Quick Guide
Time needed: 4 minutes
Getting TNT to operate in your region isn't that hard of a task. All you need to do is follow the steps below:
Sign up with a VPN service.

For seamless streaming, we highly recommend the likes of BulletVPN and ExpressVPN.

Download the VPN's client and install it on your device.

Most providers are compatible with major operating systems such as Android, iOS, PC, and Mac.

Sign in with your VPN account.

Once in, connect to an American server.

Launch the TNT website or application.

We'll show you how to get TNT on your device in a comprehensive guide below.

Sign in with your TV provider's account.

Use your cable TV credentials with any of the major TV providers.

Stream TNT outside the US.

Watch TNT Drama anywhere in the world.
Watch TNT Overseas: An In-Depth Look
We have a lot to talk about when it comes to unblocking TNT outside of the United States. That's why we created the following detailed guide in order to shed more light on the matter:
First! You'll Need the Following
To watch TNT abroad, everything on the list below is required:
A cable provider subscription.
TNT-compatible streaming device.
A VPN subscription.
TNT – The Geo-Blocking Reality
TNT is one of the most popular channels in the United States and it's available in millions of households across the country. Aside from the great shows it offers, TNT does have some sporting events.
In fact, TNT harnesses a regular of 1.6+ million viewers for the NBA season alone, which is a great number compared to what other channels in the same region are recording.
Now, the problem is, TNT applies geo-blocking. In other words, viewers from outside the States are unable to access its content. Why and how?
The why lies in copyright agreements. The how, on the other hand, is by examining your IP address. The channel only allows access to those in the US, i.e, holding an American IP address.
If you live abroad, that's exactly what you lack, which will result in getting one of these error messages:
"Error. Sorry, something went wrong! Please try again later."


"Playback error: [handleDRMTokenAuth] Token service response failed."


"Sorry. We're having trouble playing this video right now."


"OOPS. Sorry, the TNT app isn't available in your current location."

Bypassing geo-restrictions is what we do best. If you follow the steps above, you'll not only be unblocking TNT abroad, but you'll also get other US streaming channels such as Hulu, TBS, and the likes.
One More Issue: VPN Traffic Detected!
The steps provided above can easily get you around the geo-restrictions applied to TNT's content. However, the VPN's selection is a crucial part of the process' success.
If it's a normal channel, we wouldn't be writing this part. However, TNT is far from normal. Just like other major streaming services like Netflix, BBC iPlayer, and even its sister service TBS, TNT can detect VPN traffic.
In other words, if your VPN doesn't upgrade its servers regularly (Not credible enough), you won't be able to unblock the channel outside of the United States. Instead, you'll be receiving an error message that looks like this:
"We Can't Find Your Location. To watch this, please disable your VPN, proxy or other service that hides your location."

When it comes to choosing the right VPN, things can be really daunting as you'll find dozens of them with a simple Google search.
We've tested several ones, where most have failed, but some prevailed. In the next section, we'll be shedding more light on what a VPN is and what are the best VPNs to use for TNT.
What a VPN Can Do!
Let us start off with using VPN as our first method to bypass the geographical restrictions by TNT Drama. VPN only needs to change your device's IP address to modify your virtual location.
When you do this, the servers will be tricked into thinking that your device is situated in the US, giving you full access to restricted content in the country.
Aside from that, a VPN was solely created to elevate your online security and anonymity. When a connection is established, the VPN encrypts your data and hides your IP address.
That way neither hackers would be able to crack your information nor will your ISP spy on your browsing activities. It's a win-win situation. To sum it up, a VPN is capable of providing the following:
Enhanced security to avoid your data being hacked.
Extra anonymity as it hides your IP address.
The ability to unblock major streaming services around the world.
Decent connection speeds as it bypasses ISP throttling.
Use ExpressVPN if you want to unblock and watch TNT Drama outside the USA. This service has a thirty-day return policy for you to return the service at any time if it does not fit your requirements or needs. You can opt for other VPN services to bypass regional restrictions as well.
A VPN Alternative – Smart DNS
Alternatively, you can use Smart DNS Proxy to watch TNT Drama overseas. This method also works for unblocking content on the channel.
It requires you to be able to modify your network settings, so be prepared for that. Once you have changed the DNS server addresses on your streaming devices, you will be able to watch TNT Drama, ABC GO, Hulu, HBO GO, and other geoblocked American channels outside the USA.
When you use Smart DNS Proxy, your Internet speed does not change.
Here comes the problem, and that is that your ISP can use DNS hijacking or transparent proxies which might potentially stop you from unblocking TNT Drama using a Smart DNS.
Smart DNS is compatible with all streaming devices. This includes PC, Mac, Android, iOS devices, Apple TV, and Smart TV.
While all the VPNs above offer Smart DNS, we highly recommend Unlocator for its consistency for around 10 years. Unlocator is a Smart DNS Proxy service that helps you watch TNT Drama outside the USA.
This service has a free one-week trial. Unlocator comes along with guides and videos on how to set up the service.
Get TNT on Any Device Outside the US
By now, we're going to assume that you got yourself a US cable TV subscription. If you don't have one already, try to contact any of your relatives or friends in the States to provide you with their credentials. Otherwise, you'll only be watching limited content on TNT.
With that said, here's how you can get TNT in your region on any streaming device you might be operating:
Android
To get TNT on Android mobiles, tablets, and TVs, the following steps should be taken:
Connect to an American server.
Change Google Play Store's region to the US and download TNT.
Launch the app and sign in.
Start watching!
iOS
On iOS, things are very easy. Here's what you need to do:
Open your phone's settings and change your App Store's region to the US.
Download the TNT application.
Open your VPN and connect to a US server.
Enjoy.
PC/Mac
When it comes to streaming TNT on your PC or Mac, an app is not needed. All you have to do is this:
Connect to a US VPN server.
Launch your browser and head over to TNT's website.
Sign in with your TV provider.
Watch your favorite content anywhere.
Xbox
Roku
On Roku, a VPN cannot be installed directly. To get TNT, here's what you need:
Change Roku's region to the US and download TNT.
Activate the channel, sign in, and start watching.
FireStick
On FireStick, you can get TNT by following these steps:
Get the VPN app and connect to a US server.
Change your Amazon account to America and download TNT.
Launch the channel and enjoy top premium content anywhere.
TNT Anywhere – FAQ
Care to know more about the popular channel? Make sure you check the following section:
To access TNT's content, you'll need to sign up using your US cable provider's credentials.
Can I Stream TNT Live without a Cable Subscription?
Yes, you can. You can access live content from TNT using services like Hulu Live TV, Sling TV, Youtube TV, among others.
AEW Dynamite originally aired on TNT from October 2019 to December 2021. However, as of now, it airs on TNT's sister company TBS.
What Devices Are Compatible with TNT?
You can stream TNT's content live and on-demand using Android, iOS, PC, Mac, FireStick, Xbox, as well as Roku.
Yes, TNT is one of the main broadcasters of NBA in the United States.
Unblock TNT Drama outside USA – Final Words
TNT is a channel worth having, regardless of your physical location. Now, you have all the means to get it outside the US and watch its content seamlessly.
The guide is very detailed. However, if you need more help in setting up any of the solutions mentioned above, you can contact us in the comment section below.