CBS Sports is an American-based sports channel that, as the name suggests, offers multiple popular sporting events live and on-demand. As grand as the channel is, its coverage only lies within the United States.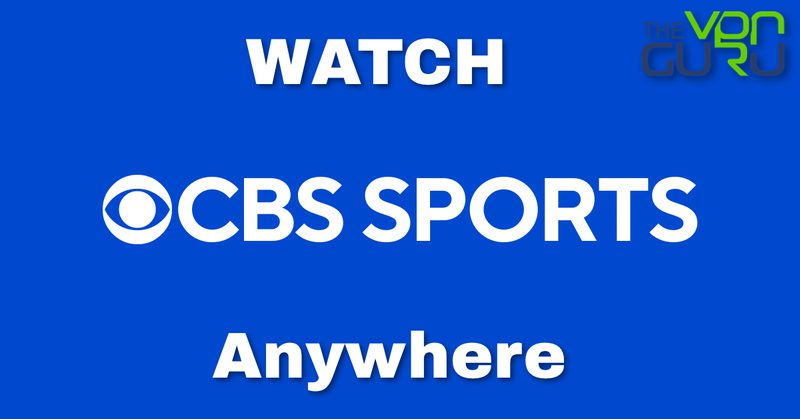 In other words, CBS Sports cannot be accessed outside the US. That comes as unfortunate news for streamers and ex-pats living in countries overseas.
But we're here to fix that. We've bypassed geo-restrictions before, and we'll be doing it again now. So, without further ado, here's how you can watch CBS Sports anywhere in the world.
Unblock CBS Sports Anywhere – Quick Guide
Time needed: 4 minutes
The process is very easy. To watch CBS Sports outside the United States, the following steps are required:
Subscribe to a VPN service.

For a wide variety of American servers, ExpressVPN is a recommended option.

Download and install the VPN app on your device.

Search for the VPN in your native app store or download the client through their official website.

Activate the software and sign in.

Use the credentials you submitted when you signed up.

Connect to an American server.

Once the connection is established, you'll receive a US IP address.

Launch the channel's website or application.

We'll show you how to get CBS Sports on any device below.

Sign in with your account.

Use your US TV provider's credentials to access CBS Sports.

Enjoy the best content on CBS Sports anywhere.

Stream live and on-demand games wherever you are.
Watch CBS' Sports Channel Anywhere- Full Guide
When it comes to unblocking the channel, there's a lot more to know than the method itself. To find out what we're talking about, make sure you go through this comprehensive guide:
What You Need
To unblock CBS Sports abroad, you'll first need the following:
A US cable provider subscription.
A VPN account.
Any compatible streaming device.
Geo-Restrictions Apply
CBS Sports is one of the giant channels that broadcast live games in the United States. A while ago, the service set a single-day record with 3.5 million unique viewers on a Sunday, which shows how in-demand it is. Unfortunately, these numbers just reflect the viewership in the US.
In fact, it is common practice for US TV channels to broadcast their content only to people who live in America. And that includes CBS Sports. This is what we call geo-blocking, where the channel restricts your access based on your current location.
To determine your whereabouts, the service examines your IP address, which is the main factor in the process. If you're not in the United States, an American IP address is what you lack, which will result in a geo-error message that looks something like one of the following:
"Unable to play video."

"We're sorry, this video can only be streamed within the United States. If you're in the United States and believe you received this message in error, please visit cbssports.com/help and tap "Submit a Question"."
To avoid that message all you have to do is connect to a VPN service provider. Everything you need is presented in the steps above.
VPN 101 – The Basics
A VPN creates a digital tunnel through which your device accesses the Internet. It manages to reroute your connection through a designated server in the country of your choice.
Not only does this grant you the IP address of the country you selected, but also provides you with a level of privacy and security.
Aside from bypassing regional restrictions, a VPN enhances your security and privacy while browsing the web. With top-level encryption, no one, not even experienced hackers can hijack your connection and steal your data.
To sum up what a Virtual Private Network is, here are its top benefits:
Secures your data with military-grade encryption.
Anonymizes your browsing by hiding your IP address.
Unblocks major streaming channels all over the world.
Bypasses ISP throttling to guarantee the best speeds possible.
If bypassing geo-restrictions is what you want to do, all you need to do is subscribe to ExpressVPN. This is a super strong VPN that can unblock content from all around the world.
With servers in 94 countries, CBS Sports would be just 1 fish in a huge sea. Not to mention that you get to benefit from their 30-day refund policy. In case you change your mind, you'll have plenty of time to ask for a refund. For other service providers, check the table below.
Watch CBS Sports on Any Device Anywhere
By now, we're assuming that you already have a US cable subscription. This is required to access live content on CBS Sports.
If you don't, we suggest you contact anyone you know in the United States and ask him/her to share their credentials. Once you do, you can proceed to the following steps in order to get CBS Sports on your device.
Android
Getting CBS Sports on Android mobile or Android TV is quite an easy task. At first, you need to set up a US VPN connection.
Next, change your Google Play Store region to the United States and download the CBS Sports app. Finally, you can watch the available content or sign in with your TV provider for live streaming.
iOS
If you're an iOS user, the CBS Sports app can be obtained overseas by switching the App Store region to the US. After that, establishing a US VPN connection is required through the VPN client.
Once done, you can sign in with your TV provider's credentials, and start watching live content wherever you may be.
PC/Mac
Watching CBS Sports on a desktop device is probably the easiest task. Just download the VPN client on your device and connect to a US server.
Next, launch your preferred browser and head over to CBS Sports' website. Enjoy all the content regardless of your physical location.
Apple TV
Apple TV is a popular device that hosts dozens of streaming channels, including CBS Sports. However, it's not natively compatible with VPN clients, which is why you need to set up the US VPN connection on your router.
Once that is done, turn on your Apple TV, change your App Store region to America, and get the CBS Sports app.
Finally, launch the client, sign in (if needed), and start streaming.
Roku
If you're a Roku user, you should know that you can't install a VPN on the device itself. Instead, you should set it up on your router.
When you do so, run your Roku and change its region to the United States. Finally, download the CBS Sports app, sign in, and watch all your sports content wherever you may be.
If it's hard to get a US cable subscription, you can always substitute that with a service that host CBS Sports. In other words, you can subscribe to the likes of fuboTV, Hulu+Live TV, or Youtube TV.
Now, if this is also a hassle as you might not own an American credit card, you can always create a virtual one and subscribe to American channels no matter where you are.
The FAQ Section
Want to know more? Then make sure you go through all the following inquiries:
The channel offers some free content. However, if live streaming is what you're looking for, you must first sign in with your TV provider's credentials.
Can I Watch CBS Sports without a Cable Subscription?
Live streaming CBS Sports is very easy without a cable subscription. All you need to do is subscribe to services like Youtube TV, fuboTV, and Hulu + Live TV.
What Can I Watch on CBS Sports?
CBS Sports is a very popular platform and is a year-round leader in television sports. It broadcasts a portfolio of events on the CBS Television Network including the NFL; NCAA Division I Men's Basketball Championship; golf, including The Masters and PGA Championship; the SEC ON CBS and U.S. Open Tennis Championships.
What Devices Can I Get the Channel on?
You can watch CBS Sports live on Android, iOS, PC, Mac, Roku, Apple TV, and Android TV.
Sports on CBS – The Final Words
Sometimes traveling outside of the US can be a bit frustrating. It's even more frustrating for those who reside outside the US.
These people have no access whatsoever to US content, and that includes CBS Sports. Thankfully, there's a VPN service provider that can help you get access to the channel no matter where you are. If you have more questions, don't hesitate to contact us in the comment section below.