VVVVID is a relatively new Italian streaming service. The fact it is free makes it worth checking out. However, if you currently reside outside Italy, there's a catch.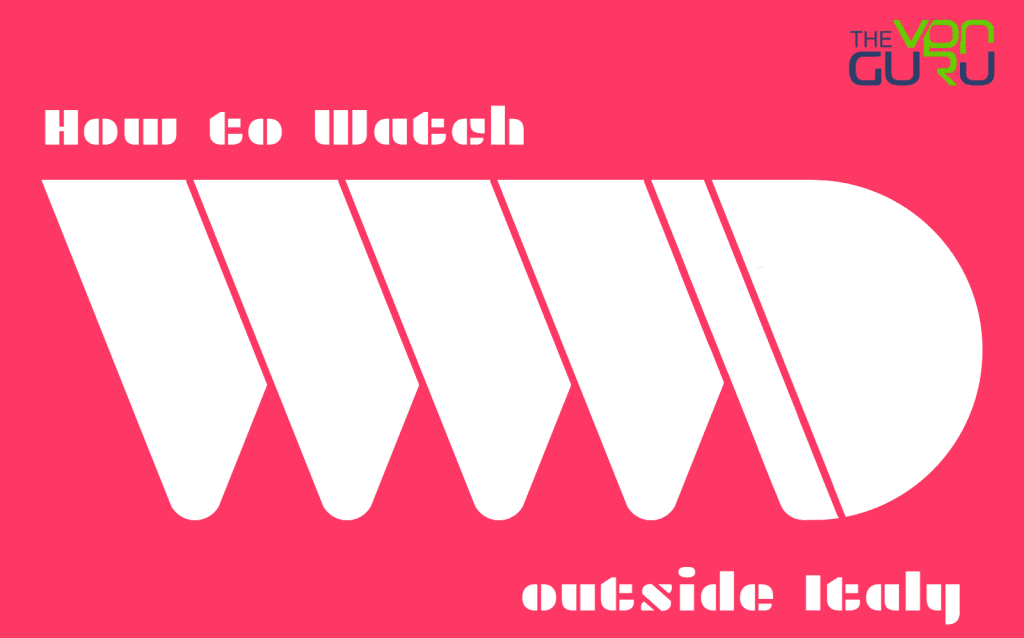 See, VVVVID is not available abroad. Usually, streaming channels throw a geo-error at you when you try to access them in regions where they are not available. That is not the case with VVVVID.it though.
Instead, the channel's website simply refuses to load. You're probably wondering what the workaround might be. Well, we have you covered.
Quick Guide
Time needed: 5 minutes
Getting access to Italian channels such as RaiPlay, Mediaset Infiniti, and VVVVID.it, requires spoofing your online location to Italy. Here's how.
You first need a VPN service.

We successfully used ExpressVPN in this guide.

Download and install the VPN app to your preferred streaming platform.
Launch the VPN app and sign in.
Inside the app, you will be presented with a list of servers
Choose an Italian VPN connection
If you check your public IP address now, it will be Italian.

You can go back to your original IP address by terminating the VPN connection.

As long as you're connected to the VPN server, you will be able to watch VVVVID as if you were in Italy.
Looking for More Information?
If you feel like you need to learn more about geo-restrictions and how to avoid them, keep on reading.
The Requirements
Here's a shortlist of what is need to unblock your favorite websites.
Your streaming device
An Internet connection
A VPN subscription
What is VVVVID?
VVVVID.it is an Italian on-demand streaming service. The service itself is free, but there's a trade-off. You have to watch ads before getting access to the shows and movies on offer. VVVVID's library mainly covers anime, Italian series, international movies, and music videos.
As aforementioned, the streaming channel is geoblocked outside Italy. You can bypass these restrictions and stream VVVVID abroad in Germany, the USA, Australia, Canada, and elsewhere with the help of a VPN.
What is a VPN?
A VPN is your ticket to an unrestricted Internet. Government-imposed censorship, as well as geoblocked streaming apps, have become more prominent in recent years.
Blocking access to certain websites and apps is mainly achieved by checking your public IP address. Each country has a certain set of IP addresses. Thus, a website can simply check your approximate location by looking at your IP address.
This is where a VPN comes in handy. It can hide your true IP address. Instead, apps and online services will only get to see the IP address of the VPN server you're connected to.
A VPN connection will ultimately allow you to browse the web anonymously i.e. nothing you do online can be traced back to you.
Which VPN is Best?
It really depends on what you're aiming for when using a VPN. If your main concern is accessing Italian channels while abroad, you should look for a VPN service provider with plenty of Italian VPN servers.
Always make sure that the VPN service has a money-back guarantee. That way you can get your money back just in case things don't work out the way they're supposed to.
ExpressVPN, the service we used in this guide, has two main Italian VPN locations; one in Cosenza and one in Milan. We were able to access VVVVID while connected to either one.
We included some of our other favorite VPN services below.
VVVVID Compatibility
At the moment, VVVVID.it is available on Windows PC and Mac via browsers. You can also get the VVVVID app on your Android mobile device and iPhone/iPad.
Getting access to VVVVID.it while abroad on a PC or Mac is pretty easy.
Connect to an Italian VPN server.
Head over to the VVVVID.it website.
Stream your favorite shows online.
If you try finding the VVVVID app on Google Play Store outside Italy, your search results will either be empty or Play Store will state that "This app is not available for any of your devices".
To get around this, you have to change your Google Play Store region to Italy. Alternatively, you may search for the VVVVID apk file online. Keep in mind that it is not always safe to install apps from unofficial app stores.
If you cannot find the VVVVID app on your iPhone App Store, switch your Apple ID region to Italy first. Don't worry. You can always switch back to your original country once you're done.
Got More Questions?
We have answers.
Yes, VVVVID is completely free and legal. You will have to sit through some ads before being able to watch any content though.
How to get rid of ads on VVVVID?
Unfortunately, the streaming service will block you from watching TV shows if you have enabled an ad blocker. The only way to watch their content ad-free is by subscribing to their premium plans.
Is VVVVID available in any country other than Italy?
No. The only way to watch VVVVID abroad is by using a VPN as explained in this tutorial.
Which devices are compatible with VVVVID?
You can access VVVVID.it on your PC, Mac, Android, iPhone, iPad as well as Chromecast.
And That's It!
This is only there is to know about how to get VVVVID, and other Italian apps for that matter, while traveling abroad. Hopefully, our guide has answered any queries you may have. If not, get in touch with us in the comment section below.