A draw in a boxing match is definitely not what both sides are looking for. That was the case when the two Youtube sensations KSI and Logan Paul clashed last year. It was all fun and games back then. Now, it's all business. To settle everything, a professional rematch is set to take place on November 9th, 2019 live at the Staples Center in Los Angeles, California, USA. Those who watched the fight last year, I'm here to tell you that Youtube isn't airing it this time. So, if you want to watch KSI vs Logan Paul 2 live online, follow this guide as it has everything you need to know.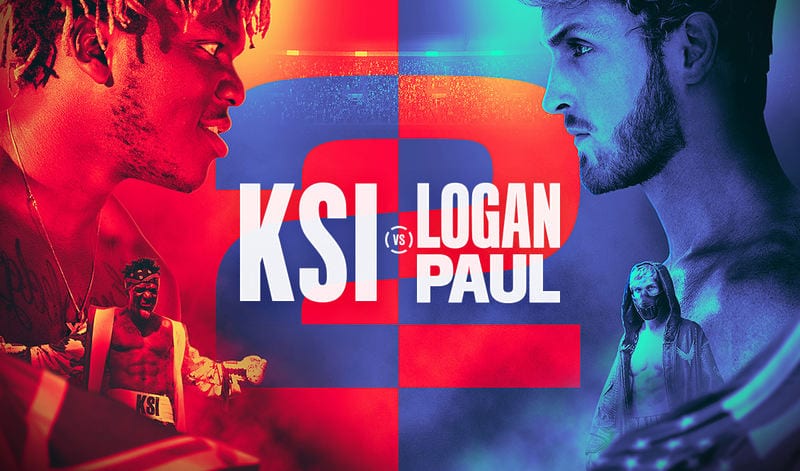 Olajide William "JJ" Olatunji vs. Logan Paul – Online Streaming
Where's the irony? YouTube's biggest boxing rematch isn't going to stream on YouTube. There have been a lot of controversies following last year's bout.
The first bout was for fun, but it wasn't for free. Every Youtube viewer had to pay an approximate of $10 to watch the fight between these two. However, the initial bout will saw a mass viewership through unofficial channels.
The fight got 800.000 viewers on Youtube. But what's shocking is that it amassed a total of 1.2 million on Twitch. That wasn't supposed to happen.

That ticked the Youtubers off. Which leads us to this year's fight. According to KSI:
"We're working on protection and the legal side of things when it comes to streaming."
Now, the fight is available on a premium channel that requires a subscription. If you don't have that, you're not watching the professional rematch.
What's the Channel Though?
If you want to get into the boxing zone, you have one channel DAZN itself. That's in the United States. However, UK fans will also have the opportunity to tune in by purchasing the fight on "Sky Sports Box Office."
But what about fans all over the world? In case you didn't know, these streaming services are restricted to the US and the UK respectively. That means viewers residing outside these countries can't watch what the channels have to offer in their region.
You see, streaming services like DAZN and Sky Sports examine your IP address the moment you visit the services' website or application. It's a mechanism to pinpoint your actual location.
Once they figure out you're not within their broadcasting area, they block your access almost instantly. Here's an example of DAZN while being viewed abroad:
"DAZN isn't available in this country."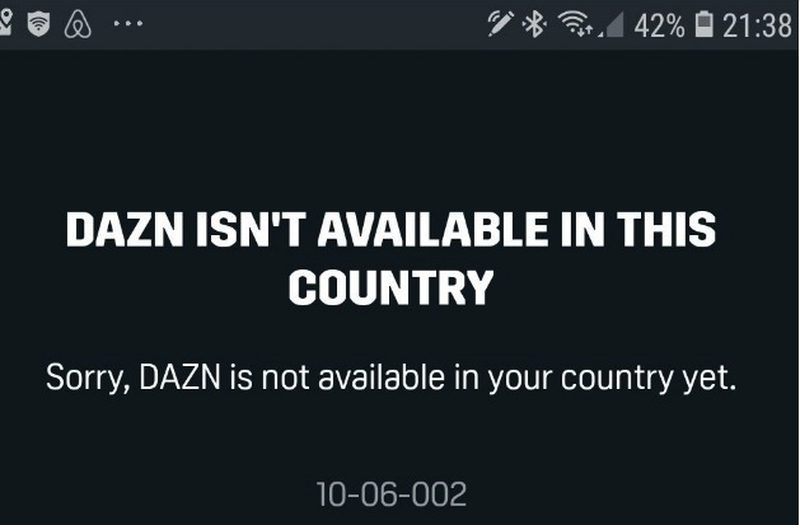 DAZN is the perfect way to watch boxing matches, especially those coming from Matchroom Boxing. However, these fights are only available in the United States. But that can be arranged if you know your way around.
The reason I'm recommending DAZN is that it's a subscription-based service that doesn't require a cable subscription to operate. That's not all. More than 100 fights a year are included in a $19.99/month subscription. So, we can all see why it's the best option.
Next up, I'm going to show you how to unblock DAZN and watch KSI vs. Logan Paul live anywhere. Let's go.
KSI vs Logan Paul – An Official Global Stream
To access channels like DAZN and Sky Sports from abroad, you need to mask your location and trick the channels into thinking that you're in their area of coverage.
Luckily, that's easily done using a Virtual Private Network. A VPN creates a secure tunnel between your device and the internet. All your internet traffic will pass through that tunnel to a VPN server in a country of your choosing.
Once you're connected, the VPN will encrypt your data and hide your IP address. That enhances your internet security and anonymity. However, your IP address also changes to one valid in the country where the server is based. So, if the server is in the US, you'll get an American IP address. It's simple. As a result, you will gain access to everything online-restricted in the United States.
Here's what you need to do to watch KSI vs. Logan Paul live:
Pick a credible VPN provider and sign up for their service. If you want recommendations, you can try ExpressVPN.
Next, download and install their dedicated application on your device. You'll find clients for iOS, Windows, macOS, and Android.
Run the VPN application and sign in with your username and password.
Connect to a server based on the channel you've chosen:

US server for DAZN.
UK server for Sky Sports.

Now, launch the channel's website or its dedicated app.
Watch KSI vs. Logan Paul 2 live wherever you are.
Why ExpressVPN?
The provider has a lot to offer, and it's considered to be the best in the business. It's really fast, and its servers are well-optimized for HD streaming. Who doesn't want to see a fistfight in full HD?
ExpressVPN has more than 3000 servers across 94 countries. That means you can unblock channels all over the world with a push of a button.
As for supported devices, most VPNs are compatible with Android, iOS, PC, Mac, and FireStick. But as we know, DAZN is available on almost every platform known to humanity. So, what if you have an Apple TV? Well, ExpressVPN has a solution to that as well – enter MediaStreamer.
This Smart DNS proxy expands the device compatibility to support the likes of Apple TV, Chromecast, Smart TVs, Android TVs, PlayStation, and Xbox. That means wherever you have DAZN; you'll be streaming the fight at full speed (A VPN's encryption tampers with your speed).
You can give it a try risk-free. The VPN provider has a solid 30-day money-back guarantee in case you change your mind. If that's the case, take a look at the following VPNs in the table below and pick an alternative.
KSI vs Logan Paul – From Amateur to Professional
It's well-known that Logan Paul and JJ "KSI" Olatunji are two of YouTube's biggest creators, but on November 9th, 2019, it gets physical, not virtual.
Logan Paul has starred in various TV series before, but we got to see what he can do without a stunt double. However, their previous match was an amateur one. The rematch though is the real deal as it's all business.
Every online source expects a massive sell-out for the match. All 21,000 seats will be filled cheering for either Youtubers. As you know, the first match ended up in a draw. But now, they're both focused on getting the job done and winning those bragging rights.
Although it's all centered on this fight, it's not the only bout on the card. We'll be seeing the undefeated professional who's been eying for Canelo Alvarez for a long time now, Billy Joe Saunders. Here's what the fight card looks like at the time of writing:
KSI vs. Logan Paul
Billy Joe Saunders vs. Marcelo Esteban Coceres
KSI vs Logan Paul 2 – Final Thoughts
It has begun – the countdown for a professional rematch between these two. I'm positive that we'll see plenty of social media taunting and jabs between the rivals in the coming weeks.
Try to stay tuned to what goes on in the time being. However, on November 9th, 2019, make sure to stream the fight using a VPN. Now, wherever you may be, you can watch KSI vs. Logan Paul 2 live online. Who do you think will win? What will the fight card include in terms of bouts? Don't forget to share your predictions in the comments below.