How to Watch 6Play outside France?
|
6Play is a video-on-demand service that gained huge popularity in France ever since its inception back in 2013. A lot has changed since then in terms of status and content, but one thing remained the same – 6Play is geo-blocked outside France.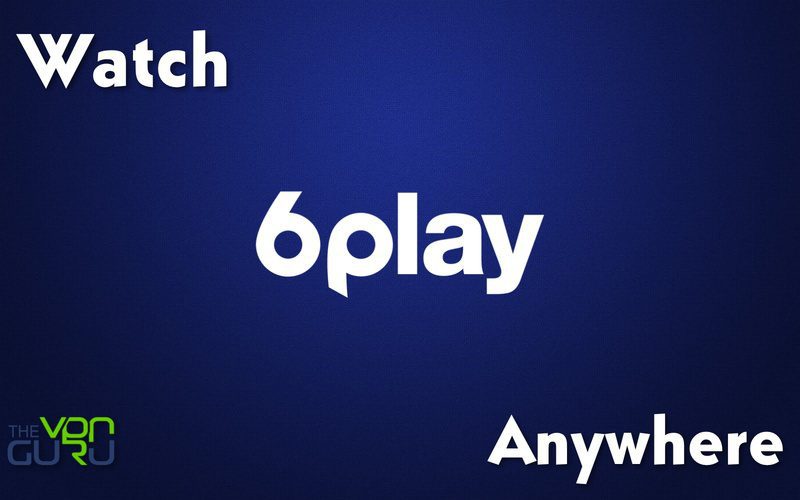 A channel such as M6 has a lot to offer. Unfortunately, those in the US, UK, Canada, Australia, or elsewhere outside France are not allowed access to the service.
Well, that'll be in the past in a few minutes. Bypassing geo-restrictions is what we do best and here's how you can stream 6Play anywhere in the world.
Unblock M6 Anywhere – Quick Guide
Time needed: 4 minutes
Let's cut to the chase. Getting 6Play to operate in your region only requires a few clicks. This is what you need to do:
Sign up with a VPN provider.

Make sure the service has French servers. For guaranteed results, we recommend using ExpressVPN.

Get the VPN application.

Download and install the VPN client on your device.

Launch the VPN app.

Log in with your username and password.

Connect to a server in France.

Once the connection is established, you'll receive a French IP address.

Head over to 6Play's website or open the app.

Sign in with your free 6Play account.

Watch 6Play anywhere.

Enjoy live and on-demand content wherever you are.
Inside the Entire Unblocking Process
If you want to know more about how we unblocked 6Play outside France, take some time to go over this full walkthrough:
The Requirements
To get 6Play in your region, make sure you have everything on the list below:
A 6Play account.
A VPN subscription.
Any 6Play-compatible streaming device.
6Play Blocked: Geo-Restrictions Apply
Let's be honest, France has no shortage of streaming services. But when it comes to free ones, there's only a few. TF1 might be the leading channel in the country, but 6Play definitely rivals it in terms of content.
In fact, 6Play harnessed a viewership rate of 6.4M total views, especially among streamers in their 30s. Unfortunately, such a huge number only reflects those living in France.
Due to geo-restrictions, 6Play does not operate outside the region. It looks up your IP address to determine your location once you visit its website or launch its application.
If you're overseas, you won't be holding the required French IP, which will result in an instant block that looks like one of the following:
"Désolé, cette vidéo n'est pas accessible dans votre pays."

"Désolé, cette vidéo n'est pas accessible depuis votre zone géographique. ERROR_MEDIA_LAYOUT_LOCK_GEOLOCATION."

"NOUS SOMMES DESOLE CETTE VIDEO NE PEUT ETRE LUE EN DEHORS DU TERRITOIRE FRANÇAIS. Si vous êtes en France et que vous recevez os message, cliqueriāci. code erreur: 542."

To access 6Play, you must obtain a French IP address. Luckily, that's easily done by following the steps above. Once you do so, you'll be able to watch M6 wherever you may be.
VPNs Explained
With a VPN, you can access geoblocked channels like 6Play outside France. VPN directs all your traffic towards a VPN server located in a country of your choice. If you want to unblock French channels like 6Play or CanalPlay, choose a French VPN server. The list below shows VPN pros and cons at a glance.
Using a VPN server located in France unblocks 6Play, CanalPlay, Canal+, and Francetv.fr.
VPN can easily be installed on Android, iPhone, iPad, and PC/Mac. There are even VPN apps for all these devices.
VPN encrypts all your traffic. Prevent government agencies, ISPs, and hackers from sniffing around and eavesdropping.
Since your IP address will be hidden, websites will not be able to track your online activity.
DNS Hijacking and Transparent Proxies have no effect on VPN.
Make sure that whichever VPN provider you choose doesn't keep logs of your online activity or personal info. We recommend ExpressVPN as it offers great online support and has VPN locations in around 94 countries including France.
However, if ExpressVPN isn't the VPN you're looking for, we've already rounded up a couple of alternatives that are as efficient to unblock 6Play in your region.
A VPN Alternative – Smart DNS
Smart DNS proxies allow you to fake your location and appear to be virtually located in France. After you set up your device with Smart DNS, you'll be able to access 6Play as if you're actually located on French territory. Smart DNS proxies do have other advantages:
The same Smart DNS setup allows you to unblock multi-regional online channels. You can unblock 6Play, Netflix, Amazon Instant Video, CBC Canada, or BBC iPlayer using a single Smart DNS configuration.
Smart DNS will unblock 6play for you no matter what streaming device you use including Xbox One/360 and Smart TVs.
No data encryption and partial traffic rechanneling mean that your Internet speed will not be affected by Smart DNS.
Smart DNS allows you to fake your location without changing your IP address. You won't be blocked from accessing and using any local website.
Sometimes ISPs use methods like DNS Hijacking and Transparent Proxies to stop Smart DNS from functioning properly. Although these cases are rare, it would be better to check that your ISP doesn't use these methods before you use Smart DNS.
Different Smart DNS proxy services offer a different range of unblocked streaming channels. That's why it's safer to check the list of unlocked channels of the Smart DNS proxy service you intend to use.
All the VPNs in the table above offer Smart DNS, but Unlocator is the only provider with a stand-alone Smart DNS subscription
Try it out by signing up for their free 7-day trial and take a look at the videos and screenshots they offer if you have problems with the setup.
6Play on Any Device Anywhere
Now that you have a VPN subscription and 6Play account, here's how you can get the channel on any streaming platform you might be operating:
To get M6 on your mobile device, all you have to do is this:
Connect to a French server.
Change your App Store region to France:
Download and install the 6Play application.
Launch the app and sign in.
Start watching.
Getting 6Play on a PC or Mac is very easy. Just follow these steps:
Connect to a VPN server in France.
Launch your browser and head over to 6Play's website.
Sign in with your account.
Select your title and enjoy.
M6 Anywhere – FAQ
When it comes to 6Play, there's a lot more you can learn. We've conducted our research and here's everything you should know:
What Can I Watch on 6Play?
6Play offers catch-up TV and on-demand shows and live programs from a range of French channels.
M6
W9
6ter
Styles
Stories
Comic
Crazy Kitchen
What Devices Can I Watch 6Play on?
6Play is available on a number of streaming devices.
The channel is free and in order to stay operational, it should generate revenue by inserting ads.
What Can I Watch on 6Play?
Once you unblock the channels, you can watch live and on-demand content from anywhere. Here are some titles:
Europa League
NCIS
Community
Elementary
Nations League
Salto
Sweet Diva
Une Femme
Racines
No, you can't. The channel doesn't have an official Kodi add-on.
Unblock M6 Anywhere – Final Thoughts
We've included all the essential info about watching 6Play abroad. Feel free to add a comment below if you still have any questions about how to unblock and watch 6Play outside France.