How to Get Google Play Pass outside the USA
|
Wanted to dominate the App Store industry huh Apple Arcade? Well, not while Google's around. The search giant has officially launched its new subscription service – Google Play Pass – that "unlocks" Android app and games (we'll be talking about that later on). However, what can unlock the service itself if it's only available in the US? I have the answer to that. Follow this guide and learn everything about Google Play Pass and how to get it outside the United States.
Google Play Pass – What is It?
When I said that Google Play Pass unlocks applications, it's not what the actual meaning is. This subscription service allows you access to a library of premium games and other applications while bypassing ads, download fees or in-app purchases.
With a monthly subscription of $4.99, users can get a hold of more than 350 applications without paying an extra dime for any of them. Take a look at the list below. These apps and games are available on Google Play (With a catch), yet you can get them for free with a Play Pass subscription:
Star Wars: Knights of the Old Republic ($9.99)
Terraria (normally $4.99)
Monument Valley ($3.99)
Risk (free with In-App-Purchases)
LIMBO ($4.99)
Lichtspeer ($3.99)
Mini Metro ($.99)
Old Man's Journey ($4.99)
These are just a small taste of what you'll be getting. Google is going head to head with Apple's Arcade. However, it's differentiating its service by adding other regular, non-entertainment apps, like photo editors, weather clients, and journaling. So, you can say that it's not all entertainment.
If you hurry up, Google is offering a promotion that lets people pay $1.99 per month for the first year, with a 10-day free trial. The offer ends on October 10, 2019. Start subscribing now.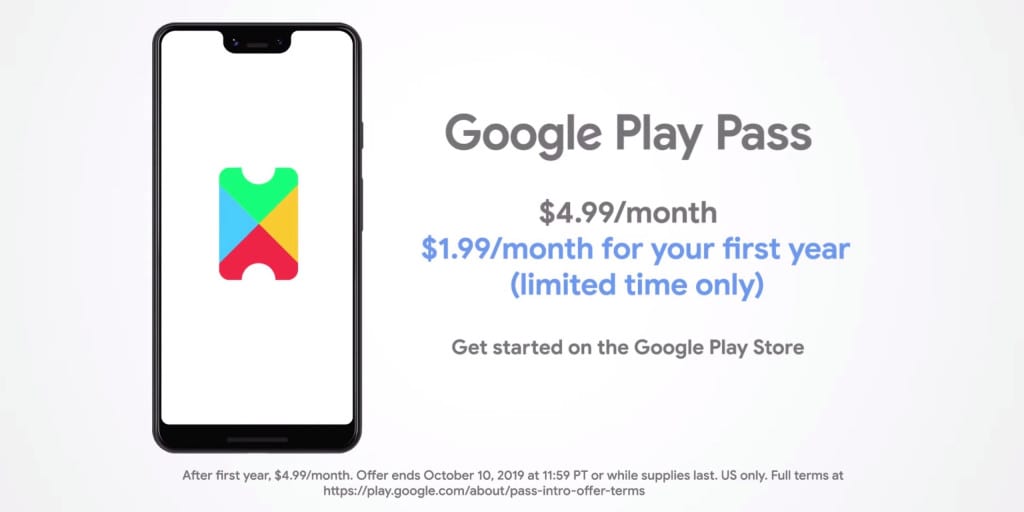 What About Developers Revenue?
That's an excellent question. If you're not purchasing developers' apps, how are they making money? Well, Google will be factoring how much time users spend using a specific app, and therefore, the developer of the app will earn money accordingly.
But there's another problem developers will face. Google stated that the new subscription (program) is "invite-only," which means that Google gets to choose which application gets on the list.
However, the search giant also said that it would put up a webform so that developers who want to participate can give it a shout out. Finally, a developer can withdraw his/her app at will. But that shouldn't be a problem for users as they will still have access to the application for an "extended period" afterward.
Availability
This is the part we've been waiting for. Although almost every country has access to the Google Play Store, only one will be able to use the Play Pass feature, the United States.
The service will be available by the end of September in the US, with Google promising other countries are to follow shortly. We'll just have to see about that. Instagram promised a global InstaMusic feature, and users are still waiting.
Anywho, when I was browsing, I found this:
"Google Play Pass is currently only available in the U.S. Stay Tuned for international availability."
Well, as far as I know, Google Play is available everywhere, and so should Play Pass. Alright then, shall we proceed to how to get Google Play Pass outside the US?
Get PlayPass on a Global Scale
What you need to do is change your location and appear to be accessing the Google Play Store from the United States. But how can you do that? Well, with a VPN, of course.
A Virtual Private Network alters your online whereabouts and helps you appear in a different gateway city based on the server you connect to. Once connected, you'll receive an IP address in that region and access to whatever they have there.
But when it comes to Google Play, you need to switch your Play Store's region first before the magic happens. Here's how you can do that:
First, sign up with a VPN provider. For this to work smoothly, I suggest ExpressVPN.
Now, on Google Play, download their VPN application on your Android device.
Launch the VPN client, sign in, and connect to an American server.
Next, head back to your device's Settings and navigate to Apps.
Scroll down till Google Play Store appears and tap on it.
Choose Force Stop, followed by clear Cache and Data.
Exit the settings section and relaunch your Play Store.
Finally, you'll notice that the currency has changed to US dollars. You now have an American Google Play Store.
American Store, Check – Time to Subscribe
Now that you've changed your Google Play Store's region, what do you say we get you a Play Pass subscription:
Launch the Google Play Store application.
Next, hit the three Menu Button (Three Dashes) on the top left of your screen.
After that, tap on Play Pass followed by Start Free Trial or Subscribe.
Pick your payment option and hit subscribe. It costs $4.99/Month.
You've successfully signed up for Google Play Pass.
There you go. Now you can navigate through more than 350 applications at will. Download whatever you want without paying an extra dime.
Is ExpressVPN Good Though?
Well, the answer is quite simple, YES. I wouldn't have recommended the provider above if it wasn't any good. ExpressVPN constantly ranks among the finest in the VPN industry. It has always been the number 1 go-to provider if users were looking for HD streaming.
Security-wise, ExpressVPN has tough encryptions that keep even experienced hackers at bay. Moreover, ExpressVPN keeps no logs of users' browsing activities, which led them to this honest statement:
"ExpressVPN can never be compelled to provide customer data that does not exist."
They do have a point there. If the government came snooping around for information, what would they get if there's nothing to offer in the first place.
Furthermore, ExpressVPN has thousands of servers in more than 94 countries. I like to use the word stealth servers as they help users bypass the Great Firewall of China with ease. Also, their Smart DNS service (MediaStreamer) is a perfect alternative for users who wish to stream their content with minimal speed loss.
In case ExpressVPN wasn't up for the task (which I doubt), you can always ask for a refund within 30-day of purchase. Once you do that, check out the following table and pick a top alternative to use for Android.
Google Play Pass – What's Coming Your Way
As an Android user, I like to explore what the Play Store has to offer. But there's always a problem that stands in the way, purchasing fees. You can't even enjoy a certain game without paying extra money inside the app. That's just the half of the issue, don't forget about those apps where ads pop up while you're in the middle of something.
Well, thanks to Play Pass, that's all behind us now. So, if you're as excited as I am for this new Google feature, let's take a look at the top content included in Google Play Pass at launch:
Games
.Projekt
60 Seconds: Atomic Adventure
80 Days
Absolute Drift
Agent A: A Puzzle in Disguise
Bridge Constructor Pro
Chameleon Run
Death Squared
Door Kickers
Eloh
Evoland
Framed
Game Dev Tycoon
Grim Legends: The Forsaken Bride
Hidden Folks
Hoplite
King's League: Odyssey
Lichtspeer
Limbo
Lumino City
Mini Metro
Monument Valley 2
My Town Series
Old Man's Journey
One More Line
Pocket City
Reigns: Game of Thrones
Risk
Sago Mini Pet Cafe
Shadow Fight 2
Sorcery! 4
Star Wars: Knights of The Old Republic
Stardew Valley
Suzy Cube
Swordigo
Terraria
The Battle of Polytopia
The Bug Butcher
The Tiny Bang Story
This is the Police
Thomas and Friends: Race On
Tiny Guardians
Titan Quest
Toca Mystery House
Toca Nature
Wayward Souls
Apps
AccuWeather
CamtoPlan
ISS HD Live: View Earth Live
Photo Studio Pro
Pic Stitch – Collage Maker
Slow Motion Video FX
Tunable: Music Practice Tools
Get Google Play Pass Anywhere – Final Thoughts
Google stated that Play Pass would be available in the US during the last week of September 2019. However, it left out one important point, when is it going to be available globally? That, of course, if that is their intention.
Well, it doesn't matter. With a VPN, everyone can subscribe to Play Pass no matter where their location is. Just connect to a US server, and your problem is solved. Don't forget to let me know how everything went in the comments below.