How to watch Hulu on PlayStation 4 in Canada, UK, or Australia?
Hulu is one of the best US streaming services in terms of both quality and quantity of content available to watch.
Hulu is geo-restricted outside USA
. This means you are
geoblocked
and cannot
watch Hulu in UK, Canada, Australia, France, Germany, Spain, or Italy.
There are two methods which enable you t
o unblock Hulu on Playstation devices abroad
: Smart DNS proxy or VPN. Using one of these methods will allow you to bypass geographic restrictions and
watch Hulu on PS3, PS4, and PS Vita outside USA
.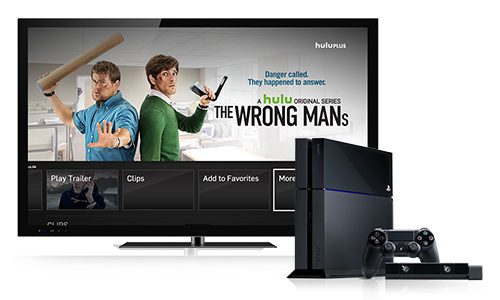 How to Watch Hulu on Playstation outside USA with Smart DNS Proxy
Smart DNS proxies are a great method to avoid Hulu's geographic error "Sorry, currently our video library can only be watched from within the United States." and access geoblocked channels like Hulu on PS4 or PS3. The reason is that Smart DNS can be directly configured on your Playstation device. Thus, you can unblock and watch Hulu on Playstation in UK, Australia, Canada, or elsewhere by only modifying your PS3/PS4 network settings.
Signing up for an Unlocator trial is free and there is no need for a credit card. Thus, you can unblock and watch Hulu on your Playstation outside USA. Unlocator supports unblocking around 220 streaming channels from around the world.
How to Unblock Hulu on PS4 PS3 outside USA with VPN
A minority of ISPs around the world use transparent proxies or DNS hijacking. In such instances, Smart DNS might not be able to unblock geoblocked channels like Hulu for you. Thus, you have to use an alternative method to watch Hulu abroad. VPN is neither affected by DNS hijacking nor transparent proxies which makes it a perfect tool to unblock Hulu in case your ISP does use DNS hijacking or proxies.
No Playsation console (PS4, PS3, or PS Vita) has a VPN client. Therefore, VPN cannot be directly enabled on a Playsation. There are two workarounds. Either setup VPN on a VPN compatible router, or configure VPN on your PC and then enable network sharing. Once done, connect your PS3/PS4 to your PC using an Ethernet cable.
Connecting to an American VPN server means you will be able to watch all US channels on your Playstation including Hulu, Showtime, Amazon Instant Video, HBO Go, Netflix, Crackle, and Vudu.
VPN encrypts your traffic. Thus protecting you from the prying eyes of your ISP, government, or neighbors.
VPN can be setup on Android, iPhone, iPad, PC, or Mac.
If you want to give VPN a try, sign up with ExpressVPN. ExpressVPN provide VPN setup guides which allow you to configure VPN on your router or PC and enable VPN network sharing to watch Hulu on your Playstation. Other VPN providers to unblock Hulu outside USA can be found below.
How to Unblock and Watch Hulu on Playstation outside USA? VPN or Smart DNS Proxy?
Smart DNS is probably the more suitable method to unblock Hulu on PS3/PS4 outside USA given its compatibility with either device. VPN, on the other hand, does also enable you to watch Hulu abroad if you follow the required steps. For further info or help, simply post a comment in the box below.
Save