Sling TV is DISH's live TV and VOD service. The channel offers its US subscribers CNN, TNT, TBS, ESPN, Adult Swim, CN, HGTV, and Disney. However, Sling TV is geoblocked abroad.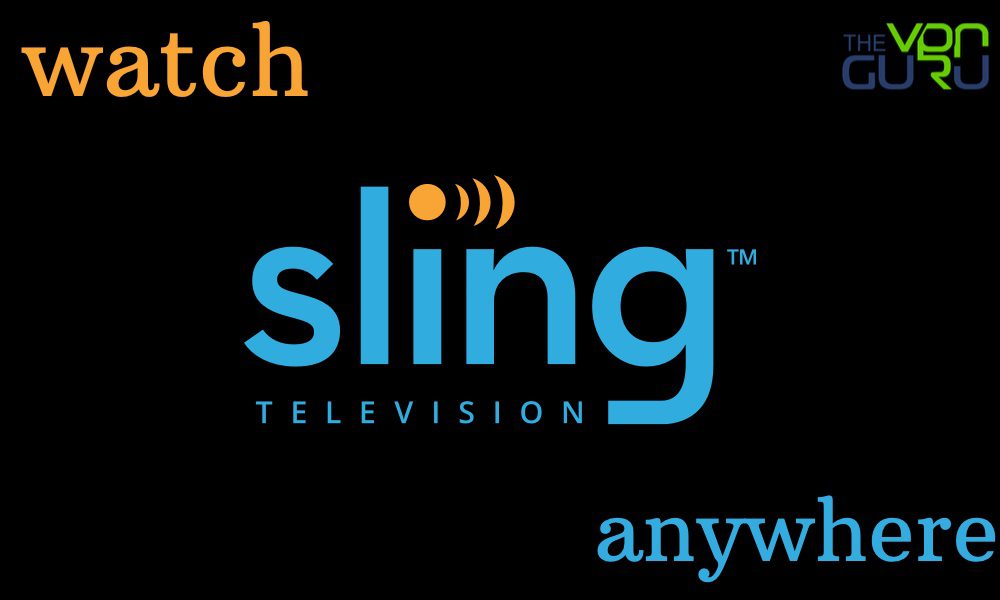 Due to copyright agreements, Sling TV only allows US residents to access its content. This means that even if you're a US citizen living overseas, you won't be able to watch what Sling has to offer.
Geo-restrictions can be frustrating, especially to avid streamers looking to expand the content they're viewing. That's why we'll be helping you out today. Say goodbye to regional limitations – here's how you can watch Sling TV anywhere.
Unblock Sling Anywhere – Quick Steps
Time needed: 4 minutes
This task is pretty easy. It will only take about 4 minutes to complete. To get Sling TV in your region, the following steps are required:
Subscribe to a VPN service.

For speedy servers in the US, we recommend ExpressVPN.

Get the VPN app.

You can download the VPN client on Android, PC, iOS, as well as Mac.

Activate the client and sign in.

Enter the username and password you submitted during the sign-up process.

Connect to a US server.

This will give you an American IP address.

Launch Sling TV on your device.

Sign in with your Sling TV account.

Watch top American channels wherever you are.

Enjoy Sling TV anywhere in the world.
Sling Anywhere – Full Guide
Getting Sling is very easy. However, there are some details we have to go through in order to shed more light on the entire process. Don't fret, this review covers it all.
The Requirements
To get Sling TV outside the US, you must make sure you have all of the following:
Sling TV subscription.
A VPN account.
A Sling-compatible device.
Sling TV – A US-based Streaming Channel
The Dish Network-owned channel is very popular in the United States. It had more than 2.5 million subscribers in the country back in 2019.
The channel's popularity and demand are increasing on a daily basis. However, only those who reside in the US can stream Sling TV's content.
Even with a valid account, the channel won't operate overseas, leaving ex-pats and streamers outside the US with nothing but these error messages:
"ERROR." The request could not be satisfied. The Amazon CloudFront distribution is configured to block access from your country."
"7-600 error. We're sorry Sling TV is only available inside the US. Thank you for your interest."
"We're sorry! We could not authorize video playback. (10-403)."
Sling TV restricts users' access to the United States only. In other words, anyone who wishes to stream its content should hold a US IP address, otherwise, they'll get blocked.
But that can be easily managed with the right tool, which we included in the previous part as we showed you how to unblock Sling TV anywhere in the world.
A VPN – The Ultimate Online Tool
VPN is an alternate solution to unblock all sorts of restricted streaming websites. VPN directs all your traffic through a VPN server located in a country of your choice, the US in this instance.
By doing this, your streaming device will obtain an American IP address. Thus, Sling TV will treat it as it is located in the USA.
The main advantage here is that you unblock all geoblocked US channels using one VPN configuration. Unblock and watch US Netflix, Amazon Instant Video, Peacock, Hulu, Vudu, and all other US-only online channels.
VPN apps make installing VPN on iPhone, iPad, Android, and PC/Mac a matter of minutes. To install a VPN on other streaming devices, you need a VPN router.
While your Internet speed gets a 10% speed penalty, VPN greatly increases your online privacy by encrypting your traffic. No eavesdropping from your neighbor, ISP, or websites.
VPN works efficiently even if your ISP uses DNS Hijacking and Transparent Proxies.
A good VPN provider such as ExpressVPN offers good Internet speeds and VPN servers around the world.
However, while our tests put ExpressVPN at the top of the list, there are other providers that showed excellent results. Kindly check them out in the table below if an alternative is needed.
Smart DNS – Another Unblocking Method
Sling TV detects your location and blocks you from streaming its services outside the US. In order to bypass these geographic restrictions, you need to hide your true location.
This is basically what Smart DNS does. After you sign up with a Smart DNS proxy service like Unlocator, you have to change DNS server settings on your streaming device. The values you need to input will be provided by the Smart DNS proxy service you choose.
Smart DNS does not change your IP address. This is particularly useful if you visit local websites that are geoblocked outside the territory you live in.
Your Internet speed practically stays the same since Smart DNS only has to redirect your connection partially.
You can unblock streaming services from different regions without having to change your Smart DNS setup. Watch UK's BBC iPlayer, US Sling TV, and Canadian Netflix at once.
My favorite Smart DNS feature is its compatibility with all streaming devices. Unblock Sling TV on Xbox, Amazon Fire TV, Nexus Player, Smart TV, or Roku.
Smart DNS has one small drawback. It won't work for you if your ISP uses DNS Hijacking or Transparent Proxies. Luckily, not many ISPs do use these methods.
You'll find a lot of Smart DNS proxy services online. What sets good ones apart, is their reliability and amount of unblocked channels on offer.
The Smart DNS proxy service we recommend is Unlocator. Now, despite the fact that all the VPNs on the table above have Smart DNS as a free feature with their subscription, Unlocator offers it as a stand-alone plan.
In this case, users who are just looking to unblock streaming channels without the extra security can benefit from a much cheaper plan. Not to mention a very generous 7-day free trial.
Get Sling TV on Any Device Outside the US
With a VPN you can unblock the channel's content wherever you are. Please note that a VPN doesn't bypass the subscription phase, so you'll have to sign up for the service.
If you have a US payment method, you'll easily fulfill the task. If not, try asking any of your relatives or friends for help, they can get you what's needed.
However, if you don't have any relatives in the US, you can easily create your own American virtual credit card. That way, not only will you be able to subscribe to Sling, but to other streaming services based in the US.
Now, with that out of the way, here's how to get Sling on any device you might be operating:
If you happen to watch content on your Android or iOS mobile, you'll have to use your VPN to connect to a US server. Next, change your app store region to the US in order to get Sling TV.
Once the app is installed, sign in with your account, and start watching live channels anywhere.
On Fire Stick, get the VPN app, and connect to a US server. After that, change your Amazon account's region to America and download Sling TV. Finally, sign in, and start streaming.
On your desktop device, connect to a US VPN server. Next, launch your browser, head over to Sling TV's website, sign in, and start binging.
Sling is also compatible with Xbox, LG Smart TV, and Roku. However, to get a VPN connection on those devices, you need to install your VPN on your router.
After that, change your account's region to the US and download the Sling TV app:
Now that you have the client, sign in, and watch top US channels wherever you are.
Sling Anywhere – Frequently Asked Questions
To give more information about what Sling TV is all about, we've created this FAQ section. Check it out – it's worth the read.
What Channels Do I Get with Sling TV?
With a single subscription, you get to access dozens of live channels. You can watch live content on channels such as:
TNT
TBS
CNN
Cartoon Network
Food Network
Disney
ESPN
ESPN2
HGTV
What Devices Can I Watch Sling TV on?
Sling is compatible with a wide range of streaming platforms. That includes:
iPhone/iPad
Android
Nexus Player
Amazon Fire TV
Amazon Fire TV Stick
Roku
Mac/OS X
Windows PC
Xbox One
What Are Some Channels Not Available in My Subscription?
When it comes to the channel list, it varies based on your subscription. What you get on Sling Orange differs from that on Sling Blue. To benefit from the full list, you can subscribe to Sling Blue+Orange.
How Much Does Sling TV Cost?
Sling TV has 3 different plans. So far, Sling Orange and Sling Blue both cost $35 a month. To combine them, you can subscribe to Sling Orange & Blue for $50/month.
Why Can I Only Stream Sling on One Device?
This is probably because you're subscribed to Sling Orange. This subscription only allows one device to stream under one account. However, Sling Blue allows 3 simultaneous streams while Orange+Blue allows 1 to 3, depending on the channels you're watching.
Sling TV Outside USA – Final Thoughts
Sling TV has joined the likes of Netflix and Amazon Instant Video in the VOD market. Using Smart DNS or VPN allows US expatriates to stream Sling TV abroad.
Use the comment box below for any questions about how to unblock and watch Sling TV outside the US using Smart DNS or VPN.