How to Bypass NHL.TV Blackouts with VPN or DNS Proxy?
|
The National Hockey League is kicking off on October 7th, 2022 with a full 82 games scheduled. Fans all over the world are excited to stream the 106th season live. However, just like every year, you won't be able to watch the league on your home streaming service – NHL.tv.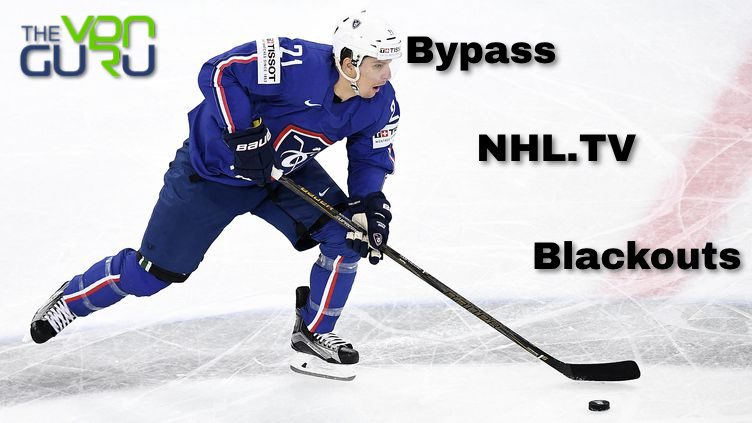 Yeah, the league is back, and so are the regional blackouts. NHL.tv is no longer operational in the US, due to ESPN owning the NHL broadcasting rights. Not to mention that NHL.tv is blacked out in countries where ESPN is present.
Well, that will no longer be an issue as we're here to help. So, without further ado, here's how you can stream NHL.tv anywhere in the world blackout-free.
Avoid NHL TV Blackouts – Quick Guide
Time needed: 4 minutes
This won't take long, we promise. If you want to watch NHL TV anywhere black-out free, all you have to do is follow the steps below:
Subscribe to a VPN service provider.

We highly recommend ExpressVPN for its diversity of VPN server locations.

Download and install the VPN app on your streaming device.

You can get it through their official website or directly from your native app store.

Activate the VPN software and log in with your credentials.

Once you sign in, head over to the server list.

Connect to a server in a country outside the US where NHL TV is available.

We prefer you use a French server.

Launch the NHL TV's website or application.

Sign in with your username and password.

Start watching NHL 2022/23 live anywhere.

Streaming the 106th NHL season wherever you are.
NHL TV Anywhere – The Full Guide
A lot more can be learned about NHL's blackouts and how to avoid them. If you want to know everything, check this in-depth walkthrough:
What You Need
To watch NHL games live on NHL TV, here's what you need:
A reputable VPN provider.
NHL TV International subscription.
NHL TV Compatible device.
NHL.tv – Georestrictions and Blackouts Apply
National Hockey League is widely popular not only in the US and Canada but all over the world. The league is viewed by millions of fans in different countries.
But the question is: How are they watching the games? Easy! Aside from broadcasting deals in specific regions, the NHL has its own streaming service NHL.tv, which is widely available to fans overseas.
This sounds excellent, but there's a catch. If you're an NHL fan and want to stream games live, you'll run into two problems:
1. Geo-blocking
While NHL TV is available on a global scale, some countries still lack that privilege. Unfortunately, the service was not made accessible in select regions.
To determine where you're at, NHL TV examines your IP address once you attempt to visit their website or use their app. If you're not within a country where NHL TV operates, you'll be blocked on the spot.
In fact, you'll notice this error message instead of whatever content you're trying to access:
"We're sorry. NHL.TV is not available in your area."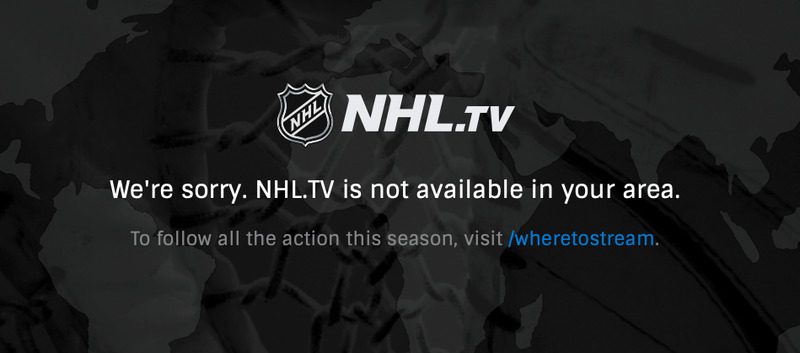 Getting around this is very easy actually. All you have to do is get a reputable VPN provider as its the most effective way to safely and privately bypass geo-blocking.
Once you do that, you can head back to NHL's website, subscribe to the international service, and watch live matches anywhere. (Make sure to check the next part).
2. Regional Blackouts
To cultivate and protect a team's home market, NHL uses the most common practice among Sports Streaming Services – Regional Blackouts.
This mechanism is excessively used in the United States and Canada, especially in big leagues like the NHL, NBA, as well as the NFL.
You see, every NHL team has a number of "regional" games–which are sold by the team to a regional broadcaster where they can only be streamed in the team's broadcast region.
Also, there are the "national" games, which are available for anyone to watch from coast to coast. Now, depending on your physical location and broadcasting rights, NHL.tv is subject to blackouts.
For example, if you live in a region where the game is being shown on television (A major broadcaster has the rights), you won't be able to use NHL.tv. Instead, you'll get an error that looks like this:
"Your selection is not currently available in NHL.TV due to local or national blackout restrictions. The full-length replay will be made available after 48 hours."
To bypass the blackout restrictions, you must subscribe to NHL TV's International Pass. All you have to do is connect to a VPN server in a country where the service is available (Preferably France), subscribe, and stream the 2022/23 season anywhere.
Please note that even if you're an international customer, blackout restrictions may apply to games that appear on an NHL partner network in your viewing area.
NHL.TV Blackout Bypass Unblock – Use VPN
The idea of a VPN or Virtual Private Network is that it allows you to tunnel your traffic encrypted to a remote server in another country.
This allows you to watch Netflix USA or UK or sites in any other country the VPN server is located in. You now know how to bypass NHL TV blackouts.
However, you might not know how important a VPN is when it comes to online browsing. Here's what a VPN can do:
Shields your data (sent and received) using military-grade encryption.
Anonymizes your internet browsing by concealing your IP address.
Speeds up your connection speed bypassing your ISP's throttling technique.
Gets you NHL TV's international subscription even if you're in the US.
In general, you have to use a VPN service that does have servers in key countries where the NHL service is available.
ExpressVPN is one of the providers we tested and recommend due to its servers in almost every part of the world including the UK and France.
You can easily manipulate your IP address and bypass NHL blackout restrictions. Also, you can benefit from a 30-day refund policy.
Aside from ExpressVPN, there are other VPN services that allow you to bypass NHL.TV Blackouts.
Unblock NHL.TV Blackout – Use Smart DNS Proxy
Unlocator is the Smart DNS proxy service we tried. NOT all Smart DNS proxy services provide unblock services, so make sure NHL.TV blackout unblocking is supported if you choose another service.
A good Smart DNS proxy does not affect all your traffic, it only redirects the relevant portions of your traffic. Please see the below for more info on Smart DNS proxies :
Your traffic is not actually hidden or encrypted, in return, however, your local services and channels won't be affected
ALL your devices are supported, all you need to do is change the DNS server on the devices you want to support or configure your router with the Smart DNS IP addresses to set up all devices in your network.
If your ISP redirects your DNS traffic a.k.a. DNS hijacking or Transparent proxies you need to use VPN.
Setup is easy, it takes minutes to get up and running.
With Unlocator, you get to give the service a try for 7 days – completely free of charge. You don't even have to submit your credit card information.
Avoid NHL TV Blackouts – The FAQ Section
Do you want to know more? Check the inquiries below. We made sure to answer as many questions as we can:
Why is NHL TV Redirecting Me to ESPN's Website?
That's mainly because you reside in the US. NHL TV ceased to exist in the US and checking its site will redirect you to ESPN+'s website as it's the official broadcaster in the country.
Does the International Version of NHL TV Offer Live Streaming?
Yes. You can watch live games straight on the NHL TV service if you're using the international version.
How Much is the International NHL.TV?
NHL TV International costs $14.99/month and $99.99/year.
Is NHL TV Subject to Blackouts in the Netherlands?
Yes as ESPN has the sole rights to NHL in the country.
When Does the NHL Season Start?
The 106th season of the NHL kicks off on October 7th, 2022.
NHL.TV Blackout Unblocked – Enjoy the action!
We hope either VPN or a Smart DNS Proxy did unblock NHL.TV blackouts for you and you are able to enjoy your favorite NHL Hockey games now without any regional or location restrictions.
If you stumble upon any issues, please don't hesitate to contact us in the comment section below.