It's simple! If you're looking for top Asian Drama Television – one platform – AsianCrush's streaming service. Living in the US gives you a lot of privileges when it comes to streaming, including full access to Asian Crush. However, if you live abroad, you'll learn that the service cannot be accessed from outside the country.
Due to geo-restrictions, streamers in the UK, Australia, Germany, France, and elsewhere outside the US won't be able to access AsianCrush's content.
This can be quite a hassle, to be honest. Well, we're here to change that. Here's everything you need to know in order to unblock AsianCrush anywhere outside the US.
Watch AsianCrush Anywhere – Quick Steps
Time needed: 4 minutes
Your task is pretty easy. What lies between you and binge-streaming AsianCrush's content in your region are the following steps:
Subscribe to a VPN service.

For seamless streaming, we recommend ExpressVPN.

Download and install the VPN client.

You can get the VPN app on Android, PC, Mac, as well as iOS.

Activate the VPN application.

Sign in with your username and password.

Connect to an American server.

Once the connection is established, you'll receive a US IP address.

Launch the channel's app or website.

You can directly watch the content for free. However, some require premium access.

Enjoy AsianCrush wherever you are.

Watch the best Asian drama anywhere.
Unblock AsianCrush – The Full Review
We have more to discuss. Kindly check the following comprehensive guide for additional information:
What You Need
To get AsianCrush in your region, here's what you need:
An AsianCrush account (For premium content).
A VPN subscription.
AsianCrush-compatible device.
Geo-Blocking Applies
AsianCrush is the digital destination for your daily fix of Asian Cinema, TV, Music & Web Content. It has become very popular in the United States ever since its inception back in 2010.
Aside from its apps and website, its Youtube channel alone has attracted more than 3.15 million subscribers. Unfortunately, the viewership and the streaming service itself are limited to the US.
This means that people overseas cannot access or stream AsianCrush. The channel applies geo-blocking, which is a technique used by several channels and websites for copyright reasons.
AsianCrush requires a US IP address to allow access. If you live abroad, that's exactly what's missing, resulting in the following error message:
"You don't have permission to access this video. Code: 598."

It doesn't stop here. The website might give users some hope and then terminate their access all of a sudden. The app, on the other hand, just stops you in your track the moment you launch it.
If you open the app and select any category, the interface shows "no items" to choose from. The images below represent three different categories where we witnessed no content to select: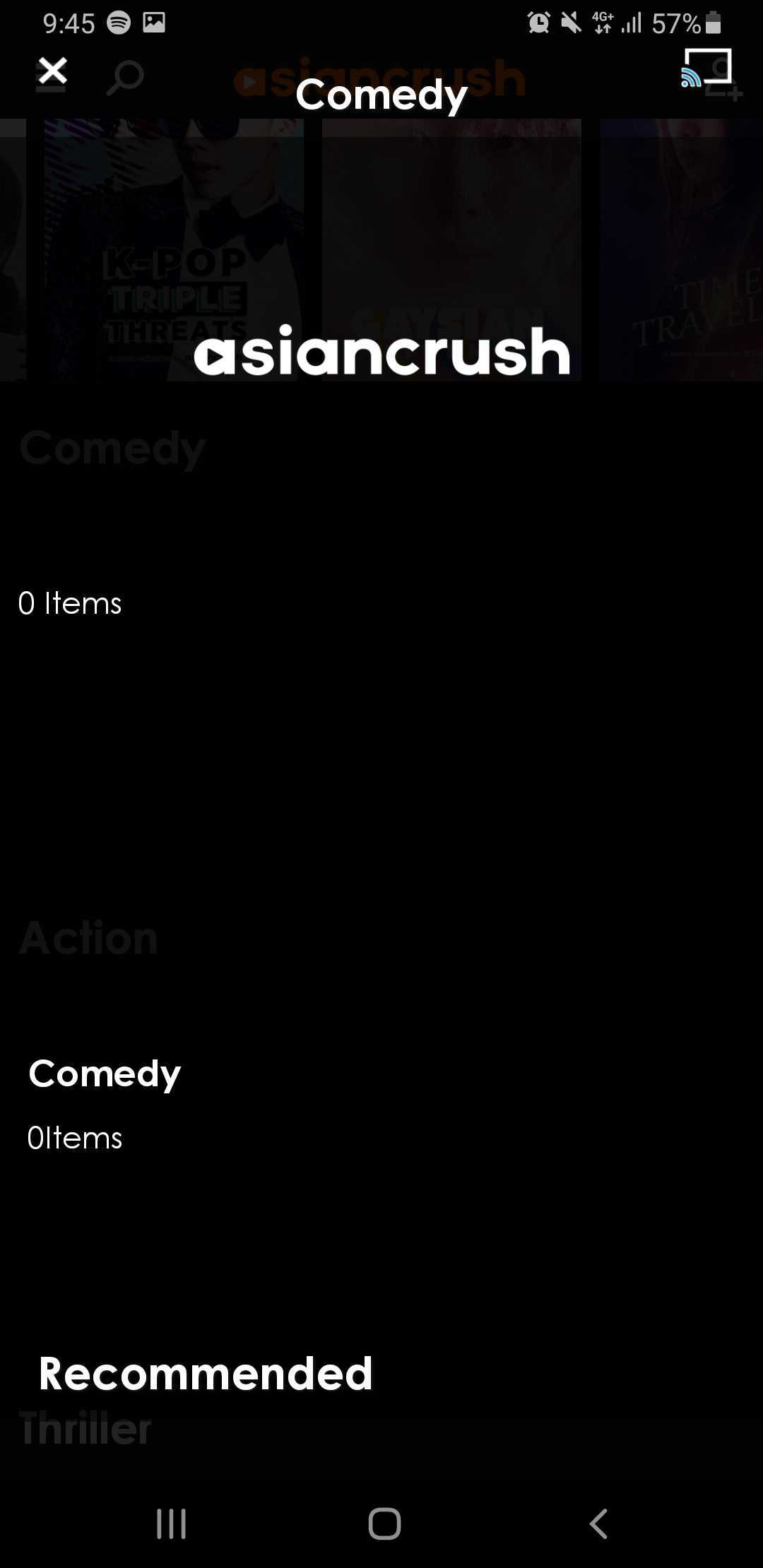 Luckily, you don't have to worry about stumbling into these issues anymore. Once you follow the steps above, you'll be able to watch AsianCrush wherever you may be.
VPN Explained
A virtual private network grants you access to a private network just as its name implies. This network guarantees you a safe passage to the internet thanks to the encryption layers involved in its creation.
Once you connect to a VPN server, all of your traveling data and online traffic passes through that encrypted tunnel.
Before reaching the other network, your data gets rerouted through a server of your choice. This results in you appearing to be in a country other than the one you are really in, gaining access to that country's content in the process.
So, if you want to watch AsianCrush, you have to appear to be in the US. A VPN easily helps you do that by connecting to an American server. Then and only then, you'll receive an American IP address and access AsianCrush anywhere.
Out of all the VPNs on the market, ExpressVPN is by far the best choice. It's a very fast VPN that offers stellar performances.
Its excellent speed rates are probably related to ExpressVPN's custom-built servers. It's the VPN that'll allow you to unblock AsianCrush seamlessly.
Give it a try and you'll know that what I say is true. On another note, you can learn more about other VPN service providers in the table below.
Get AsianCrush with Smart DNS
The reason why we said " the safest way you can watch Asain Crush outside the US is with a VPN" is that a Smart DNS lacks the necessary security measures.
In other words, it does not encrypt your data or hide your IP address, whereas a VPN does both. This is why a VPN qualifies as a more secure tool than a Smart DNS. Undoubtedly, a Smart DNS is as strong as a VPN when it comes to unblocking content – if not stronger.
By strong, I mean fast. It's quite fast because there is no encryption process. The whole protocol application and wrapping data with encryption takes time and slows down the unblocking process. So, if you're not a fan of security and have no patience for lagging or stuttering, we recommend that you use a Smart DNS.
All of the VPNs in the table above offer a free Smart DNS feature with every subscription. However, we found Unlocator effective, useful, and easy to use.
The thing that separates this VPN from the others is the fact that it has a standalone Smart DNS subscription. In other words, for those who are on a budget, you have your perfect choice.
Get AsianCrush on Any Device Anywhere
Now that you have a VPN subscription, you can proceed with the streaming process. AsianCrush is available on several devices, and we're going to help you set it up outside the USA:
Android
AsianCrush has a dedicated app on Android mobile, tablet, and TVs (Nvidia Shield and Sony Bravia). To get it, you must follow these steps:
Connect to an American server.
Change Google Play Store's country to the USA.
Download and install AsianCrush.
Start watching.
iOS
If you happen to use your iPhone or iPad for streaming, then this is how you get AsianCrush:
Go to your iOS device's settings and change your App Store's region.
Download and install AsianCrush.
Connect to an American server.
Launch the app and watch the best Asian Drama anywhere.
Desktop
On your PC or Mac, here's what you need to do in order to get AsianCrush:
Connect to a US VPN server.
Open your browser and visit AsianCrush's website.
Pick your video and start watching.
Apple TV
Apple TV is not natively compatible with VPNs. To get AsianCrush, this is what's required of you:
Install the VPN on your router and connect to a US server.
Change Apple TV's region to the US and get the AsianCrush app.
Launch AsianCrush and sign in if necessary.
Choose your video and binge away.
Fire TV
On FireStick, the following steps are required to get AsianCrush:
Connect to a US VPN server.
Change your Amazon account to the USA and get the AsianCrush app.
Activate AsianCrush and start watching.
Roku
AsianCrush Anywhere – FAQ
To know more about what AsianCrush is all about, check the following FAQ section:
What Devices Can I Watch AsianCrush on?
You can stream AsianCrush on Android, iOS, PC, Mac, Apple TV, Android TV, Roku, and Amazon Fire TV.
Where is AsianCrush Available?
As of now, AsianCrush can be accessed with the United States and Canada.
Most of the content can be streamed completely free. However, some titles require a premium subscription to be accessed.
Can I Watch AsianCrush on Kodi?
Technically, you can't as there's no official add-on on Kodi. However, with Youtube being available, you can use it to go to AsianCrush's page.
Watch Asian Crush Abroad
Watch the best Asian movies and tv online anywhere in the world by using either a VPN or a Smart DNS. From Chinese martial arts to Korean dramas, Japanese cult films to Thai horror movies, enjoy the best entertainment offered by Asia all on AsianCrush.
Will you go for a VPN or Smart DNS? We would appreciate you letting us know by dropping a comment in the section below.