Which VPN service provider is best for the Amazon Fire TV Cube? I have recently purchased Amazon's new streaming device: The Fire TV Cube. The device comes packed with a bunch of new features. It basically is a combination of an Echo, streaming device, and universal remote. Fire TV Cube supports 4K, HDR10, and Dolby Atmos sound. All streaming apps you can install on an Amazon Fire Stick are also available. This includes Netflix, Hulu, HBO GO, Kodi, and many others. As with the Fire Stick, I have found out that installing a VPN on a Fire TV Cube is a must if you want to get the most out of it. Want to find out which VPN is best for the Fire TV Cube? Read my Best Fire TV Cube VPN review!
Why Use VPN on Amazon Fire TV Cube?
Connecting to a VPN server whenever you go online has become a must. I personally cannot imagine myself browsing the web without a VPN application. In the case of the Fire TV Cube, a VPN will help you access streaming apps that would normally not be available in your country. Add to that the fact that you can conduct all your online dealing securely and anonymously.
Most streaming apps and Kodi addons on Fire TV Cube only work in certain regions such as USA, UK, Canada, Australia, and Germany. To bypass these regional restrictions and watch live and on-demand content on any addon or channel you want anywhere you want, you have to spoof your location online using VPN. Below are some of the benefits you get when using a VPN with Amazon Fire TV Cube.
Access Regionally Blocked Applications: Tons of streaming services can only be used if you reside in a certain country. This does include NBC Sports, HBO, Amazon Prime, Hulu, and Netflix. With a VPN you can wave goodbye to all geographic restrictions.
Anonymous Internet Browsing: Once you have established a VPN connection, your Internet traffic is completely encrypted. Nobody will be able to spy on whatever it is that you are doing online.
Avoid Internet Service Providers Throttling: Many ISPs restrict their users' Internet speeds during peak hours. As a result, you might experience extensive buffering while watching your favorite shows on Netflix. If you connect to a VPN server, your ISP will not be able to detect what you're watching. Hence, they won't be able to throttle your speed.
Best VPN for Amazon Fire TV Cube – Summary
In essence, there are two kinds of VPN service providers: the ones that are compatible with the Fire TV Cube and the ones that are not. In case you already know everything there's to know about VPNs, there's no need to read the full review below. Here are my personal favorite VPNs for FireTV Cube as of 2023:
Best VPN for Fire TV Cube – In-depth Analysis
If you want to gather more info about the VPN service provider you're about to sign up with, read these reviews:
ExpressVPN
Looking for a VPN that works perfectly fine on Amazon Fire TV Cube? Look no further. Out of all the VPN apps I've tried on the Fire TV Cube, ExpressVPN impressed us the most. ExpressVPN's global VPN network is almost unrivaled. You can even use this VPN service provider to access American Netflix on your Fire TV Cube!
Additionally, you get to unblock American channels like Amazon Prime, Hulu, Showtime, Netflix, and many more on your brand new streaming device. An ExpressVPN subscription includes around-the-clock live support, five concurrent VPN connections, and a VPN app that is natively compatible with the Fire TV Cube.
Pros
VPN application for the Amazon Fire TV Cube
No logging of your Internet activity
Based in the British Virgin Islands
One-month refund policy
Cons
There are other cheaper VPN alternatives.
BulletVPN
BulletVPN is another VPN that is fully compatible with Fire TV Cube. Their VPN application is well-designed and we found it very easy to use. BulletVPN also has many VPN servers you can connect to from within the applications themselves. Not to mention that BulletVPN can unblock any streaming service you put it to test with.
Pros
Great app for the Fire TV Cup
One-month money-back refund policy
Strict No-logs kept policy.
150+ servers in 55 countries.
Cons
Best VPN for Fire TV Cube – Wrap Up
You might end up subscribing to ExpressVPN, BulletVPN, or IPVanish. Whichever way, deploying a VPN app for Amazon Fire TV Cube has enormous benefits. Have you bought yourself an Amazon Fire TV Cube yet? How does it compare to a FireStick in your opinion? Share your thoughts in the comment section below.
ExpressVPN Review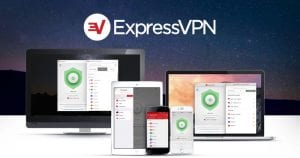 Name: ExpressVPN
Description: ExpressVPN is a VPN service that allows you to browse the web anonymously and unblock geo-restricted sites.
Price: 12.95
Currency: $
Operating System: Windows, OSX, Android, iOS
Application Category: Multimedia
Refund Policy

Speed

Support

VPN Apps