Need more add-ons on your Kodi, then install more repositories. It's fine if you don't know how to do so, I started out like you when I first downloaded the app. Now that I know my way around, I'm going to give you a few tips to live the best Kodi experience. Here are the top Kodi Repositories of 2021.
Top Kodi Repositories in 2021 – Content Index
If you are looking for the best repository to install all popular Kodi add-ons, you came to the right place. In this guide, I'll be shedding some light on the top Kodi repositories and how to install them. Keep scrolling.
Working Kodi Repositories – Summary
Had it been for TVAddons not being taken down, Fusion would be a clear winner as the top Kodi repo. However, that repository is now dead. Here are the best Kodi repositories you can install on FireStick, PC, Mac, Android, or Raspberry Pi.
The Official Kodi Add-On Repository
SuperRepo
Noobs and Nerds
Mucky Ducks
Colossus Repo
Simply Caz
Dimitrology
Official Kodi Add-On Repository
This one comes built-in when you install your Kodi app. You don't need to download anything for this to work. Now, to teach how to install add-ons using the official repository on Kodi, I picked USTV as an example. Follow the steps below and watch free movies and TV series using Kodi:
First, you need to go to Add-ons.
Now, you see the Box Icon on the top left of your screen? Click on that.
After that, head over to Install from Repository.
Now, go to Kodi Add-on Repository and search for USTVNow.
Hit the install button.
Now, once the installation process is done, head back to your Home Page.
Visit Add-ons again and then Video Add-ons.
You'll find USTVNow there. Click on it and start watching.
KodiNerds.Net Repo
In this unofficial repository, you'll find dozens of legal and safe add-ons. That's pretty great actually, some of us are always afraid to use such repositories. Check out how to install KodiNerds below:
Firstly, you will need to download the KodiNerds zip file. Visit this link.
Enable Unknown Sources in the System Settings section.
Once the download is done, open Kodi and click on Add-ons followed by the Add-on Box icon.
Click on Install from Zip file.
Locate the file that you downloaded in Step one. It's going to look like this.
Select this file and it will automatically download the KodiNerds Repository onto your device. You'll be notified once the installation is finished.
Now, go back to "Install from Repository" and choose Kodinerds.
Open the repository and start installing Add-ons.
Enjoy.
Kodil Repo
Kodil is a repo similar to the now-defunct Fusion repo. It contains 100s of third-party addons for you to choose from. Go through the instructions below and learn how to add Kodil repo to your repositories on Kodi 17.
Let's start with the obvious choice, run Kodi.
After that, select the Settings Icon.
Open System Settings on the next page.
Now, tap on Add-ons.
You have to enable Unknown Sources for this to work.
After that, go back to Settings and select File Manager -> Add Source.
Choose None and submit the following path: http://kdil.co/repo/.
Now, back to Home Screen. Head over to Add-ons again.
Select the installer package icon.
Open Install from Zip File.
Select the Kodil Zip file and start the installation process.
Now go back to Install from repository.
Select Kodil Repository.
Choose your add-on and enjoy.
SuperRepo – Top Kodi Repositories 2021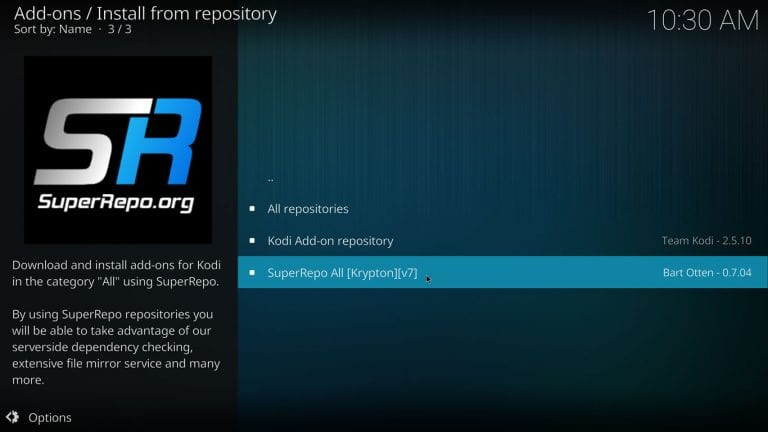 SuperRepo probably is a repo that you could use to install several third-party add-ons. It contains a comprehensive list of video add-ons, skins, and programs. SuperRepo is also constantly updated.
Kodi Repos No Longer Working
For various reasons, many Kodi repositories stop working overtime. Here are the most popular repos that you can no longer use.
Smash Repo
Colossus Repo
Ares Wizard
XunityTalk
Echo
TKNorris
Top VPN for Kodi
If you don't know this yet, let me enlighten you. Kodi add-ons might be region-restricted, which means that they're only available in certain countries. Even if you managed to get some add-ons on your app, they will block your access if you're outside their coverage area. We're talking about channels like DAZN and the likes.
In order to get your hands on these services where you reside, you must install a VPN on your device. That will help you change your current whereabouts and appear in any country of your choosing. Just connect to a server where the channel/add-on is available and you're there.
If you ask me what the best VPN for Kodi is, I'd gladly say ExpressVPN. The service has worked pretty well with me on my Kodi app and I haven't stumbled upon any hitches with it. Try it out or pick one of these as an alternative.
[tableDate]


30-Day Money-back Guarantee
Unlimited Bandwidth
Apps For All Your Devices
24/7 Live Support
Visit ExpressVPN
VPN – In Depth
A VPN has other benefits for whoever is surfing the internet. I'll elaborate more in the following:
You get to access blocked content on your Kodi. You see, the likes of USTVNow, for example, are restricted to the US region. When you connect to the right server, you will be able to access their content no matter where you are.
Most of us use Kodi for streaming, but what if your connection takes a sudden drop. That's probably your ISP's doing, they do have a habit of throttling our connection. However, once you're connected to a VPN, you'll hide your identity and your ISP won't be able to monitor your bandwidth usage. Thus, you'll avoid any throttling attempts.
Kodi is available on several devices and it does offer some unofficial add-ons. To avoid any trouble concerning copyright, a VPN hides your identity while surfing the web. It does that by cloaking your IP address, thus no one can see what you do online, neither can they pinpoint your actual location.
Useful Kodi Tips and Tricks
Want to know more about Kodi? Here are a few additional tips you should consider:
Best Kodi Repositories in 2021
There's no doubt that if TVAddons' Fusion repo was still working, it would've claimed the number one spot in our list of top Kodi repos. Luckily, there are many other repositories you can use to install third-party addons with ease as illustrated above. What repository did you choose? Or have you downloaded all of them? Share your experience in the comment section below.