Users looking for a lightweight cross-platform client to use for torrenting ought to take a really close look at qBittorrent. The widely popular client relies on a BitTorrent protocol to download large files. This allows it to do so in a very fast and efficient manner. Compared to other torrenting providers, qBittorrent stands out as it is open-source. Despite not having that much of an appealing graphical interface, the service offers a wide range of features and capabilities. It is also one of the few that is free and does not rely on ad support to remain available.
Disclaimer: Neither the owner of this site nor the editor of this article nor any of the linked VPN service providers condone downloading, sharing, seeding, or peering copyright material. International laws prohibit such activities which are illegal. This guide serves educational purposes only.
Is qBitTorrent Any Good?
The client is also available in more than 70 different languages;  thus making it a truly global choice for users that would wish to torrent. Compatibility-wise, you can have the client working on your Mac, Linux, Windows, or Android without much of a fuss. The client also allows you to keep track of your downloads since you'll get an email notification whenever a download is finished. All these features place it well ahead of a lot of other torrent clients you can find on the Internet. But one thing that still needs a bit of added support is the level of security.
More often than not, the content being torrented tends to be in violation of certain copyright policies. This could land you in trouble if the authorities manage to catch up with you. How would they catch you in the act? Simple. They'd have to work in collaboration with your ISP. Your Internet Service Provider or ISP has the ability to eavesdrop on your activities online. They might choose to do so. If they do, it would be a clear violation of your privacy.
They're also able to throttle your speed and prevent you from accessing certain torrent sites if they notice that a lot of bandwidth is going towards supporting your large volume downloads. If you suspect that your ISP might be doing any of these things to you, it's time to implement a preventive measure of your own; using a VPN.
Using a VPN with qBitTorrent
A Virtual Private Network, or a VPN, is a secure network of servers that you can connect to and have your Internet traffic encrypted. It makes it possible to prevent your browsing history from being tracked by your ISP. Therefore you get to have your privacy maintained as you choose to torrent from whatever site you'd wish to do so. By extension, you also gain a layer of anonymity which helps protect you from any copyright violations you may have committed without knowing.
A VPN service also ensures that you have a layer of security that keeps you protected from any form of detection by third parties; thereby making it difficult to get tracked. Your data will be secured from hackers and scammers, giving you the confidence to connect even to a public Wi-Fi spot without any worries.
Best VPNs for qBittorrent
Selecting which VPN service to subscribe to can be quite a daunting challenge seeing that there are so many services present in the industry. Some of them are even daring enough to share out your data with third parties, with you having subscribed to them mainly because they advertised their service as being free. Here's our list of top recommended VPNs for qBitTorrent:
1. ExpressVPN
ExpressVPN tops the list when it comes to reliability and efficiency of service. Having been launched in 2009, this award-winning provider has done a lot over the years to keep its service as the best in the industry. Their headquarters are in the British Virgin Islands. Security is a big deal with the provider, and that is why they promise not to monitor or log your activity through their zero-logging policy. ExpressVPN also offers 256-bit AES encryption to keep your traffic secure.
ExpressVPN fully supports torrenting. It even has obfuscated servers for users in VPN hostile countries to connect to and carry out their activity. You also get access to over 200,000 IP addresses, as well as both unlimited bandwidth and unlimited server switching. ExpressVPN assures you of ever-present customer support that can be accessed through social media, email, or live chat. Its VPN app is also rated among the easiest to use, making it great for beginners who are just starting out with VPN. To know more about the service, have a look at our comprehensive ExpressVPN Review.
2. BulletVPN
Another top contender you ought to consider for complete protection when torrenting is BulletVPN. This well-known provider has been in the game since 2017.
This gives the team behind it a ton of experience regarding what its customers want to use and experience. BulletVPN also has a distinct edge over other providers due to the fact that unblocks every single channel we tested. This means they'll always have complete control over the unblocking department.
BulletVPN is very clear about its support for torrenting and even has it well laid out on its website. The service supports up to 6 simultaneous connections. To see what more lies in store for you once you subscribe, you're welcome to go through our BulletVPN Review.
3. NordVPN
NordVPN is a gem for users that want to experience the full capabilities of a serious VPN provider, and still maintain a browsing speed that doesn't take too long as they carry on with their online activities. The service is based in Panama. This VPN offers more than 4000 servers distributed across 62 countries. NordVPN is also the one service that has a double VPN feature, where your data gets routed through two servers instead of one for increased 256 bit AES encryption.
NordVPN works in conjunction with Tor to enhance your anonymity online. Thanks to intuitive software such as CyberSec, malware and unwanted ads are kept away from distracting you. NordVPN also offers obfuscated servers for users that want to use VPN in secret, as well as dedicated IP addresses for those that prefer more specialized services depending on their level of use. So far, NordVPN is also the only provider that lets you choose servers to connect to based on the type of work you're doing on the Internet. They have servers optimized for online gaming, browsing, streaming as well as torrenting. There's lots more you can find out about this provider. All that information is available on our detailed NordVPN review.
Final Word on The Best VPN for qBittorrent
Using qBittorent or any other torrenting client without having a means of hiding your identity really isn't advisable because you might end up being persecuted for a copyrighting fault that you did not even know you committed. To avoid such a situation, use a VPN, and get to guarantee your own online privacy.
ExpressVPN Review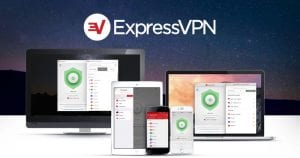 Name: ExpressVPN
Description: ExpressVPN is a VPN service that allows you to browse the web anonymously and unblock geo-restricted sites.
Price: 12.95
Currency: $
Operating System: Windows, OSX, Android, iOS
Application Category: Multimedia
Refund Policy

Speed

Support

VPN Apps