Best VPN for Skype in 2023 – Unblock VoIP Services
|
Skype is probably the most popular and widely used messaging and VoIP service in the world. It's the go-to app for video calls and messaging when the individuals in question are too far from each other,  or when organizations just want to do a video conference meeting instead of physically appearing somewhere. Despite its popularity, there are countries where using Skype is not allowed, such as Brazil, UAE, China, and Cuba. To use it in such countries, you would need to learn about some of the Skype VPN providers you can rely on. Read the following review to find out more about the best VPN for Skype in 2023.
Best VPN for Skype
Skype – The Best VoIP Service
The thing about Skype that makes it so popular could be the ability to talk, send text messages and make video calls, for free. The company has been around since the early days where people used to use dial-up internet and has seen the whole world evolve to the point of using high-speed Internet connections.
Most mobile phone companies were more than scared when Skype announced & launched its VoIP service. They were worried about their profit margins dropping due to people using the app to make so many international phone calls. They thought these calls would cost so much due to high bandwidth usage, and so most ISPs went on to ban their customers from using Skype. Later on, it emerged that the ISPs were banning them so as to redirect traffic towards their own VoIP initiatives.
This all used to happen at a period when Skype was still a new player in the market. As of today, most countries have allowed their citizens to use Skype as their main mode of communication. There still exists, however, countries that still have a ban on Skype, and they're not interested in allowing its citizens to use it as their main messaging app.
Use a VPN to Unblock Skype
If you end up in such a country, then you should turn to an alternative such as VPN to unblock Skype. A Skype VPN will basically work as a secure channel through which all your requests are sent through. Using a VPN to unblock Skype will allow you to bypass all government and ISP surveillance, as well as keeping your online data & Internet identity safe and anonymous.
Using Skype with a VPN service also allows you to save on phone call charges. This can be done by picking a server that's based in the US since the Skype rates are significantly lower over there. Also, making a voice call instead of a video call makes things way cheaper.
If you'd still insist on making a voice call or video call, then look for a server that's closer to where you are. A few examples of providers you could consider include ExpressVPN, NordVPN, and BulletVPN.
How to Unblock Skype in Four Easy Steps
Unblock the services you love with a Skype VPN. Here's how:
Sign up for an ExpressVPN account.
Download and install your VPN apps on all your devices.
Connect to one of ExpressVPN's 145 VPN server locations worldwide.
Use Skype without restrictions.
Nations That Ban Skype & Other VoIP Services
As was earlier stated, a good number of countries don't appreciate the use of Skype within their borders. Most of them have their own reasons for doing so. Countries in the Central & South of America, for example, block Skype so that the people can turn to local service providers for both telephone & internet services. Also, there are telecom companies that push for Skype to be blocked because of their free phone calls service. This normally happens where the telecom company is so large, that it has the influence to lobby for an international service like Skype to get banned, and it eventually does.
The countries that have completely banned Skype include Kuwait, Guyana, Libya, Qatar, Syria, UAE, Oman, and North Korea. Those that have implemented some sort of geographical limitation include Mexico, China, Cuba, Brazil, Caribbean, Pakistan, Myanmar, Syria, Tunisia, Venezuela, Panama, Jordan, and others.
Top Skype VPN Providers
With the expansive list of VPN providers available for grabs, it can be a bit daunting to make up your mind. That's why I've put on a list of top VPNs to choose from in case you're looking to use Skype at its best. Keep in mind that there are other premium services to use. However, these one stand out based on their specs and features. Here they are.
ExpressVPN
To kick it off, we start with one of the top services in the world, ExpressVPN. This VPN provider certainly lives up to its reputation when it unfolds how many awards it won since it debuted on the market. Not only that, you might say that a product has its limits.
Well, this one continues to dominate the industry with what it has to offer. First up, let's talk about its server network. This VPN offers more than 2000 servers in 90+ countries around the world.
This means that you can access hundreds of streaming channels by hitting the connect button based on the server you wish to connect to. More than 200000 IP addresses are up for grabs. Wait, there's more.
ExpressVPN allows up to five connections per account. Not to mention that you'll be able to share a VPN connection to countless devices if you set up the VPN on your router.
Now, let's talk about what a VPN existed to do, enhance your security. This VPN provider relies on 256 bit AES encryption to keep user data protected and also adopts the strict zero-logging policy.
You get to choose protocols based on your needs, including OpenVPN, PPTP, SSTP, and IKEv1/v2. OpenVPN is always the right choice, which is why ExpressVPN sets it up as a default option. Have a look at our ExpressVPN Review for more details about how this VPN can benefit your online experience.
BulletVPN
BulletVPN focuses more on users' security and privacy. I mentioned that because you won't find that many servers in its network. It has 154 servers in 55 countries – a good selection for unblocking restricted content. However, it has support for VPN protocols such as OpenVPN, PPTP, L2TP/IPSec, and IKEv1/v2. These are pretty essential if you're one who cherishes online safety.
The provider is able to secure its customers with a strict zero-logging policy. Wherever you might be, your ISP or government can't get a hold of your browsing info. How are they going to get your data if there's nothing to obtain?
Let's not forget the fact that BulletVPN hasn't been around for long. But it's capable of doing a lot more than other VPNs, so it's worth your time. Take a look at our BulletVPN Review and come up with a verdict of your own.
NordVPN
NordVPN comes second on our list. However, that doesn't mean it's second to any other VPN software. Based on stats, this VPN has the biggest server network amongst all.
I mean 5000+ servers across 59 countries, that's a number to remember. NordVPN gives you security services that not many other services are capable of. One of such is its double VPN service.
This feature routes your connection through two servers instead of one, which means that you'll be able to double the protection on your internet traffic. Sadly, your connection speed will be lowered as well.
There's also its CyberSec feature which keeps ads and malware away from your device. Moreover, its SmartPlay feature grants users access to geo-restricted sites and services, that's Nord's own Smart DNS Proxy in case you're wondering. To find out more about this robust VPN provider, take some time and skim through our NordVPN Review.
SurfShark
Finally, we have SurfShark, the new VPN on the market. Despite being quite new, this VPN promises to deliver the best service to customers. If you want something to grab your attention, the first thing you'll see is that it offers unlimited simultaneous connections.
Not only that, but SurfShark also has a wide range of servers across 65 countries. The server includes more than 800 servers, which is more than enough to unblock hundreds of channels worldwide.
Furthermore, SurfShark uses CleanWeb, a feature that keeps away ads and adverts whenever you're surfing the internet. To see what else the service has up its sleeves, take a look at our SurfShark Review.
Best VPN for Skype – Wrap Up
Aside from a VPN service, there really is no other method that's as efficient enough to unblock Skype in a country where its use has been prohibited. VPN for Skype will allow you to encrypt your data, and hide your personal information such that no one will be able to find out that you're using Skype, or hack into the messages that you're sending.
Best VPN for Skype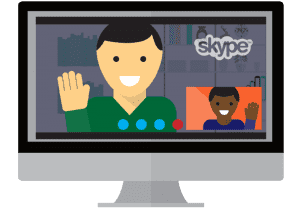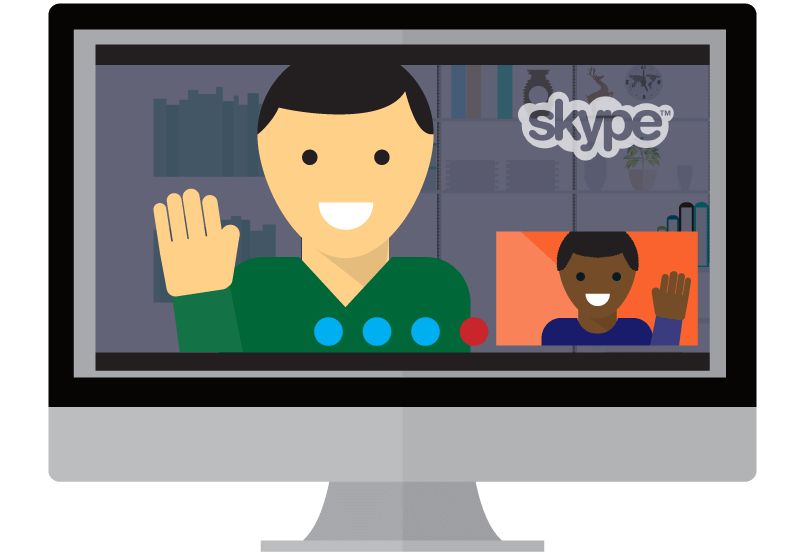 Name: ExpressVPN
Description: ExpressVPN is one of the top VPN providers in the industry based on the number of servers it offers and the security features users can benefit from.
VPN Apps

Access Blocked Content

Speed

Support

Refund Policy