When it comes to premium streaming content, French TV would definitely top the charts. TF1, M6, Canal+, you name it. However, in France, there's a hidden streaming gem for families – IDF1. Emphasis on "Hidden" as the channel is not accessible outside of the French region.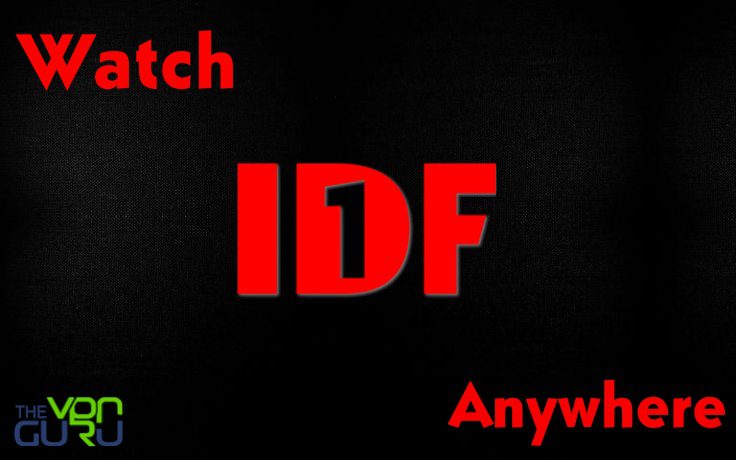 IDF1 has it all in terms of movies, shows, and programs that target family members. But due to geo-restrictions, the channel blocks access to anyone living abroad.
The service offers numerous content for free, which makes it a must-have channel regardless of your location. Yes, in this guide, we'll show you how to watch IDF1 anywhere outside France.
Unblock IDF1 – Quick Guide
Time needed: 4 minutes
Unblocking IDF1 outside France is pretty easy. All you have to do is follow the steps below:
Get a VPN subscription.

Sign up with a VPN that has speedy French servers. Our top recommendation goes to ExpressVPN.

Download the VPN application.

Install the VPN on your Android, iOS, PC, or Mac.

Activate the VPN software.

Sign in with your username and password.

Connect to a French server.

By doing so, you'll receive a French IP address.

Launch IDF1's website or app.

You don't need to sign in to watch the channel's content.

Enjoy IDF1 anywhere.

Watch live and on-demand content wherever you are.
Watch IDF1 Anywhere – The Full Walkthrough
We obviously have a lot of material to discuss regarding IDF1. The steps above reflect how you can unblock it, but to get there, an entire process was in place. Give this comprehensive guide a quick read for additional information:
What You Need
To get IDF1 outside France, you'll need everything on the list below:
A VPN subscription.
IDF1 account (for extra features).
A compatible streaming device.
IDF1 – French to the Core
The channel is very popular among French residents, especially those in Paris. IDF1 started off back in 2008 and along the way, it was able to cover a population area of nearly 12 million people.
However, just like several streaming services around the world, broadcasting rights play a very big role in the channel's availability.
IDF1 applies geo-blocking – a mechanism used to protect copyrights as it examines the users' IP addresses to determine their location.
Since the service is only available in France, it requires a French IP address to allow you access. If you're abroad, this is exactly what you lack, which will result in one of the following error messages:
"This content is not available in this country."


"Unexpected server Error."
A simple location spoofing technique would be the perfect way to circumvent this. We're not talking about GPS apps, it's all thanks to Virtual Private Network. With one and the steps above, you can unblock IDF1 wherever you are.
What is a VPN
A Virtual Private Network is an online tool that allows users to enhance their security and privacy while browsing the web.
With military-grade encryption, you can surf the internet knowing that your data would not be intercepted by third parties or your ISP.
Moreover, the VPN hides your IP address, deeming you totally anonymous online. Once the connection is established, you'll receive a temporary IP address based on the connected server's location.
In other words, you'll appear to be browsing from that region with full access to regional services and websites regardless of your physical whereabouts.
For example, if you connect to a French server, you'll receive a French IP address. As a result, you'll be able to watch IDF1 as well as the likes of TF1, M6, and Canal+ anywhere you may be. In general, a VPN grants you the following benefits:
Encrypts your data using military-grade encryption.
Hides your IP address and anonymizes your internet approach.
Unblocks major streaming services all over the world.
We previously recommended ExpressVPN for the task and we're going to tell you why. According to our tests, the service offers the best quality when it comes to speed, security, as well as privacy.
ExpressVPN has servers in around 94 countries, including France, which guarantees successful geo-blocking bypassing. However, while ExpressVPN is our top recommendation, we also tested out other VPNs that are also capable of getting IDF1 anywhere.
Unblock IDF1 Anywhere on Any Device
Streaming IDF1 requires no account, but you still need to get it on your device. To do so, follow the steps below:
If you happen to stream your content on your iOS or Android mobile, the following steps are required to get IDF1:
Connect to a French VPN server.
Download the IDF1 Premium application.
Watch live and on-demand content anywhere.
Please note that while the app is called "Premium," you get to access live television and on-demand programs for free.
On your PC or Mac, this is what you need to do to watch IDF1:
Launch your VPN and connect to a French server.
Open your preferred browser and head over to IDF1's website.
Select your title.
Enjoy.
IDF1 Anywhere – FAQ
Got more questions? We hope we could answer as many as we can in the following section:
Can I Watch IDF1 for Free?
The channel allows you to stream live and on-demand content for free. No subscription is needed.
To watch IDF1, you should be a resident of France. It's geo-blocked abroad.
What Devices Can I Watch IDF1 on?
You can stream IDF1 on Android, iOS, PC, and Mac.
Can I Watch IDF1 on Kodi?
No, that's not possible as IDF1 has no official add-on within Kodi's repository.
Unblock IDF1 Anywhere – Final Words
Now, you have all the means to stream IDF1 wherever you may be. Keep in mind that choosing the right VPN for the task is an essential process.
We provided you with the top VPN services in the world. All you have to do is pick one and enjoy unrestricted internet anywhere. If you have additional questions, make sure to drop them in the comment section below.