Hot on the heels of globally renowned streaming providers such as Netflix and Hulu comes Stan; an Australian streaming provider that does a lot more than disrupt the video streaming market. The service boasts of thousands of hours of entertainment. It holds contract licensing deals with major production companies such as Sony, Warner Brothers, Hulu, Amazon, and ShowTime. It also offers a wide variety of Australian productions to choose from, and a great selection of kids channels to also keep the young ones entertained.

Is Stan Any Good?
Stan's interface is quite easy to navigate through. It is also compatible with a wide array of iOS, or Android-based devices. Once you're signed up, you'll be able to access a large list of channels to choose from. The range of content you get to access also depends on the package you opt to subscribe to. There's the standard definition plan going for $10 a month; the high definition one for $12 a month; and the ultra HD package for $15. All the packages don't have a limit on the number of TV shows or movies you can stream. They're all provided in an all you can eat fashion instead. If you'd like to indulge in your favorite shows much later, the service also allows you to download content for offline viewing.
Is Stan Available Abroad?
The kind of perks that you get with Stan can easily be compared to the likes of other top-tier streaming services. The one biggest issue is that accessing Stan outside Australia may present a number of challenges. This is because Stan happens to be a geo-restricted service. This means it can only be easily accessed within Australia. This spells bad news for Aussies who are based in other countries as expats. They won't be able to catch up on their favorite local programming.
Luckily for them, there is a solution that exists which helps them access their favorite channels while abroad. All they'd have to do is sign up with a reputable VPN provider.
How To Unblock Stan Outside Australia Through a VPN
A VPN, or a Virtual Private Network allows users to conceal their connection by encoding it and having their connection hidden. This happens whenever a user connects to a remote server through their VPN client. When this is done, their IP address gets changed into whatever they would want to have it show, based on the country they'd like to be seen as being from. If someone wants to access Stan outside Australia, all they'd need to do is connect to a server that's based in Australia, regardless of wherever they happen to be.
This will also work for a user who wants to stream content from other geo-restricted sites and channels. It's great for working around any blocks that a site may have, as well as ensuring that your personal data stays protected whenever you're online. There are many risks that exist especially for users who tend to rely on public networks for their Internet connections. There's the risk that hackers may gain access to your device and steal your information, and using a VPN helps prevent against such risks. 
Best VPNs for Stan
To help ensure that you end up with the right provider, we've come up with a list of VPN providers that are sure to offer the best kind of service.
1. ExpressVPN
ExpressVPN starts off our list of the best VPNs for Stan since it is one of the most reliable service providers that you could ever count on. The service prides itself in its over 2000 servers, all scattered around more than 90 regions across the world. The provider is also well capable of allowing users to have up to 5 devices simultaneously protected, with 256 bit AES encryption to keep data hidden. From its base in the British Virgin Islands, ExpressVPN doesn't even store any logs of user data.
Among its wide range of more than 2000 servers, ExpressVPN also has a number of them that happen to be obfuscated. Therefore, it allows users to connect to them when based in highly censored countries. The service also has one of the most responsive customer care teams. The service also supports various VPN protocols, with the likes of OpenVPN, L2TP/IPSec, and IKEv2 being the most preferred. To find out what else ExpressVPN has to offer, take a look at our more detailed ExpressVPN Review.
2. BulletVPN
Second on our list is BulletVPN, another top-tier provider that's really centered on ensuring that its users enjoy both speed and security once they're subscribed to the service.
Established in 2017, BulletVPN is easily one of the best providers to turn to. The service prevents any government surveillance by ensuring its customers of their zero logging policy.
BulletVPN has a server network that has more than 150 servers, and they all happen to be in 55 countries. This keeps all user data out of the hands of third parties.
BulletVPN also provides unlimited bandwidth, and zero limits on the number of server switches that can be made. The service is also well known for its high-level support for torrenting. It allows for unlimited Peer to Peer file transfers, as well as complete anonymity to anyone that engages in the activity. Get the full brief on what BulletVPN is capable of offering by reading through our BulletVPN Review.
3. NordVPN
NordVPN sums up our list of the Best VPNs for Stan as a highly capable provider that's easily able to work around so many geo-restricted sites. The service has a wide array of servers. It has up to 4000 of them based in more than 90 countries across the world. All these servers are overseen from its headquarters in Panama. NordVPN also employs the industry standard 256 bit AES encryption, but it makes it more effective by routing its users' data through two servers instead of one.
NordVPN's wide range of servers makes it possible for users to select which servers they'd want to subscribe to based on the kind of work they'd like to be doing online. There are servers optimized for online gaming, HD streaming, torrenting as well as super fast downloads. The service also supports Tor over VPN, and this allows for complete anonymity while browsing. There's also an Internet Kill Switch that kicks into place whenever your VPN connection gets compromised, as well as software and tools such as SmartPlay and CyberSec that enhance your experience. Find out more about NordVPN and its other features by going through our NordVPN Review.
Conclusion on The Best VPN for Stan
Stan is by far one of the best on-demand streaming services you could turn to. Its regional restrictions mean that only users based within Australia have access to its content. For those that want to be an exception to the rule, subscribing to a VPN is a great way to start out. A VPN is capable of encrypting your connection, and therefore providing a great deal of security to a user. The three that we've reviewed above are some of the best in the market. So signing up to any three of them should offer a great experience.
ExpressVPN Review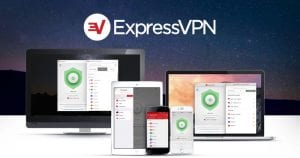 Name: ExpressVPN
Description: ExpressVPN is a VPN service that allows you to browse the web anonymously and unblock geo-restricted sites.
Price: 12.95
Currency: $
Operating System: Windows, OSX, Android, iOS
Application Category: Multimedia
Refund Policy

Speed

Support

VPN Apps