From the cultured cities to the quaint countryside, France has been the perfect destination for travelers, especially when it comes to romance. However, falling in love inside the "Country of Love"  is one thing, and falling under surveillance is another. The internet in France isn't as free as one would hope for. The government continually monitors individuals, block several websites, and too much freedom of speech is not tolerated.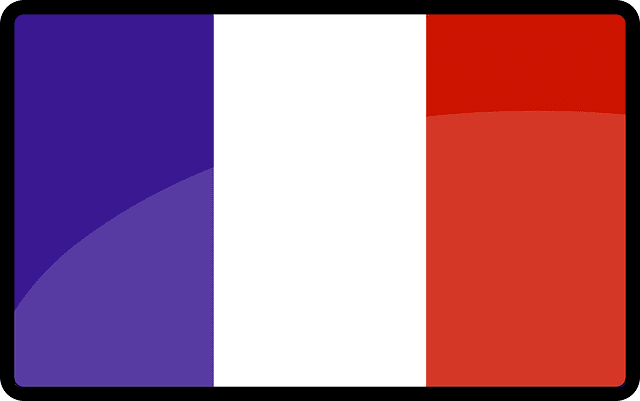 That's why VPNs are essential if you live in the country. But the question is: Why use a VPN? And what are the best VPNs for France? Find out in this review.
Best VPN France – Content Index
France is known for beauty, but the internet is nowhere near to be called beautiful. From monitoring, surveillance, to internet restrictions, these are things that could cripple users' online freedom.
With a VPN, all these issues can be solved. What VPN should you choose? That's what this review is here to show you:
Why a VPN for France
Whether you know all about the internet in France or not, a VPN is always a must. It doesn't matter if the country is considered free or partly free, there are always threats on the World Wide Web. With that said, here's why you need a VPN in France.
Access Geo-blocked Content
First, most TV shows from the US and UK aren't fully unlocked. For instance, Netflix, HBO Now, Hulu, BBC iPlayer don't let you access their full content.
A lot of the restrictions aren't reasonable. You might have trouble downloading some apps on your phone with your French IP address. Even applications like Youtube are subjected to filtering.
If you're French and traveling anywhere in the world, you're also going to face troubles. It won't be possible to access channels like Canal+, Molotov TV, France TV, Eurosport or Play TV. So, getting a VPN is important.
The Internet in France
According to a newly enacted law, French intelligence and government officials can spy on internet users without prior legal authorization, as explained by President Francois Holland.
Another law comes in the form of LOPPSI 2, which allows filtering the Internet without any justice decision. Whatever is on the sites' blacklist is under the control of an administrative authority depending directly from the Ministry of the Interior. No independent monitoring is present.
Moreover, France is a member of the 14 Eyes. France has data retention and surveillance laws that mandate for the ISPs to keep your data for one year. This means state agencies can access your data without oversight.
If the French Constitutional Council finds someone suspicious, it obliges ISPs to monitor their online activity. The collected information is sent to intelligence agencies. So the ISPs and law enforcement install stealth cameras and keyloggers to analyze the person's data for skeptical actions.
The laws in France grant surveillance of electronic data sent and received from abroad as well.
Safe Downloading
Illegal torrenting is punished with a large fine if your ISP catches you torrenting copyrighted materials. ISP can do so by the anti-piracy law HADOPI. It lets them bypass the legal procedure and carry out private policing of copyright.
Without a decision from a court or judge, officials can remove and block any content by the emergency legislation and Anti-Hatred laws. Thus, there's a lot of censorship and filtering on the websites and the contents they provide in France.
Increase Online Security
Furthermore, in France, like other countries such as the USA and Australia, cyber crimes are occurring. The French suffer more from cybercrime than any other Europeans.
In fact, 41 percent of French smartphone users have been victims of criminal acts in the past few years. So, to be safe while browsing the internet, you need a VPN.
Best VPN for France Revealed
The VPNs mentioned below are ranked according to their server coverage, speed, performance while streaming geo-restricted content, their prices, and their business ethics.
1. ExpressVPN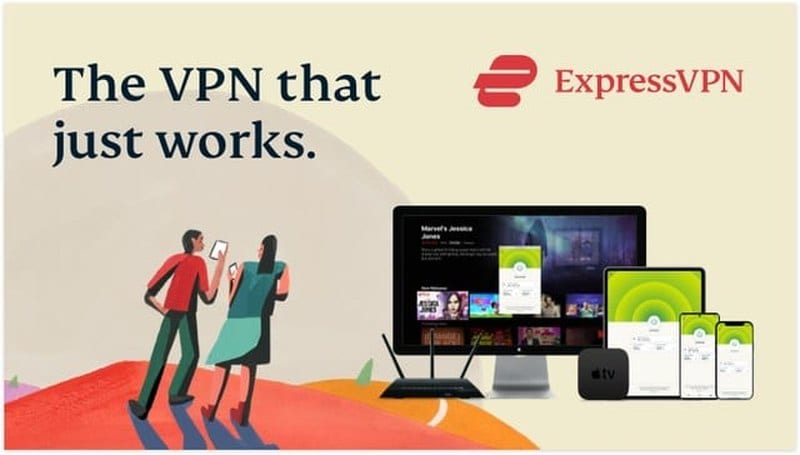 ExpressVPN operates in its headquarters in the British Virgin Islands, a pro-privacy legal climate, and they don't log traffic or DNS queries. They use OpenVPN, 256-bit AES-CBC encryption, and other privacy features.
We tested the VPN to see how well would it help us in the French region. Technically, the results were all excellent. If a VPN works in China, you bet it can easily operate in France. Here's what we got:
Speed:  ExpressVPN's Speed was not expected at all. Despite their strong encryption, the VPN maintained blazing fast connections using any of their servers, be it distant or nearby.
Server Network: The service allows users to connect to more than 2000 servers across 94 countries, which is more than enough to surf the web anonymously and access blocked content.
Smart DNS: The provider's servers aren't the only method to help users spoof their online location. In fact, ExpressVPN providers MediaStreamer, Smart DNS proxy that spoofs their whereabouts without encrypting their data, resulting in streaming with minimal speed loss.
Access Geo-restricted Content: A lot of VPNs have failed to access the likes of US Netflix and Hulu. However, ExpressVPN does not fall into that category as it's able to bypass any kind of VPN blocking mechanism.
ExpressVPN enhanced its privacy by adding the likes of a kill switch. It's a technology that cuts off users' internet in case a sudden drop in the VPN connection occurs.
Moreover, it adopts a strict zero-logs policy accompanied by 24/7 live chat support. As for subscriptions, ExpressVPN costs $12.95/month, with a 30-day money-back guarantee policy – no questions asked.
Pros
2000 servers in 94 countries.
Tough encryption.
Five simultaneous devices.
P2P-friendly servers.
Accesses US Netflix.
Smart DNS (MediaStreamer)
Kill switch.
30-day refund policy.
Easy-to-use apps.
Browser extension.
Split-tunneling.
2. BulletVPN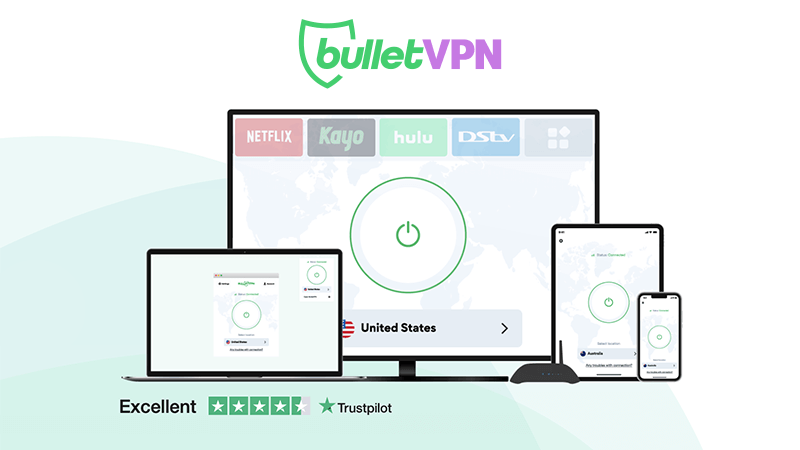 BulletVPN operates straight from Estonia, a country far away from the Five Eyes association. There are no data retention laws present, but if there were, BulletVPN follows a strict no-logging policy to protect its customers.
Ever since its launch back in 2017, BulletVPN has been upping its game to compete with other VPN giants. And to be honest, according to our tests, it's doing a very good job at it.
Speed: The fact that this VPN only causes a 6% drop in connection is very amusing. It shields user data with military-grade encryption, yet maintains excellent connections. If you want a closer look, check out these speed tests. There are also dedicated servers for UHD streaming labeled (UltraHD Support).
Server Network: Just like the other VPN on our list, BulletVPN has a great server spread across the world. To be exact, they offer more than 150 servers across 50+ countries.
Smart DNS: Another major benefit for streamers in France is that they can use Smart DNS to access geo-restricted content with BulletVPN. There's no need to lose speed if they're just looking for quality streaming.
Unblocking Restricted Content: Being able to access as many streaming services as possible is very important and BulletVPN delivered. With a few tests, we were able to see that BulletVPN can unblock the likes of US Netflix, Disney+, DAZN, and so many more.
Moreover, BulletVPN has two main privacy features in the form of a Kill Switch and Bullet Shield.
A kill switch turns off your internet access if your VPN connection drops. This doesn't allow your browsing activities to flow back through your ISP's servers.
As for Bullet Shield, this technology won't allow you to access the internet at all without connecting to a BulletVPN server. Note that it cannot be activated without the kill switch already on.
BulletVPN costs $10.98/month. However, if users subscribe to their yearly plan, the price goes down to $3.75/month.
Finally, the provider has a  30-day no-questions-asked refund policy, as well as a 1-day free trial for Android users and customers who contact the support team.
Pros
100+ servers in 55 countries.
Military-grade encryption.
Six simultaneous devices.
P2P support.
Unblocks US Netflix.
Smart DNS.
Kill switch.
30-day refund policy.
User-friendly interface.
Bullet Shield.
Cons
Lacks browser extensions.
3. Surfshark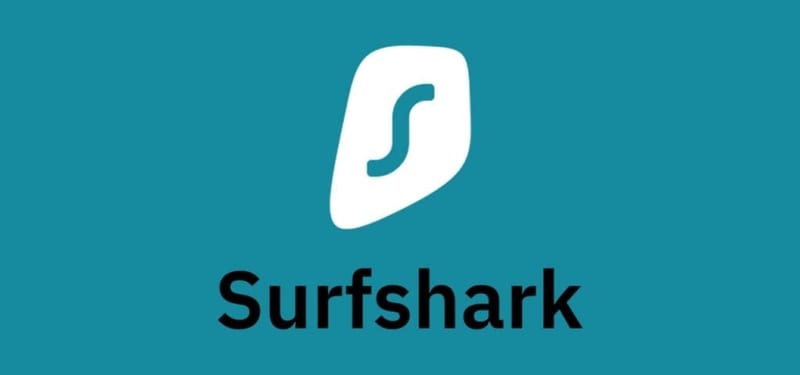 With Surfshark, you're guaranteed safe and anonymous browsing in and out of France. The provider has more than 2000 servers across 65 countries, which makes access to the internet completely unrestricted.
You can literally stream channels from all over the world wherever you are, be it in France or overseas. The provider also excels in security, speed, and so much more:
Speed: The speed loss caused by encryption is inevitable. However, based on our tests, Surfshark managed to keep this effect unnoticeable by optimizing its servers in the best way possible.
Servers: Surfshark has thousands of servers across 65 countries. This ensures the ability to unblock various streaming services wherever their coverage area is.
Smart DNS: The provider also offers a Smart DNS service. It can be configured on devices that don't support VPN clients such as Apple TV, PlayStation, Xbox, as well as Smart TV.
Access to Restricted Channels: With Surfshark, you can have easy access to the likes of US Netflix, BBC iPlayer, Amazon Prime Video, and more.
The aforementioned features are all included in one single subscription. You can give them a try, risk-free, courtesy of Surfshark's 30-day refund policy.
Pros
Top-level security.
Unlimited concurrent connections.
Servers in 65 countries.
P2P is available.
Supports American Netflix.
Kill Switch.
Smart DNS.
30-day refund policy.
CleanWeb.
Double VPN.
4. Unlocator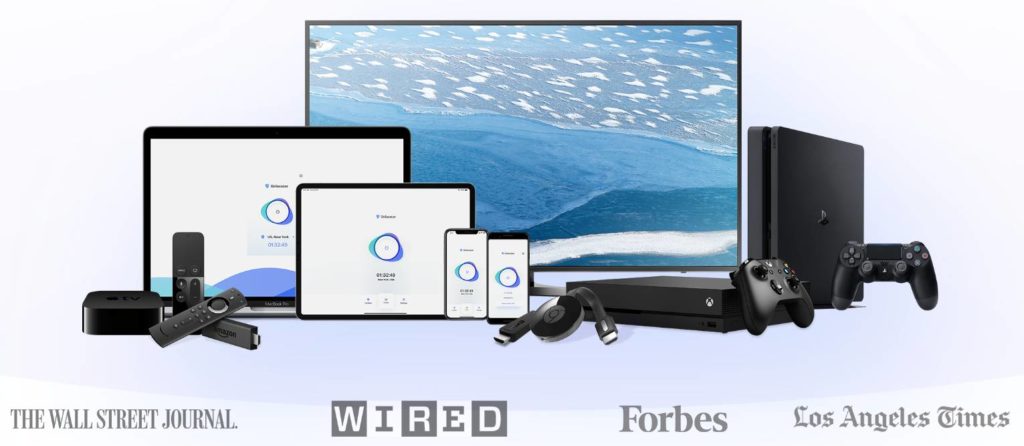 Unlocator is a newly established VPN service. It was a pure Smart DNS provider, but now, it's considered as a hybrid. The provider is based in Denmark, which is part of the 14 eyes alliance, an expansion to the notorious 5-eyes alliance.
During our tests, we found that it collects no logs, stores no data, and does not leak any of our information. However, there are a lot more details to dive into:
Speed: Technically speaking, the provider didn't show promising results on some servers. We even experienced a 55% drop while connected. On the other hand, other servers showed excellent speeds and our videos showed no buffering issues or quality loss.
Servers: Unlocator has 43 servers across 37 countries, which pales in comparison to the other VPNs on our list. However, these servers are strategically spread across key locations for unblocking content.
Smart DNS: The provider started out as Smart DNS service and it recently became a hybrid provider. Based on their channel section, Unlocator is able to unblock more than 230 channels using its Smart DNS service only.
Access to Restricted Channels: Netflix, Hulu, Amazon Prime, Disney+, DAZN, and so many more are easily accessed using Unlocator VPN.
Unlocator uses the highest security measure – AES-256 encryption, along with a kill switch and what they call Unlocator Shield.
The latter secure the users' connection if any interruption occurs, preventing it from leaking to the ISP's servers.
Users can get a monthly subscription for $9.99/month (VPN and Smart DNS). If they're only interested in Smart DNS, they can get that for $4.95/month. However, in a country like France, a VPN is always the choice.
Finally, the provider has a 30-day money-back guarantee, and it's one of the few providers that offer a free trial without submitting credit card info. You can use "Unlocator" free of cost for 7 days before entering the 30-day refund duration.
Pros
256-bit AES encryption.
Five concurrent connections.
70+ servers in 40 countries.
P2P support.
Unblocks American Netflix.
Kill Switch.
Smart DNS feature (230+ channels).
30-day refund policy.
Easy-to-use applications.
Unlocator Shield.
7-day free trial.
Cons
No Split-Tunneling
Some servers are slow.
5. NordVPN
NordVPN is the proud holder of self-managed servers and has a true zero-logs policy backed by OpenVPN over TCP and AES 256-bit encryption.
They are based in Panama, which means the absence of 14 Eyes, Big Brother or any data retention laws. But is that enough to deem it credible to use in France? No, but the following tests are:
Speed: A connection to a US server showed amazing speeds. It only recorded a 9% drop in speed. However, a lot of servers did not pass the speed performance test, resulting in huge drops. The servers were mainly distant or activated through their Double VPN feature.
Server Network: Servers in 62 countries reflect a wide-spread for the VPN provider. According to their website, these countries host more than 5000 NordVPN servers, which is, by far, the biggest network in the industry.
Smart DNS: Just like the other VPNs on the list, NordVPN also has Smart DNS in the form of SmartPlay. It's able to unblock hundreds of channels across the globe.
Unblocking Capability: We did not find any problem while trying to stream services like Netflix, Hulu, and HBO. NordVPN managed to unblock them all without a hitch.
NordVPN is one of the most sturdy VPNs in terms of encryption and security. Their video streaming is in HD. They have double VPN and anti-DDoS, with other pros that are mentioned below. However, their increased security with double encryption reduces the speed.
Their monthly subscription costs $11.95, which might be a little bit expensive, but acceptable compared to what it has to offer in return. NordVPN also has a 30-day money-back guarantee in case you weren't satisfied with its features.
Pros
Military-grade encryption.
Six concurrent connections.
Servers in 62 countries.
P2P friendly.
Unblocks American Netflix, Hulu, and BBC iPlayer.
Kill Switch.
Smart DNS feature
30-day refund policy.
User-friendly applications.
Browser extensions.
CyberSec.
Double VPN.
Cons
No Split-Tunneling.
Slow servers (Some).
No Free Trial.
Top VPN for France – Parting Words
Living in France means you are subject to a lot of restrictions and surveillance. If you like your privacy and like to unblock certain contents, you should get a VPN. A lot of VPNs offer many advantages and disadvantages.
So, it's up to you to pick the one that suits you better and invest in it. No matter which one you choose, make sure it's valid, secure and has a decent refund policy. Kindly let us know which VPN you ended up with, in the comments below.
Best VPN for France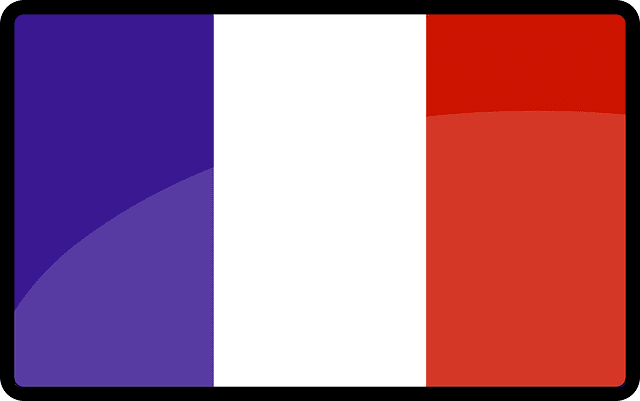 Name: ExpressVPN
Description: ExpressVPN is exactly what French citizens need to escape government surveillance and regain privacy.
VPN Apps

Access Geo-Restricted Content

Speed

Customer Support

Refund Policy