Tennis lovers, get ready for some hit-and-grunt action from January 16th, 2023 till January 29th, 2023 as the 111th edition of the Australian Open is on the way. This will be the first Grand Slam of the year, taking place at Melbourne Park, Victoria, Australia.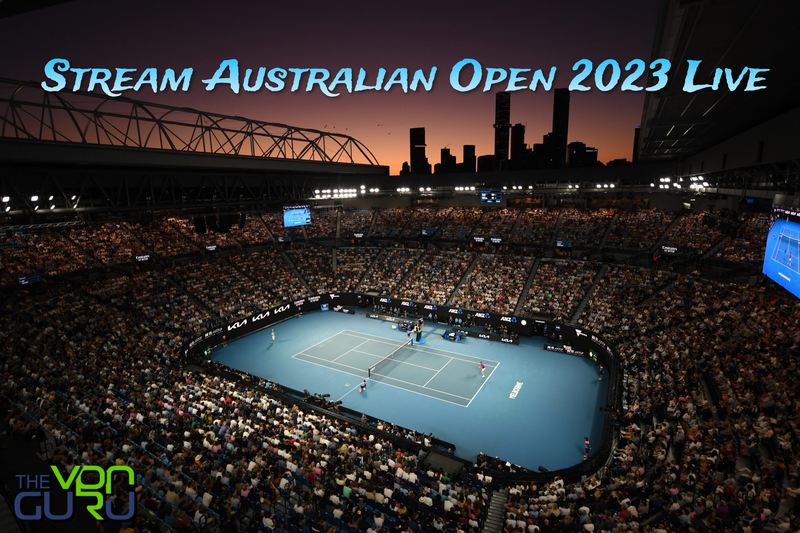 The Australian Open 2023 will be broadcast on Channel 9 and other associated channels, yet all of them are restricted to their own regions. Well, restrictions haven't been a problem for us in the past, but they definitely won't pose one this time.
If you want to watch the 55th edition of the tournament in the Open Era, make sure you go through this comprehensive guide.
Watch AO23 Live Anywhere – Quick Steps
Time needed: 4 minutes
It only takes you a few minutes to be able to watch Australian Open 2023 wherever you are. Oh, and the steps provided below:
Get a VPN subscription.

You can sign up with any of the providers mentioned in the guide below. We highly recommend ExpressVPN though.

Download and install the VPN application on your device.

Dedicated clients can be found on Android, iOS, PC, and Mac.

Activate the app and sign in with your credentials.

All you have to do is enter your username and password.

Connect to a VPN server.

Choose a server in a country where your selected channel is available:
– US server for ESPN/Tennis Channel.
– Australian server for 9Now.
– Indian server for Sonyliv, etc…

Launch the channel's website or application.

Sign in if an account or subscription is required.

Watch 2023 Australian Open live anywhere.

Enjoy AO23 wherever you may be.
Full Australian Open Streaming Review
There's more to learn about how to stream Australian Open 2023 live in your region. For more information, check this comprehensive walkthrough:
What You Need
To watch AO23 live, you'll need the following first:
A VPN subscription.
An account for the channel you wish to stream the tournament on (If necessary).
A compatible streaming device.
Australian Open 2023 Streaming Channels
The Australian Open is one of the biggest Grand Slam Tennis tournaments in history. In fact, 813.8 million broadcast hours were viewed around the globe back in 2020. It's quite obvious why a lot of channels around the world would be interested in securing its broadcasting rights.
Before we proceed, these are the 2023 Australian Open official broadcasters:
Unfortunately, broadcasting rights have their pros and cons. While a certain audience enjoys top tennis actions, others in different countries get blocked courtesy of geo-restrictions.
Streaming services use geo-blocking, a mechanism that restricts access to certain content to a specific location.
These channels examine your IP once you approach their services to determine your location. If you don't reside in their territory, you'll be blocked.
For example, 9Now – a free channel that offers every second of the event only operates in Australia. In other words, you'll need an Australian IP to access its content. If you reside abroad, that's exactly what you lack, which will result in the following error message:
"Geo-blocked. Access is not available in your area."
This is one of the errors you'll get, but the result is the same – no 9Now access abroad. But the question is: How can you fix that?
It's simple. If you're IP is what's causing this, then a simple IP alteration is needed. You'll find out how you can do so in the steps above.
VPN Explained
The Australian Open 2023 is an event sports fans must not miss out on. Unfortunately, as we mentioned, the channels listed above are blocked outside their respective countries.
Those who want to watch it from any country will need a VPN to access the service. This particular software allows you to hide your actual location so that you can bypass restrictions on websites, channels, and services from any country worldwide.
Once you connect to a server, the VPN encrypts your data and cloaks your IP address, assigning you a temporary one in the gateway city where the server is based.
If that server is in Australia, for example, an Australian IP address you shall receive. As a result, you'll be able to access Channel 9 and any restricted online content in the land down under no matter where you physically reside.
To sum up a Virtual Private Network's capability, we've included the following list:
It increases your security when online.
Anonymizes your browsing activities.
Unblocks major streaming services.
In terms of recommended VPNs, ExpressVPN is the best provider for the job. It can unblock content from all around the world while maintaining user privacy and security.
It has some of the most impressive security features that distinguish it apart from all the other VPNs. You get the likes of military-grade encryption, top-level security protocols, a kill switch, split tunneling, and one strict no-log policy.
For more information on other VPN service providers, make sure you check out the table below.
A VPN Alternative – Enter Smart DNS Proxy
Same results, different method, that's exactly what a Smart DNS proxy will grant you. You see, DNS codes can be configured manually on your device. Once you do so, only the chunks in your traffic that showcase your location will be rerouted.
No IP change, no extra security or privacy, just restriction circumvention. While security is important, when it comes to streaming, so is speed. With Smart DNS, your speed remains untampered as no encryption takes place.
On the other hand, your IP remains unchanged, which grants you access to both local channels and restricted ones simultaneously without losing any of them.
It's very simple and can be set up on various devices such as Android, iOS, PC, Mac, PlayStation, Xbox, Chromecast, Apple TV, Smart TVs, and Android TVs.
Here's what you need to do:
First, sign up with a credible Smart DNS provider.
Follow their setup guides on their website and configure the DNS codes according to the device you're operating.
Smart DNS only works with the channels that the provider supports. Check if the service has your chosen channel on its supported channels list.
Now, launch the channel's website or app.
Stream Australian Open 2023 anywhere.
All of the VPNs above have Smart DNS as part of their subscription. However, Unlocator is the only one that provides it as a stand-alone plan.
Not to mention that they have a very generous 7-day free trial, so you can try their service out without having to pay a dime. After that, you can decide whether it's the service you wish to operate with or not.
About the Australian Open 2023
The 2023 Australian Open is a Grand Slam tennis tournament that will take place at Melbourne Park, from January 16th to January 29th, 2023. This will be the 111th edition of the Australian Open, the 55th in the Open Era, and the first Grand Slam of the year.
The tournament will hold events for professional players in singles, doubles, and mixed doubles. Junior and wheelchair players will compete in singles and doubles tournaments.
Just like last year, the tournament's main sponsor is Kia. Just like last year, all eyes will be on the defending champions Rafael Nadal and Ashleigh Barty, as they look to score yet another victory at the prestigious tournament.
As for the players participating in the competition, they're presented on AO23's official website.
Australian Open 2023 – FAQ
More questions? Don't fret, we've got all the answers you need. Just make sure you go through the following section:
When Will the Australian Open Begin?
The 2023 Australian Open will begin on January 16th all the way till January 29th, 2023.
Where is the Australian Open 2023 Being Held?
The tournament will take place at Melbourne Park, Melbourne, Victoria, Australia.
Who Are the Defending Champions?
Rafael Nadal and Ashleigh Barty will head to the tournament as the defending champions in Men's Singles and Women's Singles respectively.
What Edition of the Australian Open is this upcoming one?
This year, the tournament marks the 111th edition of the Australian Open, the 55th in the Open Era.
Can I Watch AO23 for Free?
Since 9Now is among the channels broadcasting the tournament, you can definitely stream the entire thing for free.
Australian Open 2023 – Final Thoughts
Now that you know you can watch the Australian Open 2023 anywhere in the world. Who will dethrone Rafael Nadal?
Well, you have the means to stream the tournament live online. This means you'll find out as soon as the Australian Open hits your February calendar. If you have any questions, please drop them in the comments below. I'll make sure to help you out as soon as possible.