According to Cosmopolitan, Germany is one of the best countries to visit in 2020. Despite canceling the legendary "Rock Im Park" festival due to the Coronavirus pandemic, Germany is still considered a beautiful country with great scenery, museums, and even food like Sauerkraut.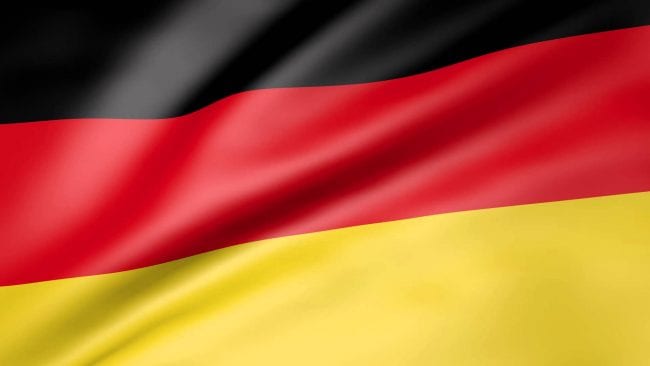 A first-world country such as Germany has some impressive data protection laws in place. However, as the government tries to apply retention laws and control peer-to-peer actions, having a VPN in Germany has become a necessity. But what VPN is best to use in Germany? Find out in this review.
Best VPN for Germany – Content Index
In this review, you'll learn all about how the internet works in Germany. It is not as free as everyone wants it to be, which makes using a VPN a full necessity.
Based on our strict evaluation process, we've narrowed down the search to 4 top VPN services that'll help users maintain their privacy and bypass the internet's limitation in Germany. Here's what the review includes:
The German Need for a VPN
German law provides for freedom of speech and press, but not without some exceptions. The country has expressed a strong commitment to respecting its residents' privacy.
However, the country is part of the 14 Eyes – an expanded version of the Five Eyes Alliance, which raises some questions about how free internet users are. The countries involved in this association monitor, collect and share user data with one another.
That's why a VPN is very important to use in the country. But that's not just it – there's more to shed some light on:
The Internet in Germany
As we mentioned, Germany is strongly trying to protect the users' privacy and give them their freedom of speech, but with limits.
Germany's online surveillance powers, both internally and internationally, have expanded. Now, the law permits police to monitor online activities even when there is no suspicion of criminal activity.
In Germany, an organization known as the Federal Intelligence Service (Bundesnachrichtendienst) works closely with NSA in the US, and the GCHQ in the UK to gather user data from everywhere in the world in a bid to share intelligence that might help in subverting global disasters or catching dangerous criminals.
Aside from that, there's a recent data retention bill that got signed into law in 2015 where the German government made it mandatory for data to be retained by ISPs for up to 10 weeks.
Although this is a far cry from the 12 months that countries such as the UK are forced to comply with, it still remains a major security concern since if such data does get into the wrong hands, a lot of bad things could happen.
There's also very stringent enforcement of copyright enforcement laws in Germany. This poses a big issue for a large number of Internet users. Those of them who stream or download online content that goes against such laws face the risk of apprehension by law.
Finally, we come to online censorship, which Germany is very popular for. Germany blocks and censors a lot of online content. For example, it removed websites from Google search results that deny the holocaust. It is considered a felony under German law.
Location Spoofing
For Germans living abroad, a VPN allows them to get a German IP address. This helps you unblock and watch any German TV channels regardless of where you currently live.
As for Germans who are actually living in Germany, a VPN enables them to access any region-restricted websites that may not be available in their home country.
Internet users in Germany can get a hold of geo-blocked streaming services like Netflix, HBO Now, Hulu, BBC iPlayer, TSN, and so many more by connecting to a server in the channels' respective countries.
They can also use a VPN in order to browse the web anonymously without having to worry that your ISP or some government agency is spying on you.
With all that in mind, I'll be discussing some of the best VPNs for Germany below:
Best VPN for Germany Review
All of these issues can be addressed through the use of a VPN service. The only problem that might come about is how to pick one since a lot of providers exist in the market.
To help you out, we're going to look at 4 top providers who we're sure are reliable, and have the means to provide a high quality of service. We ran dozens of providers through several tests, and only 4 of them made it to the list. Check them out:
1. ExpressVPN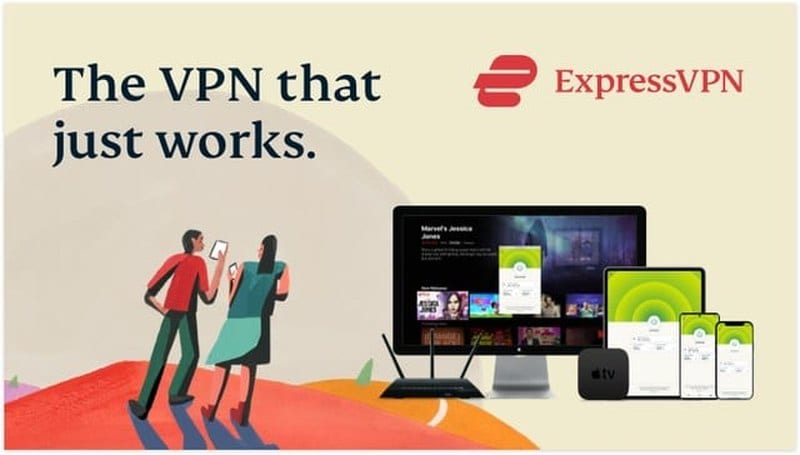 ExpressVPN is one of the few VPN companies that has managed to build and sustain a good reputation over a very long period of time.
They assure their customers of an SSL secured connection, coupled with 256-bit encryption for maximum security.
Being based in the British Virgin Islands means there are no laws that force them to retain their users' data, so no browsing records are kept.
With more than 2000 servers to tend to their customers, ExpressVPN maintains a super-fast connection, no matter which server you establish a connection to.
The servers are present in more than 145 locations and based in slightly above 90 countries and according to our speed tests, these servers maintained an excellent connection, allowing us to stream Netflix in UHD.
Netflix wasn't the only channel we got to access. In fact, ExpressVPN was able to unblock top streaming platforms all over the world, including Hulu, BBC iPlayer, and US DAZN.
As for torrenting, ExpressVPN supports the P2P action so that you always download your files anonymously in Germany, which doesn't tolerate such an act.
Moreover, ExpressVPN enhances user privacy using top features such as a kill switch. If users are browsing the web and the VPN connection suddenly drops, this tool comes in handy as it cuts off the internet access so that their data doesn't flow back through the ISP's servers.
With ExpressVPN, users get to try out their service risk-free, courtesy of their 30-day refund policy. If anything is wrong with the service, they can have their money back no-questions-asked.
Pros
256-bit AES encryption.
No-log policy.
Five simultaneous connections.
Servers in 94 countries.
Torrenting/P2P support.
30-day refund policy.
Unblocks American Netflix.
Kill Switch.
User-friendly interface.
Browser extension
Split-tunneling.
Cons
Expensive monthly subscription.
2. BulletVPN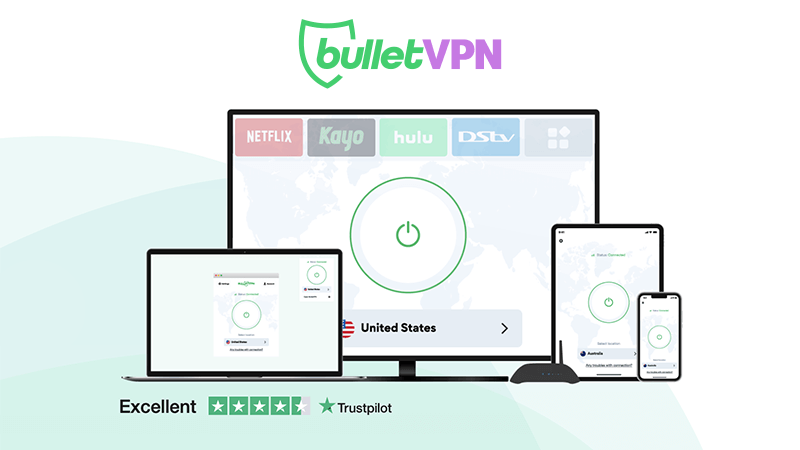 BulletVPN also made it to our list based on the services it has to offer. The provider saw the light back in 2017, and up till now, it hasn't stopped working on improving its apps, features, and server spread.
With a strict no-logging policy, BulletVPN assures its users that none of their data is collected. In fact, the service is based in Estonia, which does not fall under any data retention laws or the influence of the Five Eyes alliance.
BulletVPN started off small, but now, they offer 154 servers in 55 countries. This server network is not just grand, but the servers themselves are very fast.
When we performed some speed tests, the provider only showed a 6% drop in our connection despite applying touch encryption. And as an added plus, BulletVPN has UltraHD support servers, which do exactly what they're labeled as.
We were able to unblock all of the major streaming services and stream their content in Ultra HD without witnessing any buffering issue in the process.
Furthermore, BulletVPN also has a kill switch. But as an added plus, the service has Bullet Shield, a technology that does not allow users to connect to the internet without having a VPN connection in place.
Finally, BulletVPN has a 30-day money-back guarantee. However, if you're operating an Android, you can benefit from a 1-day free trial (no credit card required).
Pros
256-bit AES encryption.
Zero-traffic logging.
Six simultaneous connections.
Servers in 55 countries.
P2P friendly
30-day refund policy.
Accesses American Netflix.
Kill Switch.
User-friendly interface.
Bullet Shield
Free trial.
Cons
No split tunneling.
Lacks browser extensions.
3. Surfshark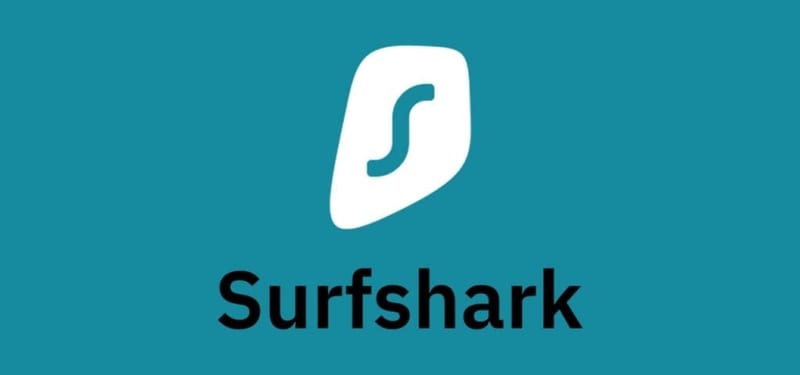 Surfshark is a great option for German residents and ex-pats alike. It offers more than 2000 servers in 65 countries, including Germany. In other words, bypassing restrictions and accessing international and local channels is an easy task with this one.
Germany is one of the 14 eyes countries, so it'll be looking out for your data. However, Surfshark abides by a strict no-logs policy and runs RAM-based servers that delete data immediately.
That means your information is completely safe and no one will be able to get their hands on it no matter what the situation is. There won't be anything to disclose, to begin with.
Streaming-wise, Surfshark can unblock major streaming services such as Netflix, Amazon Prime, Hulu, DAZN, and more. Not only that, but streaming is quite seamless as it does that with excellent speeds.
Pros
High-level encryption.
No logs policy
Unlimited simultaneous connections.
Servers in 65 countries.
Supports P2P.
30-day refund policy.
Unblocks American Netflix.
Kill Switch.
Adblocker.
Double VPN.
4. Unlocator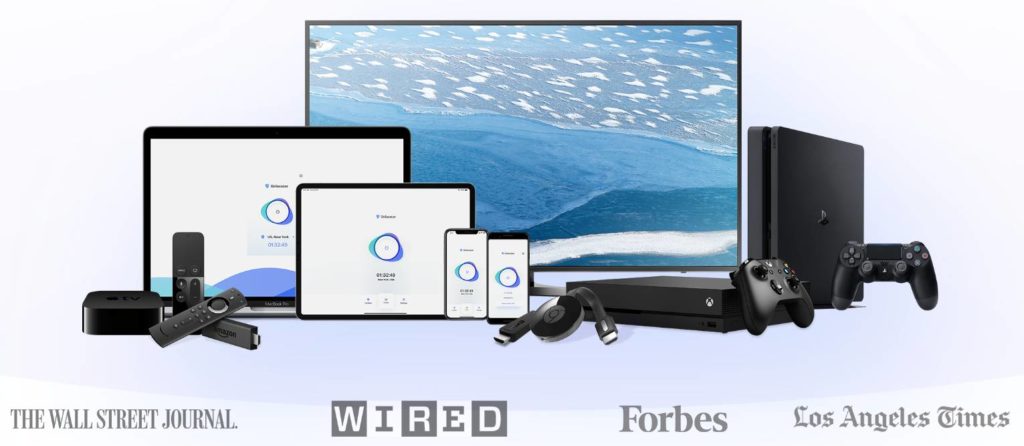 Unlocator was established in 2013 as a means to bypass regional restrictions. It first launched as a Smart DNS provider, but now, it has joined the VPN industry.
As a VPN, being based in Denmark isn't a good thing. The country is part of the 14-Eyes and user data is always susceptible to breaches.
However, Unlocator does not collect logs and there have been no reports of it giving out its customers' data to the authorities.
The service offers servers across 41 countries, which is a bit too small compared to what the others on the list provided. On the bright side, we found the servers are in key locations where top streaming services are available.
Speed wasn't that good of an experience with Unlocator as some of the servers were really slow. When we connected to a distant server, our connection suffered a 55% drop, which affected our video quality. On the other hand, some of the servers were actually pretty fast, allowing us to stream content in full HD.
Whether it's Smart DNS or VPN, the service was able to unblock top streaming services across the globe. Netflix's VPN ban wasn't that affected when we used a US server provided by Unlocator.
Aside from their kill switch, Unlocator has Unlocator Shield, which doesn't allow internet use without connecting to a VPN server first.  
Finally, Unlcator has a 7-day free trial, which none of the other providers have. To top that, they also offer a 30-day refund policy once the trial ends.
Pros
256-bit AES encryption.
Strict no-log policy
Five simultaneous connections.
Servers in 41 countries.
P2P friendly
30-day refund policy.
Unblocks American Netflix.
Kill Switch.
User-friendly apps.
Unlocator Shield.
7-day free trial.
Cons
A couple of slow servers.
No split tunneling.
Lacks browser extensions.
Small server network.
5. NordVPN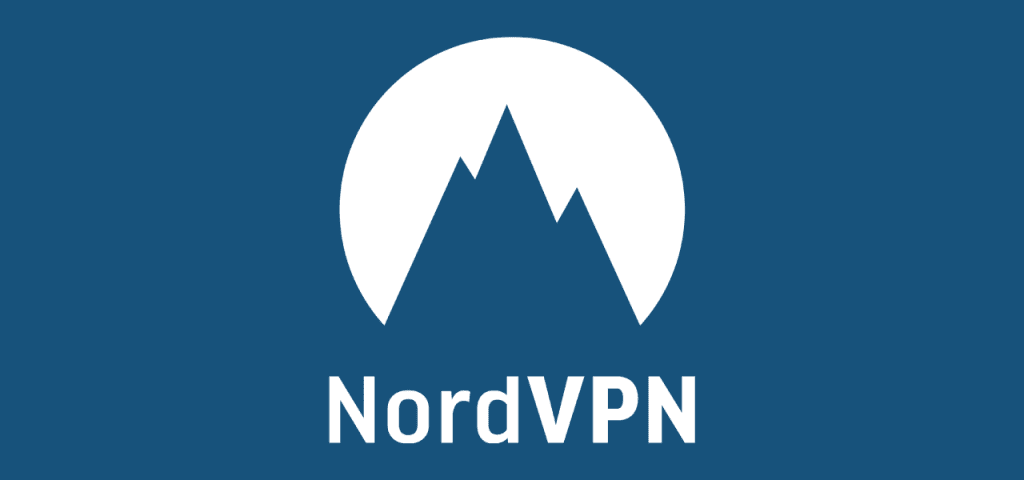 NordVPN is easily among the best service providers in the market. They assure their customers of top-notch encryption levels with 256-bit encryption on their OpenVPN security measure.
Like ExpressVPN, they also have their headquarters in a country that does not require them to retain any customer data (Panama), so their users don't get to worry over whether their browsing history is kept.
Their network of servers is also impressive, with over 5000 servers located in 62 countries all over the world. In Germany, they're about 74, which is more than enough to ensure that no particular server gets overly relied upon.
The amount of servers they offer is perfect for maintaining speed. In fact, based on our tests, NordVPN is very fast. However, some servers showed inconsistency in their performance and heavily affected our connection, especially when using Double VPN (Connection through two servers).
NordVPN is one of the few services to unblock the American version of Netflix. It's also capable of bypassing Hulu's VPN blocking mechanism. Not to mention that we were able to watch BBC iPlayer and Disney+ as well.
When it comes to torrenting, NordVPN delivers as it supports such actions and allows users to download their files, risk-free. As added features, customers will be able to add on another VPN connection under the same account, have VPN over Tor, and also the option to enlist specific Anti-DDOS VPNs.
Just like the providers above, NordVPN also offers a 30-day refund policy, which allows users to take the service for a test drive before making any long-term commitment.
Pros
256-bit AES encryption.
It doesn't log user traffic.
Six simultaneous connections.
Servers in 62 countries.
Allows P2P actions
30-day refund policy.
Supports American Netflix.
Kill Switch.
Easy-to-use apps.
Browser extension
CyberSec.
Double VPN.
Cons
Some slow servers.
No split tunneling.
Best VPN for Germany – Conclusion
Now you have a good idea of the kind of providers to turn to if you're in the market searching for a reliable VPN connection. If you still prefer to be cocksure about the services that each of these companies provides, then we'd advise that you sign up for either their free trial programs or try them out under their 30-day money-back guarantee. We also welcome your comments on how your experience was with any of these providers if you happen to try them out. We'll be glad to respond to any questions you might have.
The Best VPN for Germany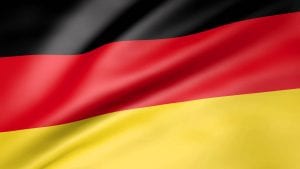 Name: ExpressVPN
Description: There's no doubt that ExpressVPN is the best VPN you can use both in Germany or abroad.
Access Blocked Content

Compatibility

Support

Speed

Refund Policy