What is the best VPN for India in 2023? Being an expat living and working in India, you'll definitely be tempted to look for a way to catch up with the local shows that you're used to from your country of origin. Add to that the fact that the Indian government is constantly blocking legit websites. 
To bypass these restrictions, you would need a Virtual Private Network provider that has a good number of servers in your home country. You'd also benefit from having your identity protected, and your favorite geo-restricted sites unblocked when using VPN. Similarly, Indian expats in Australia, New Zealand, United Kingdom, Canada, or the USA face many difficulties when trying to stream their favorite Indian TV shows and channels abroad. A VPN can help you bypass all these geo-restrictions. With all that being said, here are some of the top VPNs for India that you could consider.
Best VPN for India – Content Index
Best VPN for India – Summary
The restrictions in India, despite not being as strict, won't allow you to view channels from abroad such as BBC iPlayer, Netflix US version or Hulu. These channels offer a whole lot of great entertainment through some very popular TV shows and movies. There's no reason to miss out on these if you've heard about VPNs. Using them means you'd easily change your IP address, making your Internet identity private, and therefore more secure.
Best VPN for India in 2023
Always be sure to read through the reviews and customer opinions so that you know what to expect before actually subscribing to any type of VPN service. This will help you form a summary of the type of features each service offers.
The list of VPN services to choose from is quite long, so choosing the one you'd like to subscribe to could be a bit difficult. That's why we'll provide you with a list of the kind of VPNs you might find worth your while.
ExpressVPN
Arguably one of the best providers around, ExpressVPN has servers in 94 countries including India. They offer a high standard of data encryption and provide all their customers with online anonymity. Most people use it on more than one device; their phones, computers, tablets, and smart TVs.
BulletVPN
As a relatively new player in the market, BulletVPN continues to add new servers every now and then to its current list of 154 servers in 55 countries, and they are giving other established companies a run for their money. Not only that but this VPN provider is always considered to be one of the top ones when it comes to security.
This provider can unblock geo-blocked streaming services from all over the world. You'll find a lot of VPNs capable of this, but some of them will give you a hard time with Netflix.
The streaming giant has found a way to block VPNs while trying to access its library. However, BulletVPN among a few others is still able to work around these blocks with ease.
NordVPN
When it comes to a huge server Network, NordVPN should come on the top of your list. This VPN offers more than 5000 servers for customers, which means that they'll be unblocking restricted channels with ease, including American Netflix. Additionally, it stands out due to some exclusive security features such as Double VPN and CyberSec. 
The first one rechannels your data through two servers instead of one. It has its ups and downs as it doubles your encryption (double security), but also drops your internet speed even more in exchange for internet safety. The other one would be CyberSec. A robust technology that shields your device from viruses, malware, and any malicious software that may target your device while you're online. In general, NordVPN is a credible VPN to use. Check them out. You can subscribe to NordVPN's free trial anytime if you want to test their services out.
SurfShark
Surfshark offers high-end encryption and unlimited data. You can stream whatever content you want without having to worry about your bandwidth running out. It's a new VPN on the market which can be a bit alerting to some users. However, it has made a name for itself and can go head to head with the giants with ease for what it has to offer.
Alongside its security protocols: OpenVPN and IKEv2, this VPN offers unlimited simultaneous connections. This can be a great feature if you want to share a VPN connection with the entire family. Moreover, just like the other VPNs on our list, Surfshark offers 24/7 customer support if you run into any inconvenience.
VyprVPN
With over 700 servers, VyprVPN guarantees its users a lightning-fast connection that allows for safe and anonymous Internet use. Servers are well distributed within the US, Hong Kong, the UK, and India as well.
IPVanish
The 400+ servers are there to make sure that you always have the fastest connection relative to wherever you may be, and the type of content you want to watch. Once subscribed to IPVanish, feel free to test out content from the US, UK, Canada, France, and even Australia.
StrongVPN
Despite not having any servers in India, the 44 StrongVPN has will allow you to always maintain a connection that is reliable, fast and secure. You'll also get to choose from a healthy list of VPN protocols such as PPTP, L2TP/IPSec, and OpenVPN.
SaferVPN
This provider offers customers an easy to use VPN client, and its 150+ servers provide a wide range of website content and channels to choose from. SaferVPN also doesn't keep logs and supports the kind of protocols that you'd need to be secure and stay anonymous.
HideMyAss
This is one of the market leaders in the VPN industry. Some of HMA's most appreciated features is the customer service team that they have. Very professional, well trained and always on call to help you out with anything you're not sure about, and to answer all your questions.
Private Internet Access
The guys from PIA boast of about 4000 servers scattered over 24 countries, and an assurance that your Internet browsing will be private and secure, with nobody eavesdropping on you. The servers are scattered around the US, UK, China, Russia and a host of other countries. One account with these guys will allow you to link up to 5 devices with their service, meaning that you can connect your phone, tablet, Smart TV, or even your gaming console.
Channels You Can Unblock using VPN in India
When you're in India, you can use a VPN to access geo-restricted content in the US, UK, Canada, Australia, and elsewhere abroad. Here are our top picks.
American Netflix
American Amazon Prime
Sky GO
BBC iPlayer
ITV
HBO GO
Hulu
Indian Channels You Can Unblock with VPN
Indian expats living outside their home country can tap into their local channels with ease. You can literally unblock the following with a push of a button:
Hotstar
Star Sports
Voot
Jio TV
Ditto TV
Yupp TV
Ozee
SonyLiv
India's Restrictions on Internet Use
The authorities in India haven't really come out to actively monitor the use of the Internet. They do, however, have the ability to block out any use of ICT that would be considered offensive to the government. This can be done by shutting down the network, for example. A case where this actually happened was in September 2014, where Muslims and Hindus were involved in a serious clash that saw the police having to intervene. To put it to rest, the police ordered a ban on all 2G, 3G SMS, and MMS service for a while.
Content Restrictions
The government has the authority by law (Information Technology Rules/Blocking Rules) to direct that an agency blocks any access to online information if it somehow affects:
The Security of the State

Sovereignty & Integrity of India

Indian Defence Systems

Diplomatic Relations
Indian courts are also allowed to block out Internet content without seeking permission from the government.
Examples of periods when the Indian government blocked out some websites were between June 2014 and May 2015, where Google and Vimeo were the subjects of interest. Most recently, a piracy-related blockade resulted in 2,650 sites including Archive.org and Weebly being blocked in India.
Conclusion on Best VPN for India
The Indian government is, more or less unpredictable when it comes to Internet censorship. You might wake up and find a ban imposed on a site that you wouldn't think deserved it, and there's nothing much you could do as a consumer of that website's content. To stay on the safe side, get a reliable VPN provider and take control over what you can or cannot do while on the Internet.
ExpressVPN Review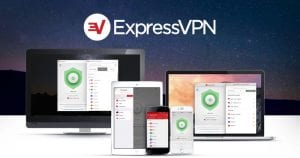 Name: ExpressVPN
Description: ExpressVPN is a VPN service that allows you to browse the web anonymously and unblock geo-restricted sites.
Price: 12.95
Currency: $
Operating System: Windows, OSX, Android, iOS
Application Category: Multimedia
Refund Policy

Speed

Support

VPN Apps