Best VPN To Use To Stay Undetectable
|
Using a VPN has nowadays become one of the many things that you're going to have to do if you want to continue to enjoy unrestricted Internet access to all the websites and channels you'd like to visit from wherever in the world you might be. As an advantage, doing so will also keep you away from the reach of any ill-intentioned malicious hackers and spammers, and also away from any effects that a cybersecurity threat may have on you. Unfortunately, many websites, streaming channels, and even ISPs have begun deploying various methods to block VPN usage. With that in mind, is it still possible to use VPN and stay undetectable at the same time? Or has VPN blocking become too efficient?
ISPs and Websites Are Blocking VPNs
Having noticed the vast amount of legroom that using a VPN affords its users, some ISPs and websites have now gone forward to put in place measures that block VPN connections by default. This means if you happen to be relying on a VPN service to hide both your location and personal details as you surf through a site, your use of the service will be detected by default, thereby denying you any form of access. An example of a streaming site that's well known for doing this is Netflix. As soon as the site recognizes that you're using a VPN service, your connection gets blocked out, and your access to the site gets restricted even if you happen to be within the accepted region.
If you tend to spend a significant amount of time online, then coming across such such sites is something that's bound to happen every once in a while. The problem comes up when its a site that you spend a significant amount of time on that now starts blocking out VPN users such as yourself. You'll now be forced to perhaps look for a provider that has better ways of hiding the fact that you're using a VPN service, but not to worry, since we'll be looking at a number of providers who are sure to properly secure your connection.
How Your VPN Use Gets Detected
In order to understand what to look for whenever you're choosing which VPN service to subscribe to, its important to first understand the many ways through which websites and channels could be able to block you out since you happen to be using a VPN service. We have a few of them right below:
Deep Packet Inspection (DPI) –

Countries such as China are well known for conducting DPI's on their users, where data from their traffic gets analyzed and blocked out if found to contain cryptography signatures.

VPN IP Blacklisting –

Savvy websites are known to have a list of commonly used VPN IP addresses. If the IP address your using happens to be one among those on that list, then your access to such a site will ultimately be denied. IP Blacklisting is one of the methods Netflix have used to deny their users from switching their Netflix region.

Port blocking –

VPN services are known to have their clients' traffic pass through different hallways/tunnels when accessing the Internet. All of these ports have unique numbers, and these numbers are used by the website being accessed to form an idea about where the user might be based. If a website is able to check that a user is accessing from that particular port, and identifies it as being a VPN port, then its very easy to block them out and deny access.
The Best VPNs To Use To Stay Undetectable
The first step towards making sure your service stays undetectable is to subscribe to a credible VPN provider. The chances that you're going to stay under the radar with no-charge VPNs or those that offer free proxy services are very slim.
You'll find that the providers we're suggesting below have been known to offer only the right mix of tools and features that you'd require to avoid getting blocked whenever surfing online.
1. ExpressVPN
Touted as the most secure VPN service in the world, ExpressVPN is well known for its efforts to ensure that every customer receives quality service, alongside a reliable connection.
Their elaborate network of over a thousand servers spread out in more than 94 countries is able to ensure that all customers browse the Internet using super-fast speeds, and their easy-to-use software also makes it possible for new VPN users to get easily acquainted with the service.
In regards to privacy, ExpressVPN users enjoy protection through 256-bit AES encryption, as well as a stringent zero-logging policy which ensures that none of their customer's browsing records will get stored.
Also, VPN protocols such as Lightway and OpenVPN are also supported, and such an array of options accords the user complete control over their protection online. If all this sounds interesting, you might want to try it out by taking on their 30-day money back trial period.
2. BulletVPN
As a provider that has been around for quite some time now, BulletVPN has been able to secure a loyal fanbase courtesy of their reliable speeds and friendly customer care team.
One of the distinguishable features of this provider is the fact that they can bypass any channel's VPN ban. Yes, any channel including ones with tough bans such as Showmax, DStv, Binge, HBO Max, Netflix, and the likes.
Security-wise, the provider utilizes 256-bit AES encryption, as well as a clear zero-logging policy on all traffic. All four popular VPN protocols are available, and the service also offers both DNS leak protection and an automatic kill switch to ensure that none gains access to your device in case the VPN service gets interfered with.
Like most other providers, BulletVPN offers a 30-day money-back guarantee that allows anyone thinking of subscribing to get a taste of their service.
3. NordVPN
NordVPN is also famed for offering the most dynamic features and tools to its subscribers, thus making it possible for them to tailor the service to their use.
The provider features perhaps the largest server network, with more than 5000 servers distributed well across 59 different countries. Some of the unique tools that customers will get to enjoy include double encryption, where a customer's traffic gets transmitted through two servers instead of one, thereby increasing the level of security.
Users are also able to optimize their connection by elaborating on what they hope to spend most of their time on. NordVPN's app allows for them to choose among options such as torrenting, streaming or large file downloads for better performance.
Their trial package also stands out from what other services have on offer, with only three days available for users to figure out whether or not the service is worth signing up for.
How to Stay Undetectable Online – Additional Tips
In addition to connecting to a VPN server, there are other measures you can deploy to protect your online privacy.
Tor Browser: The Onion Browser, aka Tor, is an open-source browser that allows users to browse the web anonymously. While Tor isn't completely bulletproof, you can use a combination of Tor and VPN for ultimate online security.
VPN Protocol: There are various VPN protocols. Each of these protocols has its pros and cons. Take a look at our VPN protocol guide to get a better idea about which protocol is best.
VPN Ports: You can also change the VPN port your VPN application is using. In some instances, an ISP might block certain ports while leaving others open. Note that not all VPN apps support this feature.
SOCKS5: Socket Secure, aka SOCKS5, is a protocol specifically used for proxy servers. SOCKS5 basically is a versatile extension of the SOCKS protocol that supports advanced networking technologies, such as the UDP protocol and IPv6. These proxies have become particularly popular in countries with high level of government censorship such as Turkey and China.
Wrap Up on How To Make Your VPN Undetectable
The three services listed above should be more than enough to allow you to visit any website without getting blacklisted due to your use of VPN. A couple of other tricks that should help you out in staying undetectable include switching your preferred encryption protocol, switching VPN ports, using a Tor browser, and for more advanced VPN users, running your own VPN server.
ExpressVPN Review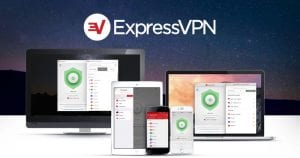 Name: ExpressVPN
Description: ExpressVPN is a VPN service that allows you to browse the web anonymously and unblock geo-restricted sites.
Price: 12.95
Currency: $
Operating System: Windows, OSX, Android, iOS
Application Category: Multimedia
Refund Policy

Speed

Support

VPN Apps