Has your DAZN VPN failed you again? There are a couple of reasons why you might run into such an inconvenience. Having DAZN blacklist your VPN's IP address is one of them. But, don't you worry one bit because I will help you find a fix so that you can watch DAZN anywhere while abroad.
Follow the instructions I laid out in the article below, and you can get your DAZN VPN working again.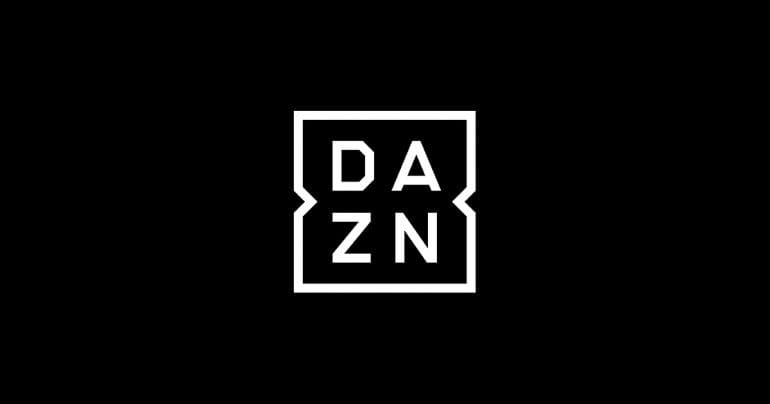 DAZN Blocked Abroad
Geo-restrictions won't allow you to watch DAZN's content in the UK, Ireland, Australia, New Zealand, or anywhere else where it isn't available. Geo-blocks are the reason why sports fans have resorted to VPNs to change their virtual location and get DAZN abroad.
"If you are seeing this page in a location where you can usually watch DAZN, please check you have disabled any proxies, VPNs, or other routing software and try again. If you are still seeing this message, get in touch with your Internet service provider."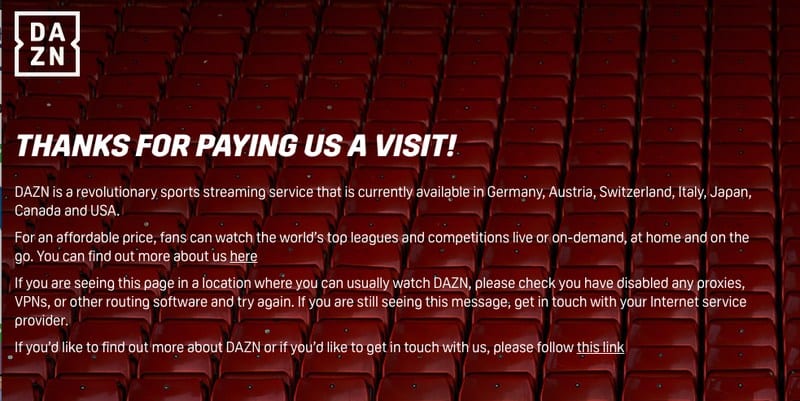 How Does DAZN Know I Am Using VPN?
You might be using a VPN server and still encounter error messages like the one above. The reason is DAZN's blacklisting of VPNs' IP addresses. But, your VPN would be working just fine, and you have managed to be featured in a different online location.
Your VPN server's IP address just won't work with DAZN. However, connecting to a VPN server in a different country might help solve the problem at hand. Now, if that doesn't work, you'll need to scout for a new VPN service provider. I don't want you to go looking in the wrong places, and for that, here's a list of the best VPN services that will work with DAZN.
Best VPN for DAZN Block
To unblock channels like DAZN, you need a leading VPN with a spotless reputation and a track of positive results. The market is overflowing with VPNs that promise users everything they could hope from a VPN. In reality, only a few meet your needs and standards.
After running many tests, I have arrived at the revelation that ExpressVPN is the best VPN service you can take advantage of to bypass regional restrictions. Most importantly, ExpressVPN can help you stream DAZN effortlessly. There's more of what ExpressVPN can do, starting with:
it removes blocks on US channels abroad like Hulu, Netflix, American Amazon Prime, and many more.

has compatible VPN clients for Android, Linux, Windows, Mac, and iOS
allows up to 5 concurrent VPN connections
it provides help 24/7 customer support for its subscribers
ExpressVPN is a strong VPN service provider with plenty of features to offer its subscribers. The company's solid services offered at good speeds make ExpressVPN an encouraging option. If you want to know if ExpressVPN is the provider you seek, you will have to make use of its 30-day refund trial. Or you can scan the table of VPN providers below for more options.
DAZN VPN Not Working – Extra Tips
In case DAZN is not functioning, you can rest to these applicable and easy to carry out workarounds:
In many cases, DAZN blocks some VPN IP addresses, so if you're making use of a VPN, you might want to try connecting to a server in a different country. Try to connect to ones in the US, Germany, or Canada perhaps that will make a difference.
Most VPNs offer their subscribers 24/7 customer support, which you can contact in case you needed some help or guidance. The team can give you some pointers on how you can lift the DAZN VPN ban.
Even switching the web browser helps, that is if you are streaming DAZN on a PC or Mac. All of Chrome, FireFox, Edge, or Safari are good options.
If none of these workarounds work for you, you might want to consider signing up with a VPN service provider that actually with DAZN.
DAZN VPN Not Working – Solution
Has any of the VPNs we've listed above failed you when trying to access content abroad?
If you have any idea which VPNs don't work when it comes to unblocking content, give me a heads up in the comment section below.