How to Watch Hulu Anywhere – Unblock Outside the US
|
Do you want to stream Hulu outside the US? Hulu is one of the most popular channels in the US, offering content from US networks like ABC, CBS, NBC, and more. The problem is that Hulu's video library can only be watched from within the United States.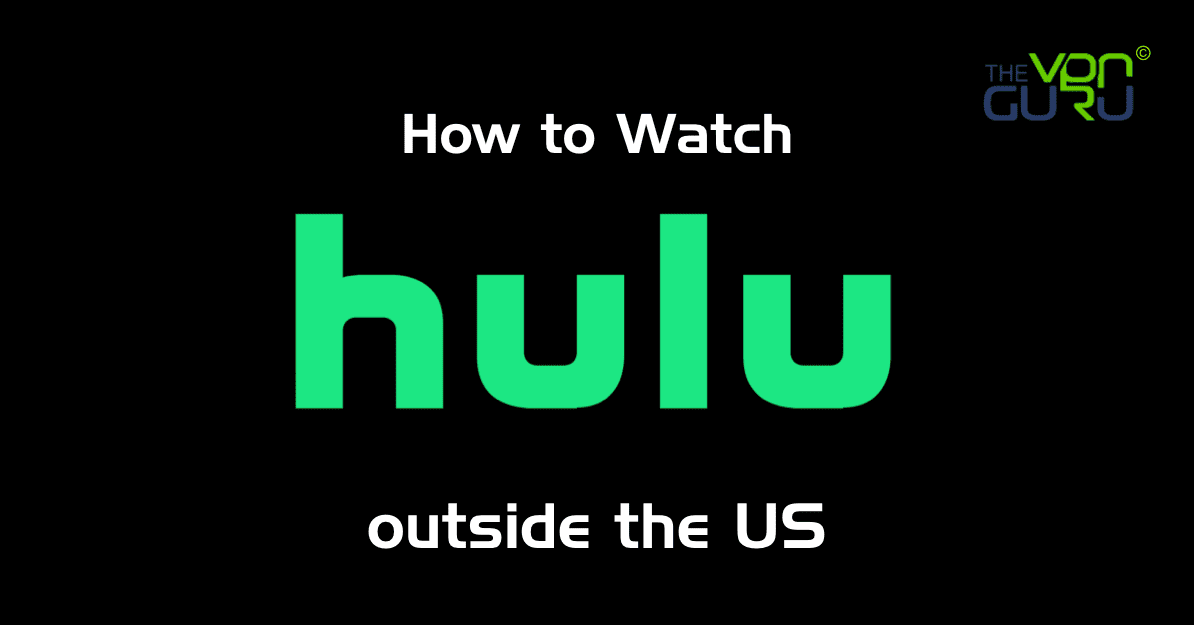 If you try to watch Hulu in Canada, Australia, the UK, or anywhere else overseas, the channel will block your access almost instantly. However, that's why we're here.
In this guide, we will show you the best methods you can use to bypass regional restrictions and access Hulu wherever you may be.
Get Hulu Outside the US – Quick Steps
Time needed: 4 minutes
Let's get right to business. To unblock Hulu outside the United States, the steps below are required:
Sign up with a VPN from the list below.

Not all VPNs can unblock Hulu, but the ones below can (Tested).

Download, install and launch the VPN app.

You can get the VPN client on your PC, Mac, iPhone, iPad, or Android.

Sign in to the app using your VPN account.

Enter your username and password, then open the server list.

Connect to an American VPN server.

This will grant you a US IP address.

Launch Hulu's website or application.

A comprehensive walkthrough on how to get Hulu on any device is presented below.

Sign in with your Hulu account.

If you don't already have one, we've included a step-by-step process in this guide on how to sign up to Hulu.

Watch Hulu as if you were in the United States.

Enjoy everything Hulu has to offer anywhere.
Get Hulu Overseas – The Full Walkthrough
Wait! There's more. Here's everything you need to know about unblocking Hulu outside the US:
The Requirements
To watch Hulu overseas, you'll need all of the following:
A reputable VPN.
Hulu subscription.
Hulu-supported device.
Is Hulu Available outside the United States?
As mentioned, Hulu is one of the most popular streaming services in the United States. It has more than 42.8 million subscribers in the country, solidifying its place in the industry.
Sadly, the channel is only available in the US. According to the official Hulu website, the popular American streaming channel is not available internationally. The website clearly states that:
"Hulu is only accessible within the U.S. and on certain U.S. overseas military installations, as we only have streaming rights for our content in these regions."
Just like most streaming services and websites, Hulu applies what we call geo-blocking. It's a mechanism used to restrict your access based on your location, mainly for licensing reasons.
Hulu examines your IP address to determine your whereabouts. If it's not within the US, you'll be instantly blocked.
Here's a list of geo-errors you might get when trying to watch Hulu in the UK, Germany, Canada, Australia, Europe, or elsewhere outside the USA.
"We're sorry, currently our video library can only be streamed within the United States."
"Your Account is not valid in this region. Hulu Error 16."
"HUdeejayErrorDomain 1."
"Deejay Error Domain Error 4."
"That isn't available to watch in your location. Your Live TV coverage, including how it's determined and what's available (and when), may vary based on different factors. Hulu Error Code: P0EDU122."
"Error: Your login has been blocked."
The last geolocation error is a result of Hulu blocking you from either signing up for the service or logging in to your account.
Luckily, with the steps provided above, you'll be able to unblock Hulu and stream its content regardless of where you physically reside.
VPN 101 – The Benefits
By using a VPN, or virtual private network, you get to hide your real IP address. Instead, you appear online using an American IP address, this tricks US channels like Hulu, Showtime, HBO, Amazon, and Netflix to think you currently reside in the United States.
But that's not the only task a VPN can help you with. Once you get a VPN subscription, you also get the following benefits:
VPN Encrypts all your traffic. Theoretically, no one will be able to know what you are watching.
VPN is resistant to transparent proxies and DNS hijacking restrictions imposed by your ISP.
You can use the VPN subscription on your laptop to protect yourself at Wifi Hotspots at airports an Internet cafes.
If you use a proper VPN provider, you can choose virtually any online country as your source of traffic, and you should not get more than a 10% hit in traffic speed.
Having said all of the above, I personally use a VPN provider called ExpressVPN. They have an extensive network of VPN servers, and their guides and 24×7 live support will allow you to have supported devices up and running in minutes. Most importantly, ExpressVPN offers a 30-day refund policy.
Here are the top VPNs to unblock and watch Hulu outside the USA.
Use DNS Proxy to Unblock Hulu Outside the US
Alternatively, you can use Smart DNS proxies to access Hulu in Canada, Australia, UK, or anywhere else outside the USA.
All your devices are supported, all you have to do is change the DNS server codes on your devices individually, or simply once at your router. See Video and Screenshot guides for devices here
Unlike VPN, you do not have to change your VPN server for multi-region content. You can enjoy Hulu Plus, Netflix Canada, BBC Iplayer at the same time. In total around 90 channels are unlocked.
Your traffic is not encrypted. As a result if your ISP applies transparent proxies or DNS hijacking your only choice is VPN.
Your speed is preserved, if you use a decent Smart DNS provider only the important parts of your traffic are re-routed.
As with VPN, it really depends on how good your Smart DNS provider is. We can confidently say we tried a lot of Smart DNS providers, analyzed their methodologies, and interacted with their support.
The providers in the table above also showed great results when it comes to unblocking Hulu with their Smart DNS proxies. Give them a try, they all have a 30-day refund policy.
Hulu Bans VPNs – Not All VPNs Are Equal
As mentioned, your IP address dictates what you get to access on the web. To watch Hulu, you'll need a US IP address as we already acknowledged.
However, simply getting this IP isn't going to cut it, especially with a channel like Hulu. In case you're still in the dark, Hulu, much like other top streaming services, has the ability to ban VPN traffic.
Even the best VPNs on the market might fail to unblock the channel outside the US, which is exactly what we've encountered during our thorough research.
Free VPNs will definitely get you nothing, so stay away from those as they do you more harm than good. As for the ban, these messages will pop up if Hulu figures out that you're using some kind of unblocker:
"Based on your IP address, we noticed you are trying to access Hulu through an anonymous proxy tool. Hulu is not currently available in the US. If you're in the US, you'll need to disable your anonymizer to access videos on Hulu."
"It looks like you're using an anonymous proxy or VPN. You'll need to disable it to watch Hulu. Hulu Error Code: P-EDU101."
The VPNs on the list above have been tested and we can safely say that they work fine with Hulu. The channel wasn't able to detect that we're using a VPN, and we were able to stream its content with ease.
How to Create A Hulu Account outside USA?
Signing up with Hulu is the final hurdle. You need an American credit card to be able to register your Hulu account. If you don't have one, you can sign up for an American Paypal account instead. Follow these instructions.
First of all, make sure your American VPN connection is active and working on your device. This is crucial for this progress to work.
Go to Paypal and register a new account. You will first need to enter an email and password of your choosing.
Next, you will be prompted to enter personal information. Enter valid US information. This does not need to be the same as the address linked to your credit card, so we used an address that we created for free (with no credit card required) at myusaddress.ca, and pulled a US phone number from www.fakenumber.org.
Then, you will have to add a credit card to your new American Paypal account. Enter your credit card information as per usual. When it comes to the billing address, things get a bit tricky. I'll break it down below:

Street Address: Enter in the actual street address linked to your credit card.
City, State, Zip Code: You must now use your postal code as your zip code. To convert a postal code to zip code, take the three numbers out of your postal code in the order they appear and add "01" to the end. For example, if your postal code is A2B 3C4, you would use 23401.
For the City and State, you will now find where your new zip code is located. In a new tab, go to www.unitedstateszipcodes.org and enter in your new zip code. You will be able to locate both the city and state. For the example of 23401, the city and state is Keller and Virginia, respectively. Return to your Paypal tab and enter in the city and state for your zip code.

Finally, submit the form, and you will now have an American PayPal account with a linked credit card. This will allow you to sign-up to Hulu and other American streaming services anywhere in the world.
How to Get the Hulu App on Any Device outside the USA?
With the methods above, you can access Hulu as if you were in the United States on any supported platform. Installing the Hulu app outside the USA on these devices, however, requires you to follow these steps:
Gaming Consoles
In order to install Hulu on your Xbox or PlayStation, you have to change your gaming console's region to the USA first. Follow these instructions to do so:
Once that is done, set up a US VPN connection on your router or configure Smart DNS on your Console. Finally, launch Hulu, sign in with your Hulu account, and start streaming.
iOS
In order to be able to install the US app on iOS devices, you have to sign up for an American iTunes account first. Follow this guide to get an American Apple ID and get Hulu.
Once the app is installed, open your VPN and connect to a US server. After that, sign in with your account and watch Hulu on your iPhone or iPad wherever you may be.
Android
Essentially, Android devices are natively compatible with VPN clients, so you can download and install your VPN with ease.
Now, connect to a US server and change your Google Play Store region to the USA. This will enable you to install American apps on your smartphone, tablet, Nvidia Shield, or Sony Bravia TV.
With Hulu now on your device, all you need to do is sign in with your account and start watching.
Smart TV
Follow this guide to change your Samsung Smart TV region to the USA. If you have an LG TV, follow this walkthrough. Afterward, you can add US channels such as Hulu to your Smart TV Hub.
Next, set up a VPN connection on your router or configure Smart DNS on Samsung Smart TV. Once that is done, open the Hulu app, sign in with your credentials, and watch your favorite shows and movies anywhere.
FireTV
In order to be able to add American apps to your Fire TV, you have to set up an American Amazon account using a US credit card and address. Once done, use that account to sign in to your Fire TV Stick.
Now, get the Hulu app on your device. If you don't want to use a credit card, you can sideload Hulu directly to your FireStick.
Your next step should be to download and install the VPN on your FireStick. Then, connect to a US server and open Hulu. Finally, start watching Hulu originals, TV series, and movies anywhere.
Apple TV
As with iOS devices, you have to create a US Apple ID account to access the American iTunes Store on your Apple TV. Use these steps.
What differs here is that VPN clients are not available on Apple TV, so you'll have to either set your VPN on your router or configure Smart DNS on Apple TV.
Next, launch the newly downloaded Hulu and start streaming.
PC/Mac
Probably, the easiest way to access Hulu is if you're using a PC or Mac. All you have to do is connect to a US VPN server and head over to Hulu's website.
Sign in with your account, pick the title you wish to watch, and enjoy.
Roku
Getting Hulu on Roku requires you to change your account's region to the US. Once you do that, make sure to set up a US VPN connection on your router.
Finally, launch the app, sign in, and enjoy Hulu wherever you are.
Chromecast
If the Hulu application is not already part of the built-in apps on your Chromecast, you won't be able to get it while abroad.
However, what you can do is set a VPN connection on your router and download the app on your Android or iOS device.
Then, sign in with your Hulu account, pick a video, and cast it to your TV via Chromecast.
Hulu Outside the US – FAQ
Want to know more? You have to check this section out then:
What Devices Can I Watch Hulu On?
Hulu is compatible with a wide range of streaming devices, including:
Android
Android TV
Apple TV
Chromecast
Fire TV Stick
iOS

Smart TV

s
Mac
PC
PlayStation
Roku
Xbox
Can I Watch Hulu for Free?
Hulu is a subscription-based service, which means that you can't watch its content for free. However, if you're a new subscriber, you can benefit from a 30-day free trial.
Why Do I Keep Seeing Ads on Hulu?
That's probably because you're subscribed to its ad-supported plan, which costs $5.99/month. If you shell out $11.99/month, you'll be opting for Hulu's no-ad subscription.
Can I Watch Live TV on Hulu?
Yes. For $64.99/month, you can access 65+ channels live & on-demand, along with Hulu's full library.
Does Hulu Have a Free Trial?
Yes, but it varies based on your subscription. Hulu offers a 30-day free trial with its ad-supported and no-ads plans.
With Hulu+Live TV, you only get 7 days to try the service out for free.
What Shows Can I Watch on Hulu?
Once you get a Hulu subscription, you'll be able to stream a huge library of titles, including:
Vacation Friends
Nine Perfect Strangers
The Handmaid's Tale
Letterkenny
False Positive
Solar Opposites
The Act
Castle Rock
PEN15
The Mindy Project
Shrill
Harlots
Homeroom
Chance
Marvel's Runaways
11.22.63
Kid 90
What Channels Can I Watch on Hulu + Live TV?
For $64.99/month, you can stream live channels such as the following on Hulu's streaming platform:
ABC
BET
CBS
FOX
CNN
Fox Sports
National Geographic
FX
TNT
TLC
VH-1
CMT
ESPN
History Channel
NFL Network
MTV
FreeForm
Comedy Central
Can I Use Any VPN to Unblock Hulu?
No. Hulu can detect VPN traffic, so it'll block you if you're using a free VPN or an unreliable one.
How to Watch Hulu in UK, Canada, Australia outside USA
To sum it up, Hulu can be unblocked anywhere in the world if you follow the steps above. The task is easy and all the information you need is right there.
If you face any issues while completing any of the steps above, simply leave a comment below. We'll do our best to help you out.