ExpressVPN vs Unlocator VPN – Which One to Choose?
|
Both ExpressVPN and Unlocator are leading providers in the VPN and Smart DNS fields respectively. Lately, Unlocator launched it's VPN service and considering Unlocator's status on the market, we can assume that it will rival ExpressVPN within a short period of time. That's why we need answers. Which VPN is better? In this review, we will go through the attributes of each of these two giants and see which tops the other as a VPN service.
ExpressVPN vs Unlocator VPN – Content Index
There are several factors that separate the ExpressVPN and Unlocator VPN in terms of quality, features, and services. To give you a slight idea about what you're about to see in this review, here's a quick insight.
ExpressVPN vs Unlocator VPN – A Quick Comparison
Before you go ahead and dive deeper into the specs of each of these VPNs, I provided you with a comprehensive comparison table to shed some light on the matter.
Last Updated Yesterday
| | ExpressVPN | Unlocator |
| --- | --- | --- |
| Headquarters | British Virgin Islands | Denmark |
| Simultaneous Connections | 5 | 5 |
| Refund Period | 30 Days | 30 Days |
| Logging Policy | No Logs | No Logs |
| Server Count | 2000 | 41 |
| Server Locations | 94 Countries | 36 Countries |
| Price | $12.95/Month | $9.99/Month |
| Smart DNS | Yes | Yes |
| Free Trial | No | Yes |
| Website | Visit ExpressVPN | Visit Unlocator |
These are not all the features we covered in these articles. That's just a faster approach if you want to assess each one. If you visit any VPN website, you'll find claims about being the best in the industry. Well, we're here to prove whether their claims are true or not. By the end of this review, you'll get to see that our point of view may lean towards one provider being the better of the two.
However, that doesn't mean that the other isn't as good. It all depends on what the user is looking for in the end. After testing the speed, Netflix compatibility, support, and other services Unlocator and ExpressVPN offer, we came up with a pretty decent review. Let's begin, shall we?
Payment & Pricing
Before you check any features, you head over to the pricing section to check whether or not the VPN's plans suit your budget. That's not all, you also have to make sure that they support the paying method you're actually using. I did a small comparison between the two and here's what I came up with.
ExpressVPN
ExpressVPN's prices are a bit more expensive than Unlocator, but for an obvious reason. Later on in this article, you'll find that ExpressVPN offers a lot more services than Unlocator. ExpressVPN Costs 12.95$ dollars a month, 9.99$ with a 6-months plan, and 8.32$ with a yearly plan. The yearly plan sounds like a very good idea if you're willing to invest in their service for a long time.

For a limited time online, an exclusive ExpressVPN discount for anyone who chooses to subscribe to ExpressVPN through our website. You can now save 49% off of your ExpressVPN subscription by using our exclusive discount. Not only that, but you'll be getting 3 extra months for free.
As for the methods, ExpressVPN allows you to pay for its services via Visa, Mastercard, PayPal, and more. You can even use bitcoin if you're concerned about your security.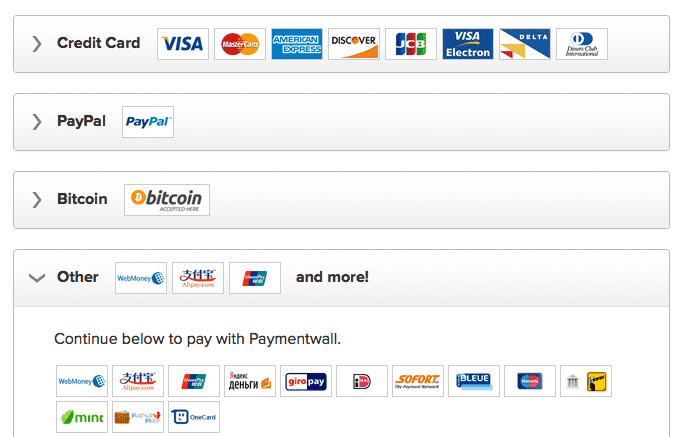 Unlocator VPN
Unlocator was and still is a Smart DNS service, that's why it kept the subscription alongside the VPN one in case any of you don't really want the added security of a VPN. You can subscribe to Smart DNS service for 4.95$ a month along with other plans.
As for the VPN subscription, it's a bit pricier than Unlocator offers. I'm sorry, I don't want to be biased, we're just assessing the two. You can purchase an Unlocator subscription for 9.99$ a month, 8.17$ for 6 months, and 6.58$ a year.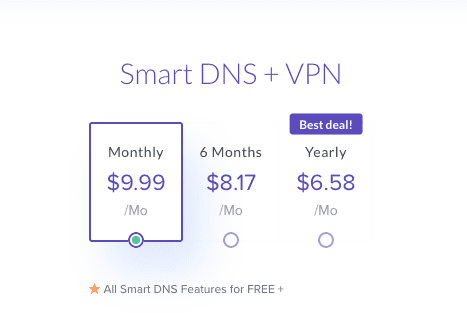 Now, for the payment methods, Unlocator has fewer options than ExpressVPN does. First, the lack the Bitcoin option, which is pretty essential for those who cherish their internet security. You can subscribe to Unlocator VPN using Visa, MasterCard, Amex, Discover, Google Pay, and Apple Pay.

Verdict: ExpressVPN wins in both domains "Pricing" and "Payment Methods. Although it's more expensive than Unlocator VPN, ExpressVPN actually gives you what you pay for. In my opinion, Unlocator charges too much and gives too little.
Security and Privacy
VPN providers exist in the first place to ensure your security and privacy and you can make sure that both ExpressVPN and Unlocator take their security standards very seriously. Both of these VPN providers support several security protocols to choose from, yet one better than the other.
The only problem with Unlocator is that not all protocols are supported when you're using their application. If you want to make use of these protocols, you have to manually set up the connection on your device. The only 2 devices that can toggle between protocols are Windows and iOS. On the bright side, both ExpressVPN and Unlocator use the latest military-grade AES-256 encryption.
As for privacy, there haven't been any complaints about ExpressVPN. This provider is well known to live up to what it claims on its website. Unlocator, on the other hand, frightened me a bit when I noticed a DNS leak while operating on one of their servers. Support informed me that it appears that way due to their Hybrid tech, where they use their Smart DNS servers at the same time. So, the ISP won't be able to see anything as your data seems to be leaking through their own servers. It's a bit concerning considering what they mentioned on their website.
"Our easy to use VPN apps for Mac, Windows, IOS, and Android will keep you secure and protect your privacy from prying eyes and bad guys."
I'm not sure about the prying eyes part though. But hey, let's give them the benefit of the doubt for the time being.
Verdict: ExpressVPN tops Unlocator VPN in this domain as well.
Server Network
Ever heard of "the more the merrier"? That's exactly what to look for in a VPN when it comes to their server network. The more servers a VPN has, the better the chances to unblock restricted channels around the world. In this section, there's actually no comparison between the two. Unlocator is still a young and kicking VPN with huge ambitions, but it's still very small to compete with a giant like ExpressVPN.
Can you compare a 2000+ server network to one that only has 41? Of course not, and it would be a waste of time to do so. But remember, Unlocator VPN operates on its Smart DNS servers, so you can say that they're still able to unblock a huge number of geo-restricted channels no matter how many VPN servers they have.
Unlocator VPN covers 41 countries, which pales in comparison to the server distribution of ExpressVPN. The leading provider scatters around 145 server locations around the globe. That includes 94 countries.
Verdict: if you want to guarantee a good streaming experience while unblocking geo-restricted content from all over the world, ExpressVPN's server network will help you do so with ease.
ExpressVPN vs Unlocator VPN – Speed Performance
This is the part you all have been waiting for. We all know that a VPN encryption will lower your internet speed. But the question is, how much is your connection affected? That answer lies in whether the VPN's servers are fast or not. In this face-off, ExpressVPN wins again as it only drops 7% when you connect to a VPN server.
ExpressVPN Speed Test
You can see the results of my speed test when I was using ExpressVPN:
First, I recorded my device's performance without connecting to a VPN server.

Next, I launched ExpressVPN and connected to a server close to my whereabouts. That way we ensure the fastest speeds. Here's what I got:
When I connected to a distant server, the connection dropped a bit more. However, the upload speed went up.
Unlocator VPN Speed Test
As I said before, ExpressVPN wins this one since Unlocator tampered with my connection drastically. Let me guide you through what I did:
Again, recorded my device's performance without a VPN connection to compare later on.
Next, I connected to a server in London, which was pretty bad. I mean look at the drop in the download and upload speeds.
After that, I connected to another server to see if it was just that one. Nope, it turned out to be the same.
Verdict: ExpressVPN wins this round when it comes to your device's speed.
Customer Support
If you have good customer support, you're on your way to becoming one of the best companies in the industry. Luckily, this one is a match between the two. Both of them offer great customer support and there's a live chat option as well.
ExpressVPN's customer support agents are pretty efficient and professional when they're solving your problems. On the other hand, Unlocator's support replied to my question within seconds. That was pretty cool considering most of the top VPNs require a few minutes before they reply to you.
Both of the VPN's websites include guides that can help you set up your device easily. It doesn't matter whether it's VPN or Smart DNS, there are configuration tutorials for everything you need to know on the websites.
Verdict: Both VPNs have great support services. It's a draw.
ExpressVPN vs Unlocator VPN – Device Compatibility & App
Mostly, all VPN providers support the same amount of platforms. You'll find clients of both ExpressVPN and Unlocator on major operating systems such as Windows, Mac, Android, iOS, as well as Amazon Fire TV.
You won't be able to set a VPN connection on gaming consoles like PlayStation and Xbox since they're not natively compatible with VPN clients. If you want to share a connection with such platforms, you need to install the VPN on your router, and yeah, you can do so.
One thing that ExpressVPN bests Unlocator with is that it offers browser extensions. They were equal in this category, but ExpressVPN excels again.
ExpressVPN has a sleek design and an easy interface to work with. Unlocator VPN's application is beyond simple, yet very plain. If you navigate enough through the app, you can see that there hasn't been much work done on it.
ExpressVPN's app is simple yet very effective. Their settings section offers so much to choose from and use, while Unlocator only offers if you wish to connect automatically or turn on the Kill Switch. That's it. What's good and common between the two though is the ease to connect. Just choose a server and hit the connect button. It's that simple.
Verdict: Due to Unlocator's lack of extensions and options within their dedicated app,  ExpressVPN triumphs.
ExpressVPN vs Unlocator VPN – Streaming Services
First off, both VPN providers are able to unblock the leading streaming platform US Netflix. Netflix is able to block VPN access and has been doing so for quite some time now. Even one of the top VPNs such as IPVanish can't tap into the American library of the channel. Unlocator, through, can despite being new to the VPN industry.
ExpressVPN is known to have bypassed the streaming services attempts to block VPNs. So, you can count on it in doing so. Both worked extremely well in bypassing all sorts of geo-restrictions imposed on Netflix and that's an important factor to consider.
ExpressVPN has servers in 94 countries, which means you can unlock hundreds of channels while using its service. Not to mention its Smart DNS feature. Unlocator, on the other hand, operates on its Smart DNS servers. You can literally access all the channels supported by the service while using a single VPN server. Check their website to see which 230+ channels are supported by Unlocator.
You'll be able to unblock the likes of:
Hulu
ITV
NBC Sports
Now TV
Spotify
Starz
beIN Sports
Canal Play
FuboTV
Epix
ESPN
Fox Sports
Netflix US
AMC
A&E
BBC iPlayer
BlinkBox
Prime Video
WWE Network
Channel 4
The CW
CBC
BT Sport
CTV
Verdict: Both can unblock US Netflix and hundreds of channels around the world. This catergory goes to both ExpressVPN and Unlocator VPN.
Unlocator VPN vs ExpressVPN – The Final Verdict
Both Unlocator and ExpressVPN are excellent VPN providers. They offer a wide range of features, are user-friendly no matter what kind of user are you, and they're very reliable when it comes to unblocking geo-restricted content. So, after this enlightening review, let us give you a better look at what each one of these VPNs excels at and what they might lack.
ExpressVPN
Pros
2000+ servers.
MediaStreamer Smart DNS.
24/7 reliable chat support
Unlimited server switching.
Kill switch.
Five concurrent connections.
Zero-log policy.
Unblocks US Netflix.
Split Tunneling.
Cons
Unlocator
Pros
30-day cash back guarantee.
Free Trial.
24/7 live chat support
Unlimited bandwidth.
Kill switch.
5 simultaneous connections.
Smart DNS.
Works with Netflix
Cons
A bit pricey.
Small server network.
ExpressVPN vs Unlocator VPN – Final Thoughts
If we were to give a final verdict, ExpressVPN comes out as the better VPN of the two. We don't want to eliminate the fact that Unlocator is still new and has a lot to go through to make it to the top. At least this one can unblock Netflix where few of the top ones can't. Check out what I had to say in this review and select which VPN is better. Who comes out as a winner in this ExpressVPN vs. Unlocator feud. If you want to know more about these two, check out this ExpressVPN review or Unlocator VPN review.
And the Winner Is...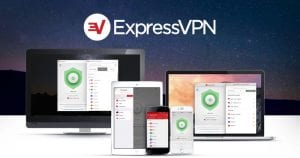 Name: ExpressVPN
Description: ExpressVPN is the solid provider that enhances your security and helps bypass regional restrictions with ease.
VPN Apps

Access Blocked Content

Speed

Support

Refund Policy