How to Get BBC iPlayer in Australia? BBC iPlayer is an internet streaming, catchup, television, and radio service from the BBC based in the United Kingdom. It allows you to stream high-quality TV and radio shows like Doctor Who, Our Girl, and The Chance. Nevertheless, it is limited to UK viewership, which means you can only watch it from inside the UK. So is there any way around this?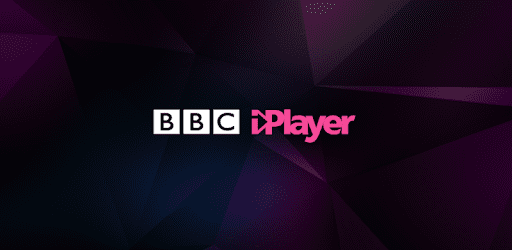 Can people in Australia, Canada, the US, Germany, and France access BBC iPlayer? The answer is a definite yes. With a VPN, all kinds of content from around the world can de at your disposal at convenience. You can stream BBC iPlayer's shows and movies on your PC, Mac, Android, and iOS devices. Learn how you can unblock BBC iPlayer from outside the UK in this tutorial below.
How to Watch BBC iPlayer in Australia Using a VPN
iPlayer knows where you are, so if you can't get yourself in the UK, change your IP. That's like the easiest thing ever you can do with a technology as advanced as a virtual private network.  A VPN creates this private tunnel where all your data gets transmitted in before reaching the Internet. Your data is encrypted as it travels from your device to a network through the VPN server.
It's pretty cool actually just thinking of all the possibilities a VPN can offer you. Unblocking BBC Iplayer is one of them. As you can see, you'll get the following message: "BBC iPlayer only works in the UK. Sorry, it's due to rights issues."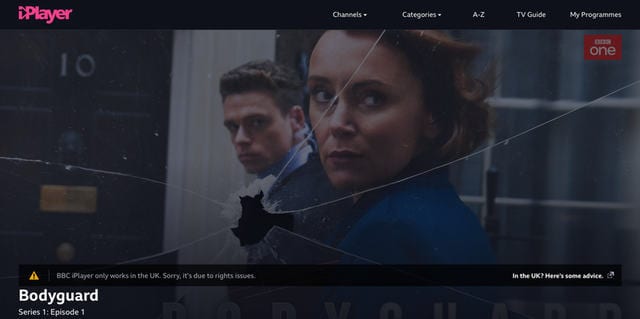 You get to replace your current IP address with a British one upon connecting to a UK server, which is offered by your VPN service provider. Let's see how you get to watch BBC iPlayer in Australia: 
Sign up with a VPN provider.
Download and install the VPN application on your PC, Mac, Android, iOS device.
Launch the VPN application and sign in using your VPN account.
Now, connect to a UK VPN server.
Finally, go to the BBC iPlayer website or launch the iPlayer application.
Watch BBC iPlayer in Australia, New Zealand, India, or anywhere else outside the UK.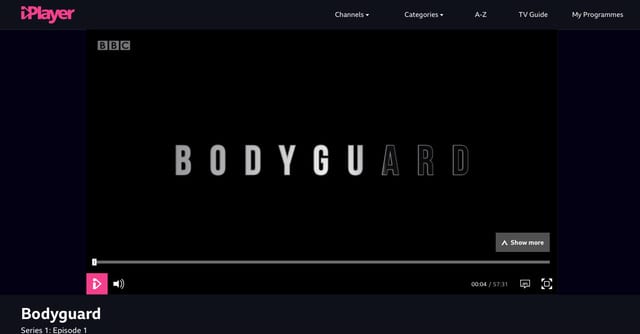 Want a VPN good enough to get BBC iPlayer unblocked? Then subscribe to ExpressVPN. This service provider might not be the cheapest, but it is the most reliable. You're paying to protect your privacy and security. They deliver strong performances and guarantee bypassing all kinds of geo-restrictions worldwide. Should you want to examine other options, the table below will give you a better idea. Read our article on the best  VPN for BBC iPlayer as well.
Watch BBC iPlayer in Australia Using a Smart DNS
When award season arrives, you'll feel bad about having missed the episodes of A Very English Scandal, when you knew you could have done something about it. If a VPN can bring you of BBC iPlayer's content, then you should hesitate one bit. Suppose a VPN- for some reason- does not work out for you-you can always resort to a Smart DNS proxy.
They're not as safe as VPNs, but boy do they get stuff unblocked. What you should keep in mind is that your IP will stay the same, and your data won't get fully encrypted. What will happen is that your data related to your geolocation will be partially rerouted thus allowing you to access restricted content from anywhere. This is how you use a Smart DNS:
First, head over to Unlocator and sign up for a free 7-day trial.
Follow these 

videos/setup tutorials

 to configure Smart DNS on your streaming device.
Go to BBC iPlayer's website.
Enjoy your unlimited access to all of BBC iPlayer's content.
Unlocator can unblock over 200 channels from anywhere in the world, which qualifies it as a decent Smart DNS proxy. You don't have to worry about restrictions, bans, or censorships with Unlocator. One more thing, proxies are faster than VPNs. If you value speed over security, then go with a Smart DNS, and by that we mean Unlocator.
Watch BBC iPlayer Outside the UK
Paying for a UK TV license to watch UK content like BBC Iplayer abroad is not enough. Actually, it's not allowed. Restrictions will stay there for who knows how long. They really expect us to fold our arms and do nothing about it? When a VPN and a Smart DNS are involved, we could care less about geo restrictions. Get BBC one and two, CBeebies, and BBC News to your screens outside the UK, and stream on.