How to Get BBC iPlayer in Ireland
|
How to get BBC iPlayer in Ireland? We understand the geo restrictions that deny access to BBC iPlayer coming from countries outside the UK. But, it seems ridiculous that residents in the Republic of Ireland -which is located in near proximity to the United Kingdom- cannot access BBC iPlayer. So if you don't have a UK IP address, then you can't access BBC iPlayer and its live streams. However,  this restriction doesn't apply to Northern Ireland for it's actually where you can watch BBC iPlayer without restrictions. For everywhere else, you will have to spoof your location and get a UK address in order to access BBC iPlayer. Now keep on reading to learn how you can get BBC iPlayer in Ireland. 

Get BBC iPlayer In Ireland Using a VPN
When you try to connect to BBC iPlayer,  the website looks up the IP address that you are connecting with. So if you're let's say trying to access the website from Dublin, BBC will not display any of its content and will deny your access. As you can see, you'll get the following message: "BBC iPlayer only works in the UK. Sorry, it's due to rights issues."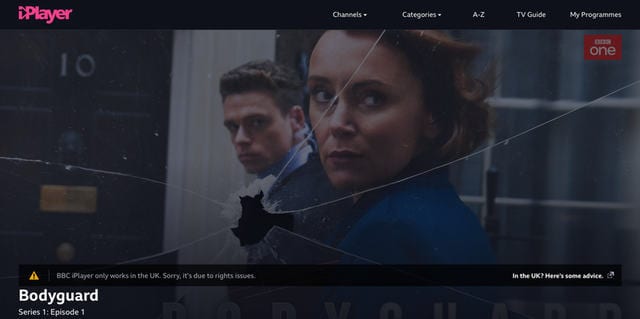 However, using a VPN can change that for you. A VPN connects your device to a server located in Britain thus giving you that server's IP. After connecting to a British server, you'll be provided with a British IP. With that new IP, you'd be able to access all of BBC iPlayer's content. Here's how you use a VPN to unblock BBC iPlayer in Ireland.
Sign up with a VPN provider that works with BBC iPlayer.
Download and install the VPN application on your PC, Mac, Android, iOS device.
Launch the VPN application and sign in using your VPN account.
Now, connect to a UK VPN server.
Finally, go to the BBC iPlayer website or launch the iPlayer application.
Watch BBC iPlayer in Ireland.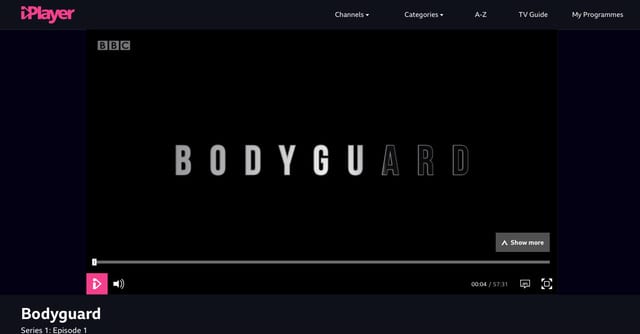 ExpressVPN is the fastest and most reliable service provider in the market. If you want to get BBC iPlayer in Ireland, we highly recommend that you subscribe to this VPN service provider. ExpressVPN has a long history of bypassing geo restrictions and unblocking material, all of which were successful. It's not the cheapest, but you would be paying for your privacy and security. You can read our article on the best VPN for Ireland or check out other service providers in the table below.
Get BBC iPlayer with Smart DNS Proxy
There's another way for you besides a VPN to get BBC iPlayer in Ireland, and that's via a Smart DNS proxy. This proxy helps you access geo-restricted websites like the popular Hulu, Netflix, BeInSports and many more by rerouting the traffic needed to determine your geolocation. Consequently, you'll be able to access BBC iPlayer's website from Ireland. Keep in mind that Smart DNS proxies don't operate the same way as VPNs. In fact, they're a lot less effective in terms of security. They don't change your IP, and they certainly do not encrypt your traffic, which explains why they're much faster than VPNs. Here's how you use a Smart DNS to unblock BBC iPlayer in Ireland,
First, head over to Unlocator and sign up for a free 7-day trial.
Follow these 

videos/setup tutorials

 to configure Smart DNS on your streaming device.
Go to BBC iPlayer's website.
Enjoy your unlimited access to all of BBC iPlayer's content.
Unlocator is an innovative technical solution that can help you bypass geographical restrictions anywhere in the world. In order to learn more about this top-notch DNS service, check out our informative Unlocator review. It is capable of unblocking over 200 channels from anywhere in the world, which is why it's the best Smart DNS proxy out there. PLus, it works really well on all devices.
Watch BBC iPlayer in Ireland
It's pretty obvious that BBC doesn't like the idea of a global iPlayer and blocks many of its services in many regions, including Ireland. However, this tutorial marks the end of Britains boasting about their exclusive access to BBC iPlayer's services. Irish folks will finally get their slice of the cake from setting up a VPN connection. With that VPN, they'll no longer have a problem with accessing BBC iPlayer's Doctor Who, Our Girl or any other show in Ireland. Let us know which VPN service provider has made it possible for you to access BBC iPlayer in Ireland.