Do you want to stream Molotov TV outside France? Molotov TV is a French live TV streaming channel. It offers over 35 French channels that you can watch for free. The bad news is that Molotov is geoblocked outside France.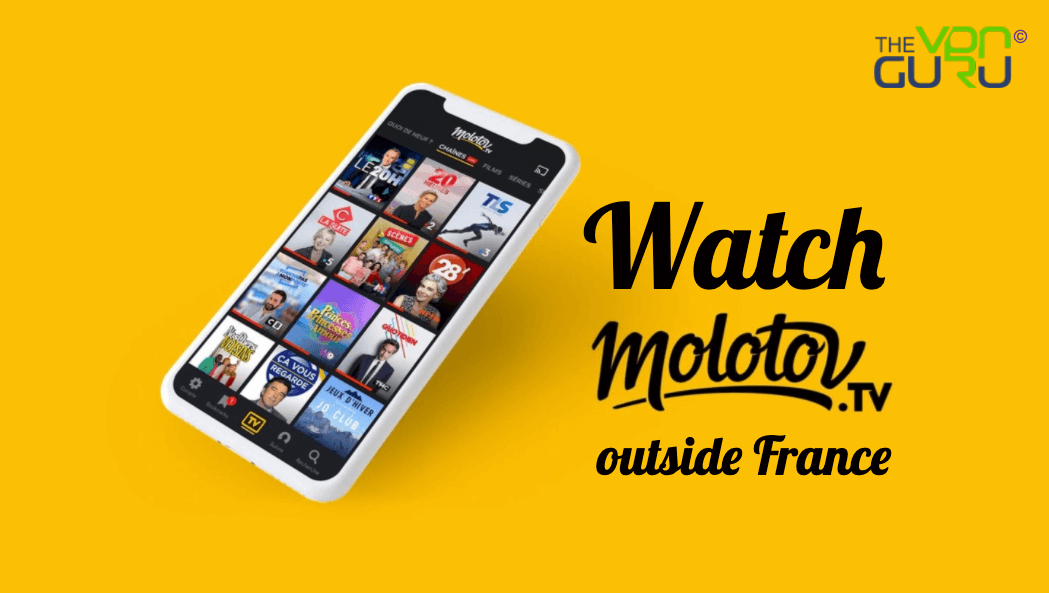 In other words, French ex-pats living in the US, UK, Canada, Australia, and elsewhere abroad don't have access to the channel due to copyright restrictions.
That won't be the case for long. To help you bypass these regional restrictions and watch Molotov TV anywhere, we've created this comprehensive guide.
Unblock Motolov TV Anywhere – Quick Steps
Time needed: 4 minutes
Let's dive right into the solution, shall we? Here's how you can watch Molotov TV anywhere in the world:
Subscribe to a reputable VPN service.

Make sure the provider has servers in France.

Download and install the VPN application on your streaming device.
Activate the VPN application, sign in, and connect to a French server.

You'll obtain a French IP address in the process.

Launch Molotov TV's application.

We'll show you how to download the app later on in a comprehensive walkthrough.

Sign in with your Molotov TV account.

If you don't have an account, follow these steps to create one.

You now have Molotov TV wherever you are.

Stream live and on-demand content anywhere.
Stream Molotov TV Anywhere – Full Guide
The steps above are more than enough to get you Molotov TV in your region. However, we like detailed reviews and everything you want to know about Molotov TV is presented in a comprehensive one below:
The Requirements
You need all the following to stream Molotov.tv abroad:
A VPN subscription.
Molotov TV account.
A supported streaming device.
Molotov TV – Stirctly French
With deals with over 180 publishers, Molotov TV has become one of the most popular streaming channels in France. In fact, ever since its launch, the channel has amassed 13.2 million subscribers in the country.
Downloading the Molotov TV app is free. We were even able to set up our Molotov account in less than a minute. However, when we tried to watch any of the live streams available outside France, errors just kept showing up.
They're not always the same, so we decided to include everything we got:
"

Êtes-vous

a I'étranger ?"
"Nous avons détecté que vous accédez au service Molotov depuis I'étranger.Le service Molotov n'est pas disponible en dehors de France métropolitaine et Outremer."
"Vos droits sont insuffisants pour effectuer cette action."
The errors above appeared during live streams, on the Mac application, as well as the mobile one. But the most consistent error we got was the following:
"Désolé. Ce contenu n'est pas disponible dans votre zone géographique."

As seen above, Molotov TV does detect that our traffic is coming from outside of France. That's what we call geo-blocking, where the channel examines your IP address to determine your location.
To bypass that, you must alter your IP address to a French one. You can easily do so by following the steps provided above.
VPN 101 – The Benefits You Get
By using a VPN, you'll be able to change your IP address and obtain a French IP address instead. Thus, unblock Molotov TV outside France.
It doesn't stop here. A VPN is so much more than a channel-unblocker. In fact, with an established VPN connection, your browsing experience is elevated to a different level:
By connecting to a French VPN server, your streaming device will appear to be located in France. You can watch geo-restricted French channels like Molotov, TF1, MyCanal, and BeIN Sports abroad.
As long as you are connected to the VPN server, all your traffic is securely encrypted.
Download the VPN app on your Mac, iPhone, iPad, PC, or Mac. This will make the VPN setup process much easier for you.
I'm currently using ExpressVPN to watch Molotov TV outside France given that they have several French VPN servers. However, you can unblock Molotov or any other French channels overseas using one of the following VPN providers.
Unblock Molotov TV outside France via Smart DNS Proxy
You can also use Smart DNS to watch Molotov outside France. Given that the French streaming channel is relatively new, not all Smart DNS proxy services will allow you to watch it overseas.
Smart DNS does not change your IP address. You will still have access to all local streaming channels while being able to unblock geo-restricted channels from abroad.
No Internet speed drop occurs when using Smart DNS.
Smart DNS is compatible with all streaming devices. Watch Molotov TV on Apple TV, iPhone, iPad, Android, PC, LG, Samsung Smart TV outside France.
Some ISPs use DNS hijacking or transparent proxies. Such methods can stop Smart DNS from working as it should.
All the VPNs in the table above have Smart DNS. They also offer a 30-day refund policy in case you want to test their service out.
How to Create a Molotov TV Account Outside France
With a VPN subscription, you can now proceed to create your free account. Here's what you need to do:
First, use the VPN to connect to a French server.
Head over to https://www.molotov.tv/
On the top right of the screen, click on "Créer un Compte."
Now, choose the platform you want to sign up with. You can use your email as well (recommended).
Submit the required details and click on S'inscrire.
You now have a Molotov TV account.
How to Install the Molotov App on Any Device Outside France
Now that you got yourself a VPN subscription and a Molotov account, it's time to download and install the Molotov TV app. Here's a step by step guide that helps you out no matter what the device you're using is:
Android
If you happen to own a device that runs on AndroidOS, including a mobile, tablet, Nvidia Shield, or Sony Bravia TV, you can easily install the VPN client.
Once that is done, connect to a French server, clear your Google Play's cache and data, then change its region to France.
Next, download the Molotov app and sign in with your account. Finally, stream live and on-demand content wherever you are abroad.
iOS
If you're using iPhone or iPad, all you have to do is download the VPN app and connect to a French server. Then, switch your Apple Store region to Frace and download the Molotov TV app.
Launch the channel's app and sign in with your account. Now you can stream Molotov TV anywhere outside France.
Desktop
VPN clients are available on PC and Mac, so download and install your provider's VPN app on your device. Next, sign in with your VPN account and connect to a French server.
Head over to https://www.molotov.tv/ and click on Télécharger to download the app. Once the installation is done, launch Molotov TV, sign in, and start watching.
Apple TV
With Apple TV, you'll have to install the VPN on your router as no clients are available on the device. After that, establish a French VPN connection, change the Apple TV region to France, and download the Molotov TV app.
Now, head over to your apps, activate Molotov TV, sign in with your account, and enjoy.
Smart TV
Are you using your Smart TV as your streaming hub? Then here's how you can download the Molotov TV app. At first, you need to install the VPN on your router or configure Smart DNS on your Smart TV.
Next, change the region of your LG Smart TV or Samsung Smart TV to France and get the Molotov TV application.
Finally, open the channel, sign in with your credentials, and stream away.
Chromecast
When it comes to Chromecast, you'll have to cast your video to your TV via the device. You can't get the app abroad.
That's why you should first set up a VPN connection on your router and download the Molotov TV app on your mobile device.
Once that is done, sign in with your account and play your desired video. As your final step, click on the cast button and start watching via Chromecast on the big screen.
FireStick
To enjoy Molotov TV on your FireStick, download the VPN app and establish a French VPN connection. Your next step would be to change your Amazon Account's region to France so that you can download the Molotov TV app.
If that's too complicated for you, sideloading the Molotov TV app is also an option. Next, launch the app and sign in with your credentials.
Finally, enjoy the best live streaming channels anywhere overseas.
Xbox
With Xbox, you must install the VPN on your router or set up Smart DNS on the console. Once configured, change the Xbox region to France and get the Molotov TV app.
Launch the channel's app and sign in. Start streaming top channels in France no matter where you are.
More About Molotov TV
There's still a lot more to learn about Molotov TV. Here are some of our readers' frequent inquiries:
How Can I Watch Molotov TV on Desktop?
Unlike other streaming services, Molotov TV isn't available through your native browsers. You must download the app first to be able to stream its content.
Do I Need an Account to Stream Molotov TV?
Yes, you do. To watch live and on-demand content, you have to sign in with your free account first.
Yes. The channel is free. Just create a free account and you'll have access to its content.
What Benefits Do I Get With Molotov Premium?
If you decide to subscribe to the premium version of Molotov, you'll end up getting the following benefits:
4 simultaneous connections.
Full HD and 4K streaming
Cloud recording
Offline Playback
What Channels Can I Stream on Molotov?
With a free Molotov TV account, you get to access several channels in France, including:
TF1
ARTE
France 2
France 3
M6
D8
W9
TMC
NT1
LCP
BFM TV
D17
Gulli
HD1
D17
LCI
Fashion TV
France 24
Euro News
TV5Monde
What Devices Are Compatible with the Molotov TV App?
You can download and stream Molotov TV on the following devices:
Android
iOS
PC
Mac
Android TV
Smart TV
Amazon Fire Stick
Xbox
Chromecast
Apple TV
Watch French TV Abroad
Molotov seems adamant about changing the way you stream TV channels live online. By using VPN or Smart DNS you can unblock and watch Molotov TV outside France.
If you have more questions, feel free to contact us in the comment section below. We'll be happy to help.