The World Wide Web is an interesting place, making everything much easier to obtain. However, with convenience come limitations in the form of geo-restrictions. In some cases, trying to purchase an item or service online or stream a movie gets an error stating that your geographic location doesn't allow such action.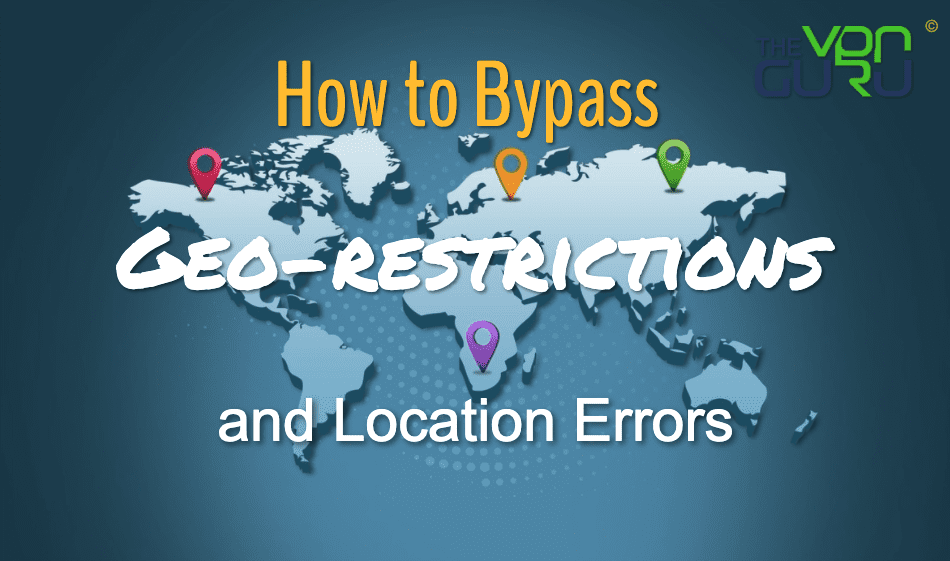 Everyone can experience the same problem as most services/websites apply geo-blocking, which limits access based on your physical whereabouts.
Spoofing location your location using Fake GPS apps will get you nowhere. But there are alternative methods to bypass such geo-issues (It's a cool name).
Now, you may be asking: What are geo-restrictions and Location errors? How common are these practices nowadays? And how is it possible to get around geolocation blocks? Find out in this comprehensive guide.
Bypass Geo-Restrictions – Quick Guide
Time needed: 4 minutes
Bypassing geo-restrictions is a simple task. All you have to do is follow the steps below and you'll be accessing anything online, anywhere:
Subscribe to a VPN service.

Make sure you sign up with a VPN that has a decent server network. We recommend ExpressVPN as it boasts servers across 94 countries.

Install the VPN application on your device.

You can find dedicated clients on Android, iOS, PC, and Mac.

Activate the software and sign in.

Log in with your username and password.

Open the VPN's server list.

Connect to a server in the country where your blocked content is available.

Launch your service or website.

Make sure you already got the required IP address by checking this IP Verifier.

Enjoy your internet without limitations.

Access any website, channel, or e-shop wherever you are.
Circumvent Geo-Blocking – Full Guide
You can easily bypass regional restrictions by following the steps above. However, to better understand the problem, we've conducted thorough research in hopes of providing you with more information about the matter. Give it a quick read:
The Requirements
To avoid geo-location errors and access whatever blocked website/service you want in your region, you'll first need all of the following:
A VPN subscription.
A connection to a VPN server in a preferred country.
Your channel's app or a browser for any website.
What is Geo-blocking?
Geo-blocking is a way for content providers to restrict access to their services on a geographical basis. This is mainly because of licensing regulations.
Every channel or provider pays a huge amount of money to secure the rights of certain content in the country. Therefore, they enforce such restrictions to secure their content from being viewed abroad.
When you subscribe to an internet service, your ISP provides you with an IP address. Every device connected to the internet holds a specific IP that helps determine the device's location.
Once you access a website, it's able to determine your current whereabouts by examining your IP address first. If you hold one that's not valid to the webpage you're visiting, you'll receive a message stating that this content is not available in your region.
A perfect example of regional restrictions comes with US Netflix. Wherever you may be outside the US, you'll be redirected to the content library assigned in your region rather than the American one, again, based on your IP address.
Bypass Geo Restriction Errors – The basics
You seriously don't know how big streaming is around the world. Youtube alone has more than 2 billion viewers a month. No scratch that, Netflix's The Umbrella Academy accounted for more than 3 billion minutes, along with other TV shows that stole the spotlight.
As mentioned, geo-restrictions can be a hassle, especially for those who like to watch content online. We know that you've encountered the problem before, but we're here to shed more light on the matter.
Here are some common geo-errors you might come across when trying to watch a channel that is not available in your region.
Hulu: "This video is not available to watch in your current location. Please select something else to watch. Error code: BYA-403-013"

HBO Max: "HBO Max is currently only supported in the U.S. and certain U.S. territories."

BBC iPlayer: "This content is not available in your location. BBC iPlayer only works in the UK. Sorry, it's due to rights issues."

TenPlay: "10Play is available for Australian residents only."

Showmax: "Showmax is not yet available in (Your Country)."


Disney+: "Service Unavailable. Disney+ is unavailable at your location."

TVNZ: "Whoops! Looks like you're trying to watch from outside of New Zealand. Our videos are only available to watch within New Zealand due to rights issues."

Amazon Prime Video: "Traveling? Prime Video may look a little different while you're out of town. Not to worry though, everything will be right where you left it when you return."

ITV: "Sorry! We've detected that you're outside of the UK. Live TV and Catch Up are only available for viewing in the UK, as of December 31st, 2020."
As you can see, the channels present you with different error messages if you try to access them outside their coverage area. However, regardless of the variety of errors, the results are the same. No viewing abroad.
Well, that's unless you follow the steps above. Then, and only then, will you be able to bypass geo-restrictions and access the channels wherever you may be!
What a VPN Does!
With a VPN, all your Internet traffic is redirected through a secure remote server when you are using a VPN. This allows you to completely change your IP address and appear to be browsing the web while located in a different region of your choice. Your Internet speed can get negatively affected if you are using cheap, unreliable VPN services.
All your traffic is encrypted
All your traffic appears from one location chosen. So you can unblock ALL sites for a specific country such as USA or UK
Does not work on all devices, unless your router supports VPN.
Unlike Smart DNS, local sites that check location will break, as you now appear to be coming from the VPN server country.
VPN will actively spoof your IP. Your location and online IP will change for all sites and services that you visit online.

Your ISP does not know the final destination of your traffic and it can't interfere with your traffic. As a result of Transparent proxies, DNS Hijacking, Sniffing,

and Eavesdropping by ISPs

otherwise won't work.
In addition to bypassing regional restrictions, you can protect your devices with ExpressVPN. It offers military-grade security protocols for subscribers. If you want to know more, below is a list of VPN providers, tested and assessed based on speed, reliability, and support quality.
Best VPNs for Circumventing Geo-restrictions
You may find a lot of VPN providers while searching for a credible one to use. However, you shouldn't trust all that you come across along the way. People usually are tempted by free stuff. Well, in the VPN industry, that's exactly what you need to avoid.
First, their servers are poorly invested and they're very slow. Second, these free services have a habit of selling your data to sister companies in exchange for revenue. In other words, free VPNs are a big "No".
I've tested out some of the top VPNs everybody's talking about on the internet. Here's what I think about the best VPNs to work around geo-restrictions.
ExpressVPN – Top VPN and Editor's Choice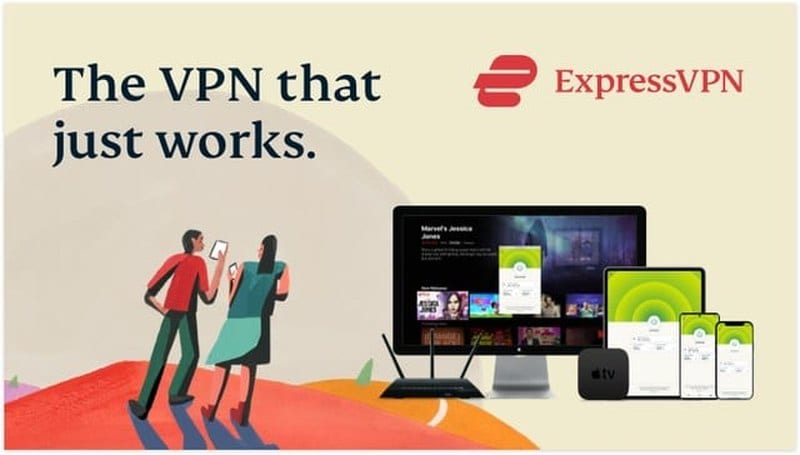 Let us start with the VPN I personally use, ExpressVPN. This VPN has so many servers around the world, which means that accessing blocked content is quite simple. It also employs perfectly secure protocols such as OpenVPN with TCP and UDP, SSTP, L2TP/IPsec, and PPTP.
Moreover, ExpressVPN adopts the zero-log policy. So, wherever you are, even in highly censored countries, whatever you do on the internet is not being recorded for further use.
Bypassing geo-restrictions is a simple task for such a VPN as it allows you to change your location using VPN and Smart DNS. I don't think you'll be missing any of your shows any time soon. Here's more in this ExpressVPN review.
Pros
145+ server locations in 94 countries.
Military-grade encryption.
MediaStreamer Smart DNS.
Unblocks major streaming services.
A Kill Switch.
Excellent speed rates.
Strict no-logging policy.
30-day money-back guarantee.
Split-tunneling.
Cons
Expensive monthly plan.
No free trial.
BulletVPN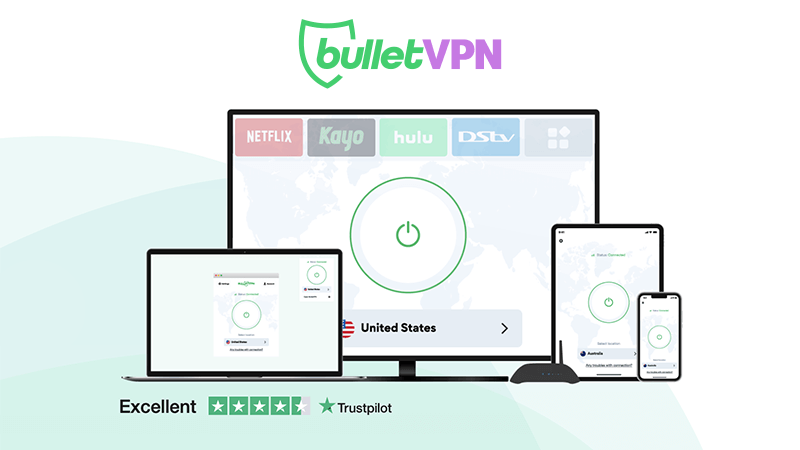 Now we have the Estonia-based VPN, BulletVPN. The first thing to cross your mind when you're looking to bypass geo-restrictions is how many servers a VPN offers. Well, BulletVPN has a decent server network of 154 servers in 55 countries.
This VPN offers top-notch security protocols for subscribers. You get to choose from PPTP, L2TP, OpenVPN, IKEv1, and IKEv2 protocols. It also has its own Smart DNS service if you wish to stream at full speed. Check out more in this BulletVPN review.
Pros
154 servers in 55 countries.
Keeps no logs.
Smart DNS available.
Unblocks major streaming services.
A Kill Switch.
Unlimited bandwidth.
Strict no-logging policy.
30-day money-back guarantee.
Connects 6 devices simultaneously.
Cons
No Double VPN.
No browser extensions.
SurfShark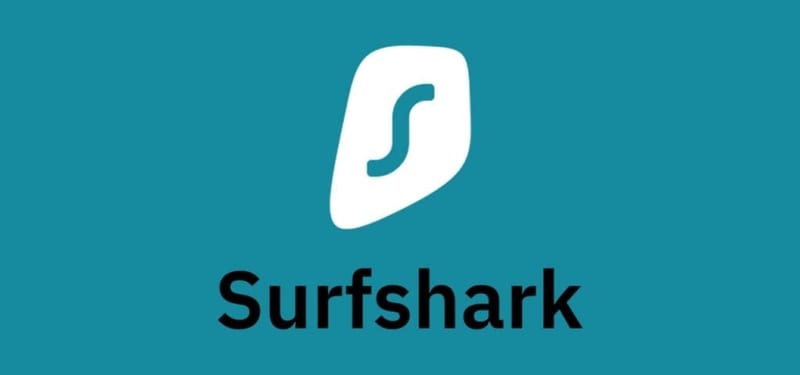 Surfshark has been dominating the VPN charts ever since it saw the light. It's still new to the industry, but I guarantee that in the upcoming years, it'll be a formidable rival to the giants.
It has user-friendly apps for almost all major operating systems in the world. Grants you access to 800+ servers in over 50 countries. Not only that, but you'll also have unlimited simultaneous connections under one subscription. None of the top VPNs on our list offers anything like that. Find out more about this VPN in our SurfShark review.
Pros
Servers in 65 countries.
No-Log policy.
Smart DNS available.
Unblocks major streaming services.
A Kill Switch.
Bitcoin Payments.
Strict no-logging policy.
30-day money-back guarantee.
Connects unlimited devices simultaneously.
NordVPN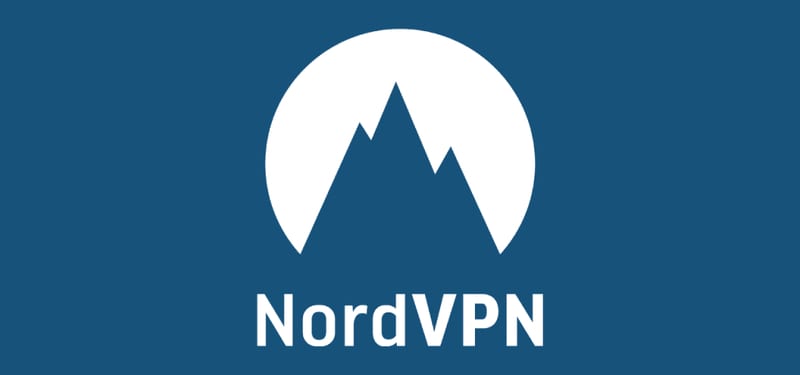 NordVPN is another very reliable service that you can turn to if you're sick of being blocked all the time. Not only does it offer 5000+ servers in 62 countries, but it also excels when it comes to security features.
You can use their double VPN service for an extra layer of protection above the basic encryption your get. You'll be rerouting your internet traffic through two servers instead of one, which means you'll be doubling your level of protection.
For more security, NordVPN provides you with a technology called CyberSec. This one will guard your device against viruses, malware, and malicious software that might target you.
Subscribers will be able to have up to 6 simultaneous connections per account and can use its Smart DNS service – Smart Play. Their application is pretty easy to use. You don't have to be tech-savvy to navigate at all. If you want to know more, take a look at our NordVPN Review.
Pros
CyberSec technology.
5000+ servers in more than 62 countries.
Smart DNS available.
No logs policy.
24/7 award-winning VPN support.
Double VPN feature.
Strict no-logging policy.
30-day money-back guarantee.
Connects 6 devices simultaneously.
Smart DNS Proxy to Bypass Geo-Restrictions
Smart DNS proxies only partially redirect your Internet traffic. In simple terms, only the URLs which reveal your location to the streaming service you wish to unblock are affected.
The rest of your Internet connection remains untouched. This approach has both its benefits and disadvantages.
For one, you only get to unblock the channels the Smart DNS proxy service you are using supports. On the other hand, you will not notice a change in your Internet speed. Here's a list of Smart DNS pros and cons.
You only need to change the DNS setting on your router
Your traffic is not all encrypted, so traffic is not anonymous.
You gain more speed as not all traffic has to go to the remote VPN server. This also means that not all of your traffic is spoofed.
You can change Netflix regions using a drop-down box if your DNS Proxy provider supports it.
Make sure the site or channel you want to unblock is supported by the Smart DNS proxy you choose.
All your devices are supported Apple TV, Roku, iPhone, iPad, iPod touch, Android, Windows, Kindle Fire, LG, OS x, Panasonic, Amazon Fire Stick, Smart TV, PlayStation 3, PlayStation 4, Roku, Samsung, Sony, Ubuntu, WD TV, Xbox 360, Xbox One, Windows. See Video and Picture guides for setup here.
If your ISP applies DNS Hijacking and/or Transparent Proxies. Smart DNS Proxies won't work for you.
While all the VPNs above are quite reliable when it comes to providing Smart DNS, Unlocator happens to be the only service to offer a generous 7-day free trial.
Not only that, but if bypassing restrictions is all that you care about, their stand-alone Smart DNS subscription might pique your interest.
Bypassing Restrictions – FAQ
Do you want to know more about regional restrictions and what you get out of them when bypassed? Make sure to check the following section:
What Channels Can I Unblock When I Change My IP Address?
Depending on the server you connect to, here is a list of sites that are known to have geo-restrictions:
ABC
Adult Swim
A&E
Amazon Instant Video
BBC iPlayer
BeIN Sports
Canal+
Channel 4
The CW
Disney+
HBO Max
Hulu
Netflix
Now TV
Sportsnet
UFC
Zattoo.
Can I Get Better Prices With a New IP?
Geo-restrictions don't only limit your access, but also assign specific prices to online merchandise depending on the country. With a VPN, you can switch your online location to match that of an online store that offers the same product, at a cheaper price.
Can I Use a VPN on FireStick?
Most VPN providers have dedicated clients on Amazon Fire Stick, including the ones recommended above.
Why is Netflix Blocking Me?
That may be due to the fact that you're using a free VPN or one that is not credible enough. Netflix and other streaming services can now detect VPN traffic.
Bypass geo-restrictions – Unblock your Internet
It is up to you to choose which solution you think is more appropriate. Either VPN or Smart DNS Proxies will help you overcome geo-restrictions and protect your privacy.
If you want a fast and easy solution to stream your favorite movies on Netflix, Amazon Prime Video, BBC Iplayer, and Hulu use Smart DNS.
If you want to be fully protected from intruders and do not care about a small speed hit and the limit of supported devices use a VPN to bypass geo-restrictions and protect your traffic at the same time.