In this day and age, it's become very important to understand how to keep yourself safe online. One of the most popular methods to do that is by using a VPN when you're about to access the internet. VPNs are a powerful cybersecurity tool that can also give you access to regionally restricted content anywhere in the world. In this guide, I'll explain how to set up a VPN on your Asus router for a more secure, private, and anonymous connection at all times.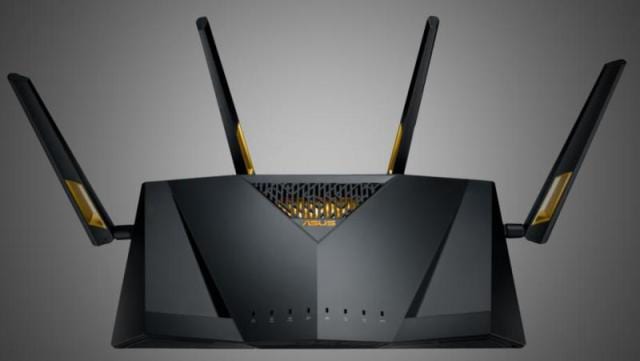 If you have a
D-Link router
, a
TP-Link router
, a
Linksys router
, or a
Netgear router
, please check out their individual installation guides. You can also check out this
general installation guide
for any other router brands.
Why Should You Use a VPN?
Let's start by defining what a VPN is/does.
Short for Virtual Private Network, a VPN is a service you can subscribe to that provides you with a secure, private, and anonymous internet connection. VPNs do this by re-routing your traffic through a private "tunnel" using their own servers. Other than providing you with a private connection via their traffic tunneling prowess, VPNs also encrypt all of your data and protect you from possible data theft.
In addition to keeping your online experience private and secure, VPNs can also give you access to geo-blocked websites, apps, and media.  This happens because a VPN changes your public IP address automatically when it re-routes your traffic. Most VPN providers let you choose which server you want to use each time you turn the VPN on, giving you control over which IP you end up getting. All you need to do is pick a server that's located in a country that doesn't have the restrictions you're trying to bypass, and you'll be able to access the site that you want.
Benefits of a VPN on Your Asus Router
Now you know what a VPN can do in general. Let's talk about how it can improve your online experience if it's set up on your router.
To start with, VPNs usually have a limit to how many devices you can use your subscription on simultaneously. If you have your VPN installed on your router, you can bypass that limit entirely. This way, you can connect and protect all of your devices while still technically using only one of your allocated VPN connections.
Another thing you should keep in mind is that having a VPN on your router means that you can extend the services of that VPN to any device that connects to your WiFi. This way, you can use the VPN on your smartphone, your computer, your tablet, your gaming consols, and your Smart TV. VPNs usually have native apps for Windows, Mac, iOS, and Android devices. You would need to configure the VPN onto other devices manually to protect them. If your VPN is on your router, you don't need to do that.
Speaking of these "other devices", using a VPN on your router lets you easily use its ability to access geo-blocked content on any streaming device without having to set up the VPN yourself. Smart TV users will be able to unblock channels, apps, and media that they wouldn't have had access to without the VPN.
Finally, having a VPN on your router helps keep your WiFi connection private in the sense that it makes it increasingly difficult for anyone to hack into it. In other words, you can rest assured that no one will be using up your bandwidth without your explicit permission.
Best VPN for Your Asus Router
Convinced that you need a VPN on your Asus router? Great! Let's move on to which VPN you should consider getting.
Our VPN experts suggest using ExpressVPN for your Asus Router. Not only is ExpressVPN the best service provider on the market, it is also one of the easiest VPNs to manually configure. ExpressVPN also has the best customer support team in the VPN world. This is a very important feature for the service provider, as ExpressVPN users have a repository of knowledge they can tap into to help solve any problem they might encounter in the form of a live 24/7 chat.
In this guide, I'll be using ExpressVPN to explain how to configure a VPN on your Asus router.
Don't worry if you don't have an ExpressVPN subscription, the steps detailed below can be used with any top-tier VPN provider (which you can find in the table below). Be sure to check the FAQ and support pages on your provider's website to see if they have any specific installation guides for Asus routers.
How to Setup a VPN on Your Asus Router
Asus routers are actually one of the easiest routers to install a VPN on. The reason for that is that they come already configured to accept a VPN setup. Of course, if you have an old Asus model, you still have to go through the process of flashing your router and setting up the VPN connection manually. I'll be explaining both methods in this guide, but before you try out either one do remember to check whether your router supports VPN installations or not.
Method One – Setting Up a VPN on a New Asus Router
I will be using ExpressVPN to explain this setup process. Do check your own VPN provider's website for any specific installation guides. If you can't find them, this process will work for non-ExpressVPN users too.
Compatible Asus Routers
The following Asus Routers can be configured using this method:
RT-N66U
RT-AC56U
RT-AC68U
RT-AC87U
RT-AC5300
RT-AC3200
RT-AC1750
RT-AC88U
RT-AC66R
RT-AC55U
Check your router's make to make sure that you have one of the above routers, once you've done that you can process with this installation.
Installation Process
Installing a VPN on your VPN ready Asus router is a very straightforward process, here's what you have to do:
Sign in to your ExpressVPN account.
Click on Set Up on More Devices.
Select the Manual Config option on the left side of your screen.
Click on the OpenVPN tab on the right side of your screen.
Copy and paste your Username and Password onto a word or notepad doc and save it for later use.
In the list of OpenVPN configuration files, choose the server location you wish to connect to and download/save the .ovpn file(s). I suggest picking a US server location.
Open a different tab in your browser and go to your Asus router control panel. You'll be able to do that by entering the router's IP in the address bar. The default Asus IP is 192.168.1.1
Login to your router account. The default username and password is admin/admin.
Under Advanced Settings, click on VPN.
Click on the VPN Client tab at the top of the page, then click on Add profile.
Select the OpenVPN tab and fill out the details needed.

Description: describe the connection in a way that will help you recognize it. This isn't mandatory.
Username: the username you copied in step 5.
Password: the password you copied in step 5.
Import .ovpn file: where you upload the file you downloaded in step 6.

Click on Upload > OK.
Click on Activate to start the VPN.
Once you've activated the connection, your VPN is ready to be used. Note that you'll be connected to the server location you selected in step 6. If you want to change locations at a later date, repeat this process and download an .ovpn file from a different location.
Method 2 – Setting up a VPN on an Older Asus Router
If your Asus router doesn't belong to the list of routers I mentioned above, you'll have to follow a more technical process to install your VPN on the router. This method involves 2 distinct steps: (1) flashing your router with DD-WRT and (2) installing the VPN client.
Warning: This method is not difficult to complete, but it does require you to download the correct version of the firmware in order for it to work. If you download a non-compatible version, you can brick (break) your router. Please, do your homework before starting the installation process.
Flashing your Asus Router with DD-WRT
The first thing you need to do is to check this list and see if your router supports DD-WRT. If your Asus router isn't on the list, then I suggest upgrading your router to a VPN ready model.
As I mentioned above, the complicated part of this process is downloading the correct firmware for your router. The reason why it's important to download the correct firmware is that the firmware will be your router's new operating system. What you're doing when flashing your router is changing the operating system your router uses with DD-WRT. Follow this detailed guide on how to flash your router with DD-WRT to a T, and make sure that you've done your homework before you start.
Installing a VPN client on your DD-WRT Flashed Asus Router
Now that your router is running on DD-WRT, you can start the process of manually installing your VPN client.
Here's how to install your VPN client on your Asus router:
Log into ExpressVPN and click on Setup ExpressVPN.
Click on Manual Config and select OpenVPN.
Download the .ovpn file.
Go to your Asus router's configuration by typing in "192.168.1.1" in your browser's address bar.
Go to Services and click on VPN.
Enable the Start OpenVPN client. Here, you'll find a few fields that you need to fill out.
Open the .ovpn file with Notepad (or any other text editor).
In Notepad, locate the word "Remote". You'll see a line with an address followed by 4 numbers. It'll look something like this: xxxx.copythisaddress.com XXXX.
Copy the address and insert it in the ServerIP/Name field.
Copy the 4 numbers you saw next to the address and insert them in the Port field.
In Notepad, search for <tls-auth> and </tls-auth>. Copy the text in between these tags. Start from "BEGIN OpenVPN Static Key" and stop after "END OpenVPN Static Key".
Paste the text in the TLS Auth Key field.
Repeat the process in step 11, but look for the <ca> and </ca> tags instead.
Paste the text into the Ca Cert field.
Repeat the process in step 11 but look for the <cert> and </cert> tags.
Paste the text into the Public Client Cert field.
Repeat the process in step 11 but look for the <key> and </key> tags.
Paste the text into the Private Client Key field.
Click on Save and then on Apply Settings.
Go to the Status tab. You should see "Client: CONNECTED STATUS".
Congratulations! You've just manually configured a VPN onto your Asus Router.
Now, go enjoy your newly secured internet connection. You've earned it.