Twitter is all Musk-ed out now, and a lot of users have grown frustrated with the platform's new route. As a result, they started searching for alternatives, and let's be honest – they do have choices. One of the most talked-about options is Mastodon – a solid platform that has built its reputation over the past 6 years on privacy and user-led moderation.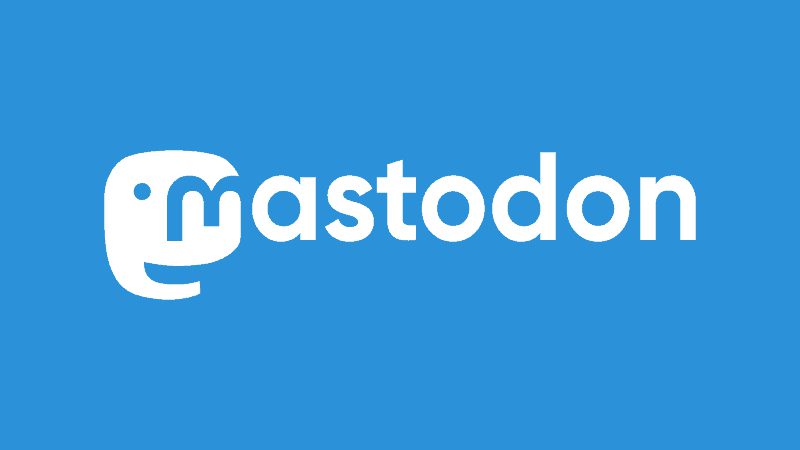 Of course, Mastodon is not the only website/service that provides what we call "claims." On the surface, Mastodon seems safer than most other social media websites. But is it really?
With so many users shifting their interest to Mastodon (A new idea to many newcomers), one should be very careful in terms of posts and submitted information. The question is: How safe is the social media platform? We answered that below.
Inside Mastodon – Let's Get Tooting
Now that Twitter is no longer an option for most bloggers out there, alternatives are desperately sought. However, even those can be toxic and draining. Not to mention that their algorithms can ruin the entire experience.
Mastodon, on the other hand, seems to be trying to fix this. First, it's open-source and decentralized, which means that not one entity or a billionaire is in charge of your content. (Hint: Twitter).
Second, the platform gives you full control of the entire experience. You get to choose what to see, what to ignore, what to share, and the like.
It's quite simple to navigate. Signing up is probably the most confusing thing to do – and it's still easy. To create an account, you must first join a Mastodon Instance (Server).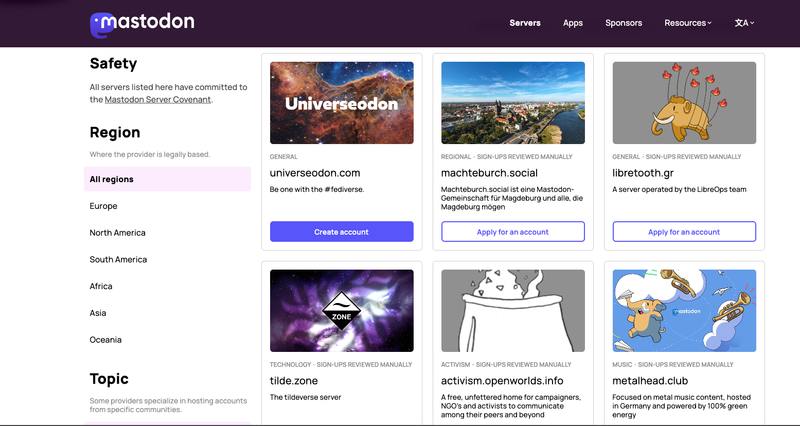 Once you have an account, you can join Instances and use the Search field to find users discussing topics you're interested in. Once you find what you're looking for, open the user's profile, and click the Follow button.
It's that simple. However, there's so much more to it. Just like Twitter, users can add posts – in Mastodon's case, they are called Toots (Pretty original, right?).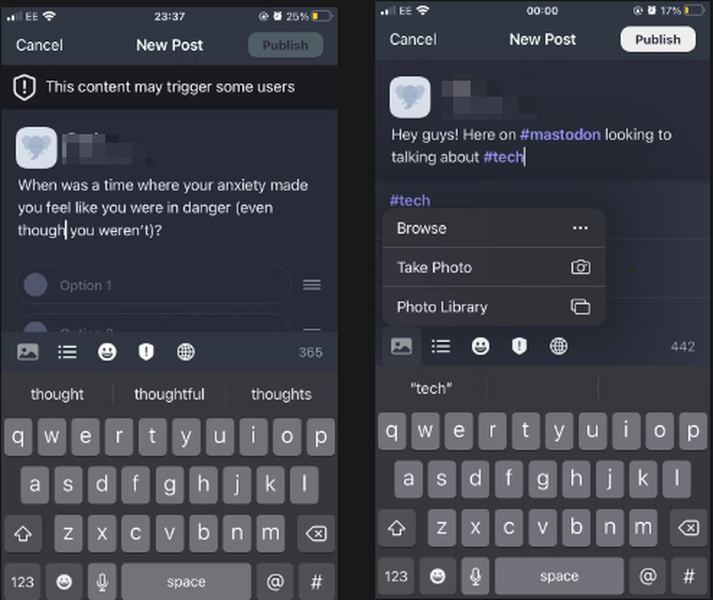 If you take a look at the image on the left, there's a notice that might have been triggered by the term "Anxiety." This is a good thing, actually. It shows that Mastodon does put an effort into protecting its users… Again, on the surface!
The most important thing we need to discuss before jumping to the next part is that Mastodon is ad-free. Yes, Mastodon does not show ads. In other words, it does not track what the users are liking or clicking to create profiles for serving personalized ads.
The Million-Dollar Question: Is Mastodon Safe?
Social media platforms are well known to have some sort of privacy invasion techniques. Since Mastodon doesn't show ads, the risk of collecting your information and bombarding you with ads accordingly is out of the question.
But does that make it safe? Not even close. There are a lot of perks to enjoy using Mastodon. However, not all of it can ensure your online safety. So, what categories do these negative traits fall into? Let's discuss it:
The Chat Feature
This is probably the most important factor in this article as it has been a problem for everyone across multiple social media platforms.
Direct messages are an essential feature to have, but sometimes, they can be intrusive, if not dangerous. On Mastodon, direct messages work differently, and unfortunately, not in a good way.
You see, unlike Twitter – the chatting option is not end-to-end encrypted. Mastodon stores them in clear text on its servers.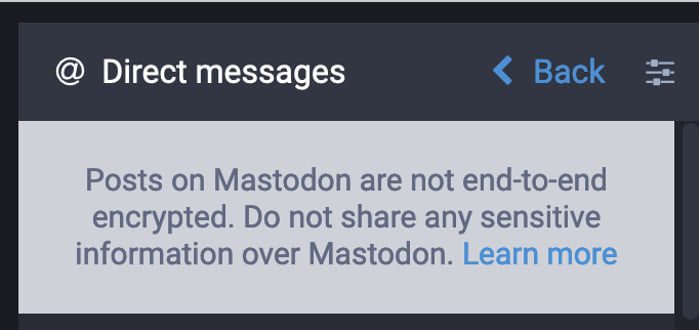 In other words, anyone at Mastodon with administration access can see and read everything you submit in your chat box.
While we're not sure that administrators at Mastodon actually do that – but if that's the case, this can be a complete invasion of your privacy. And as the notice states: Do not share any sensitive information.
Unfortunately, most users do not take the time to read any notices provided by the platform they're using. Word of advice, if you have anything "Sensitive" to share, make sure you use another secure messaging platform.
It doesn't end here. If you're having a conversation with anyone, tagging a name to the conversation will alert the "tagged" party. Not a private conversation anymore, huh?
Who's Who?
Another problem you might face when you're using Mastodon is authentication. In other words, you don't know who's real or not, as there's no account verification option.
When it comes to other social media platforms, the verified status helps a lot in determining the legitimacy of the account you're about to follow.
For example, on Twitter, a blue badge used to be added for free next to accounts that belong to politicians, public figures, celebrities, and journalists.
Well, emphasis on "free" as Elon Musk just turned the entire table under the claim "Power to the People." Now, anyone can get verified on Twitter, provided they shell out an $8 fee per month.
That aside, Mastodon doesn't have the verification option, which means anyone could be anyone. In fact, any Mastodon user can add a blue tick emoji to the end of their username, but this doesn't mean that they are verified.
Therefore, trust no one. However, if the user has a personal website, Mastodon can help verify his/her legitimacy. The social media platform uses cross-referencing to check the URL and link it back to the user:
"Mastodon can cross-reference the links you put on your profile to prove that you are the real owner of those links.

In case one of those links is your personal homepage that is known and trusted, it can serve as the next-best-thing to identity verification.

If you put a link in your profile metadata, Mastodon checks if the linked page links back to your Mastodon profile. If so, you get a verification checkmark next to that link, since you are confirmed as the owner."
If everything is in place, Mastodon adds a "Check Mark" next to the URL itself, not the user. You can see what we're talking about in the image below: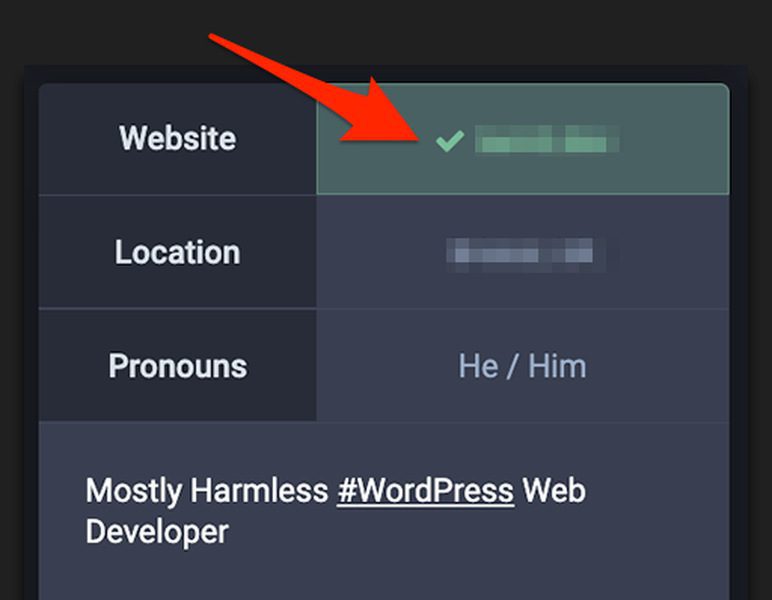 Although Mastodon is really gaining momentum now, celebrities are less likely to join in on the trend. We're not saying it's not going to happen or already happened; we're just saying to stay aware and don't follow celebs blindly.
Anyone could be impersonating a celebrity for all kinds of malicious practices. If you want to follow your favorite singer, for example, make sure to check the URL and its verification.
It's very difficult for a scammer to add a verified link to their account that leads to the celebrity's official website.
A "Forever" Presence
If you're using Twitter and decided to terminate your account, all your tweets are deleted from the website and apps within 30 days of deactivation. That's the policy.
On Mastodon, on the other hand, you're forever present on the platform regardless of whether you've deleted your account or not. In the platform's case, you ask the "Instance Moderator" to delete it.
However, despite not being there anymore, whatever you've posted in the past remains. Yes, your Toots live on! In other words, anyone could see what you've posted before.
For example, if you send an email to a person, but then deactivate it, the recipient will still have that email in his/her inbox. That's exactly how Mastodon works.
Is Mastodon Safe? The Verdict
Mastodon has a long way to go to compete with the likes of Twitter. What we mentioned above is definitely crucial when it comes to privacy, but they can all be avoided by the users themselves.
The social media platform has been around since 2016 and has amassed huge popularity throughout the years. The fact that it doesn't bombard you with ads clearly shows that Mastodon is serious about not collecting your information.
If you open the "Preferences" section, you can find several features that cater to your privacy concerns. For example, you'll be able to block notifications for activities by non-followers.
However, there's still more you (yourself) need to do to elevate your security even more. First, you have to choose a password that's not used for other accounts. If you want to create a strong one, you can use our generator for that.
Second, with applications on Android and iOS, Mastodon has made it easier for you to keep up with what's going on around the world. For a safer approach, the social media platform provides you with a two-factor authentication option – make sure to enable it just in case.
Mastodon is growing fast and it's going to be big in no time. So far, the platform nabbed over 70,000 Twitter users following Musk's acquisition of the media giant.
As for the question at hand: Is Mastodon Safe? No social media platform is completely safe, but based on what we've seen, YES IT IS.
Mastodon Takes Over – From Tweeting to Tooting
Based on what we've seen and tested, Mastodon reflects a great alternative to Twitter. Alright, it might not be as big as Twitter is, but it's certainly getting there.
Mastodon is all about what the user wants, not what making profit needs. Having a smaller user base can be a blessing, but it can go south in an instant if this small group of people decides to be toxic.
You just have to know what "Instances" you need to join, avoid sharing too much information about yourself (Phishing attacks are on the rise nowadays) and enjoy yourself. That's all.