File sharing, active work collaborations, and multiplayer gaming can be a hassle if your connection isn't on par with the requirements. Well, that's all in the past, thanks to NordVPN's latest creation – Meshnet.
The VPN provider has been around for quite some time now, ensuring that everyone is surfing the web with utmost security and privacy. Meshnet is a great addition to its arsenal. However, this isn't what we're here to talk about.
The news we actually want to deliver is that NordVPN is offering Meshnet to everyone around the world – Free of charge. We're going to shed more light on Meshnet and how everyone can benefit from it.
NordVPN's Meshnet – A Not-So-Conventional LAN Network
In the VPN industry, providers have to up their game if they wish to stay in the lead. Each VPN has done a lot, especially when it comes to introducing new and effective features.
ExpressVPN created its own protocol (Lightway), SurfShark has CleanWeb, and NordVPN has the new Meshnet feature. It is really very simple.
What we're about to discuss is an answer to this: Ever wondered how you can access your Local Area Network (LAN) devices from any part of the globe and in a secure matter?
Meshnet brings that to the table as it's somewhat of a remote-access app that allows you to connect two or more devices wherever you/they may be.
Well, it's not your typical remote-access service – not at all, actually. So, basically, Meshnet utilizes NordVPN's NordLynx protocol, which allows the users to create their own NordVPN server.
When using Meshnet, you won't be connecting to the internet through NordVPN's servers like you normally do.
Instead, this new feature will connect devices together through an encrypted VPN tunnel. How does this benefit you? Check it out:
High Speed
Low Latency
Advanced Security
Yes, you can easily play with your friends over LAN. That's perfect for intense gaming sessions. Well, that's how NordVPN itself explained it.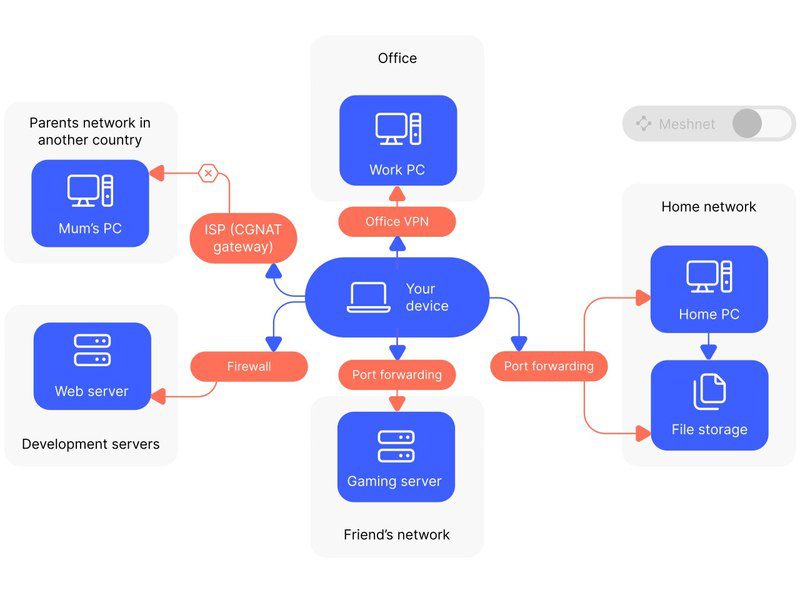 Simply put, Meshnet allows all the devices in your private network to get a unique IP address and hostname – one of your choosing.
In other words, you can let your friends, family, and anyone worldwide access the internet using your device's IP address. Your device becomes the VPN server.
Meshnet – Effective, Convenient, and Completly Free
At launch (June 2022), NordVPN's new feature was available to (almost) all subscribers as it's, in general, included in your subscription.
If you're a NordVPN subscriber, you don't have to pay any additional penny for it. However, NordVPN changed it all – for the absolute better.
Now, everyone can benefit from NordVPN's Meshnet completely free of charge. Wait for it! Even those who are not subscribed to NordVPN.
In celebration, NordVPN is allowing users to share files of unlimited size with any recipient in the most secure way. Confirming the transfer is required by both parties to complete the process.
The Linux version of the service is open-sourced for increased transparency. Speaking of being transparent, a free service, huh? Nothing raises questions more than free services.
In terms of security, NordVPN has a perfect record – even after joining forces with SurfShark. Well, near perfect if we were to mention that hacking incident where threat actors harvested certificates used to secure NordVPN's web servers and VPN configuration files.
But when it comes to protecting their customers' data, we can always count on this reputable provider. Not once did any privacy invasion incident take place.
Free services scream: "If you're not paying, you're the product." NordVPN addressed the possibility of questioning its newly released feature:
"For many, a free service can seem like an unsustainable business model at best, and a suspicious one at worst.

As the old saying goes, "If you don't pay for something, you're the product." That doesn't apply to Meshnet, however, and here's why.

While NordVPN relies on a global server network which is costly to maintain, Meshnet can be made free because it requires less infrastructure and less maintenance.

Opening it up to a wider audience doesn't require us to develop new systems and invest more than we already have. This means we can give back to our community."

Source: NordVPN
In their defense, we've reviewed NordVPN, and we highly recommend it as a service. Not only does it boast the latest security features, but it also has a zero-logging policy, as well as a Warrant Canary.
It never disappoints when it comes to the "trust" department. In fact, this free feature is a very excellent step towards an elevated NordVPN experience.
Not everyone can afford a subscription, but now everyone can have a chance to enjoy the benefits of having their own private VPN.
Introducing Meshnet – A Free Service for Everyone
To access NordVPN's Meshnet, all you have to do is download the NordVPN app and enable it from within the "Settings" section. You don't even have to log in with any credentials – it's free.
NordVPN took a huge step towards elevating its VPN service. In our opinion, the provider is one of the top VPNs in the industry, which means it's completely trustworthy, especially regarding its users' privacy. Give it a try; it's free.