How does SaferVPN compare against other top VPN providers? It's a very important question to ask before anyone opts for a VPN service. Are there more cons than pros? In this in-depth review, we'll answer that as we analyze SaferVPN in terms of pricing, refund policy, apps, server locations, and customer service. Take a look at our SaferVPN review.
SaferVPN Review – Content Index
Now, perhaps you might have already come to a decision that a VPN service is what you need to make the most out of your Internet connectivity, but you're still not sure of what provider to choose for this service.
Not to worry; We took the liberty to review one provider whose quality of service I think most users will find to be very satisfying. Here a quick summary of all the perks you get out of a SaferVPN in case you decide to sign up with them.
Quick Stats
Money-back guarantee
30days
Allowed concurrent connections

5 devices

Supported streaming services

Netflix, Hulu, Amazon Prime, and more.

No logs policy

Yes

Encryption

Military-grade 256-bit AES

Protocols

OpenVPN, L2TP-IPSec, PPTP, and

IkEv2
Special features

Kill Switch

Customer support

24/7 live support

Server locations

34 countries

Number of servers

700+ servers

Server Switches

Unlimited

Data traffic

Unlimited

Supported devices & web extensions

Windows, Linux, Mac, iOS, macOS, Routers, Chrome, Firefox

VPN legal jurisdiction

Israel
SaferVPN – Pros and Cons
This section shows what we liked and disliked about the VPN service. According to our strict evaluation process, this provider has a lot of cons, which raises a lot of questions. In this review, everything we encountered is provided. Check it out:
Pros:
Easy-to-navigate website
No-Logging Policy
24-hour free trial service
AES 256-bit encryption
Unlimited server switching
User-friendly apps
30-day money-back guarantee
Unlimited bandwidth
Kill switch
Free Chrome and Firefox browser extension
Unblocks major streaming services
Accepts major credit cards, PayPal and Bitcoin
Cons:
Confusing mobile free trial.
Slow speeds.
Disconnects a lot.
DNS leaks.
Mediocre customer support.
Very expensive.
Signs out occasionally.
No Smart DNS
SaferVPN Compatibility and Interface
Whenever users are looking at what provider to choose from, the compatibility of their device and the operating system in use should always be one of their topmost concerns.
SaferVPN has apps that are custom designed for all of the popular operating systems and platforms – Mac, Android, Linux, iOS, Chrome, Windows and even Routers.
But before we kick off with this section, we have to let everybody know that we did not have the best experience with their clients.
We usually test the VPN on almost every device we have around. However, checking the SaferVPN app took so much time as we ran into a lot of problems not even the support team could fix.
This issue is also mentioned later on in the article. Now, let us show you what actually happened:
Android
Ever since we've started reviewing VPNs, the Android client was considered our favorite.
Well, until we came across SaferVPN's. It's not about the app's design or anything, it's just about what happened along the way.
The design is nice, it's simple to use and connect. Here's what it looked like before we started running into issues.
As seen above, we connected to an American server and it only took the app a few seconds to establish that. Also, in the settings option, we were able to choose our preferred VPN protocol and enable SaferVPN's kill switch (Internet Lock).
However, after our first connection, the app signed us out. When we tried to login in again, it gave us a Login Error.
We tried several Android devices and the results were the same. You'll see our conversation with their support team later on.
However, two days later, we created another account and the sign-in process worked smoothly.
Another encounter that we'll be mentioning in the Streaming section of the review is that the app kept logging off while connected to a server.
It was kind of frustrating, but it managed to reconnect. In general, their apps are well designed, the server list is small, but the overall experience wasn't good at all.
macOS
While the Android app was a little disappointing, we should state that the macOS experience wasn't any different.
In fact, it was even worse than that. The image we'll be showing below are taken recently two days after we weren't able to connect.
This connection didn't take much time. However, in our previous attempt, none of the servers connected.
Unlike the Android client, we were able to sign in. We first tried to connect to a UK server, but it didn't work out.
We literally forgot about clicking on the server and left it for hours. When we opened it again, it was the same.
We're not exaggerating, the app did not connect at all for hours. The connected images were taken a couple of days later.
So, basically, the experience wasn't good as well. That's why we have some mixed emotions about the next part.
App Store Rating
The ratings on the App Stores help us a lot in evaluating a VPN product. We do depend on what the users have experienced while operating the VPN client.
We checked both the Apple Store and Google Play ratings of SaferVPN's application and the results were mixed.
According to the Google Play Store, the app has a 3.2/5 rating based on 82 reviews only.
Technically speaking, this is not enough to determine the credibility of the service. According to what we've experienced, it should be lower than that.
Now, the shocking part is the rating on the iOS Store. Based on 1.7K reviews, the iOS app has a 4.6/5 rating.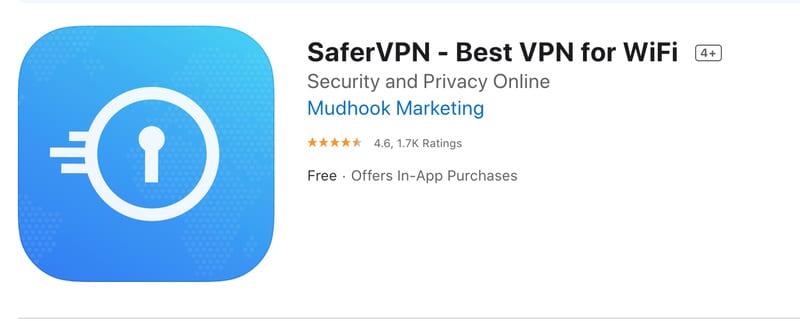 That's high, even higher than other VPNs that offer better services. We don't know if it's rigged or not, but based on what we went through, there's something fishy about it.
Trustpilot
Trustpilot is one of the most credible sources we rely on when evaluating a VPN. It's reliable and has the most honest reviews of products.
Now, here's what the website states. Based on more than 2000 reviews, SaferVPN got a 4.5/5 rating.
We should mention that some VPN service providers had tried to spike up their rating on Trustpilot in the recent past by posting fake reviews.
Whether SaferVPN has or hasn't gone down that same shady road is anybody's guess. You should take VPN service ratings on Trustpilot with a pinch of salt regardless
We still don't know how the provider gets such ratings as our experience didn't show that at all.
On the website, we encountered the following review:
Really bad customer service and really bad connection. I have 100Mb internet and rarely get more than 1.5Mb using SaferVPN despite their marketing claims of "Blazing Speed and Unlimited Streaming".
They also constantly disconnect and then support is appaling. Contact and they disconnect your chat.

Suggesting I switch off location service (disabling find my mac security) etc. Suggesting it's my Mac (despite it being at the router and also the app doesn't work on my phone. Just appaling service and I wish I'd realised before the auto-renewal.
If users go through our review and check the support section, they'll find the same problems Iain (The one who wrote the comment) encountered.
We wanted to give SaferVPN the benefit of the doubt. However, after seeing the review above, we were sure that our problem is pretty common.
SaferVPN Server Locations
SaferVPN's servers are located across over 34 locations in the world. These locations are home to over 700 servers; all of which allow for unlimited server switching, and are of course more than enough to ensure each SaferVPN user enjoys a good level of Internet security and anonymity.
You can connect to VPN servers in Europe, the USA, South Africa, Australia, Scandinavia, India, and Japan among others. The full list is below:
Europe
 

United Kingdom

 

United Kingdom (Streaming)

 

Spain

 

Netherlands

 

Cyprus

 

Switzerland

 

Belgium

 

Ireland

 

France

 

Denmark

 

Hungary

 

Finland

 

Sweden

 

Poland

 

Portugal

 

Italy

 

Austria

 

Germany

 

Russia

 

Romania

 

Norway
 The
Americas
 

United States (East)

 

United States (West)

 

United States (Streaming)

 

Canada

 

Mexico

 

Brazil

 

Argentina
Middle East & Africa
Israel
Oceania
SaferVPN Review – Unblocking Capabilities
One of the most common practices while using a VPN is to get around regional restrictions.
In fact, it's used among users for that purpose more than it's used for enhancing their privacy and security.
Streaming channels apply what we call geo-blocking, a mechanism enforced to secure digital rights in certain locations.
The user's IP address is examined to determine his/her location. If it's not within the channel's broadcasting area, an instant block is certain.
To assess its channel-compatibility, we performed a couple of tests on major streaming channels around the world.
Netflix
Netflix is a magnet for online streamers and it applies geo-blocks as we mentioned above. However, since it's almost available everywhere, it's geo-restriction method is different.
Netflix applies the mechanism on its content, not the service itself. In other words, each region has a different catalog to stream.
But that's not the main problem. If any VPN can access Netflix, we wouldn't have run this test, to begin with.
Netflix also has one of the strongest VPN blocks in the world. Not all VPNs are capable of unblocking the channel, let alone the US catalog.
A lot of top VPNs have failed, including SaferVPN's sister-company, IPVanish. However, SaferVPN did not fall victim to streaming giant's VPN ban and was able to access its US catalog from the first try.
We were able to stream Star-Crossed (US-Only title) by connecting to an American server provided by SaferVPN.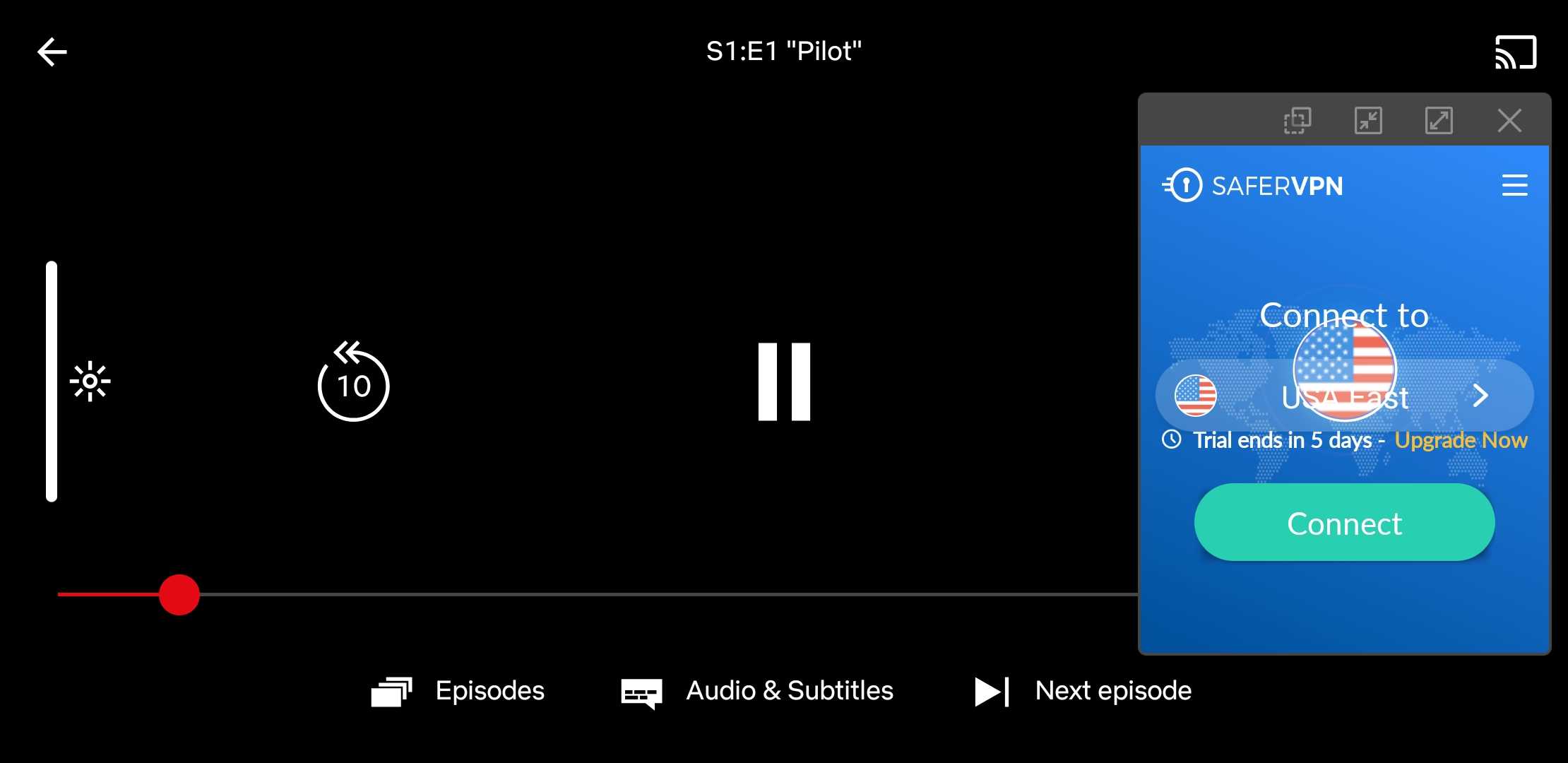 As seen above, the screen is pitch-black. That's because Netflix doesn't allow screenshots. However, we were able to watch the show with ease.
No ban message popped up and it's clearly shown in the image above. However, it's also clear that the service disconnected while streaming the show, which solidifies our experience with the app.
Hulu
Hulu is another major challenge for VPN providers as it applies a similar VPN block. The service also figures out whether its subscribers are using VPNs or not.
We stayed connected to the same US server used on Netflix and the results were positive.
SaferVPN was able to bypass Hulu's blocks and access its content outside the United States.
As we mentioned in the App Interface section, the client logged out while streaming the channel.
However, the service did indeed unblock Hulu before signing us out of our account.
Amazon Prime
Again, we remained connected to the same American server we used on the previous channels.
Amazon Prime also assigns certain catalogs to its supported regions and the US happens to be the richest among them.
The streaming giant also enforces a tough VPN block, which was easily circumvented by SaferVPN.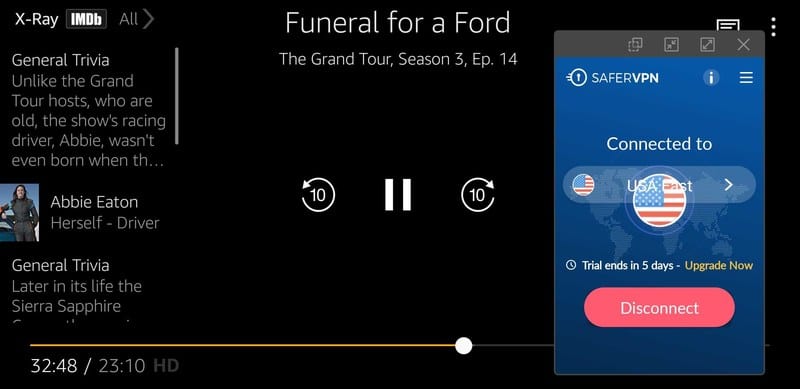 We were able to get this done before SaferVPN decided to log off again. But so far so good when it comes to unblocking content.
BBC iPlayer & Disney+
Here's where SaferVPN's luck ran out. Despite its ability to unblock top streaming services (as seen above), one channel managed to slip, BBC iPlayer.
We tried BBC iPlayer on two different platforms, its application, and the browser. None of them worked with SaferVPN's UK server. We got two results, both negative:
The App: "This content not currently available."
The Website: "BBC iPlayer only works in the UK. Sorry, it's due to rights issues."
In the website image, it's clear that the service disconnected while trying to stream the content. But the error message came before the disconnection occurred.
Now, on the other hand, there's the newly popular service, Disney+. Apparently, SaferVPN wasn't up for the task using specific servers, but it managed to unblock it using US Streaming.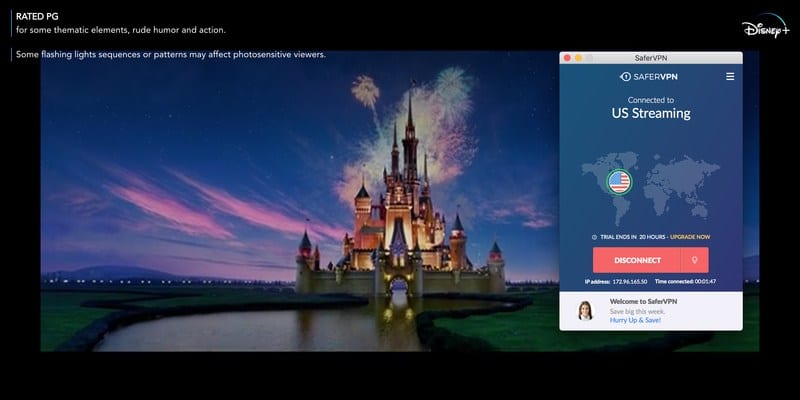 Basically, we can say that SaferVPN is a good unblocker, despite the fact that it wasn't able to get BBC iPlayer to work outside the UK, which most VPNs do.
However, being good is not enough if it keeps on disconnecting. So, for unblocking purposes, we do not recommend SaferVPN.
Smart DNS
Smart DNS is a technology that can replace VPNs when it comes to unblocking streaming channels.
It doesn't reroute the entire traffic, it just reroutes the traffic that highlights their actual location.
On the plus side, it doesn't tamper with the connection speed as there's no encryption present.
However, SaferVPN doesn't offer this option to its users. We searched the whole website and couldn't find anything about it.
Then we asked their support team for assistance, and they replied in the weirdest way ever.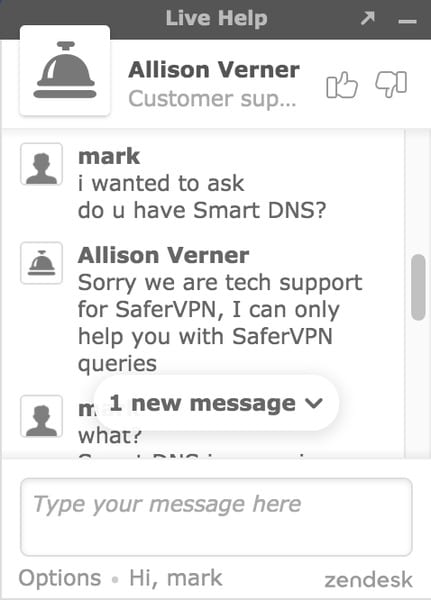 Our question was clear, we don't know where the answer came from. They only help with SaferVPN queries? It just doesn't make sense.
However, when we asked again, they provided the right answer.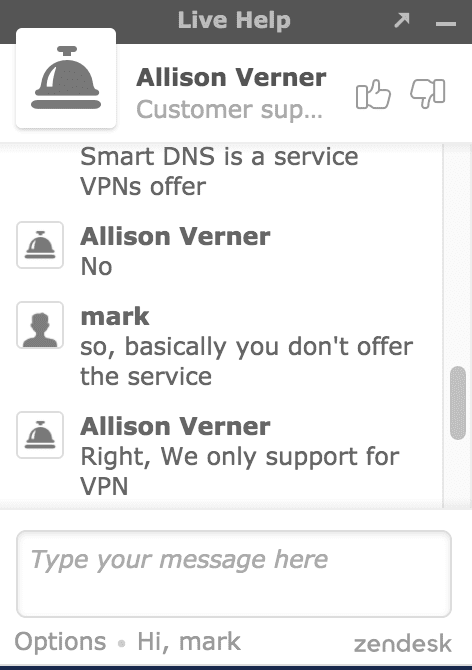 So, basically, the answer is pretty straightforward. They don't offer Smart DNS, only support for VPN.
P2P Support
Torrenting has become a very popular activity among internet users. However, there are countries that don't like such acts at all, blocking every single torrenting website in the region.
On the other hand, downloading a torrent file without proper precautions is not recommended.
Whenever a user is sharing a file, his/her IP address is shown to whoever is downloading the same file.
That's why it's always recommended to use a VPN to hide their IP address while torrenting.
SaferVPN has P2P friendly servers in select countries. So, if the users are looking to download files using BitTorrent and the likes, they're advised to do so while connected to Netherland, Canada, and Spain locations.
However, we must state that it's not recommendable to use this VPN for P2P actions. Why? Well, since it disconnects regularly, it means that users' activities will be compromised no matter what server they connect to.
SaferVPN – Privacy
Being based in Tel Aviv, Israel raises some questions about its privacy policy. Israel has become very strict and politically charged, which means the government might ask for some users' credentials.
Moreover, Israel is a country that's deeply embedded with the Five Eyes data-sharing partnership, which also gives us a warning sign about their privacy measures.
So far, no reports have been issued, considering breaches in the VPNs privacy or anything. Apparently, after some digging, we found that Israel might be one of the best jurisdictions for a VPN to settle in due to their privacy laws.
On the other hand, the provider is keen on maintaining its user's security, SaferVPN avoids keeping logs of its users' browsing history. 
This gives us a bit of hope that our data won't be ending up in the wrong hands while connected to SaferVPN's servers.
SaferVPN – Security
SaferVPN offers a range of security protocols that will ensure your Internet use remains private only to you. They include PPTP, IKEV2, L2TP/IPSec and OpenVPN.
Out of all these, the most effective one is OpenVPN, since it has a very powerful AES 256-bit data encryption, 2048 bit SSL/TLS handshake encryption, and uses SHA256 for control messages. These protocols are safe, and also do not slow down the speed of your connection.
If users wish to look into SaferVPN's privacy policies and read more about them, you can do so on their website. Moreover, SaferVPN offers a kill switch feature that cuts off internet access if a sudden drop in the VPN connection occurs.
Based on our tests the VPN malfunctioned several times, which ensures the need for a kill switch. On the other hand, aside from the features above, we conducted some tests on the provider's client.
We have to see that it's credible in every territory. Here's what we did:
Virus Scan
A virus scan is totally necessary, not just for VPN providers, but for every single app users install on their devices. Malware is a tricky thing, and if the device gets infected, who knows what would happen.
Some hackers disguise themselves as legit apps on official Stores and prey on those who don't have the technical background, installing every app they come across.
We went ahead and assessed SaferVPN's Windows and Mac clients. Both of them showed great results.
The image above clearly shows that SaferVPN's Windows app is completely clean. No sign of infection is reported by 70 credible sources. The same goes for their Mac app as well.
DNS Leak Test
Now, this part was very disappointing. DNS leaks are a dangerous thing, and if they occur, everything users were doing is exposed to their ISPs and whoever is monitoring their traffic.
In other words, a DNS leak shows that the VPN provider isn't doing the job it exists to do. With SaferVPN, it was obvious from the first test that it was leaking our data.
We connected to an American server and performed the test. Our DNS servers are clearly shown on the bottom of the screen, which highlights our actual location.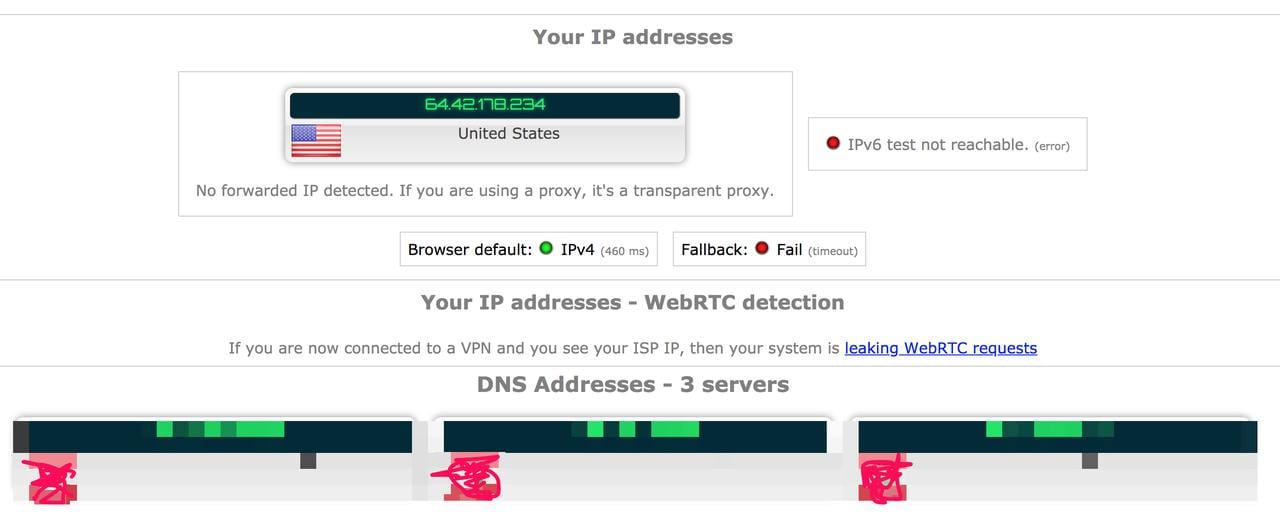 Our IP address is clearly the one provided by the VPN, but it's the DNS servers that are leaking. It's very bad since we tried several others on different platforms and the results were the same.
Third-Party Auditing
Getting evaluated by security experts is a way of showing customers complete transparency. Many VPN providers have gone through third-party auditing regarding several factors such as their no-log policy, web browsers, and even their protocols' efficiency.
It's sad to say that SaferVPN is not among those. We couldn't find any independent auditing of their service, but so far, no reports questioning their no-log policy have been issued.
Warrant Canary
Canary Programs are open declarations that a VPN service has not yet received any subpoena from the government. In fact, it's illegal to inform users that the company has been hit by a gag order, required to submit user info.
That's why it's a way to notify the customer in an in-direct way. Of course, it's not that important if the VPN abides by its zero-logging policy, but it's an added pro.
SaferVPN does not have one, but it should. As we saw, privacy isn't the best quality SaferVPN has, so adding a Warrant Canary to their arsenal may at least give their customers the trust they need to continue with the service.
SaferVPN Support
SaferVPN provides a 24/7 Live chat platform that allows users to connect with their customer support team whenever a problem comes about.
We had a technical issue with both the Android and the Mac client. As we contacted their support team, they weren't helpful at all.
In spite of their effort, nothing worked. The Mac app did not connect to any server and the Android one wouldn't even let us sign in.
First, we were asked to turn off our location services, still not sure why. Second, they told us that the website is going through maintenance! What? Most of their replies didn't make sense.
To rub more salt into the wound, the support agent suddenly left the conversation. By far, this was the worst customer support experience we've ever encountered.
If that's not enough, which it isn't according to our experience, users can plug into the community through their blog and get to see if anyone else experienced the sort of problem they might have, and how they were able to resolve it.
Our customer support experience was very bad. Maybe they have their reasons, but that shouldn't be an excuse.
SaferVPN – Plans and Pricing
SaferVPN is a VPN provider that's been in the market for over 4 years. Their experience in dealing well with their customers shows judging from how well they've priced out their service. 
They currently provide an incredible up-to 81% discount. As things stand, their pricing is as follows. 
1-month subscription at $12.95 per month
1-year subscription at $5.49 per month
2-year subscription at $3.29 per month
3-year subscription at $2.50 per month
Although the 2-year subscription presents a long-term investment, it is a hugely popular option due to the low pricing.
However, users can benefit from an 81% discount if they opt for SaferVPN's 3-year subscription.
There's one issue with the pricing. $12.95 a month is very expensive compared to what the service has to offer.
With only 34 locations to connect to, that's a very high price to pay. Not to mention some of the incidents we came across while testing it, especially with customer support.
Payment Options
The modes of payment are also in a good variety. SaferVPN allows you to pay through:
Paypal
Bitcoin
Webmoney, Mini, Qiwi Wallet, and others
Credit Card (Visa, MasterCard, American Express, Discover, etc)
The best thing about this part is that SaferVPN allows payment through cryptocurrency.
While it has become pretty common among VPNs, some still don't offer such an anonymous payment option.
Refund Policy
All these options come with a 30-day money-back guarantee where you're able to claim your money if you're not that impressed with their service.
This should be more than enough to get an idea of the VPN service you're getting. You might not know this, but the same company that owns SaferVPN offers IPVanish.
If we were to compare their refund policy, SaferVPN wins without a doubt. IPVanish still offers, up till today, a 7-day money-back guarantee, which is not enough at all.
Free Trial
If you want to subscribe through the website, SaferVPN allows you to sign up for a 24-hour free trial.
This is what we used to test the service in the first place. However, we've encountered a different trial on the Android app.
Apparently, if we sign up through the app, we get a 3-day free trial. Well, not really. Once we clicked on it, we were very disappointed with the results.
On the next screen, an error popped up, not allowing us to sign up at all.
Such errors really ruin a VPN's reputation. If you're not offering a free trial, don't include it. Never try to attract users with fake claims and if it's just a mistake, correct it.
SaferVPN Review 2023 – Final Verdict
SaferVPN has tried everything up its sleeves to improve its service. However, as it turned out in this review, it wasn't enough.
The service keeps disconnecting and leaking our data, which is definitely not what a VPN stands for.
Add to that the poor customer support, which forces users to turn the other way. It doesn't end here. Top VPNs due exist. which is why we've set a list of top SaferVPN alternatives for you to choose from.
We hope this review helped shed some light on SaferVPN and how it handles its business. Share your thoughts in the comments below.