How to Watch Alpine World Ski Championships 2023 Live Online
|
Snowy days come and go on a yearly basis and so do the Alpine World Ski Championships. From 6-19 February 2023, the tournament will take place in two neighboring locations in the French Alps, Courchevel, and Méribel. Not only that, but everyone gets to stream it live courtesy of multiple broadcasting partners across the world.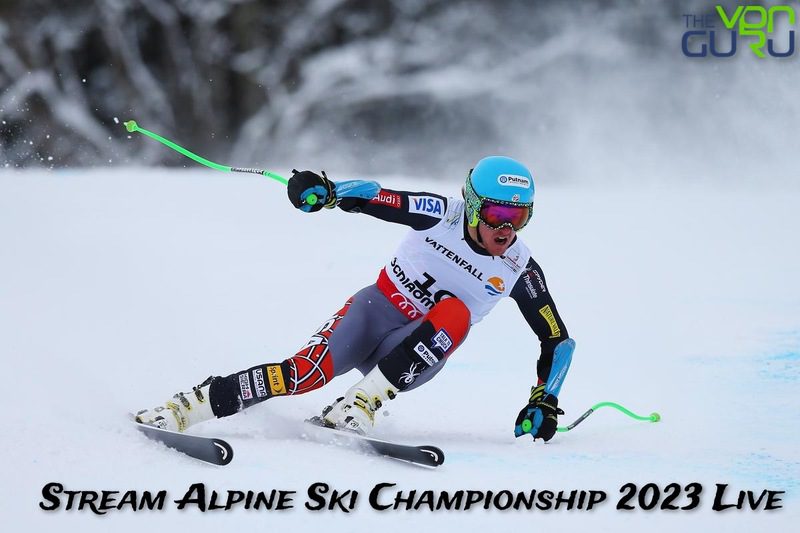 One problem though, every single channel airing the event is restricted to its respective country. Yes, geo-blocking is applied, limiting your streaming options. Well, we're here to help.
Geo-restrictions will no longer exist as here's how you can stream the 2023 Alpine Ski Championships live wherever you may be.
Alpine World Ski Championships Live – Quick Guide
Time needed: 5 minutes
Unblocking your favorite streaming service is quite easy. Once you're done with the steps below, you'll be watching the 2023 Alpine World Ski Championships in no time:
Sign up with a reputable streaming service.

For guaranteed results, we highly recommend subscribing to ExpressVPN.

Get the VPN application.

Download and install the VPN client on your device.

Submit your VPN credentials.

Sign in with your newly created username and password.

Connect to a VPN server.

Select a server in the country where your chosen channel is available.

Launch the channel's website or app.

Sign in with your account if needed.

Watch the 2023 Alpine World Ski Championships anywhere.

Enjoy one of the best skiing competitions in the world.
Alpine World Ski Championships 2023 – The Streaming Channels
Alpine World Ski Championships are one of the biggest competitions in the world. In fact, back in 2021, this tournament transmitted broadcasts to more than 500 million viewers worldwide.
Now, the 2023 edition is almost here and we're more than excited to get into the action. Thanks to global broadcast deals, the championships will be available to almost anyone.
Emphasis on "Almost" as geo-restrictions still apply. That's the only issue you'll be facing and we'll be addressing it later on. As for the time being, here are the official 2023 Alpine Ski Championships streaming services:
The list of channels goes way beyond the one we presented above. If you want to check the full one, make sure to follow this link.
The Geo-blocking Predicament!
Now, let's talk about the fact that every single channel provided above applies what we call geo-blocking. This technique prohibits anyone living outside their coverage area from accessing their content.
This is mainly for copyright reasons. The channels can check for your location by examining your IP address. Once they pinpoint your whereabouts, they'll allow/block your access accordingly.
For example, BBC iPlayer only works in the United Kingdom, which means that you'll need to be operating with a UK IP address. If that's not the case, this error will pop up:
"This content is not available in your location."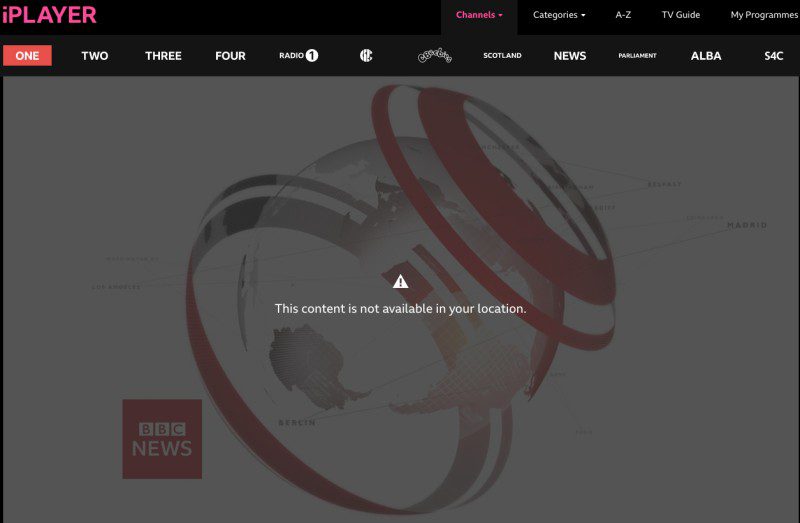 The image above represents the error you get when you try to stream BBC iPlayer's live content. However, the channel will show other errors according to the titles you choose.
That aside, if you follow the steps above, you won't have to worry about any of them as you'll be able to unblock the channel and watch the Alpine Ski Championships wherever you may be.
What a VPN Can Do
Alpine Skiing World Cup is back! Dozens of races will decide the winners. However, if you live outside the countries mentioned above, you'll definitely miss out on this chilling adventure.
Luckily, a VPN can help you bypass the regional restrictions imposed on the channel with ease. It spoofs your online location and makes you appear as if you're browsing the web from the country in which the server is located.
Once connected, you'll receive an IP address in that region and gain access to whatever online content is exclusive there.
For example, BBC iPlayer requires a British IP address. Therefore, you're going to need a UK server. It's really quite simple. To sum it up, here's what a VPN is capable of:
Provides high-level security by implementing strong encryption.
Anonymizes your internet browsing by cloaking your IP address.
Unblocks major streaming services around the world.
Bypasses ISP throttling and ensures better speeds at all times.
Please note that not every VPN can get the job done, which is why we've done the research for you. ExpressVPN is one of the best VPNs to use in order to keep yourself safe all the time while online.
That, of course, comes with the ability to access channels all around the world with a push of a button. If you're looking for more, then you can check the table below for an alternative.
Alpine Ski Championships – FAQ
We have more information to provide. Kindly check the following "Frequently Asked Questions" section:
When Will the Alpine Ski Championships Begin?
The 2023 edition of the tournament will take place between 6-19 February 2023.
Can I Watch the Alpine Ski Championships for Free?
Several streaming services made sure that you get to enjoy the tournament for free. Those include the likes of BBC iPlayer, ORF, SRF, and more.
Can I Watch the Alpine Ski Championships on Kodi?
If you like to stream your content on the Kodi platform, you can install either ORF or BBC iPlayer's official add-ons.
Where will the 2023 Alpine Ski Championships Take Place?
The ski tournament will be held in two neighboring locations in the French Alps, Courchevel, and Méribel.
FIS Ski Championships Live – Final Thoughts
We've taken a closer look at this year's Alpine Skiing World Cup schedule and provided the means to watch it live.
Now it's your job to pick the VPN that suits you best. Enjoy the 2023 Alpine Skiing World Cup live anywhere in the world. If you have any more questions, don't hesitate to contact us in the comment section below.