How to Watch Bellator 226: Bader vs. Kongo Live Online
|
In the world of Bellator, there's no room for showing any semblance of vulnerability. It's a sport that rewards toughness and mental fortitude. That's probably why your Heavyweight champion is Ryan Bader at this moment. However, that may all change on September 7th, 2019, when Cheick Kongo steps into the Octagon with the champion. The fight is taking place at the SAP Center in San Jose, California while streaming live on DAZN. I'm quite sure that you're here because DAZN is not available in your country. Well, that's about to change. Here's how you can watch Bellator 226 live anywhere.
Bellator 226 on DAZN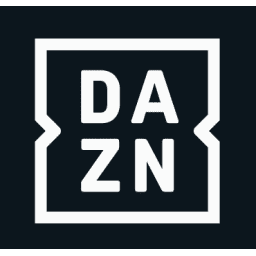 Do you want to watch if Kongo can manage to win the first title of his career? All you have to do is tune in to DAZN, get yourself a subscription, and you're there. But before you rush to do so, let me introduce you to the sports streaming giant.
First, DAZN launched on August 10th, 2018. However, it's not long ago that it became available in the United States.
So far, it has amassed an enormous fan base of 4 million subscribers. That's quite a number considering it's not been there for long. DAZN is available in 9 countries:
Brazil
Spain
Germany
Austria
Switzerland
Canada
Italy
The United States
Japan
With a simple subscription, you can stream over 100 fight nights a year featuring big names like Canelo Alvarez, Rory Macdonald and more. That's not all, DAZN is also the official broadcaster of Bellator MMA.
So, if you would like to watch Bellator 226, DAZN is the only place to go. But since each country has a different catalog, which one should you choose? In Bellator's case, it's the United States.
Apparently, countries like Germany and Canada are not offering this weekend's fight. So, you have to resort to the US version.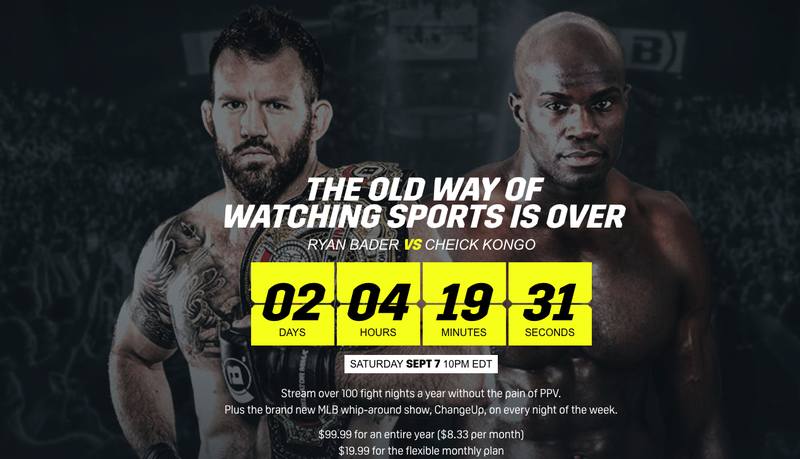 The best thing about DAZN is that you don't need a long term cable deal to operate. It's a subscription-based channel that's also quite cheap compared to what it has to offer.
Our destination is the US version, so the price would be ($99.99/Year, $19.99/Month). Your Bellator events are part of the subscription, so no PPV purchase needed. Oh, and you'll also be testing its service for free the first 30 days.
Device Compatibility!
DAZN aims to give its users the perfect sports streaming options it can. That's why it made its application available on a wide range of devices so that anyone can watch its content no matter what platform they own. Here they are:
Android TV
iPhone
iPad
Android
Chromecast
Roku
Xbox
PlayStation
Windows PC
macOS
Amazon FireStick
Apple TV
A Minor Setback
Unfortunately, each version of DAZN is only accessible in its respective country. In this one's case, you'll have to be a United States resident to stream its content. You see, DAZN looks up your IP address to pinpoint your location. If you were not in the US (foreign IP address), it will block you almost instantly. This is the error message you'll be getting:
"DAZN isn't available in this country."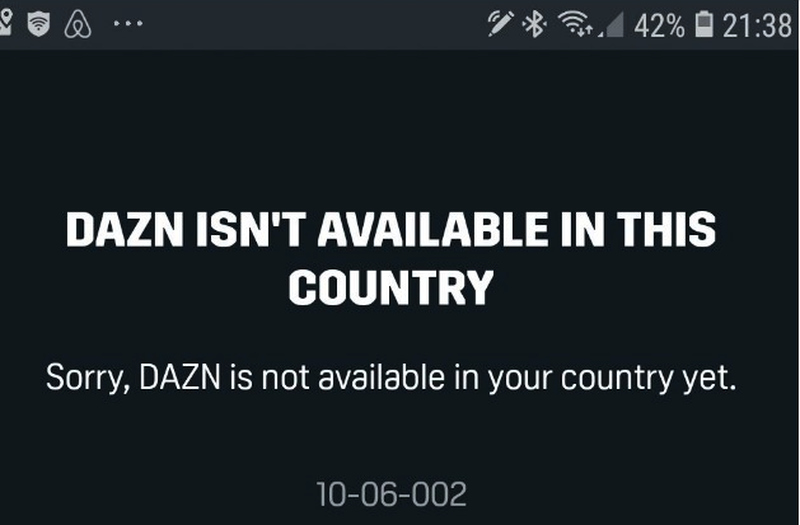 Although the fight is only available in the United States, I have a way so that anyone can watch it no matter where they are on the map. Just follow my lead and scroll a bit further to the south.
DAZN – Not US-Exclusive Anymore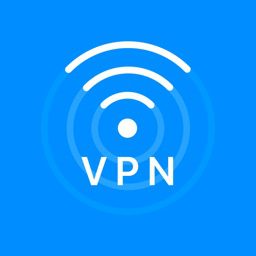 Despite being US-exclusive, there's a workaround that can get you US DAZN anywhere in the world. It's called a Virtual Private Network, an internet security tool that helps you change your current whereabouts to any country of your choosing.
That, of course, depends on the server you connect to. Once you connect to a server, your data will be rerouted through that server and your traffic will appear to be coming from the region where the server is.
For example, if you connect to a US server, you'll seem to be browsing the internet from the United States while holding a US IP address. As a result, you can access US-based channels no matter where you reside on the map. That includes DAZN, ESPN+, HBO Now, Hulu, and more.
I case you can't wrap your head around it, here's a step by step process to help you watch Bellator 226 anywhere in the world:
To begin the process, you have to subscribe to a credible VPN with fast servers in the United States. ExpressVPN has speedy servers around the world dedicated to HD streaming.
After creating an account, install their dedicated app on your device for much easier navigation.
Now, open the server list and connect to an American server.
It might take a few seconds. Once the

Green Connected Button

appears, check your connection using this Tool.
Next, launch DAZN's website, subscribe to the service and download their app.
Stream Bellator 226 wherever you may be.
Is There a Specific VPN to Use?
Normally, most of the premium VPNs are capable of bypassing geo-restrictions. However, in DAZN's case, you should be extra careful with the VPN you choose to end up with.
DAZN uses extra precautions to block VPN users from accessing their content where they shouldn't be able to. If you're using a not-so-credible VPN or a free one, DAZN will be able to detect that. Thus, it will show an error that looks like this one:
"If you're seeing this page in a location where you can usually watch DAZN, please check you have disabled any proxies, VPNs, or other routing software and try again."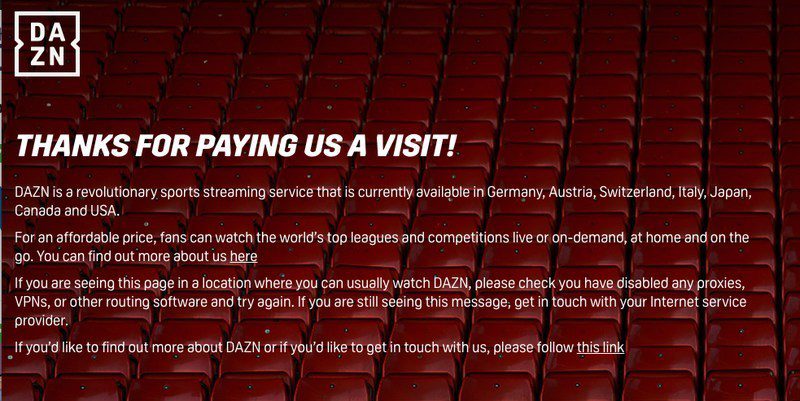 ExpressVPN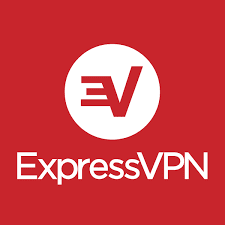 The best solution to this is that you work with a VPN that can bypass this blocking mechanism. Luckily, according to our multiple tests, ExpressVPN was able to so with ease. Not only that, but it also got around tougher blocks such as the one applied by Netflix.
With that out of the way, let me tell you what you get with an ExpressVPN subscription. First, you'll be able to access restricted content in 94 countries courtesy of its 3000+ servers across 160 locations.
Second, you get to protect your data with military-grade encryptions that even the most experienced hackers are unable to crack. As for privacy, you'll remain anonymous all the time thanks to ExpressVPN's clear privacy policies.
It does not collect any data of its users' browsing activities and provides you with an automatic kill switch in case your VPN connection drops all of a sudden.
Now, despite being on top of the industry, there are other top VPNs for DAZN to consider. Check them out in the table below.
Last Updated Today


30-Day Money-back Guarantee
Unlimited Bandwidth
Apps For All Your Devices
24/7 Live Support
Visit ExpressVPN
Bellator 226: Bader vs. Kongo
On September 7th, Bader (27-5), who also holds the light heavyweight title, will go up against Frenchman Kongo as he gets the chance to earn his first world title.
Ryan last defended his 205-pound belt with a second-round TKO of Linton Vassell in Nov. 2017. On September 7th, 2019, he will put his Bellator Heavyweight Championship on the line against a worthy competitor who recently won 10 out of 11 fights.
That's not all; the event will also feature the first four matches in the Bellator Featherweight World Grand Prix. When I was checking their Facebook Page, I came across a fascinating post about the Grand Prix.
Bellator has made a video that looks exactly like a Mortal Kombat game back in Sega's time. Here's what it looks like: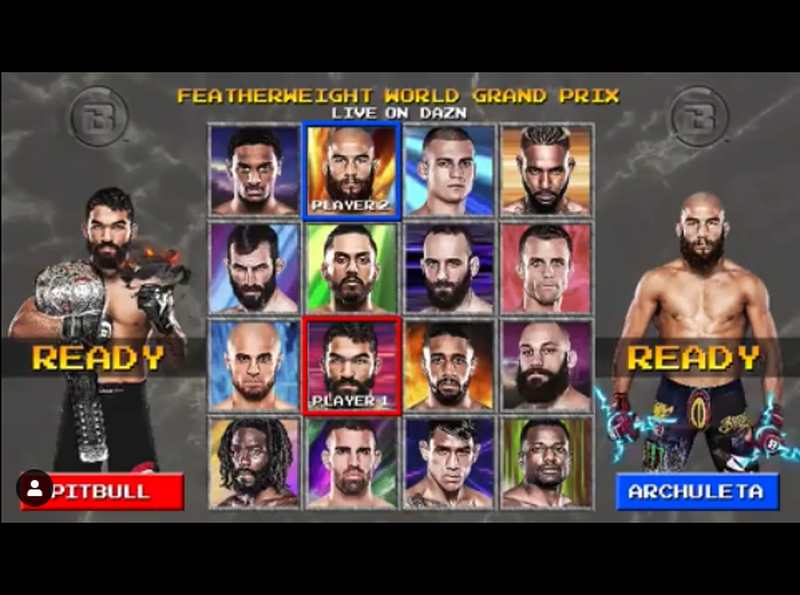 It's a very nice way to promote the tournament, in my opinion. So, you now have an idea at what to expect at Bellator 226, shall we take a look at the fight card?
Main Event:
Ryan Bader vs. Cheick Kongo
Main Card
Daniel Straus vs. Derek Campos
Pat Curran vs. Adam Borics
Emmanuel Sanchez vs. Tywan Claxton
Sam Sicilia vs. Pedro Carvalho
Gaston Bolanos vs. Daniel Carey
Preliminary Card
John Teixeira vs. Ashleigh Grimshaw
Ivan Batinich vs. Daniel Compton
Cornelius Savage vs. Evan Gubera
Christopher Gonzalez vs. Luis Vargas
Cass Bell vs. Isaiah Rocha
Favian Gutierrez vs. Alan Benson
Amber Leibrock vs. Jessica Borga
Peter Ishiguro vs. Elias Anderson
James Terry vs. Batsumberel Dagvadorj
Daniel Gonzalez vs. Jonathan Adams
Adam Piccolotti vs. Jacob Smith
Hyder Amil vs. Ignacio Ortiz
Abraham Vaesau vs. Renato Alves
Stream Bellator 226 Anywhere – Parting Words
Ryan Bader puts the heavyweight title up for grabs when he takes on Cheick Kongo this weekend. Once you're done with this guide, you don't have to wonder about the results. You can stream it live on DAZN using a VPN. Go ahead, all you have to do is connect to a US server, and you'll be able to stream Bellator 226 anywhere.
I'd like to hear all about your predictions. Do you think Kong will be able to snatch the title? Will Ryan Bader prove that he's still the best in the division? Share your comments below.