How to Watch Bellator 229: Koreshkov vs. Larkin Live Online
|
There's no better way to kick off the fall season other than with a classic Bellator event. The promotion is looking to keep the momentum from it's blockbuster Bellator 228 event. Well, when it's Koreshkov vs. Larkin, I guess they will. Bellator 229 takes place on Friday, Oct. 4, live from Pechanga Resort Casino in Temecula, CA. As always, DAZN will be the official broadcaster of the event. However, the streaming giant is only available in the US. Actually, that's in the past now – I have a way around its geo-blocks. Ready? Here's how you can watch Bellator 229 live anywhere.
Bellator 229 on DAZN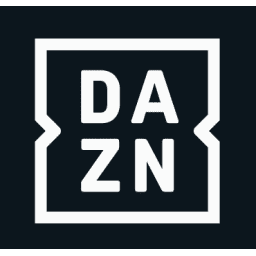 Pronounced Da-Zone, the sports streaming service DAZN has the rights to broadcast every Bellator event to exist. The channel is the perfect way for fans to stream top sports from all over the world, mainly because DAZN doesn't require a cable subscription.
Forget about long-term deals, just pay a monthly or an annual fee, and the best sports in the world will be at your fingertips. Bellator is exclusive to DAZN, and it's part of your subscription. No PPV fee no extra anything.
The service doesn't cost much. All you need to do is pay $19.99$/month, and DAZN is all yours. The good news continues. If this is your first time subscribing to the channel, you'll get a 30-day free trial. That means Bellator 229 is practically free. Go ahead, give it a try, you'll be watching two of the top fighters clash without shelling out a dime.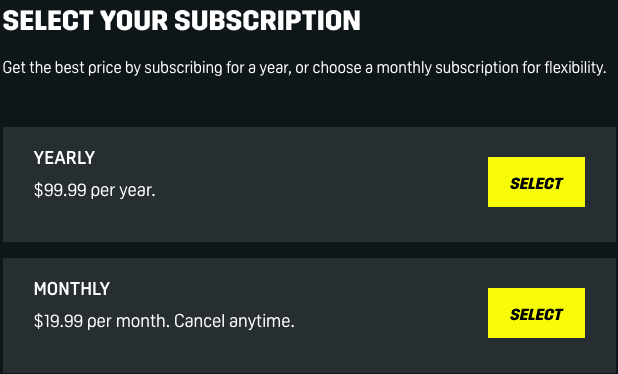 DAZN is one of the world's most popular sports streaming channels. But there's one problem – it applies geo-blocking. This mechanism exists for protecting broadcasting rights. It dictates what you get to access online based on your geographical location. When it comes to streaming Bellator on DAZN, you must be in the United States, i.e., holding a US IP address.
If that's not your case and you happen to be living abroad, the channel will determine your location and terminate your access. This geo-error message will immediately pop up:
"DAZN isn't available in this country."
As I mentioned, that doesn't have to be the case. This guide is to help you get DAZN anywhere in the world. When you're done here, you'll be joining the OTT service's 4 million subscribers no matter where you reside.
Bellator: California – Now Global
Bellator 229's live streaming is at your fingertips; you just need to know your way around. The easiest way to access geo-restricted content is by using a Virtual Private Network.
Commonly known as a VPN, this cybersecurity tool enhances users' online security and manages to ensure their anonymity. A VPN reroutes your traffic through a secure tunnel to a dedicated server in a country of your choosing.
Once you establish a connection, you'll appear to be browsing from the region where the server is located. You then will obtain an IP address valid in that country and direct access to everything online-exclusive there.
For example, if the server you're connected to is in the United States, you'll obtain an American IP address. That will give you access to the likes of ABC, CW TV, HBO Now, and of course, DAZN. As a result, you'll watch Andrey Koreshkov vs. Lorenz Larkin anywhere.
The Steps
I can make the process a lot easier for you. Just follow the steps below, and you'll be able to stream Bellator 229 wherever you may be:
Subscribe to a VPN service. You can try ExpressVPN (30-day refund).
Once you create an account, download their dedicated application on your device.
Run the VPN app, sign in, and head over to the server list.
Pick a US server and hit connect.
Now, this may take a few seconds. When the button turns green (Connected), check your new IP using this Verifier.
Clear your browser's cache and history.
Visit the DAZN's website, subscribe, and download their app.
Finally, stream Bellator 229 wherever you are.
Can Any VPN Do the Job?
Short answer, NO. You see, DAZN is one of those servers that can detect if you're using a VPN. So, using a non-credible or free one won't get the job done for you.
Those servers will get blocked by the channel. How would you know? This is the error that will appear once the channel catches you red-handed:
"If you're seeing this page in a location where you can usually watch DAZN, please check you have disabled any proxies, VPNs, or other routing software and try again."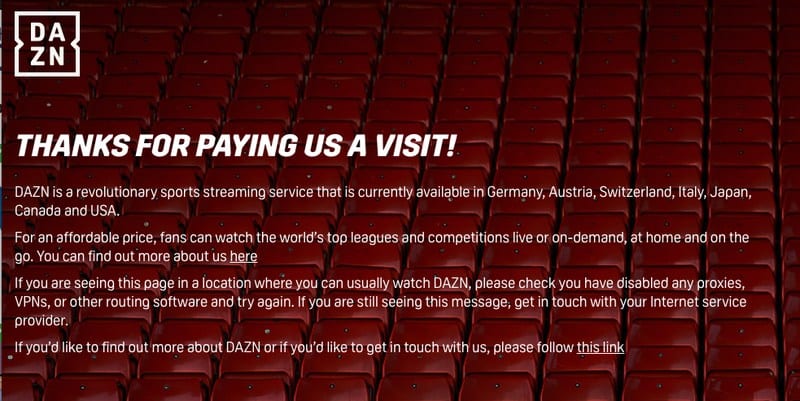 But that's not the only reason why you must avoid free VPNs. These providers don't get paid for their services, so how do they pay for the very expensive servers they're operating? All your browsing activities are being sold to third parties in exchange for revenues. That's totally against what a VPN should be and do.
Therefore, I recommend you use a premium service such as ExpressVPN. I've been operating with this provider for quite some time now, and I haven't found a flaw yet. The service offers top-notch security as well as privacy. That includes strong encryption, best security protocols, kill switch, split-tunneling, and a no-log policy.
As for servers, you'll find 3000+ in 94 countries, including 20+ in the United States. Unblocking DAZN will be easier than you think. However, not all opinions are the same. So, if you don't see eye to eye with me, you can always opt for other top VPNs for DAZN. Check them out in the table below.
Last Updated Yesterday


30-Day Money-back Guarantee
Unlimited Bandwidth
Apps For All Your Devices
24/7 Live Support
Visit ExpressVPN
DAZN – A Wide Variety of Compatible Devices
Don't know if your streaming device supports the DAZN app? Check the list below as you can watch Bellator 229 on the following platform:
Amazon Fire TV
Apple TV
Chromecast
Roku
Android TV
iPhone
iPad
PC
Mac
PlayStation
Xbox
Samsung Smart TV
Bellator 229: Andrey Koreshkov vs. Lorenz Larkin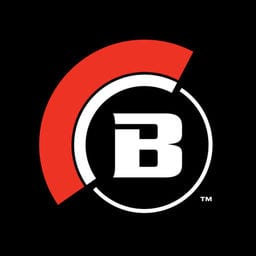 The event this Friday will be headlined with a welterweight bout between Koreshkov and Larkin.
Koreshkov won his last fight against Jasper back at Bellator 219, which marked as his first win since Bellator 206 back in 2018.
On the other hand, we have Larkin. He's returning from an injury, which postponed the originally scheduled match. He won two consecutive fights so far against Fernando Gonzalez and Ios Pascu.
The main event is not the only fight on the card that needs attention. You also have fan-favorite Adel Altamimi who is looking for his second win under the Bellator banner.
What do you think? Will Bellator 229 live up to the "228" installment? Do you think Koreshkov will be able to knock Larkin out, or is it the other way around? Well, for now, all we know is what the Fight Card includes. Take a look.
Main Event
Andrey Koreshkov vs. Lorenz Larkin
Main Card
Saad Awad vs. Goiti Yamauchi
Keri Taylor Melendez vs. Mandy Polk
Joe Schilling vs. Tony Johnson
Preliminary Card
Adel Altamimi vs. Salim Mukhidinov
Anatoly Tokov vs. Hracho Darpinyan
Derek Anderson vs. Guilherme "Bomba"
Joey Davis vs. Jeff Peterson
Johnny Eblen vs. Mauricio Alonso
Vladimir Tokov vs. Brandon Hastings
Jordan Newman vs. Riley Miller
Sunni Imhotep vs. Kelvin Gentapanan
How to Watch Bellator 229 Live Online – Parting Words
Former title challenger and UFC veteran Lorenz Larkin will be looking for a third consecutive win on October 4th, 2019 when he faces off against Andrey Koreshkov. Luckily, everyone around the world will get the chance to see the fight if they make use of a VPN.
It's quite simple. Just connect to a US server, obtain an American IP address, and stream Bellator 229 live anywhere. I'm really looking forward to the event. So, I would love to hear all your predictions. Go ahead, post everything in the comments below.