How to Watch PDC The Masters 2022 Live Online
|
Are you ready for some dart action? If so, tune in from 28 to 30 January 2022 as the 2022 Ladbrokes Masters commences at the Marshall Arena in Milton Keynes, England. Jonny Clayton is defending, and lots of channels are hosting. However, they're all restricted to specific countries.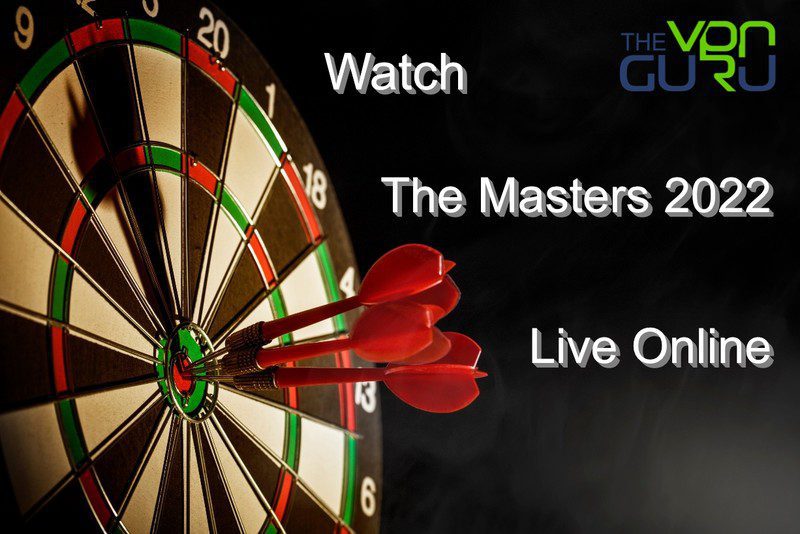 The Masters will feature the top 24 players in the PDC Order of Merit, which means top superstars will bring all the action straight to your screens. What about geo-restrictions, you may ask? Well, we're here to fix that. Here's how you can stream the 2022 Masters live anywhere.
The 2022 Masters Live – Quick Guide
Time needed: 5 minutes
Streaming the Darts' Masters 2022 is an easy task. All you have to do is follow the steps below:
Subscribe to a VPN service provider.

If you're looking for a wide server distribution, ExpressVPN is the service for you.

Download and install the VPN application.

You can get the VPN client on your Android, iOS, PC, or Mac.

Sign in with your VPN account.

Enter the username and password then click on sign/log in.

Choose the right VPN server.

Connect to a server located in the chosen channel's country of coverage.

Launch the channel's application or website.

While there are several channels you could choose from, some of them require a subscription or a free account to operate.

Watch The Masters 2022 live anywhere.

Enjoy the historic Darts Championship wherever you are.
The Masters – Live Streaming Full Guide
There's more to learn about the geo-blocking process and how to stream the event live. If you want to know everything, make sure to go through this comprehensive guide:
The Requirements
To stream the matches live, you'll first need the following:
A reputable VPN service.
An account with any of the channels (Free or subscription).
A compatible streaming device.
The Masters 2022 – Global Broadcasting
When it comes to streaming PDC tournaments, there's no shortage of broadcasting channels all over the world. In fact, the Professional Darts Corporation has television rights with partners both in the UK and worldwide.
The 2021 tournament, held behind closed doors at the Marshall Arena, saw a spike in online viewership due to the action involved, and of course, the pandemic.
Now, with its 2022 edition, the numbers are definitely going up as streaming partners are available on a global scale. We have to note that geo-restrictions do apply, but that's a problem we're going to explain more later on.
As for now, the official 2022 Ladbrokes Masters broadcasting channels are presented in the following table:
As mentioned, the channels above apply what we call geo-blocking. This is a mechanism used to restrict your access according to your location, mainly for copyright reasons.
The channel has certain rights in specific countries, which prohibits it from distributing elsewhere. It examines your IP address to determine your exact location.
If it figures out that you're outside its area of coverage, it'll terminate your access almost instantly. For example, ITV only operates in the UK, which means that it requires a British IP address.
If you live outside the UK, a UK IP is exactly what you lack, resulting in an error message that looks like this:
"We've detected that you're outside the Uk. The ITV Hub is only available for viewing in the UK."

Bypassing geo-restrictions is a very simple task. We've already covered what you need to do in the steps above. Follow them and you'll be watching The Masters 2022 live anywhere.
VPN Explained – The Benefits
The whole process depends on one tool, and one tool only, a Virtual Private Network. With a VPN, you can rest assured that your online browsing gets enhanced security and anonymity with a push of a button.
You see, the software reroutes your traffic through a server of your choosing, encrypting everything sent or received in the process.
Once the connection is established, your IP address gets replaced with a temporary one in the location where the server is, granting you anonymity and full access to services/websites available in the region.
For example, if you connect to a UK server, you'll receive a UK IP address. As a result, you'll be able to watch the likes of BBC iPlayer, Sky Go, Channel 5, and of course, ITV Hub.
To sum things up, here's what you get from a Virtual Private Network:
Increased security for safer connections.
Enhanced anonymity for private browsing.
Unblocking major streaming services all over the world.
Better speeds due to bypassing ISP throttling.
When it comes to choosing a VPN, you must be very selective as not all of them can get the job done. We highly recommend ExpressVPN due to its quality of service, especially when it comes to security, privacy, and unblocking capabilities.
Aside from that, the provider offers a 30-day refund policy, allowing you to test their service out before opting for long-term deals. To check other tested (working) VPNs, take a look at the table below.
Get ITV Hub Free Anywhere on Any Device
Despite having numerous streaming channels to choose from, ITV Hub is the only one that offers live streaming of The Masters for free.
That's why we'll be showing you how to get the channel and watch the tournament live regardless of the device you're using. (Note: To access ITV, you must create a free account. Don't worry, it's easy).
Finally, once you get an account, you can download the ITV Hub app on any device you list by following this comprehensive guide.
The Masters 2022 – FAQ
The Masters is on its way, and we're sure you're excited to know all about it. If so, take the time to go through the following section:
When Will The Masters 2022 Take Place?
The legendary tournament will take place from 28 to 30 January 2022.
Can I Watch The Masters 2022 Free?
Yes. All you have to do is connect to a VPN server in the UK, and you'll be able to stream the tournament live on ITV Hub live.
Where Will the Tournament Be Held?
The 2022 Ladbrokes Masters will be held inside the Marshall Arena in Milton Keynes, England.
Who is The Defending Champion?
After defeating Mervyn King 11–8 in the 2021 final, Jonny Clayton is the defending champion after beating.
How Many Players Are Competing?
This year's tournament will feature the top 24 players in the PDC Order of Merit.
The Masters 2022 Live – Final Thoughts
Worldwide coverage will be led by a host of broadcasters in several countries. With geo-restrictions, some of you might find it hard to stream the event.
Luckily, this guide has everything you need to unblock the channels and watch the games live. If you need any help, make sure to contact us in the comment section below.