How to Stream Pandora Anywhere – Unblock outside the USA
|
Pandora is easily one of the most recognizable companies in the music streaming space. Many would argue that it paved the way for more recent entrants such as Tidal, Apple Music, and Spotify. However, unlike the latter, Pandora is only available in the United States.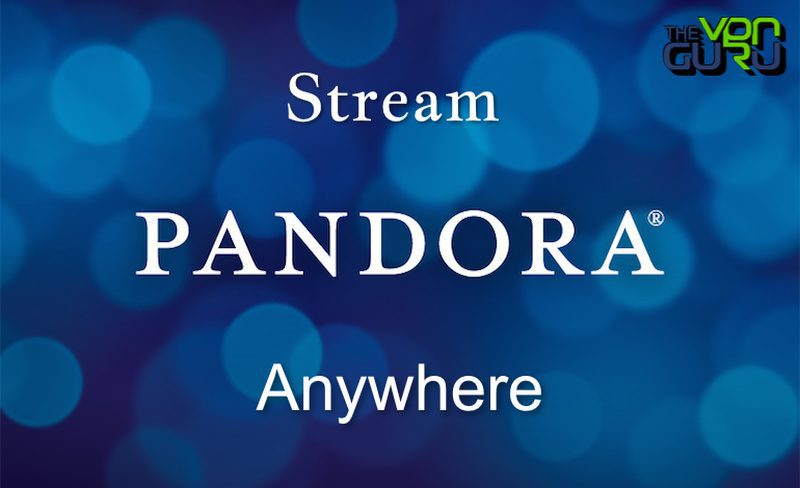 Due to geo-restrictions, Pandora cannot be accessed by users outside of the US. Even if they have a valid subscription, it'll be deemed useless once they leave the country.
Well, that's about to change now. To stream Pandora's music outside of the US, all you need to do is follow this comprehensive guide.
Unblock Pandora Anywhere – Quick Guide
Time needed: 4 minutes
Download and install the VPN app.
Get the VPN client on your iOS, Android, PC, or Mac.
Activate the VPN software.
Enter your username and password to sign in.
Connect to a US server.
Wait a few seconds and you'll receive an American IP address once connected.
Launch Pandora's website or app.
We've included a step-by-step guide below.
Enjoy endless music streaming anywhere.
Listen to Pandora's content outside the US.
Watch Pandora Anywhere – Full Walkthrough
We have more to talk about. That's why we create the following comprehensive guide to showcase everything you need:
The Requirements
To stream Pandora abroad, the following is required:
A VPN subscription.
Pandora account (Free or premium)
A Pandora-compatible device.
Pandora – The Box that Doesn't Open Abroad
Established back in January 2000, Pandora has gone through quite a number of hurdles to reach where it has today. At one point in time, the company was doing so badly that Tim Westergren (CEO) had to convince his team of 50 employees to go for over 2 years without pay.
It is this type of perseverance that has seen the company grow to over 90 million subscribers to date, and carve a niche as one of the most preferred Internet radio services.
At its core, Pandora is a platform that allows you to create your own 'radio station' by putting together a list of other tracks that are very similar to those you search for.
Pandora operates as a freemium service. In other words, users can sign up and enjoy basic level services without a cost. They do have the option to enjoy additional features when they become paid subscribers though.
Having a free account means you get to have ads every now and then. There's still a lot of value to be gotten even if you're not a paying subscriber. But all of this doesn't matter if you're living abroad.
Pandora, once launched, will examine your IP address to determine your location. If you're trying to stream its content from outside the US, it'll instantly block your access with this error message that differs in form based on the device you're using:
Application: "Pandora isn't available in this country right now…"


Browser: "Pandora isn't available in this country right now…"
The company cites the cost of music licenses and putting up local servers in every region as one of its biggest impediments. That's the main reason for the applied geo-blocking mechanisms.
Now, with the steps provided above, you can access Pandora outside of the United States with just a few clicks here and there.
What a VPN Does
The initials VPN stand for a Virtual Private Network. It essentially is a collection of servers based in different parts of the world that subscribed users can connect to.
In doing so, they're able to bypass any geographic restriction that may stand in their way; and have access to sites and channels that wouldn't be available within their region.
To unblock Pandora outside the US for example, all a user would have to do is connect to an American VPN server. Here's how it's done:
Using a VPN also guarantees a user complete privacy in their endeavors online. Their connections get encrypted, and their data gets hidden.
With this done, users are then able to do things such as a shop or bank online without any fears of their connections getting intercepted.
Best VPN for Pandora
Not very many providers in the industry can offer a service that's as well delivered as ExpressVPN. With more than 2000 servers in over 90 countries, ExpressVPN is more than capable of delivering top-quality service.
ExpressVPN guarantees online protection through its 256-bit AES encryption protocol. There's also full support for up to 5 simultaneous connections; making it possible for users to have all their devices well protected.
ExpressVPN offers its users a special feature known as split tunneling; where they get to choose which of their traffic gets to be encrypted and which parts do not.
There's also full support for anonymous torrenting since the service works really well with Tor, and combined with its range of stealth servers, ExpressVPN users are still able to rely on the service even in the most censored regions.
The provider's VPN client is also quite easy to work with, as it is easy to navigate even for first-time users. To get to learn even more about this service, we suggest going through our ExpressVPN Review.
Choosing the right VPN service entails signing up to a provider that has your best interest in mind; not one that's just out to take your money.
While ExpressVPN tops our charts in terms of features and speed, it's not the only one suitable for the task. To help you identify the most reliable providers to sign up with, we've put together a list of well-known services. Here's our list of the best VPNs for Pandora.
Get Pandora on Any Device Outside the US
Regardless if you're in the US or abroad, to stream Pandora's content, you'll need an account (free or premium). If you're not into ads, you can subscribe to the premium plans.
Now, here lies another problem as users abroad won't have a valid US payment option. That's an issue we can also solve with ease.
Subscribing to US services abroad has never been easier nowadays if you have a virtual credit card. Just create an account, fill up your credits, and subscribe to Pandora. Once that is done, you can proceed to the "App" downloading process by following the guide below:
Mobile
To get Pandora on your Android or iOS mobiles, the following is required:
Launch your VPN and connect to a US server.
Change your app store's region to the US and get Pandora.
Activate Pandora and start streaming.
Desktop
On desktop devices, here's what you need to do:
Connect to a US VPN server and launch your browser.
Open Pandora's official website, sign in, and start streaming.
You can also download the desktop app and enjoy Pandora's content.
FireStick
On FireStick, download the VPN app and follow these steps:
Connect to a US server.
Change your Amazon account region to the USA and get Pandora.
Enjoy!
Roku
Smart TV
Do you have a Smart TV? Here's how you get Pandora:
Change the TV's region to the US.
Download the Pandora app, sign in, and start listening.
Pandora Anywhere – FAQ
Seeking more information about Pandora? Then this section is definitely what you're looking for:
Pandora does have a free version, but it includes ads. Not only that, but you won't be able to download content for offline use.
Do I Need an Account for Free Streaming?
Yes, you do. Even if you're trying to stream Pandora for free, you'll still need an account to do so.
Can I Stream Pandora Using Kodi?
Unfortunately, Pandora has no official add-on to be installed on the Kodi platform.
Why Can't I Access Pandora in Australia?
The streaming service was available in Australia and New Zealand a couple of years back. Now, Pandora ceased its operations in the countries.
Unblock Pandora Anywhere – Final Thoughts
For those who have not tried Pandora yet, there's a lot that they're missing out on. The service has been improving in both quality and library of music since the early 2000s.
Using it outside the US, however, might be a great challenge if you're not subscribed to a credible VPN. The three services we've listed in these reviews are more than capable of securing your online presence and making it possible to access Pandora while outside the US.