If you're a fan of tennis, you definitely don't want to miss this All-Star tournament. The Laver Cup will take place between September 22-24, 2023. The world's best players will face off on indoor hard courts at The Rogers Arena in Vancouver, Canada.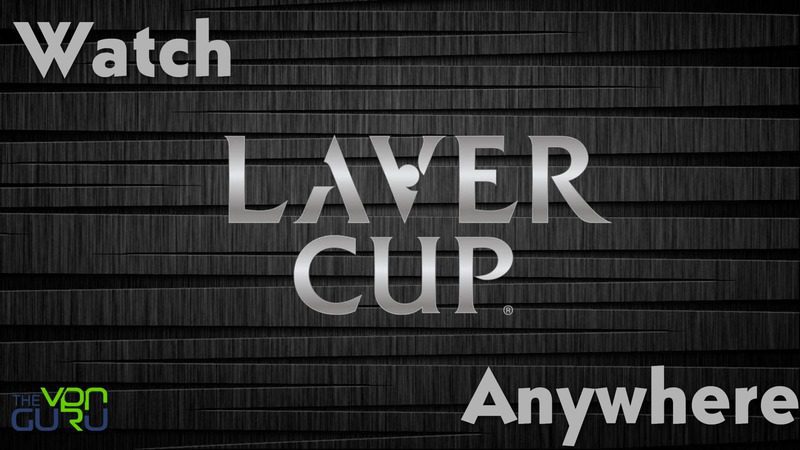 Such a huge event demands a global audience, which is why a host of streaming services are broadcasting the event live in several countries. However, geo-restrictions still apply, which may prevent a lot of users from tuning in.
Geo-blocking will prohibit your Laver Cup streaming, depending on your location. But we're going to fix that. Here's how you can stream the 2023 Laver Cup live anywhere.
Stream Laver Cup Anywhere – Quick Steps
Time needed: 5 minutes
Streaming the Laver Cup live is an easy task. This is what you need to do:
Subscribe to a VPN service.

To ensure speedy servers all around the world, we recommend using ExpressVPN.

Get the VPN application.

Download and install it on your device.

Sign in with your account.

Submit your username and password.

Connect to a VPN server.

Choose a server in the country where your selected channel is available.

Launch the channel's website or application.

Sign in with your account.

Watch Laver Cup 2023 live.

Enjoy the best tennis matches anywhere.
Watch Laver Cup Live – The Full Process
The steps above are more than capable of getting you the full Laver Cup live stream in any country you may be in. However, to get there, we had to go through an entire process, which we've explained in this comprehensive guide:
The Requirements
To stream the Laver Cup live, you must first have everything on this list:
A VPN subscription.
An account with any of the broadcasting channels.
A compatible streaming device.
Laver Cup 2023 – The Streaming Services
The Laver Cup is one of the biggest tennis events in the world, as it includes the biggest names today. Europe will go head-to-head with the rest of the world in this epic tennis showdown.
The fourth edition of the tournament was held in Boston from 24 to 26 September 2021 and harnessed millions of viewers worldwide.
The same goes for the 5th edition of the tournament held in London. However, this would have never been possible if broadcasting channels weren't available.
If you want to join the millions across the globe, here are the official streaming services broadcasting the 2023 Laver Cup:
So, basically, these channels only operate within their respective countries. That's because they apply geo-blocking – a mechanism used to determine your location by examining your IP address.
If you reside outside the channel's area of coverage, you'll be blocked almost instantly. For example, if you want to watch the tournament on the Tennis Channel, you'll have to be in the United States, i.e., have a US IP address.
If you're abroad, such an IP is exactly what you lack, resulting in an error message that looks like the following:
"Content is currently not available to you."
The 2023 Laver Cup is a few clicks away, and we're here to help. If you want to unblock any of the streaming services in your region, all you have to do is follow the steps above.
What a VPN Can Do!
In case you didn't notice, a VPN is an essential part of the entire process. With a Virtual Private Network, you get to mask your real location and appear to be browsing the web in a country of your choosing.
That, of course, depends on the server you connect to. Once you establish a VPN connection to a server, the VPN will protect your data using military-grade encryption.
Also, it hides your IP address and replaces it with one in the country where the server is available. As a result, you get to access any channel/website restricted to that region.
For example, if you connect to an American server, you'll receive a US IP address. With that, you'll be able to unblock and stream the 2023 Laver Cup live on Tennis Channel, wherever you may be. To sum it up, here's what a VPN can do:
Shield your data against outside interference.
Cloak your identity while browsing the web.
Unblock major streaming services all over the world.
In the "Steps" section, we recommended ExpressVPN, and here's why. The provider has servers across 94 countries, which will you to unblock streaming services anywhere.
Not only that, but we tested their speeds, and they were fully compatible with Ultra HD. You can stream anything without losing the quality of your videos.
Finally, ExpressVPN offers a 30-day refund policy. If you don't think the provider lives up to your needs, you can simply ask for your money back. For excellent alternatives, check the table below:
Laver Cup 2023 – FAQ
For more information about the 2023 Laver Cup, make sure to check this FAQ section:
When Will the Laver Cup Begin?
The 2023 Laver Cup will start on September 22nd, 2023.
Where Will the 2023 Laver Cup Take Place?
The tournament will take place at The Rogers Arena in Vancouver, Canada.
Can I Watch Laver Cup for Free?
None of the streaming services broadcasting the event are free. All of them require some sort of subscription.
What Edition of the Tournament is this Year's Laver Cup?
The 2023 Laver Cup will mark the sixth edition of the tournament.
Stream the 2023 Laver Cup – Final Words
Team World won the title last year and will be looking to secure it in this one. To stream the entire competition live, you can follow the steps above.
Remember, if you need any help, you can always drop us a line or two in the comment section below. Enjoy Laver Cup live.