Let's be honest; no matter how many Major League Baseball matches we watch, we just don't seem to be getting enough. The 2023 regular MLB season comes to an end on October 1st, 2023, and then, it's time for the World Series Championship.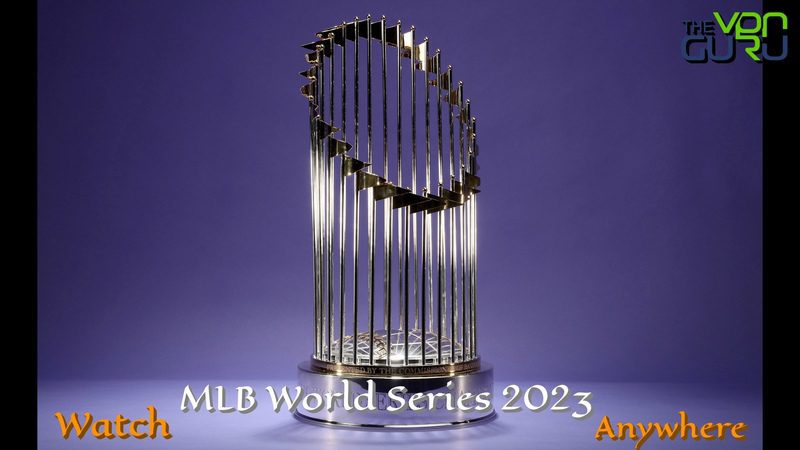 The best-of-seven competition is popular all around the world, which explains the number of broadcasting deals this tournament has. However, despite the global reach, every single one of the official channels is geo-restricted to its respective country.
In other words, not everyone can tune in and stream the 119th edition of the championship. This won't be the case anymore. Give this guide a read and learn how to watch the 2023 World Series live wherever you may be.
Stream World Series Live – The Easy Way
Time needed: 7 minutes
It's definitely the perfect time to be a baseball fan, but geo-restrictions might turn out to be a hassle. Well, here's where we put an end to it. Just follow these steps and watch World Series 2023 live anywhere:
Purchase a VPN subscription.

You'll find a lot of reputable providers. Our top recommendation goes to ExpressVPN.

Install the VPN application.

You can find dedicated clients on Android, iOS, PC, and Mac.

Sign in with your account.

Submit your username and password.

Connect to a VPN server.

Choose a server in your chosen channel's respective region.

Launch the channel's app or website.

You'll have to sign in here, as all the channels on the list require this process.

Watch the 2023 World Series live.

Enjoy MLB's 119th edition of the World Series anywhere.
The Full Streaming Process
We have a lot to discuss regarding channels, geo-restrictions, and the VPN to use. For a better look at the unblocking process, make sure you go through this comprehensive walkthrough:
What You Need
If you want to stream 2023's MLB World Series in your region, you must first have everything on the list below:
A valid subscription with any of the channels on the list below.
An account with a reputable VPN service.
A compatible streaming device.
World Series 2023 – The Streaming Services
Baseball is definitely one of the most popular sports in the entire world. MLB's regular season attracts millions of viewers, and the World Series is no different.
In fact, the legendary championship harnessed an average of 11.75 million viewers. That's an increase from the 9.7 million the 2020 tournament had.
These numbers would not have been achieved without securing broadcasting rights globally. Again, MLB is highly requested internationally, which brings us to the official channels provided below:
As you can see, we presented each channel with its respective country so you'd know which VPN server to choose. If you don't see your preferred country on the list, check out MLB's official website.
The Geo-location Predicament
So, basically, streaming services apply what we call geo-blocking. This mechanism is commonly used by streaming services to limit their access internationally.
This is mainly due to licensing deals among media properties as well as certain countries' legal systems. To determine your location, the website/channel uses tracking and geolocation technology to identify your Internet Protocol (IP) address.
With that, it can pinpoint your physical whereabouts within seconds and block your access accordingly. For example, Sportsnet only operates within Canada, which means that it requires a Canadian IP address.
If you're living abroad, an IP in the Canadian region is exactly what you lack, leading to the following error message:
"Error Code: PLAYER_ERR_GEO_RESTRICTED. Video is unavailable from your current location."
The image above is just an example of one of the channels. Each service has its own way of blocking your access, but the result is the same – you won't be able to watch the 2023 World Series.
However, we've already covered that part. If you follow the steps we previously provided, you'll be able to unblock any channel you want and stream the tournament wherever you may be.
What is a VPN?
Before we continue, we have to note that this entire process would never work if you're not using a Virtual Private Network.
This simple tool was designed to elevate your security and privacy online to the maximum. A reputable VPN provider protects your data using military-grade encryption the moment you connect to a server.
This prevents anyone from intercepting your connections, whether you're sending or receiving data. Aside from that, the VPN hides your IP address and grants you a temporary one in the selected region.
Not only does this anonymize your internet approach, but it also allows you to access geo-restricted content wherever you may physically be.
For example, if you connect to an American server, you'll receive a US IP address. With that, you can unblock Fox Sports and watch the MLB World Series anywhere in the world. (Please note that VPNs can avoid restrictions only. They don't bypass any subscription process).
When we say reputable, we mean it. If you pick the first VPN you get your hands on, you might end up paying for nothing. That's why we recommended ExpressVPN for the job.
The service is on top of the industry right now, with a server network that covers 94 countries. Not only that, but it also boasts top security features that will guarantee a safe browsing experience.
However, despite being our number 1 recommendation, we tested several VPNs that were deemed excellent for streaming and security. You can find them in the table below in case ExpressVPN was not your pick.
World Series 2023 – FAQ
There's more information to know about the 2023 World Series. Here are some of our readers' inquiries:
When Will the 2023 World Series Begin?
The tournament is to be played starting October 24, 2023.
What Type of Tournament is the World Series?
The competition represents a best-of-seven playoff between the National League champion and the American League champion.
Can I Watch the World Series for Free?
Unfortunately, that's not an option. All the services broadcasting the event require a premium subscription.
What Edition of the World Series Is This?
The 2023 World Series represents the 119th edition of the tournament.
World Series 2023 Live – It's Possible
The tournament is called World Series. So, by default, the whole "World" should be able to see it. Well, that's exactly what's going to happen now once you're done with this guide.
The World Series is a highly-anticipated tournament that brings baseball action to a maximum. Don't miss it. Remember, if you need any help, you can contact us in the comment section below.