Netflix has just been launched in the Middle East and North Africa. Arabic countries like UAE, Saudi Arabia, Egypt, Syria, Lebanon, Jordan, Morroco, Algeria, and Tunis can all access Netflix now. However, having checked the movies available in Netflix UAE, it is safe to say that the movie and TV series selection currently available to stream leaves a lot to be desired to say the least. Fortunately, there is a quick fix that allows you to change your Netflix region and unblock American Netflix in UAE. VPN and Smart DNS Proxy both offer a workaround that enables you to switch your Netflix country and access thousands of more movies on Netflix.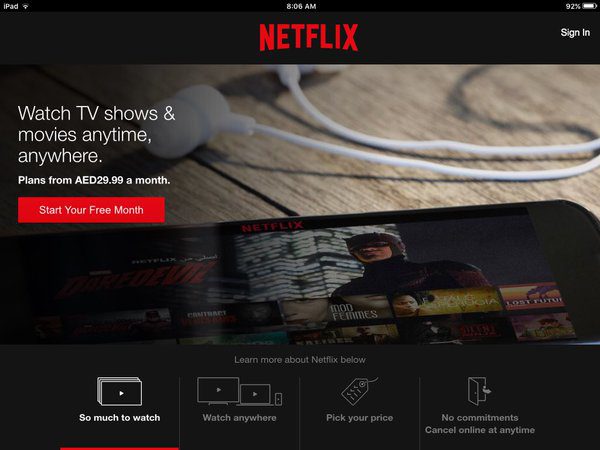 How to Watch American Netflix in UAE with VPN
Before Netflix launched in UAE, you'd get a message that stated that Netflix hasn't come to this part of the world yet. Now when you visit the Netflix website, you can sign up for an Emirate Netflix account. The same account can be used to watch other Netflix regions including US, UK, Canada, Australia, or Spain. To switch your Netflix region to American, you need to spoof/hide your online location. You can do that using VPN. VPN enables you to unblock all Netflix regions.
Connecting to an American VPN server unblock US Netflix, HBO GO, Hulu, Showtime, Crackle, and other geoblocked content.
VPN also unblock other websites that might be locally blocked in Dubai or Abu Dhabi.
To switch back to Netflix UAE, simply disconnect from the VPN server you are connected to.
VPN can be easily installed on iPhone, iPad, Android, PC, or Mac even if you are not that tech-savvy thanks to VPN apps.
To try VPN, sign up with ExpressVPN. ExpressVPN have VPN servers in 78 different countries including USA, Australia, Canada and the UK which means you can unblock all these Netflix regions. Below you can find my top three VPN providers to unblock American Netflix in UAE.
How to Unblock US Netflix in UAE using Smart DNS Proxy
Update: Unlocator no longer works with American Netflix. Use ExpressVPN to get Netflix USA in UAE instead.
Changing Netflix regions and unblocking geo-restricted websites can also be done using Smart DNS proxies. The Netflix regions, as well as the other streaming channels you can unblock, are determined by the Smart DNS proxy service you use. Unlocator, for example, currently supports unblocking 28 different Netflix regions.
You can sign up for a free Unlocator trial –

No credit card required.

Once you have created your Unlocator account, follow the setup guides and videos to configure Unlocator DNS on your streaming device. Almost all devices are supported. The list includes PC, Mac, Android, iPhone, iPad, Apple TV, Amazon Fire TV, Chromecast, Roku, Smart TV, PS3, PS4, and Xbox.
Unlike a VPN, your traffic is not encrypted when using Smart DNS. The upside is that your Internet speed is unchanged either.
Many Emirate ISPs use DNS hijacking or transparent proxies. This means that you might not be able to take full advantage of Smart DNS and would be better off using VPN to unblock US Netflix in UAE.
In all, you can unlock more than 218 streaming channels using Unlocator. The list of supported channels includes Netflix, HBO GO, Showtime, Hulu, Crackle, ABC, BBC iPlayer, ITV, and Sky GO.
Watch American Netflix in UAE with VPN vs Smart DNS Proxy
Given that most ISPs in the Middle East, including Emirate, use transparent proxies, using VPN to change your Netflix region is probably more recommended. Given the fact Unlocator offer a free 7-day trial, you have nothing to lose if you wish to try unblocking American Netflix in UAE using Smart DNS.